Olive Garden Breadsticks and Salad Recipes
Re-Create Olive Garden's Salad and Breadsticks at Home
People who've been to Olive Garden know the drill — unlimited salad and breadsticks is absolutely the way to go! Its creamy Italian dressing drizzled over a crisp and refreshing green salad paired with a warm, buttery garlic breadstick is the perfect combination to start any meal, and now you can make it at home. Check out this video to learn the secrets behind bringing that Olive Garden staple into your kitchen. Plus, once you've mastered the appetizer, make it a meal by whipping up a batch of Lasagna Classico.

Olive Garden Garlic Breadsticks
Adapted from Todd Wilbur
Ingredients
For the breadsticks:
3/4 teaspoon active dry yeast
2 tablespoons granulated sugar
1 cup plus 1 tablespoon warm water
3 cups bread flour, plus more for surface
1 1/2 teaspoons salt
1/4 cup butter, melted, plus more for greasing bread bowl
For the topping:
2 tablespoons butter, melted
1/2 teaspoon garlic salt
Directions
Into a small bowl, dissolve yeast and sugar in warm water and let sit for 5 minutes until bubbles and foam form.
Into a stand mixer fitted with the paddle attachment, combine flour and salt. Mix in the softened butter. Pour the yeast mixture into the flour and continue to mix until combined.
Turn out dough onto a floured surface and knead the dough for about 10 minutes. Place dough in a well-buttered bowl and cover with plastic wrap. Let sit for 1 to 1 1/2 hours until it has doubled in size.
Take roughly 2-ounce portions of the dough and roll it out on a floured surface to form breadsticks that are 7 inches long. Place the breadsticks on a parchment-paper-lined baking sheet. Cover, and set aside for another 1 1/2 hours or until dough has doubled in size again.
Preheat oven to 400º F. Bake breadsticks for 12 to 15 minutes or until they are golden brown. Remove from oven and brush each one with melted butter and sprinkle with garlic salt. Serve warm.
Information
Category

Appetizers, Breads/Crackers

Cuisine

Italian

Yield

10-12 servings

Total Time

1 hour, 59 minutes, 59 seconds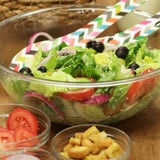 Ingredients
For the dressing:
1 cup mayonnaise
2/3 cup white vinegar
5 tablespoons granulated sugar
2 tablespoons lemon juice
1 tablespoon water
2/3 cup parmesan-romano cheese blend
2 teaspoons olive oil
1 teaspoon Italian seasoning
1 teaspoon parsley flakes
1/2 teaspoon garlic salt
For the salad:
1 bag romaine lettuce
1/2 red onion, sliced
1/2 cup black olives
2 Roma tomatoes, sliced
3/4 cup croutons
8 peperoncini
Grated parmesan cheese, for garnish
Directions
To make dressing: Into a food processor or blender, blend all of the salad dressing ingredients until smooth. Chill before serving.
In a large bowl, assemble the salad and toss with the dressing right before serving. Top with freshly grated parmesan cheese and serve on chilled plates.
Information
Category

Side Dishes, Greens

Cuisine

Italian

Yield

4 servings

Total Time

14 minutes, 59 seconds
Image Source: POPSUGAR Studios