The Best Apple and Chicken Salad Recipe
This Harvest Salad With Apples and Roasted Butternut Squash Is Perfect For Winter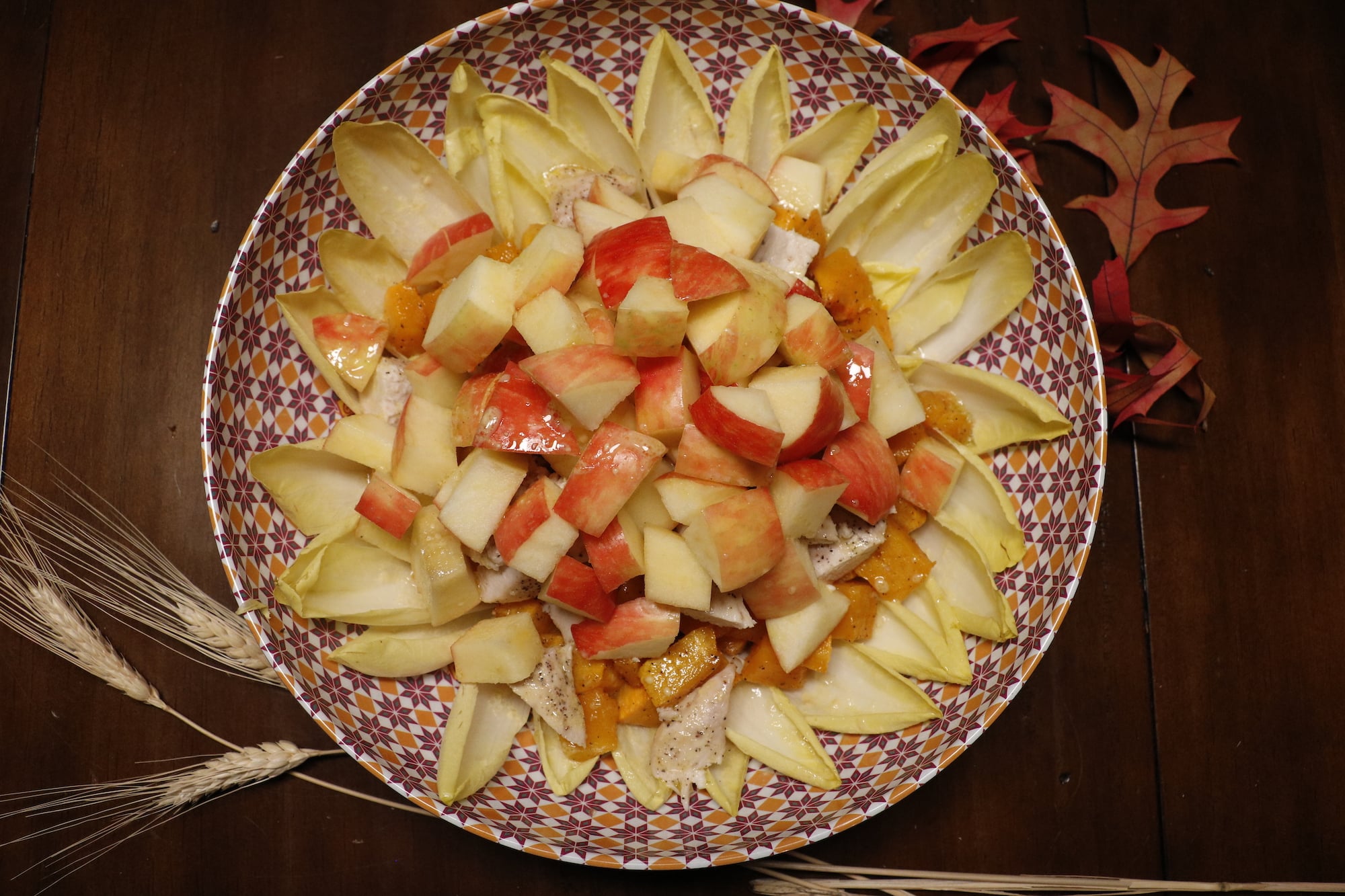 During the Fall and Winter months, one of the few fresh and seasonal foods is apples — from pie to cider, there are many different ways you can enjoy them. I love incorporating them into this cozy Winter salad recipe that features another great seasonal Fall produce: butternut squash. You'll also need Belgian endive lettuce for some bitterness to balance out the flavors, and you can add chicken to make it a hearty main meal salad, or skip it to make it vegan.
What makes this salad special is the contrast of the warm chicken and soft squash with the cold crisp apples and endive. Since the butternut squash is already roasted, oil-soaked, and delightful, the salad dressing is a simple light apple cider vinaigrette with dijon mustard.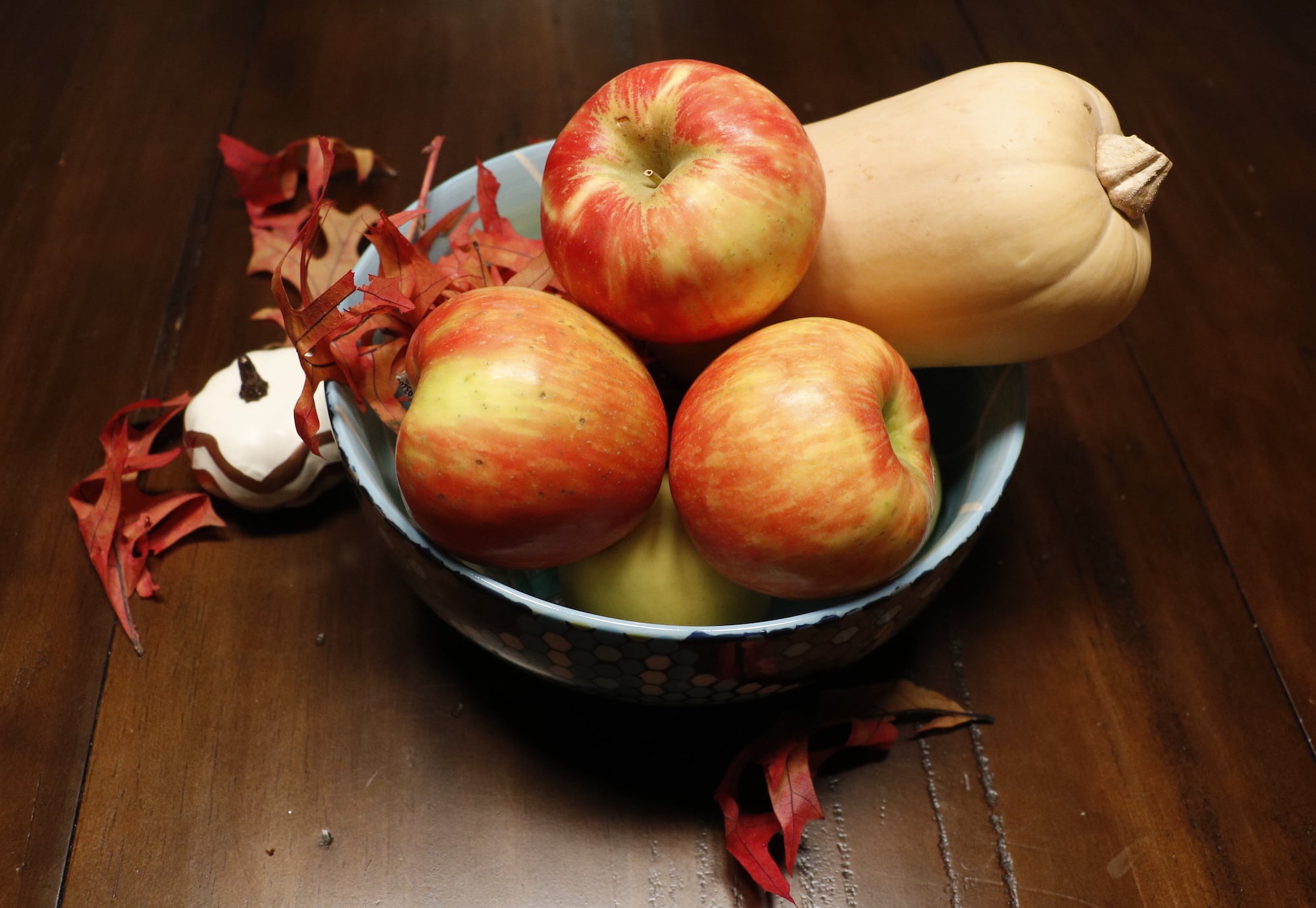 Honeycrisp apples are the best for salads, in my opinion. They're sweet but not too sweet, and their texture is nice and crunchy.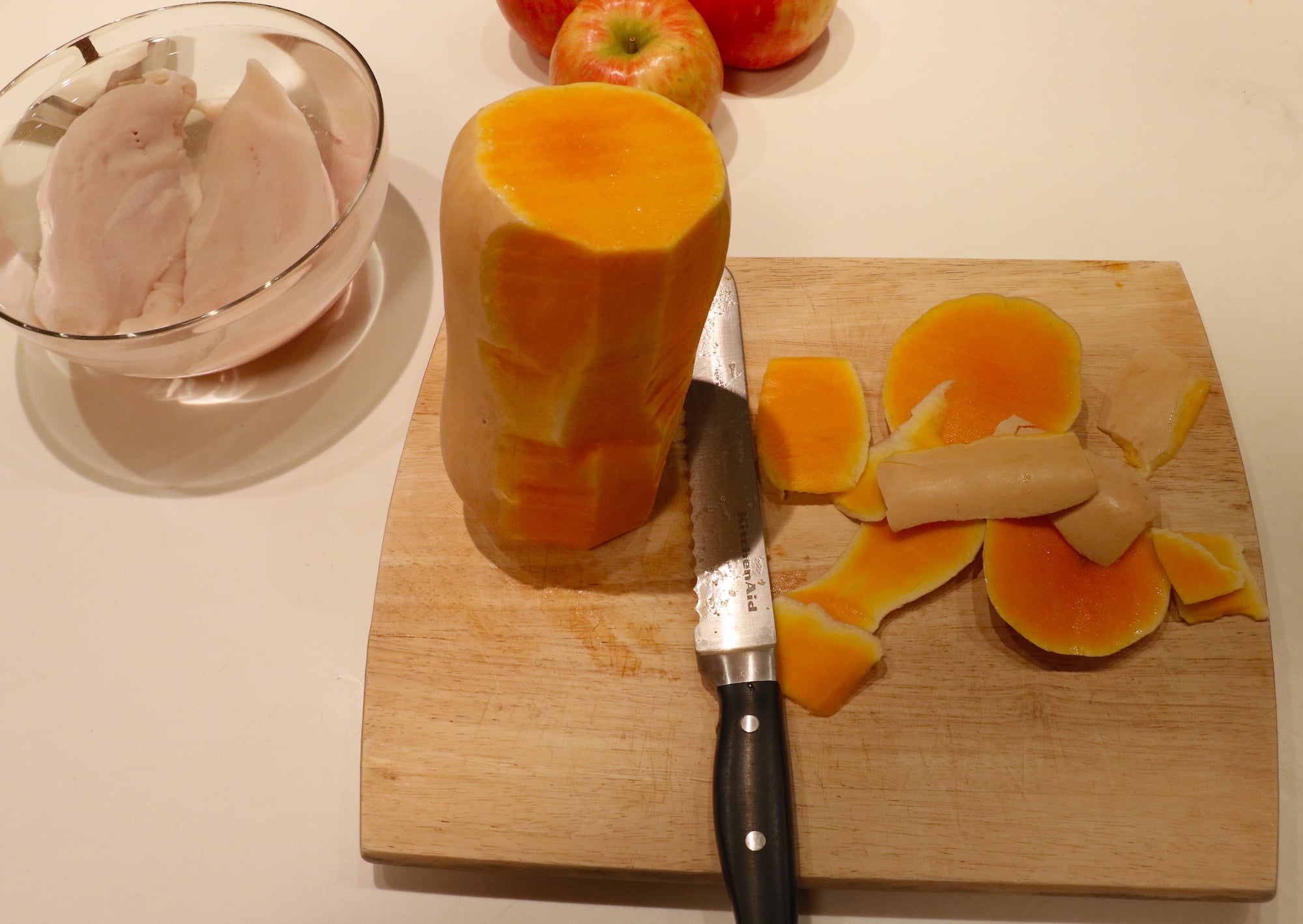 First, get the chicken and squash prepped for the oven. I've found that the best way to cook chicken for salads or sandwiches is by brining and baking medium-size chicken breasts. When I first tried this recipe from Gimme Some Oven, my life was changed. Say goodbye to dry chicken breast and hello to enjoying the healthy meat. I now bake a batch every week and keep it in the fridge. The key is the brine, which may sound familiar if you've ever hosted or helped prepare Thanksgiving dinner. This is a simple, easier version. Just fill a microwave-safe bowl with water, warm it up for a minute or so, dissolve some coarse salt in it, and pop the breasts in for 15 minutes. Then pat them dry, brush them with olive oil, rub them with salt and pepper, and put them in the oven at 425 degrees for 18-20 minutes. Let the chicken rest for 5-10 minutes when you take it out of the oven before slicing.
The squash goes in at the same time, though it'll stay in there longer, for approximately 25 minutes, until soft. Cut it into small pieces that resemble cubed cheddar.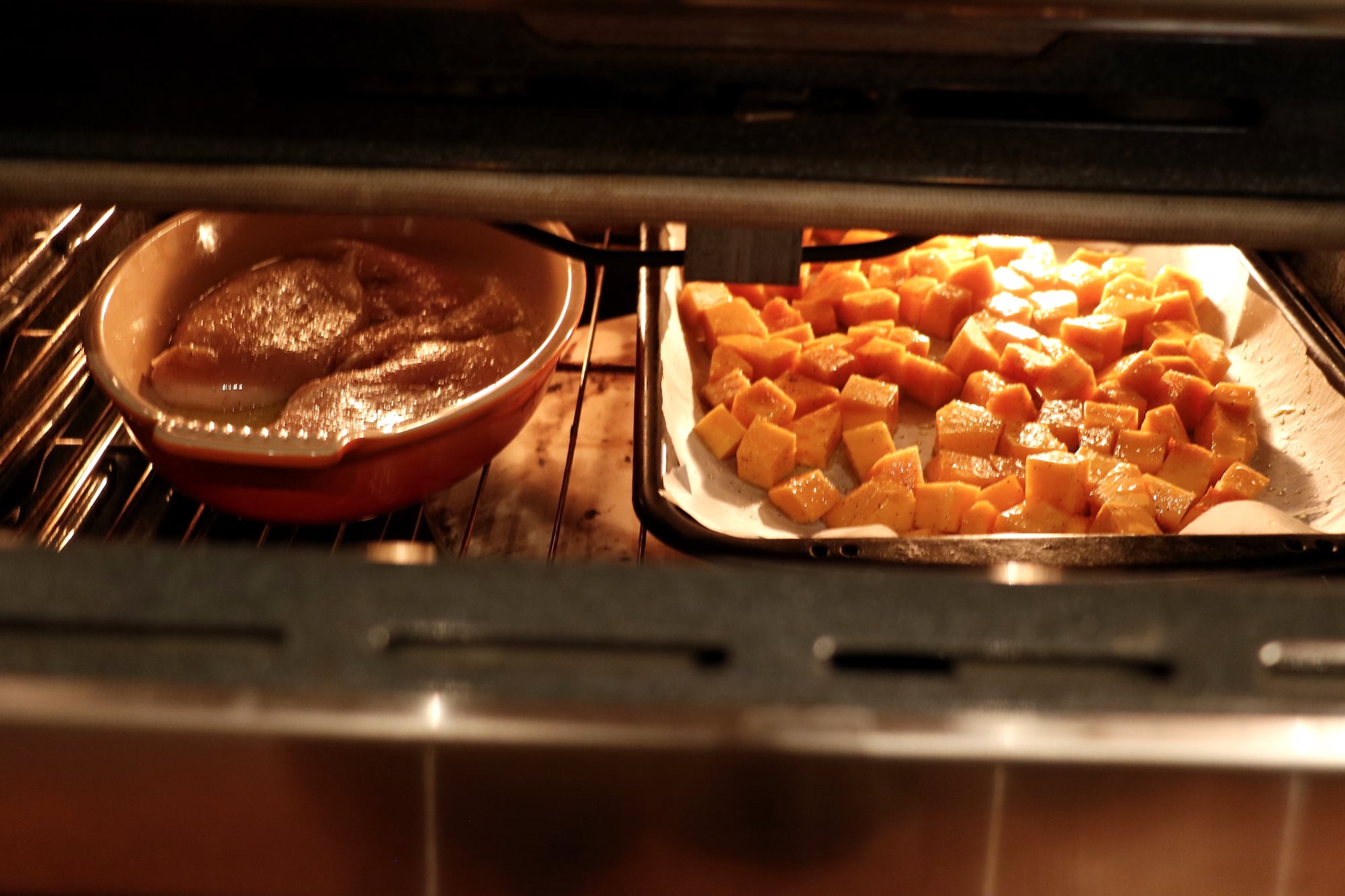 This step could be skipped if you prefer to buy precooked chicken, whether it's a package of sliced grilled chicken breast from Trader Joe's or rotisserie chicken from any grocery store. Just shred the latter before adding to the salad. You can also buy prepeeled and cubed butternut squash, although that will be more expensive.
Then wash and slice the apples into pieces roughly the same size as the squash. Line the salad bowl with endive leaves, and make the salad dressing. Serve while the chicken and squash are still warm.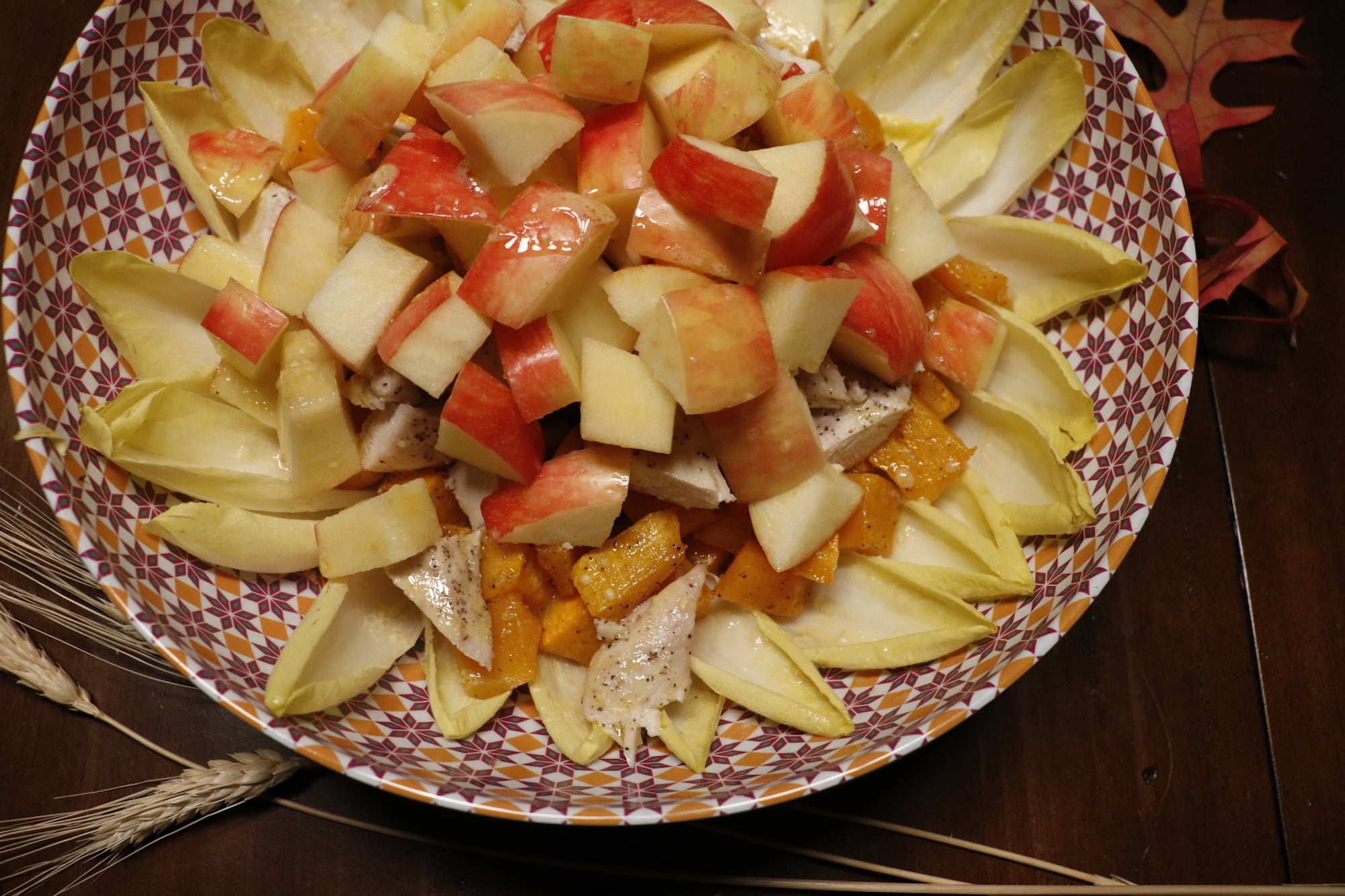 Harvest Salad with Honeycrisp Apples and Roasted Butternut Squash
Original Recipe by Michelle Chahine Sinno
Notes
Dairy-free. Can be vegan (just skip the chicken).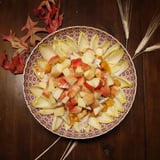 Ingredients
2 medium Honeycrisp apples
1 small butternut squash
2 chicken breasts (roughly 1 lb. total)
3 heads Belgian endive
3 tsp coarse salt
1/2 tsp ground black pepper
6 1/2 tbsp olive oil
2 tbsp apple cider vinegar
1 tsp dijon mustard
Directions
Preheat the oven to 425 degrees.
Brine the chicken. Fill a microwave-safe bowl with water and heat for 1-2 minutes until warm. Stir in 1/2 tsp of coarse salt. Add the 2 chicken breasts and let sit at room temperature for 15 minutes.
Meanwhile, prep the butternut squash. Slice a round off the top and bottom. Stand the squash to peal, and then chop into small cubes.
Pat the chicken dry and place in a baking dish. Brush both sides generously with olive oil. Season with salt and pepper.
Line a baking tray with parchment paper. Toss the squash with 3 tbsp olive oil, 1 tsp coarse salt, and 1/4 tsp ground black pepper.
Put the chicken and the squash in the oven at the same time. The chicken stays in for 18-20 minutes until it reaches 165 degrees at the thickest point. The squash stays in for 25 minutes until soft.
Let the chicken rest 5-10 minutes once it's out of the oven, then cube into 1-inch pieces.
Wash and cube the apples.
Line a bowl with endive leaves.
Whisk 2 tbsp apple cider vinegar, 1 1/2 tbsp olive oil, and 1 1/2 tsp dijon mustard in a small bowl.
Drizzle the dressing on top. Toss just before serving.
Information
Category

Main Dishes

Yield

4 servings
Image Source: POPSUGAR Photography / Michelle Chahine Sinno