Dwayne Johnson Shares His Coconut Banana Pancakes Recipe
Dwayne Johnson Shares His Famous Coconut Banana Pancake Recipe With Chef Puttie's Help
Dwayne Johnson knows his food. In order to bulk up and maintain his physique for intense action movies, the actor partakes in some famously elaborate meals — especially on cheat days. From tequila on french toast to his own line of ice cream, Dwayne finds a way to make sweet indulgences even more tempting. Our latest insight into his personal menu is coconut banana pancakes, and let's just say, our mouths are watering.
For the past few weeks, Dwayne has been teasing his Instagram followers with glimpses of his favorite pancakes, promising a recipe. Well, consider the promise fulfilled because he finally shared all of the steps courtesy of his own cook, Chef Puttie. He gave the kitchen pro major kudos, writing, "Big shout to our amazing @chefputtie and all the amazing chefs who I have the privilege of eating their foods. Thank you for feeding this hungry dinosaur." We all should say thank you to Chef Puttie for bringing this recipe into our lives. Check all the details out below, and get cooking.
Dwayne Johnson's Infamous Coconut Banana Pancakes
Instagram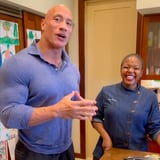 Ingredients
2 cups all-purpose flour
3 teaspoons baking powder
3 tablespoons cane sugar
1/2 teaspoon sea salt
10 tablespoons unsweetened shredded coconut
2 Bananas, medium-sized, small dice
2 eggs
1 cup coconut water
1 cup coconut milk
3/4 cup whole milk
1 teaspoon vanilla extract
2 tablespoons coconut oil, melted
2 tablespoons unsalted butter, melted (+ more to butter griddle)
Extra virgin olive oil spray, for griddle
Directions
Sift flour and baking powder into a large bowl.Add sugar, salt and shredded coconut. Mix lightly with a wooden spoon.
In a separate bowl, lightly whisk eggs, coconut water, coconut milk, whole milk, vanilla extract, coconut oil and butter.
Make a well in the center of flour mixture and pour in milk mixture. Mix lightly to combine, leaving batter clumpy.
Add bananas to batter, briefly stir to distribute evenly. DO NOT overmix, a few lumps are ok.
Heat lightly oiled griddle to 275 degrees or frying pan on medium, using a combination of spray and butter. Ladle or pour batter onto griddle, using 1 cup sized ladle or measuring cup for large cakes, 1/4 cup for small.
Cook until top of pancakes have bubbles and a few bursts, 2 - 3 minutes. Flip carefully with a thin spatula. Cook until brown and crisp, about 2 - 3 minutes, adding more spray and butter if needed.
Transfer to plate or platter and serve.
Information
Category

Breakfast/Brunch, Pancakes/Waffles

Yield

6 large pancakes