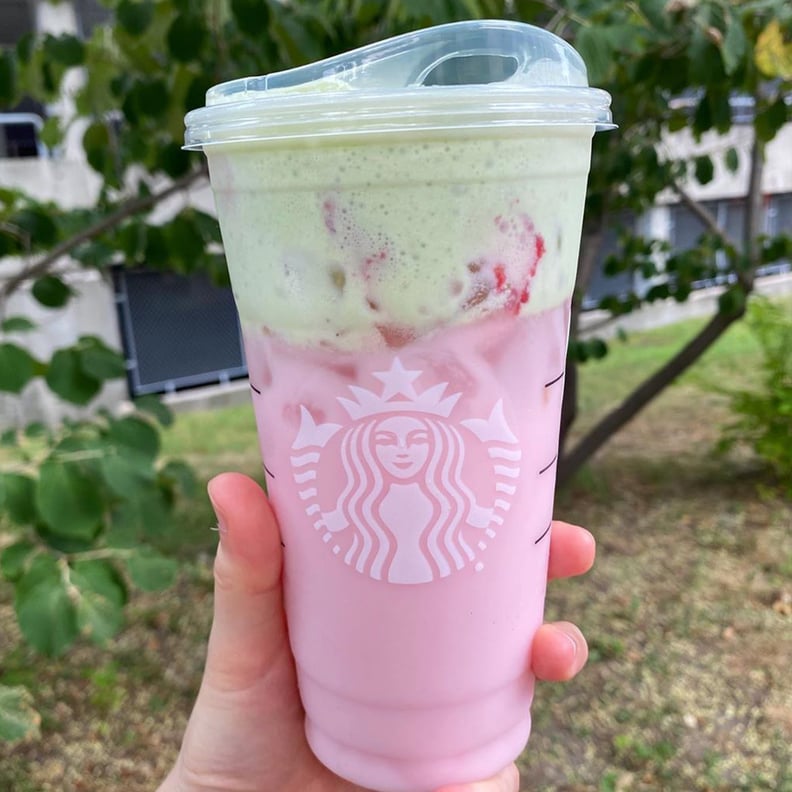 TikTok is the destination for viral dance videos, cleaning hacks, and, apparently, secret menu creations from Starbucks. The latest is the Strawberry Matcha drink, a pretty pink beverage topped with matcha foam that TikTokers have dubbed the "Cosmo and Wanda," inspired by The Fairly OddParents.
While the drink's swirly colors might make it look a little complicated to whip up, it's actually pretty easy to order at Starbucks. Simply ask for a pink drink with vanilla cold foam and a scoop of matcha powder blended into the cold foam. Many TikTokers have also recommended ordering the drink with a slip lid instead of the classic flat lid to get a taste of all the flavors. Though seemingly first created by Starbucks barista and TikTok user @gerrigerrigerri in May, a video from TikToker @amandadiaz ordering the drink went viral in June, prompting people on TikTok to nab the drink for themselves all summer long.
Longtime Starbucks fans might remember a similar secret Matcha Pink drink that took off back in 2016, but the key difference between the older version and the new Strawberry Matcha is the creamy cold foam. Check out the videos and photos ahead for a closer look at the "Cosmo and Wanda," and try it for yourself on your next Starbucks run.
Perfect duo 🍓🍵 #Starbucks #barista #fyp