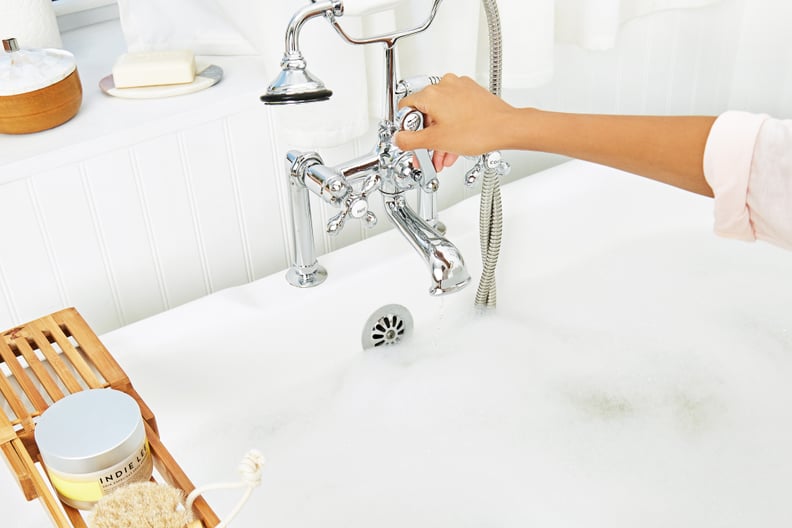 POPSUGAR Photography | Diggy Lloyd
POPSUGAR Photography | Diggy Lloyd
As POPSUGAR editors, we independently select and write about stuff we love and think you'll like too. If you buy a product we have recommended, we may receive affiliate commission, which in turn supports our work.
Let's face it — bathrooms are gross. Even the tidiest among us still have to deal with hair-clogged drains, grimy sinks, and shower tiles coated in thick layers of shampoo, conditioner, and who knows what. But when cleaning day comes around, forget toiling away with rolls of paper towels, scrub brushes, and several different harsh chemical cleansers. All you need is this one bottle of magic soap, and you're just minutes away from a sparkling-clean bathroom. Pull your hair back, pump the jams, and let's get to work! You'll be good to go after just one song.
After discovering Dr. Bronner's Pure Castile Liquid Soap while on my quest for nontoxic beauty products, I was hooked. These 18-in-1 soaps are really just that with near limitless cleaning possibilities around the house. I wash my feet with peppermint soap for a cool tingle, hose the dog off postbeach with lavender soap, and tuck a small bottle of sweet almond for shampoo and body wash in my gym bag. But on one particularly rushed morning, I accidentally spilled more than my intended amount of soap into my bathtub. While mopping it up I made another brilliant discovery: I have seen no other product, chemical or nontoxic, clean up the slimy shower grime the way Dr. Bronner's did.
Getting down with the dirty is easier than A-B-C, baby. Here's how it's done!
Gather Your Arsenal
All you need is a bottle of Dr. Bronner's Pure Castile Liquid Soap ($16), a sponge, and an empty spray bottle. Any scent of soap will do. Most are blended with essential oils for an aromatherapy-like cleaning experience, so pick your favorite. I love using lavender for calmer vibes or citrus for a pop of energy. Gentle unscented is also available (and even gentle enough for babies' delicate skin).
Dilute Your Soap
To power-clean your bathroom, Dr. Bronner's blog recommends diluting your soap with water at a 1:4 ratio in a squirt bottle. Shake it all up and stash it under the sink, making future cleanups a breeze.
Spray, Wipe, Shine!
Spritz a few bursts of your soapy-water mix onto all of your bathroom services. Then grab your sponge (or Magic Eraser) and wipe up the grime. Rinse and dampen your sponge in between surfaces to make sure all of the product and scum is gone. You can use this same spray on your countertops, in the bathtub and shower, and on and around the toilet. You can even mop with it — simply dilute one-half cup of soap into three gallons of hot water and swirl the mess away.
Time-saving hack: I love cleaning my shower while I'm actually in it. That way, I don't mind getting wet, and the shower spray rinses all of the residue away without wasting more water with a separate wash! Plus, I can use the Dr. Bronner's soap safely on the shower surfaces and my body alike.