If You, Too, Are Enamored by Celebrity Pantries, Please Appreciate These Acute Observations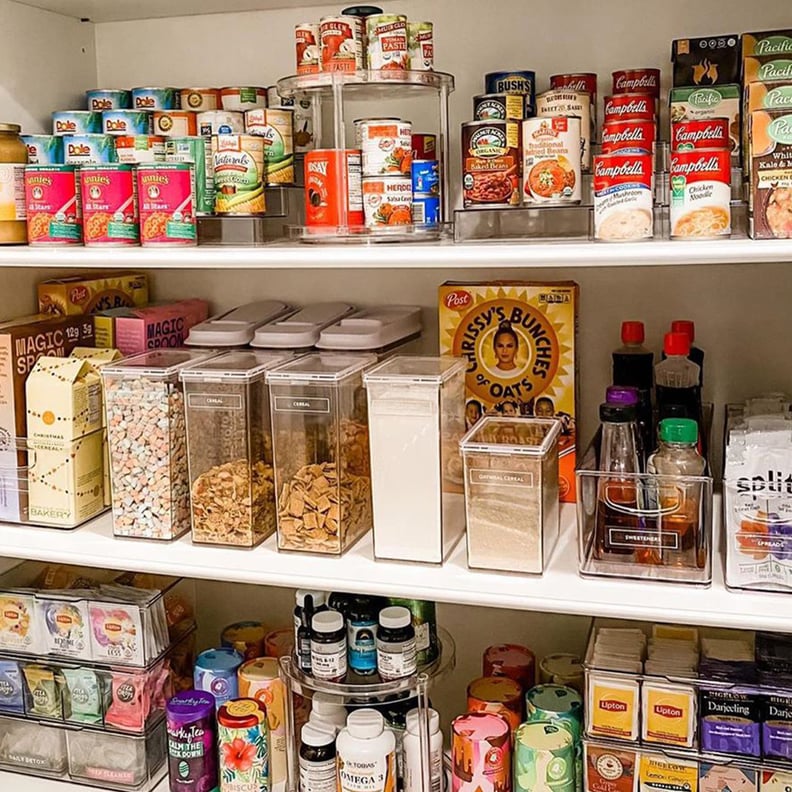 If there's one thing we can all appreciate, it's a peek into celebrities' glamorous lives. And while extravagant home decor, a walk-in closet full of Birkin bags (we're looking at you, Kylie), and sleek state-of-the-art kitchens are all very fascinating, there's something about a pantry that really grabs my attention. Trust celebrities to turn a seemingly dull part of everyday life into #PantryPorn.
A beautiful pantry has become a marker of peak celebritydom, and I'm very here for it. So why am I so fascinated by celebrities' pantries, you may ask? Well, they're simultaneously aspirational and (somewhat) relatable. Like, we all have pantries, right? But we don't all necessarily have designer purses and priceless works of art. I love seeing my go-to snacks and spices in organizers from the Container Store also existing in pantries belonging to megacelebrities . . . but I of course one day aspire to have a walk-in pantry with a fro-yo machine like Kim's.
If you, too, are obsessed, keep reading for my acute observations of the some of the most interesting celebrity pantries.
Kim Kardashian's Hyperorganized Pantry
Kim's pantry is truly the face of #PantryPorn. The reality star, businesswoman, and mom of four shook the internet back in January when she posted an in-depth tour of her pantry and kitchen(s) on her Instagram Stories.
In case you need a refresher, Kim's tour walked us through not one but two kitchens (one for the chefs), a walk-in refrigerator, and a fro-yo machine complete with labeled toppings in her pantry.
While I'd be lying if I said I wasn't wildly envious of all the options, I have to say, if I were to ever set foot in this kitchen, I wouldn't know what to do with myself. Would I admire the perfectly uniform cereal canisters with custom lids first? Would I head straight to the fro-yo machine? IDK! Even the thought is overwhelming. Plus, I'd be scared to spill anything on Kim's pristine floors.
I admire Kim's beautiful pantry, I really do, but let's be honest: this one's almost too ambitious for Pinterest.
Chrissy Teigen's Aspirational Yet Kind of Attainable Pantry
Not that anyone asked, but if I were ever a celebrity, this is the pantry I would want. I mean, there is an entire Lazy Susan dedicated to hot sauces.
I like how not everything is decanted. Personally, all the clearness of some of these celebrity pantries overwhelm me, and I'm very into the contrast against the bamboo shelving.
This pantry clearly belongs to someone who actually cooks regularly, which makes sense considering she has authored two popular cookbooks.
Chrissy's mom, Pepper Thai, apparently has a "secret box" in the pantry featuring all of her Thai ingredients, including a 50-pound bag of jasmine rice. We don't see it in these photos, but I think that deserves extra points.
Like I said, Chrissy's pantry is definitely my favorite: it's aspirational, but somewhat attainable at the same time. Hyperorganized without being too intimidating. While I absolutely don't have a huge walk-in pantry, I feel like I could maybe attempt to organize mine like this on a smaller scale.
Timotheé Chalamet's Controversial Pantry
People had a lot of thoughts about poor Timotheé's empty pantry. It's confusing, random, and to top it off, badly photographed. But I don't know, maybe Timmy orders a lot of takeout and just likes to keep things refrigerated? You never know, his fridge could be an organized masterpiece!
I feel like pantries can be reflective of people's personalities, and honestly, this captures Timmy's aloof, slightly awkward, yet totally humble demeanor, no?
Apparently, the Little Women actor likes honey, Kraft's Mac and Cheese, canned soup, and Triscuits. FWIW, I approve of these snacks.
There's only so much I can say about this pantry . . . Moving on.
Rachael Ray's Very Relatable Pantry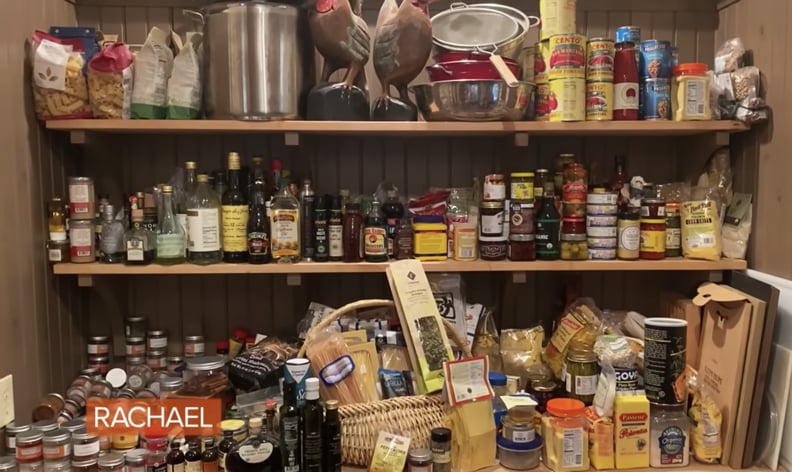 Finally, a truly relatable celebrity pantry! And this one belongs to a very legit Food Network chef.
Rachael herself said it best during her kitchen tour: "It's daunting, but I understand it. It's like a desk with too many papers for some people, but they know where everything is."
I'm seeing a lot of pasta ingredients here, and wow, I'm inspired: the woven basket stuffed full of spaghetti, the top shelf housed with bags of penne and cans of peeled tomatoes. . . BRB, dreaming of Rachael cooking me some pasta.
Hey, it might be a little packed but it's certainly not a mess. As long as she knows where everything is! I respect it.
Khloé Kardashian's Meticulously Labeled Pantry
Keeping Up With the Kardashians fans know Khloé is extremely particular when it comes to home organization, and her pantry is no different.
Don't get me wrong — the color-coordination is stunning. . . but is it actually easier to organize snacks by color? Like, since Annie's crackers come in different-colored packaging, would she separate snacks of the same brand? I feel like that would confuse me. (Yes, I'm aware I'm reading too much into this.)
Just wanted to point out that she has an entire basket (or two?) solely dedicated to pickles.
In conclusion, Khloé's pantry is without-a-doubt beautiful, but it's a little too high-maintenance for my taste.
Mindy Kaling's Beautifully Compact Pantry
She might not have an entire room dedicated to her pantry items, but Mindy's space is actually one of my favorites.
The Mindy Project star makes excellent use of the compact cabinet space, with slide-out drawers and deep shelves, without making it look cluttered. I love that all of that extra room is hidden behind the cupboard doors.
A beautiful pantry does not mean the owner has to make beautiful dishes from scratch. Like Mindy, I also enjoy my Duncan Hines mixes.
This pantry is clearly an A+ in my book, but I'd also like to point out that her kitchen itself is gorgeous.
Busy Phillip's Perfectly Color-Coded Pantry
Is this the inside of a Kate Spade store or Busy Phillip's pantry? Who knew you could make a pantry look so playfully pretty?
My eyes immediately gravitated toward her epic collection of cookbooks. The bright colors, variety, and coordination are seriously impressive.
I appreciate how Busy included a "before" shot of her pantry to feel relatable because it certainly makes me feel better about my adequate pantry.
I wonder if she intentionally buys snacks and sauces to rep the colors of the rainbow. . . if so, can she provide some recommendations for each color?
Busy's pantry is the kind that would bring someone joy the second they stepped in. For that reason, I love it.