25+ Small-Patio Decor Ideas to Create a Relaxing Retreat at Home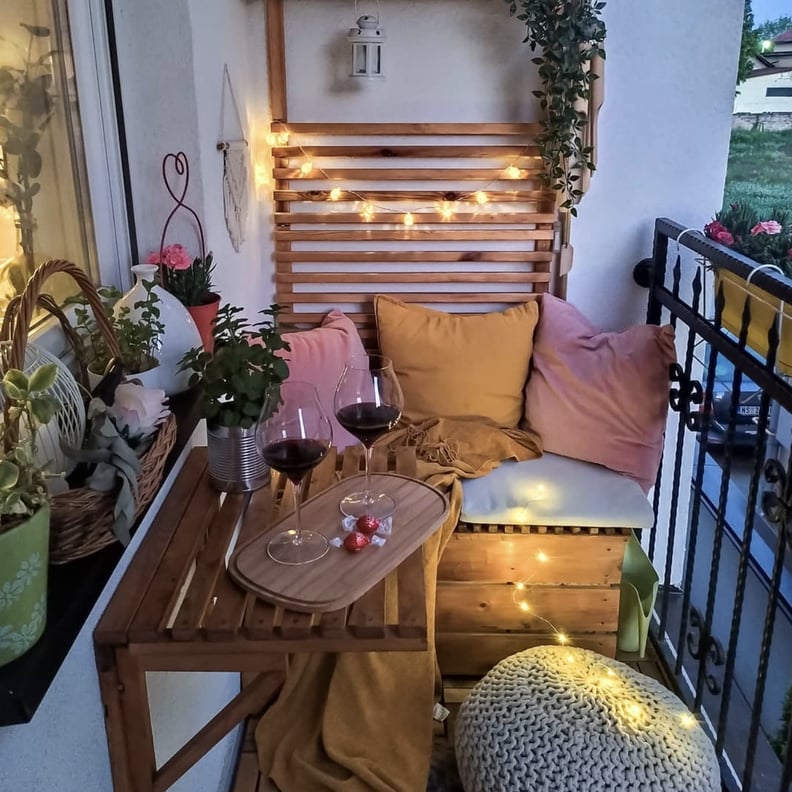 If you're fortunate to have a patio, deck, or balcony — yes, even a tiny one counts — congratulations, you have an outdoor space to call your own! Having access to a little slice of the outside is great for soaking up some vitamin D during a sunny afternoon, enjoying a meal or glass of wine al fresco, or grabbing a breath of fresh air without having to walk very far (or even change out of your pajamas).
With some creativity and stylish furniture, lights, and decor, as well as a quantity of houseplants that only you and your credit card bill will know, you can transform your small deck, patio, or balcony into a relaxing retreat right at home. Ahead you'll find some Instagram inspiration to help you make the most of your small space all year round.
Boho Chic
Find your own zen in a space filled with earth tones, macrame wall decor, airy rattan furniture, a hammock chair swing, hanging lights, and a touch of greenery.
Geometric Patterns
Mix and match black and white textiles with different geometric patterns for a modern look, and then use various plants to add warmth to your small space.
Colorful Maximalism
This little oasis is an explosion of color, making the most of both wall and floor space by using unique, bright decorations. We're sure each planter and piece of wall art has an interesting story behind it.
Beach Vibes
Relax on a wicker couch and ottoman, sink into some tropical-themed pillows, and enjoy those summer vacation feelings all year round.
Bold Accents
Decorate with visually interesting accent pieces. Pick out a stylish planter to house your succulents and complement it with a mirrored lantern and uniquely shaped end table.
Teak Furniture
Teak furniture is stylish and durable, meaning it will keep up with both you and seasonal weather.
Minimalist Design
Sometimes less is more. These teal Acapulco chairs add just the right pop of color against a sleek wood deck.
Bench Seating
Optimize your space and seating with an L-shaped bench that fits into the corner. Add a handful of colorful pillows to create a homey nook.
Think Pink
Flowers can brighten up any space, big or small. This balcony, where the flowers match the furniture and vice versa, is pretty in pink.
Black and White
It's hard to go wrong with simple black and white furniture, as this balcony can attest to.
Shades of Gray
Neutral shades of gray and white are always crowd pleasers. This balcony also has white crate shelves and paper lanterns for a clean aesthetic.
Primary Colors
Don't shy away from bright colors, which can be a fun mood booster for any small space.
Living Walls
Who says grass only has to be on the ground? Think outside the box and create a textured checkerboard wall using greenery.
Fruit Themed
Pick a theme and lean in. This space has pineapple and watermelon accents tastefully incorporated throughout.
Statement Furniture
Make one really great piece of furniture — like this large round daybed — the focus of your balcony or deck. It will also double as your new favorite napping spot.
Ivy Trellis
Completely surround yourself with greenery by adding ivy to the balcony rails or wall and lining the floor with artificial grass.
Vintage Inspired
Combine different vintage colors and furniture to create a retro space you can relax in.
Hanging Hammock
Lazy weekends (or weekdays) call for time spent lounging in a hammock. The white furniture and leafy plant add to a sense of calm.
A Big, Cozy Chair
Outdoor furniture can be cozy too. This round chair and ottoman is a comfy spot to enjoy a sunset, book, or glass of wine.
A Hanging Egg Chair
Swing the afternoon away in an egg chair. The chevron print rug, mini lanterns, and pair of plants complete the effortless look of this balcony.
Hanging Plants
Macrame plant hangers can help you increase the amount of plants on your deck without using up valuable floor space.
Tropical Refuge
Embrace your inner plant lady by filling a deck, patio, or balcony with plenty of plants, planters, and plant-themed throw pillows.
Twinkle Lights
With help from some charming twinkle lights and a few lanterns, your small outdoor space will be ready to transition from daytime to nighttime use with a flip of a switch.
Wine Nook
Create a nook with pillows, lights, a wall-mounted table, and an ottoman where you can enjoy a glass or two of wine after a long day.
Rosé All Day
Upcycle a couple of wood pallets into a chair and cover it with ample soft pink pillows and matching home accessories.
Hygge All Day
Create a sense of hygge on your deck or balcony with hanging lights, wicker accents, candles, a cozy couch, and, of course, a chunky throw blanket.
Glamping at Home
Set up your own glamping site right on your deck or patio with a stylish tent, plenty of pillows, and refreshments of your choice.
Wood Slat Wall
A wood slat wall can be more interesting than a plain white wall, but even better, you can add and rearrange plants and flowers on it anytime you want to refresh the look of your space.