Karla Souza on Her Mexican and Chilean Background
Karla Souza: "I Finally Realize How Fortunate I'm to Have a US Passport"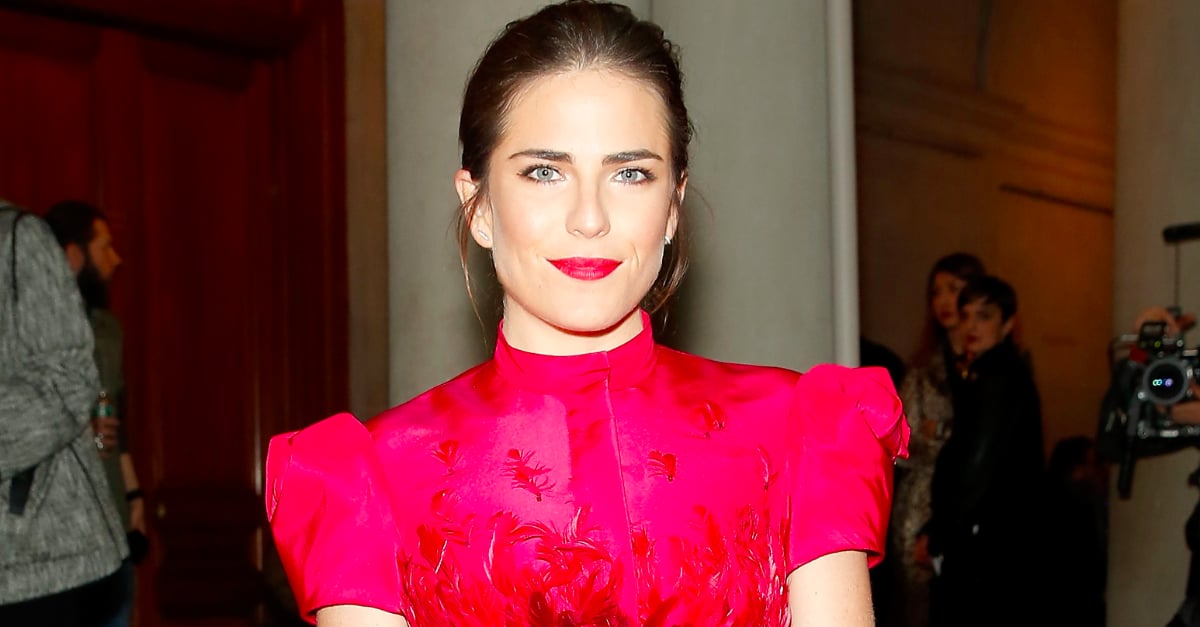 Karla Souza is an actress appearing in ABC's How to Get Away With Murder.
1960s New York, Rockefeller State. Kitchen. Interior.
Elba Silva, Chilean woman, tough as nails, extremely stubborn. My grandma.
Wipes the sweat off her brow and continues to cook arduously as she writes down a recipe that John D. Rockefeller III, wanted to make for a dinner guest. Diego Rivera's mural at the Rockefeller Center had been banned years earlier because it included the face of communist leader Vladimir Lenin. This was the talk at the dinner table, and Elba overhears this conversation and many more during her years as a cook at the Rockefeller Estate.
Flashforward to 2014. Los Angeles California, casting room. Interior.
Elba's granddaughter, Karla Souza, sits in a sparsely decorated casting room, anxiously waiting to be called. Oblivious to the hours of hard work, dedication and struggle her grandmother endured so Karla could have an opportunity to make a living in the United States of America.
She starts looking around at all the other girls auditioning for the same character as she is: "The Latina." That's the character description in the script by the way. As if that's a personality trait you can play as an actor! Anyway I'm getting sidetracked.
She hears her name called out: "Karla Souza?"
"That's me!"
"I'm sorry . . . How exactly are you Latin?" asks the casting director before doing the scene.
"I'm Mexican," Karla replies.
Still some doubt and skepticism on the casting director's face prompts Karla to respond:
"My mother is Mexican and my dad is from Chile. I was born in Mexico City. I just moved to Los Angeles two weeks ago."
Needless to say I didn't book that job. I wasn't "Latina enough."
I'm a spoiled American. I don't fully realize how lucky I am to call this country home. I am a perfect example of what my pastor Rankin Wilbourne calls today's generation: Radically individualistic. A generation of people with one project in mind: Project self. Me, me, me. Naive and oblivious to the blessings and graces given as I go about my day.
The antidote to the pandemic of individualism and selfishness, for me, is to stop and consider: Consider those around me. Those who came before me. Consider the pain and struggle people go through to move to and stay in the US. Surviving as an undocumented immigrant, living in constant fear of deportation. To just stop for a second in my busy privileged life and consider.
I consider. What is my immigrant story?
Elba Silva, my grandma on my dad's side, moved to New York from Chile in search of better opportunities (don't we all?) and ended up working as an assistant cook with the Rockefeller family for 20 years. She made killer Chilean empanadas and was stubborn as all get out. Her husband became a gardener to the Rockefellers, and New York became their home. When she passed away, her one request was to be buried in a beautiful cemetery that overlooks Manhattan.
She had become a US citizen, which gave my dad a path to citizenship.
My father, a shoemaker, immigrated from Chile to Mexico City where he met my mother. They married and soon after moved from Mexico City to Colorado when I was 2 years old. My parents knew the advantages we would have in learning another language and culture at such a young age. We lived in Colorado for 5 years, and my dad ran his Mexican shoe business from there. I vaguely remember receiving the letter from then President, Bill Clinton, saying something like: "Congratulations! You are now a citizen of the United States of America." Which to me, meant nothing at the time.
I only recently moved back to the US after having lived in Europe for eight years and Mexico for 10. As the years have gone by, however, I finally realize how fortunate I am to have a US passport.
My front porch proudly displays both the Mexican and American flags. I celebrate both El Grito (Mexican Independence Day) on Sept. 15, and Fourth of July. At birthday celebrations, you'll hear both "Las Mañanitas" and Happy Birthday. I consider myself as much American as I do Mexican.
As a kid, I would check the box that said Caucasian in forms because I thought they were asking about the color of my skin. I was later told that I was considered "brown" even if my skin is white. Forgive me if I'm still confused. These boxes fail miserably at labeling us.
From bringing Mexican candies on set to inviting and encouraging my friends to visit Mexico, I take pride in sharing my Latino experience.
You will hear me speaking Spanish unabashedly, making my character Laurel on ABC's How to Get Away With Murder authentically Latina and showcasing Latino playwrights with the non-for-profit Ammunition Theatre Company.
I'm the Mexican born granddaughter of a Chilean American cook, daughter of a Mexican and Chilean American shoemaker, wife of a Texan.
This is America.