Bad Bunny Lands First Major Hollywood Role in "Bullet Train"
Bad Bunny is undoubtedly one of the biggest artists in the world right now. In a short period of time, he's managed to make his mark in the world of reggaeton and Latin trap and helped solidify his place and the genre's position in mainstream media. Bad Bunny (Benito Antonio Martínez Ocasio) made his debut on the small screen in the main ring at WWE's WrestleMania. He then debuted his acting chops by playing Everardo Arturo "El Kitty" Paez during the third season of Netflix's hit show "Narcos: Mexico," which centers around a new generation of Mexican kingpins during the 1990s called the "Narco Juniors." But Bad Bunny is moving on up. On Wednesday, the trailer for the upcoming film "Bullet Train" dropped, with the Puerto Rican artist making his debut on the big screen in the English-language action film — which stars none other than Brad Pitt.
Pitt plays Ladybug, an experienced assassin aboard a fast-moving bullet train from Tokyo to Morioka who encounters several other professional killers. Pitt engages in brutal fights while aboard the train's different compartments with his costars — who include Sandra Bullock, Joey King, and Bad Bunny — as they attempt to carry out their mission of stealing a briefcase.
The trailer shows Bad Bunny displaying several of his full-throttle action stunts during a fight aboard the train with Pitt as the song "Staying Alive" by the Bee Gees plays in the background. "I will ruin your life the way you ruined mine," Bad Bunny tells Pitt after stabbing him in the trailer.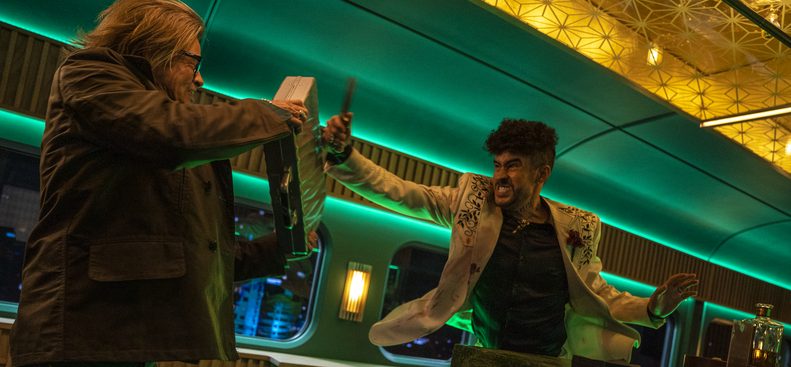 The highly anticipated film is based on the Japanese novel "Maria Beetle" by Kotaro Isaka and is set to premiere only in theaters on July 15.
"Bullet Train" is a big deal and a step in the right direction not only for the 27-year-old Latin-trap star, but also for the entire Latinx community. Bad Bunny has openly and unapologetically struggled when speaking English, from a now-viral video of him telling a reporter at the AMAs that he didn't understand what he was being asked to blurting out words in Spanish when he simply doesn't know how to say it in English.
In the past, having a Latin accent has been the butt of multiple jokes and was something that felt almost shameful. Actors such as Desi Arnaz and Sofia Vergara have had highly successful careers by playing up and exaggerating their accents, while on the other hand, other actresses such as Salma Hayek have said that they've spent years and have worked relentlessly to attempt to neutralize their Latin accents in order to land more roles outside typical stereotypes, such as the maid or criminal.
The Puerto Rican-born superstar, however, may not dominate the English language, but he has refused to assimilate and has not let the language barrier stop him from growing into a well-respected actor. Making his Hollywood debut in a film with one of the most well-known actors in the world is not only a big feat, but it's also Bad Bunny once again proving to the world that regardless of his accent, his mantra of YHLQMDLG, an acronym for "Yo Hago Lo Que Me Da La Gana" ("I Do Whatever I Want"), still holds true.
Watch the trailer for "Bullet Train" below.