How to Make Croquetas de Jamón
How I Mastered My Abuela's Croquetas de Jamón With Just 5 Ingredients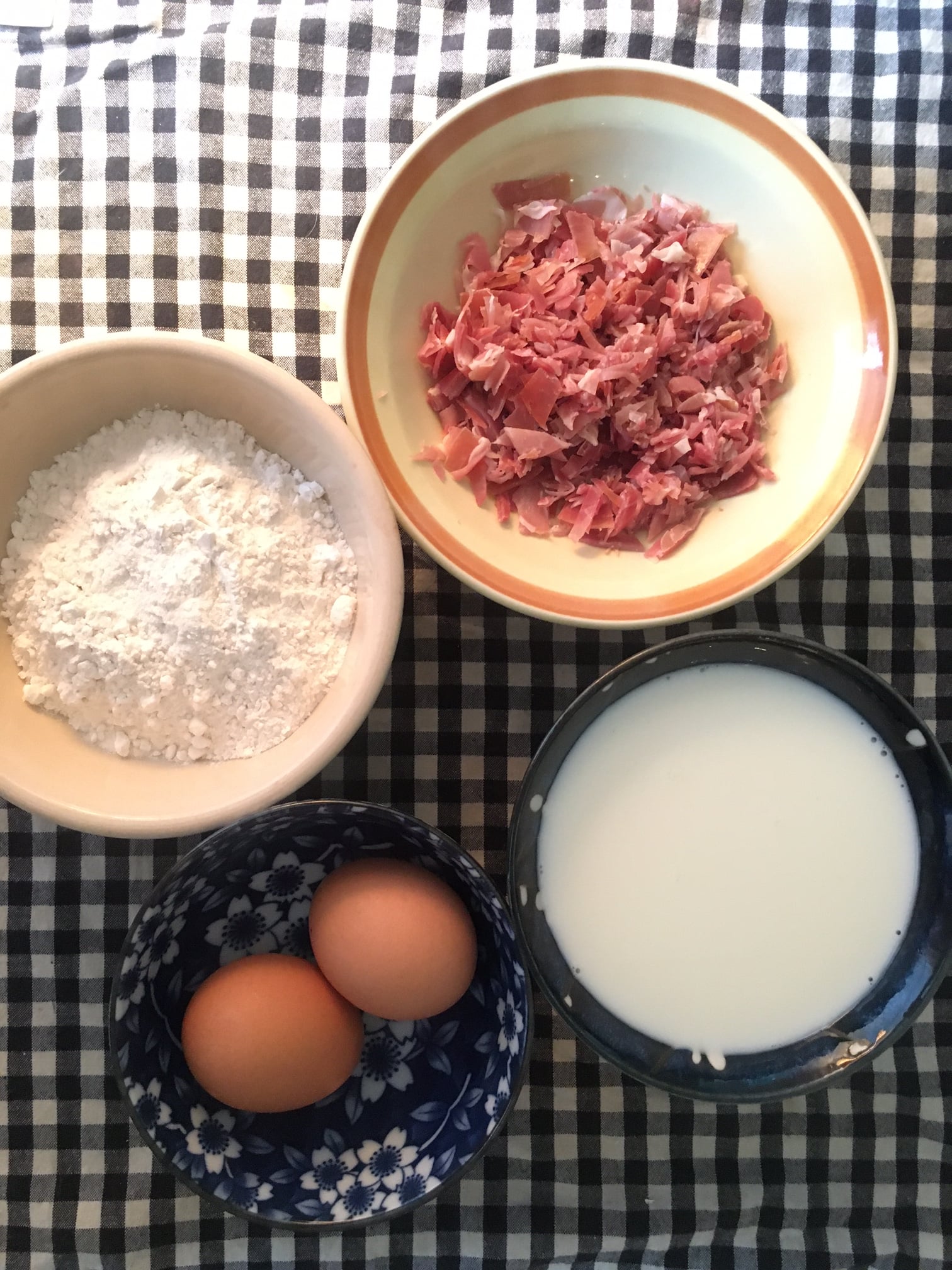 Whenever I get together with my Spanish and Latinx friends, potluck style is always the way to go. And let me tell you, if you show up with a store-bought tray of veggies and hummus, chances are you're never going to get an invitation back. At these gatherings, everyone makes their favorite dishes from their home country. Arepas, arroz con gandules, pasteles, empanadas, pastelitos, and my personal favorite, jamón croquetas, tend to be especially popular around the holidays like Noche Buena or Easter dinner during Semana Santa.
For those not familiar with this Spanish appetizer, croquetas are essentially little pieces of heaven fried with breadcrumbs in the shape of a ball or roll and, like many of the best traditional recipes in every culture, they have their origins in the creativity that comes with necessity and lack of ingredients. As my grandma Merche explained to me when I started to show interest in learning her recipes, she learned to make them with whatever leftovers her mom had in her kitchen. My Abuela Merche didn't love to cook particularly, she was more of an ace-your-top-five-dishes kind of grandma, and her croquetas were unmatchable. The best I've ever had. And it wasn't until I moved 3,582 miles away from my hometown of Madrid that I started to make them myself. I had always followed her recipe from what my dad told me and from paying attention to what she did in the kitchen when I was growing up. But it's a shame that I never got to ask her for the specific steps before she passed away five years ago.
As she showed me and as you can see wherever you go if you visit Spain, you can make croquetas with almost anything you can think of, but my abuela was a master at the classic one, a delicious and uber-simple mix of jamón (ham), flour, milk, breadcrumbs, and eggs. Other very popular versions you can find in Spanish bars, restaurants, and family meals have chorizo, mushrooms, cod, shrimp, or chicken. And the steps to make them are the same no matter what you choose as the main ingredient.
Jamón Croquetas
Original Recipe
Notes
Jamón serrano is so salty that I don't even use salt in this recipe!
If you can find jamón serrano in your store, that's what the recipe calls for, but I have made them with Italian prosciutto, which works too.
When you're choosing what type of milk to make the dough with, I've tried this recipe with whole milk and 2% and I haven't felt a significant difference. I have still yet to try it with nondairy milks to see if the texture passes the test.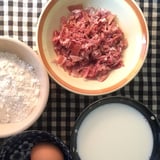 Ingredients
For the dough:
1 tablespoon olive oil
2 1/2 cups milk
1 1/2 cups chopped jamón serrano
1 cup all-purpose flour
For frying:
1/3 cup extra-virgin olive oil
1 cup breadcrumbs
2 beaten eggs
Directions
Place one tablespoon of olive oil in a large frying pan.
When the olive oil is hot (but not too hot), add the chopped jamón serrano until it changes color. You want it to go from pink to light brown, but you don't want it to be crunchy.
Add the flour to the pan and mix it thoroughly with the ham to distribute it evenly.
Lower the heat and add the milk to the mix, stirring slowly. You can always add more flour or milk to your taste. I feel like croquetas are a recipe you have to make your own and it's different in every family, but, in general, know that the more ham to flour and milk ratio, the tastier.
Remove the pan from the heat and place the dough on a large plate greased with a teaspoon of olive oil and flatten it with a spoon.

One of my abuela's special touches was to spread a teaspoon of olive oil, coating the flattened-out dough before putting it in the fridge to rest.
Cover the oiled dough with plastic wrap and let it rest for at least four hours and up to 12 hours.

Let's get frying!

There are a thousand and one techniques to make the croqueta shape, but my favorite is with my clean bare hands covered in a bit of olive oil to prevent the dough from sticking to my fingers too much.
After getting the shape she liked, my grandma's style was to set up a chain of bowls and plates with each ingredient for the final steps; so: first the plate with the dough, followed by a bowl with the beaten eggs, and then a plate with the breadcrumbs. At the end of the chain, a clean plate to set up the croquetas before frying them.

Get a tablespoon full of dough and shape it with your hands until it looks like a roll, as long as one of your ring fingers. I believe this measuring technique is completely made up by my family, but it works!
Once you have your desired shape, dip the rolled croqueta in the eggs with a spoon and a fork, making sure you cover it completely.

Pass the egged roll to the breadcrumbs station. Again, make sure it's evenly covered in breadcrumbs.
Set the croquetas one by one on the clean plate before you get ready for frying.

The better the oil, the better the croqueta. The best one for this recipe is extra-virgin olive oil, and the best temperature to fry them is around 347°F. Also, to get the perfect croquetas, make sure not to fry too many at the same time; 3-4 at a time is ideal.
Information
Yield

8 to 10 croquetas

Prep Time

10 minutes

Cook Time

5 hours

Total Time

5 hours, 9 minutes, 59 seconds
Image Source: Irene San Segundo