How to Make Puerto Rican Bacalao a la Vizcaina
This Puerto Rican Bacalao a la Vizcaina Recipe Makes For the Perfect Easter Dish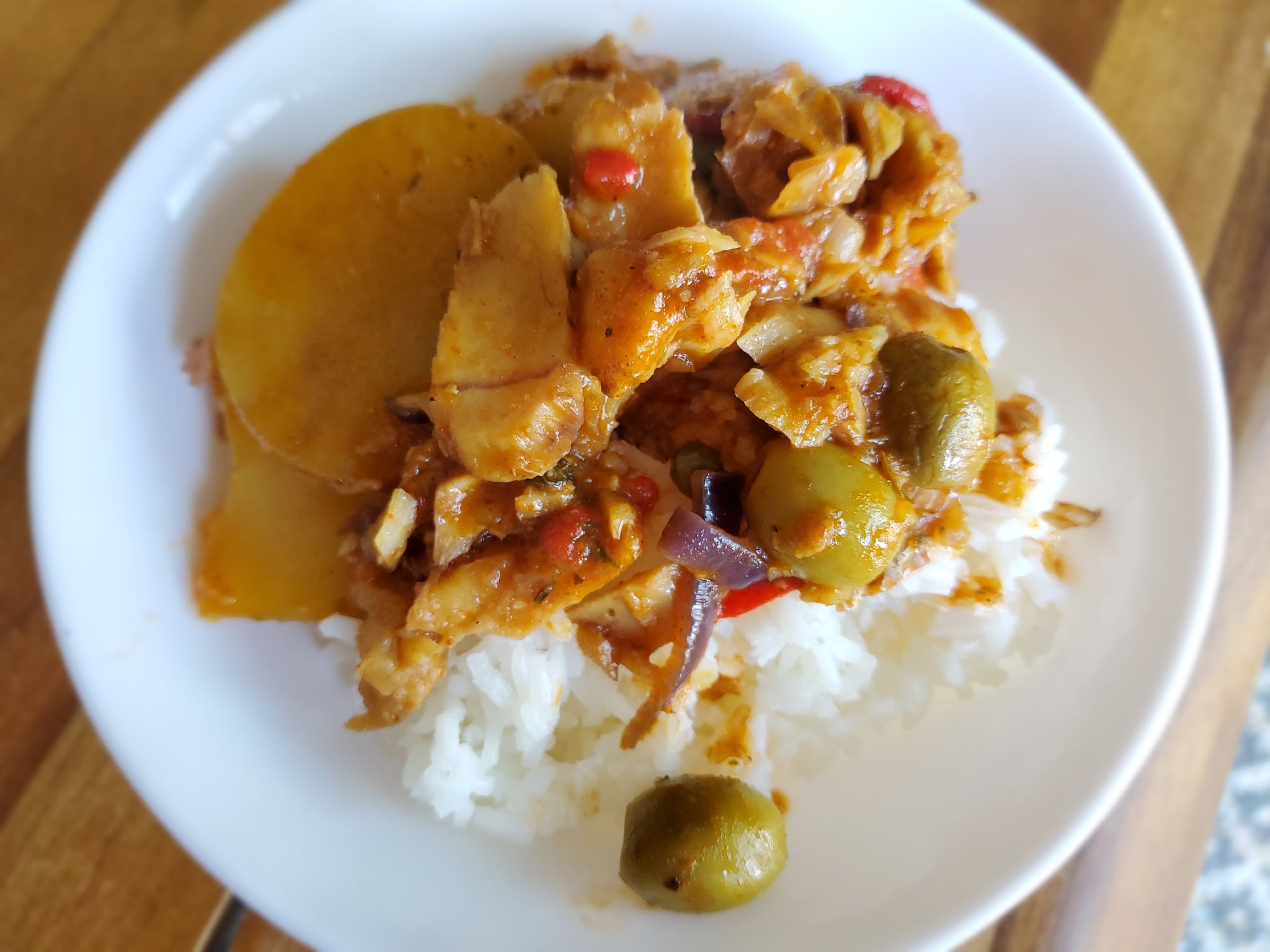 The traditional dish bacalao a la vizcaina is ubiquitous in Puerto Rico and throughout the diaspora during Semana Santa — especially on Viernes Santo. It's a stewed salted-codfish dish with potatoes, onion, garlic, olives, and capers in a broth made of tomato sauce and white wine. Originally from the Basque region of Spain, it's commonly eaten on Good Friday and throughout Lent in Puerto Rico and several other Latin American countries, including the Dominican Republic and Cuba. It's also sometimes called bacalao guisado.
Relatively simple to prepare, bacalao a la vizcaina is perfect for anyone abstaining from meat during the Lenten season and/or on Good Friday, since it's made from fish and vegetables. It's super savory and features many essential flavors in Puerto Rican cooking. It can be eaten alone, served over white rice, or even with mofongo — a dish of fried and mashed plantains that's virtually synonymous with Puerto Rican cuisine.
The potatoes in the dish soak up all the broth as the bacalao stews, making them incredibly flavorful and proving that there's no need to sacrifice taste when you're not eating meat. Even better, once the salted cod is soaked to remove some of the salt, bacalao a la vizcaina comes together in less than an hour.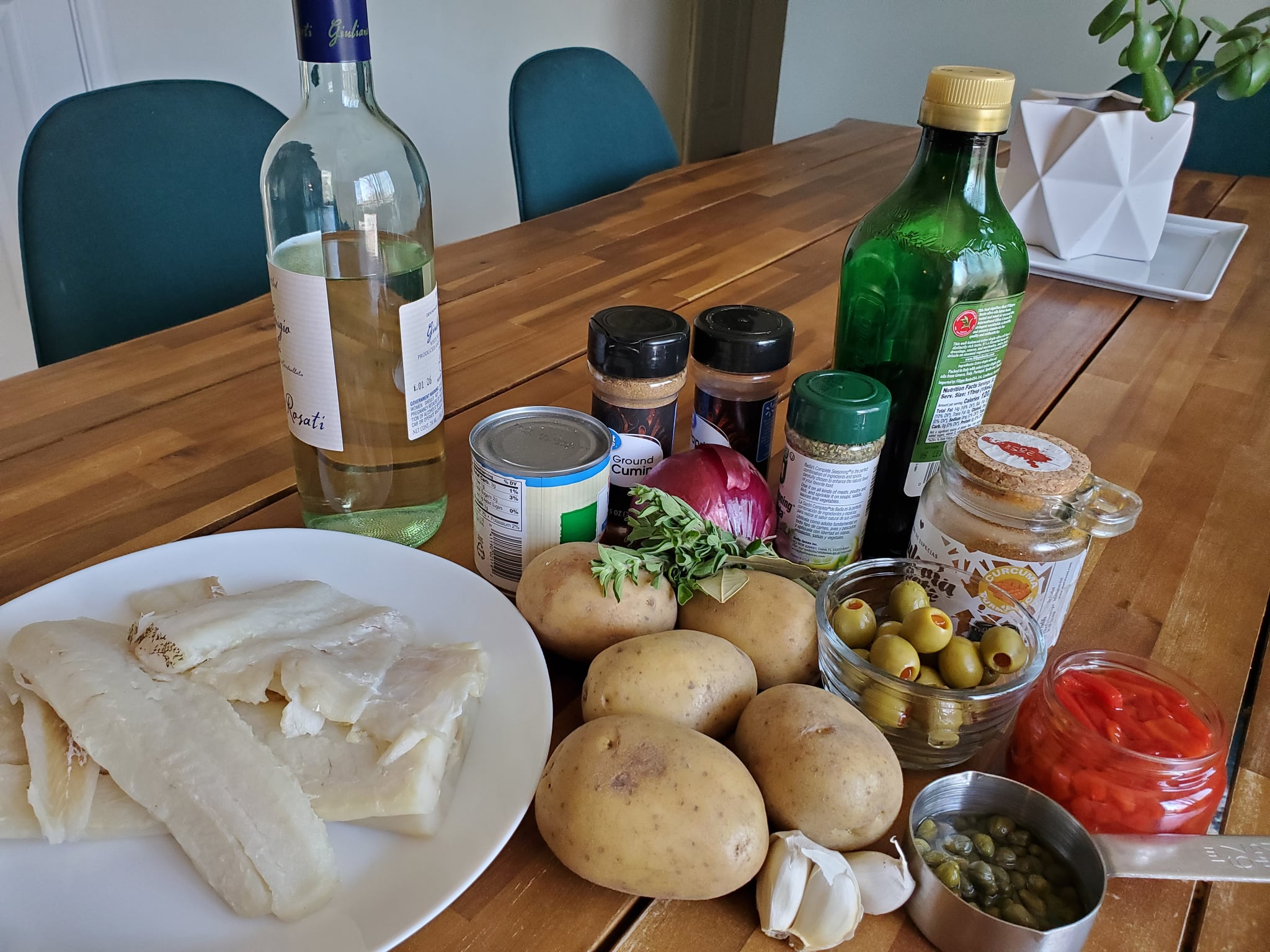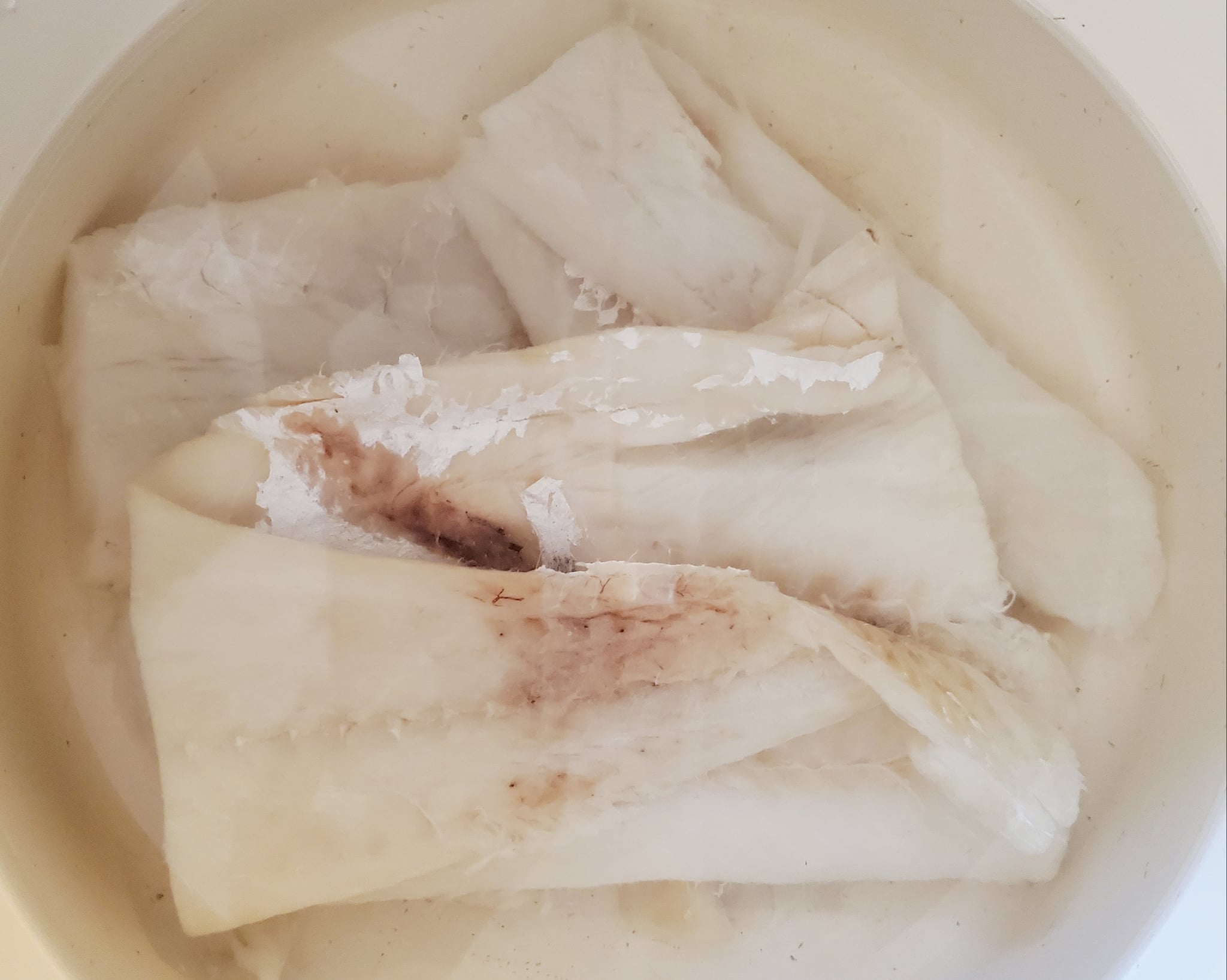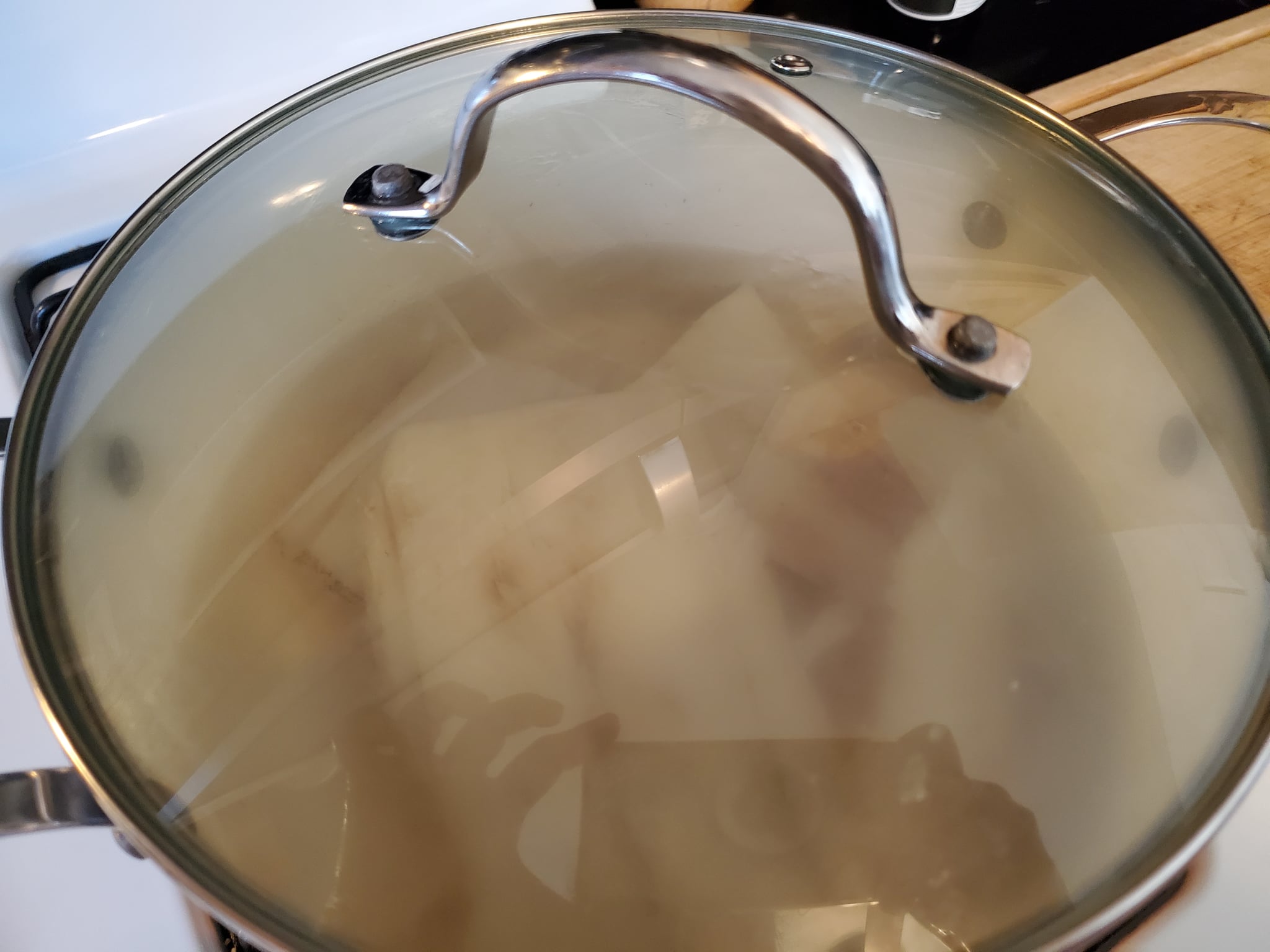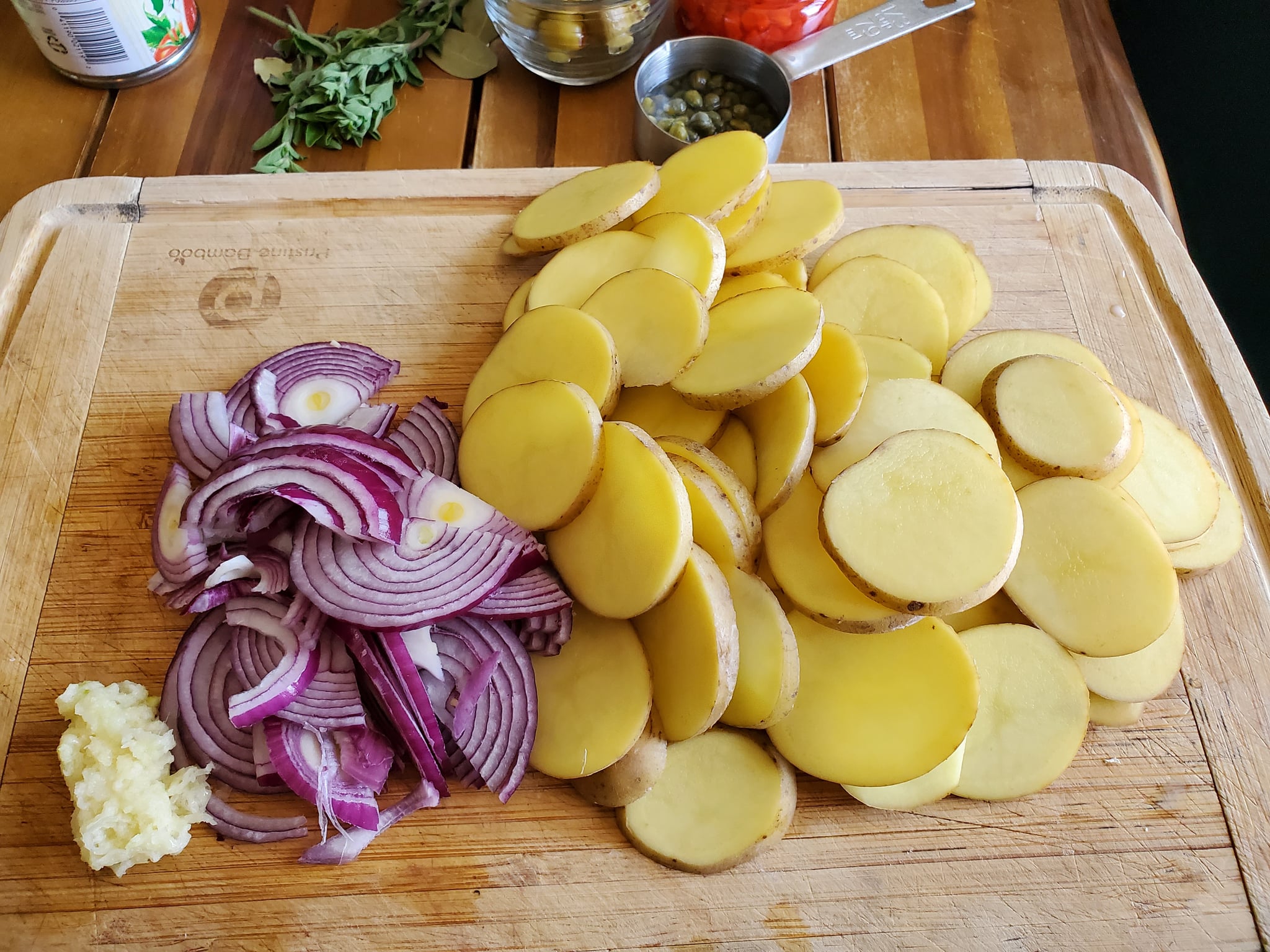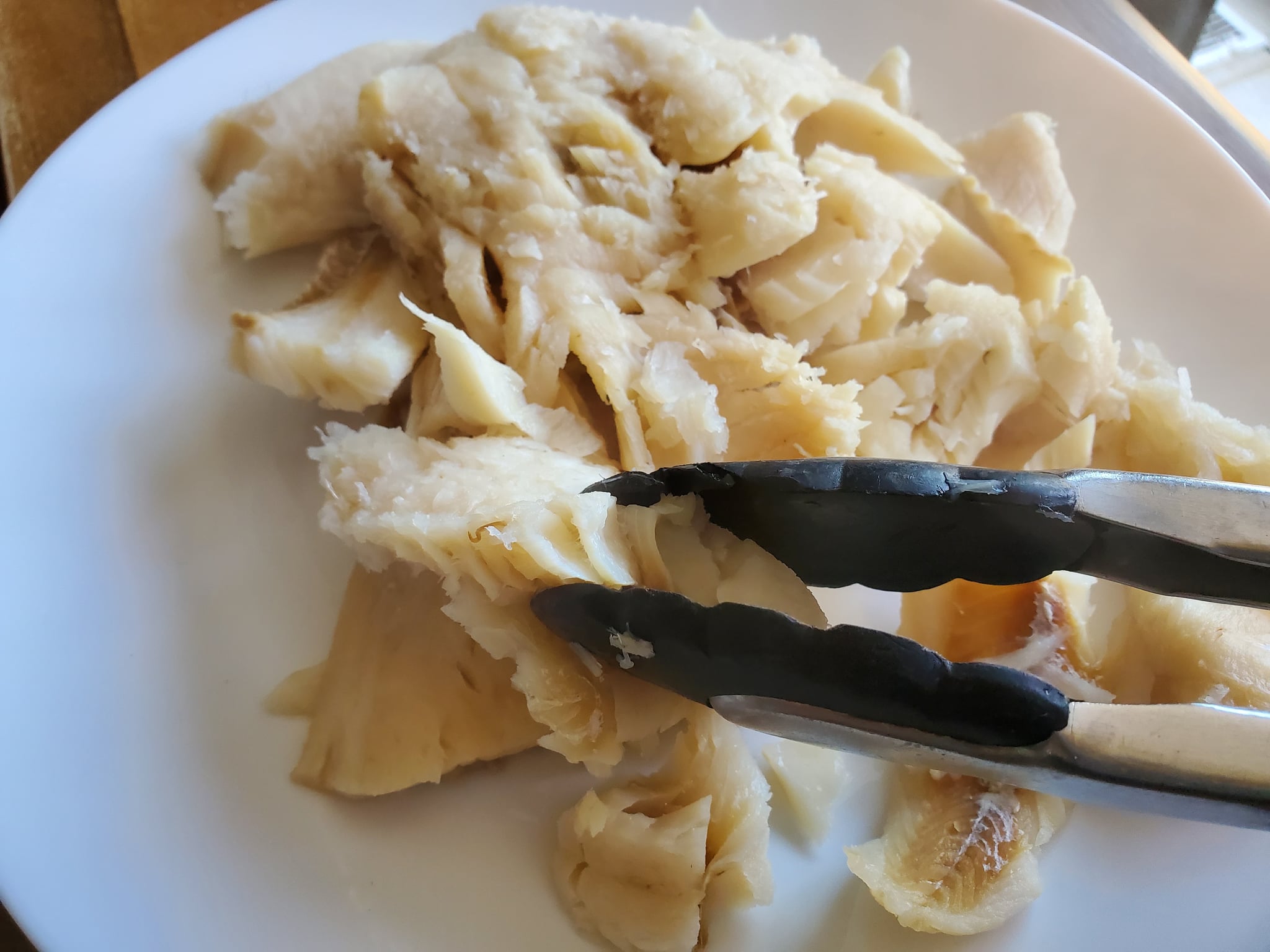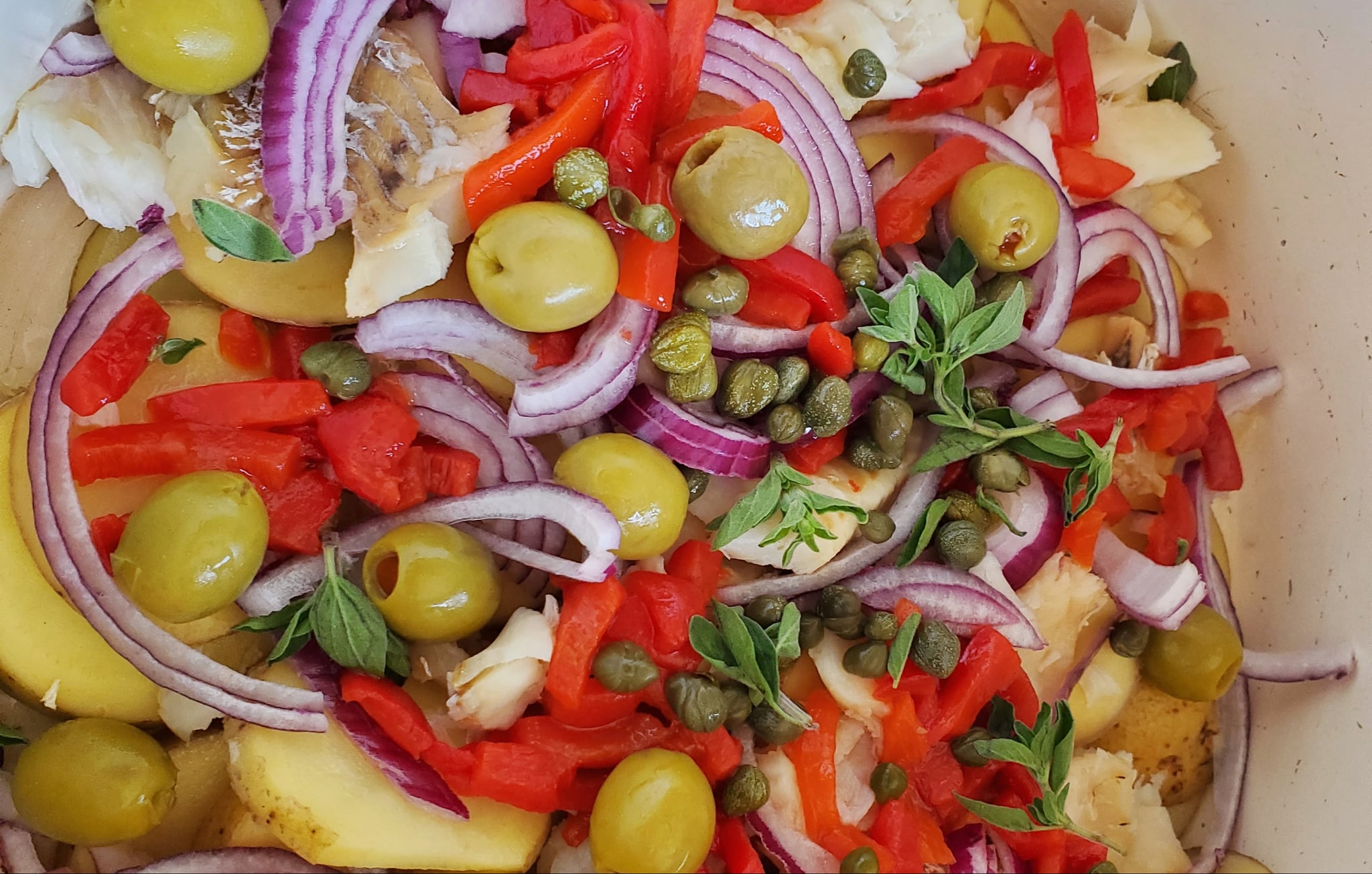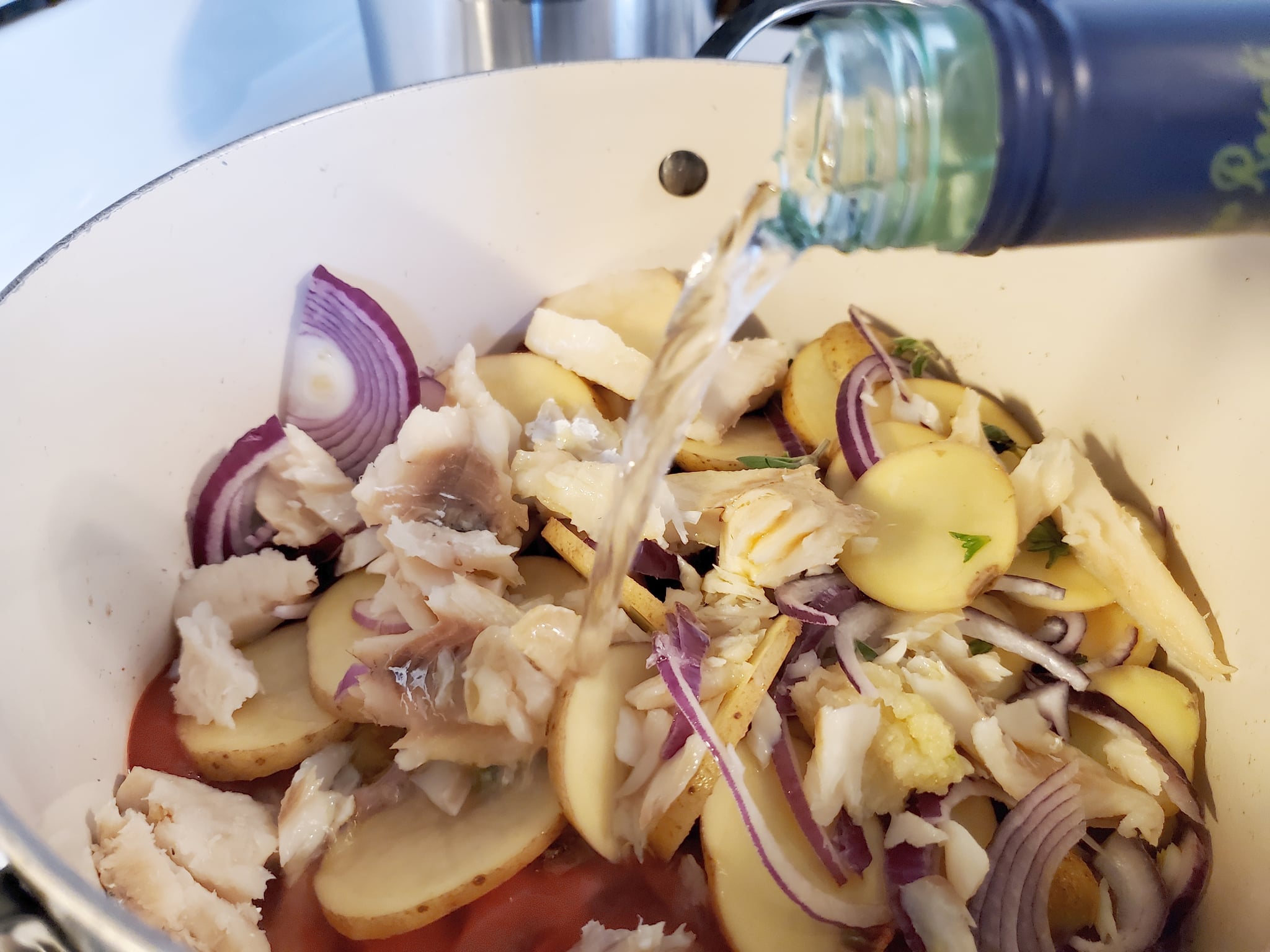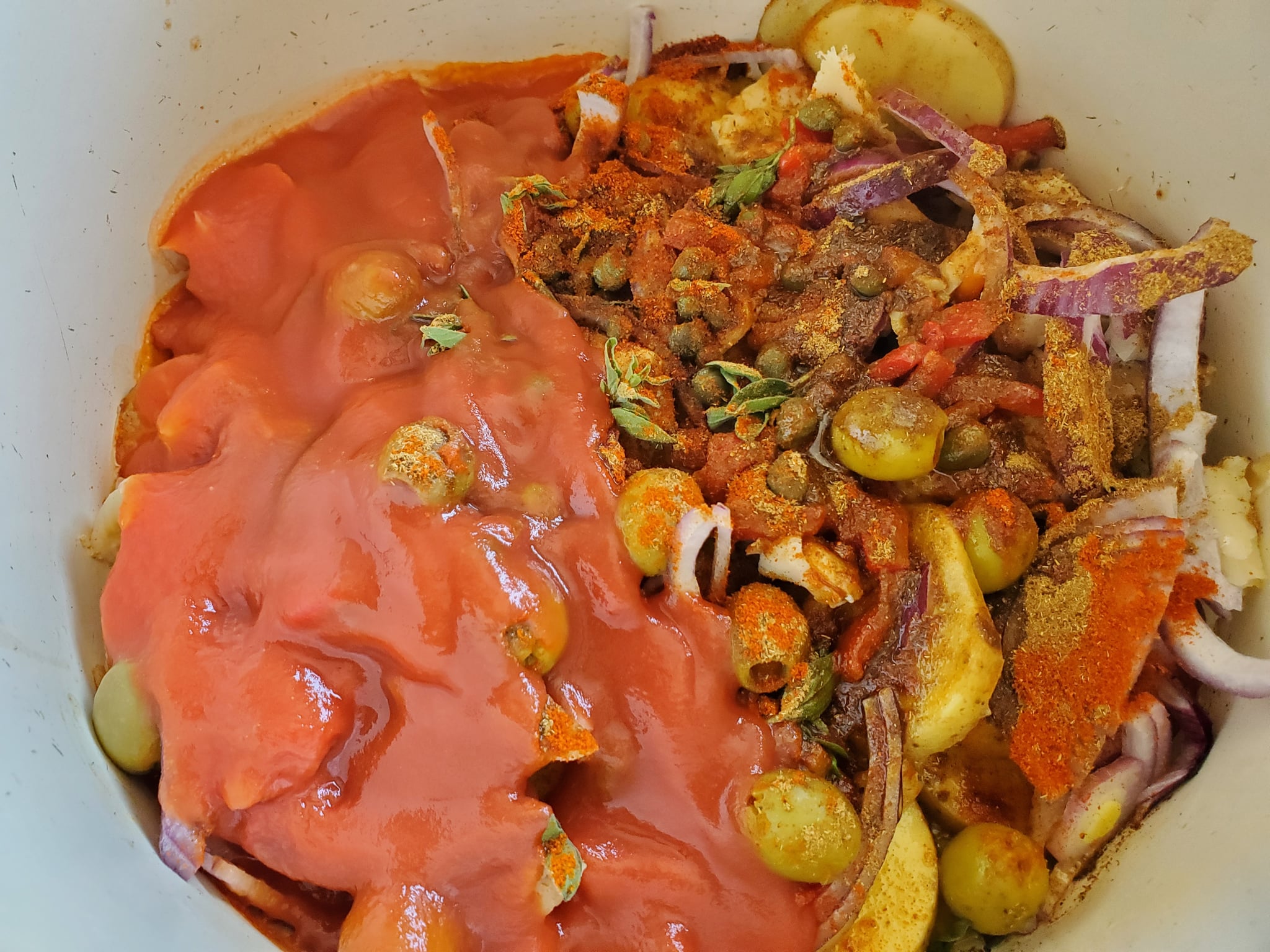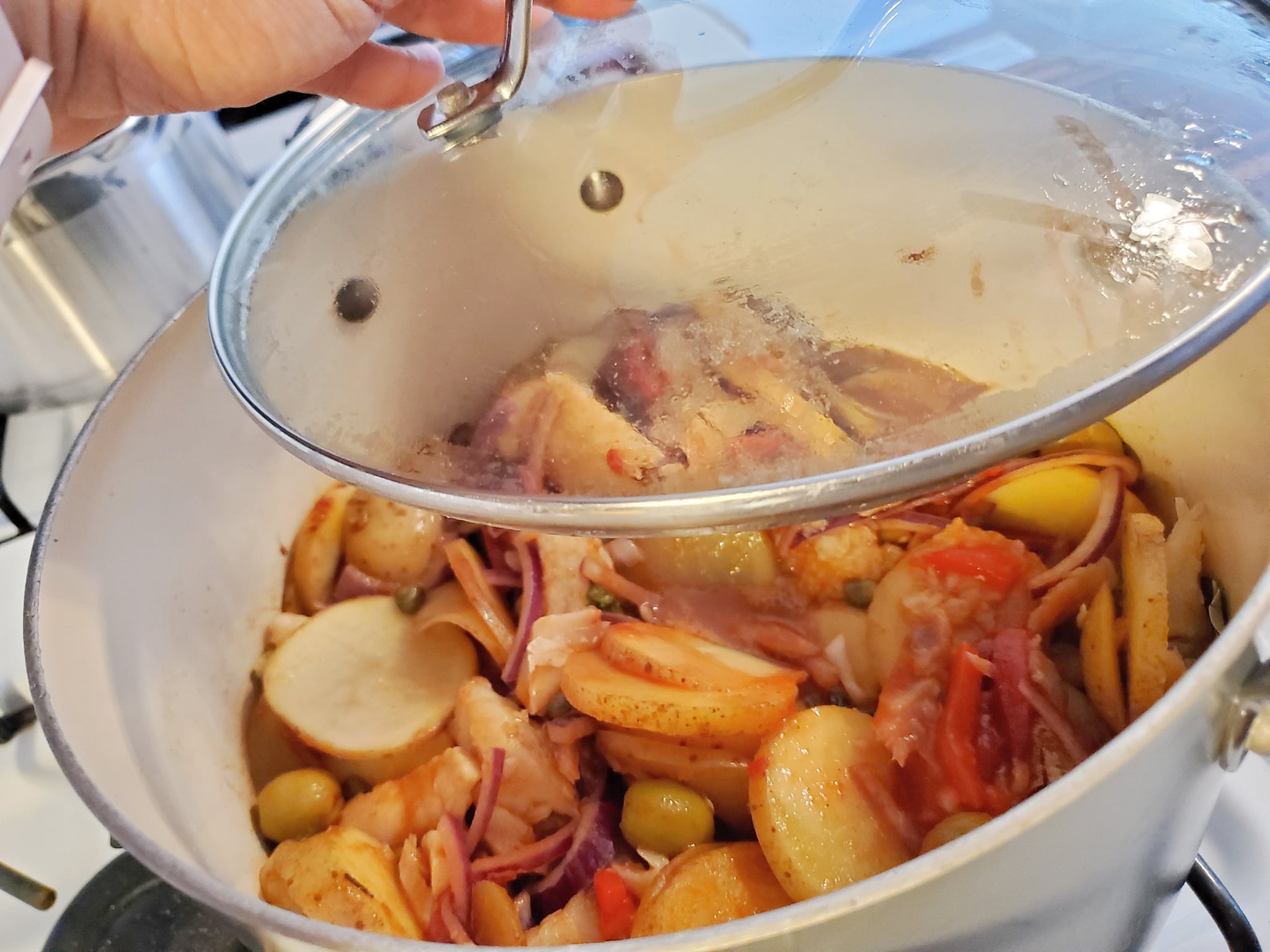 Puerto Rican Bacalao a la Vizcaina
Original Recipe
Notes
- Salted cod can be replaced with salted pollock, depending on availability
- Adjust seasoning to your liking
- Potatoes can be peeled or unpeeled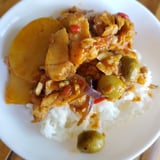 Ingredients
1 pound bacalao (salted cod fish)
1 pound yellow potatoes, sliced
3-4 cloves of garlic
1 medium onion, thinly sliced
1/2 cup pimientos
1 1/2 tbsp capers
1/4 cup pimiento-stuffed olives
1 tbsp fresh oregano, minced
6 oz tomato sauce
1/2 tsp paprika
1/4 tsp cumin
1/2 tsp adobo
1/4 tsp sazon
1/4 cup white wine
1/3 cup extra virgin olive oil
1/2 cup water
1 large bay leaf
Directions
Begin by soaking the salted codfish for at least four hours, changing the water twice. You can also do this overnight.
After the four-hour soak, add bacalao to a pot and cover with water.
Put a lid on the pot and bring it to a boil. Lower it to a simmer and cook for 15 minutes.
While the fish cooks, slice the potatoes and onions and mince the garlic.
After the fish boils for 15 minutes, drain and remove from the pot. Flake fish using tongs or a fork. It should come apart easily.
Rinse and dry the pot. Heat 1 tablespoon of olive oil in the pot over medium-high heat. Layer in half of each ingredient.
Layer in the second half of the ingredients, ending with the wine, olive oil, and water.
Give the pot a gentle shake or stir to make sure everything is distributed evenly.
Bring to a boil, reduce to a simmer, and cover.
Allow to simmer for 30 minutes or until the potatoes are tender.
Serve over or alongside rice and/or mofongo.
Information
Yield

4-6 servings

Total Time

44 minutes, 59 seconds
Image Source: Shayne Rodriguez Thompson