All the Ways J Lo and Shakira Paid Tribute to Latinx Culture in Their Halftime Performance
What a time to be alive! The Super Bowl LIV halftime show was one for the books. For the first time in history, we had two Latinas headlining this important celebration, and they made sure not only to deliver a fantastic show, but also to let everyone know they're proud of their heritage. While I personally think each one of them deserved their own halftime show, the power that they had together is unmatched.
Shakira had the perfect mix of her best hits from her extensive career, starting with "She Wolf." She mixed things up with a rock version of "Empire" and even surprised us with "Ojos Así" from her 1998 album Donde Están los Ladrones. She made her Lebanese ancestors proud with her belly dance — a staple when she sings that song — and she made all her Colombians and the rest of us Latinx feel a little bit more at home when she sang in Spanish, even if it was just the first verse of the song.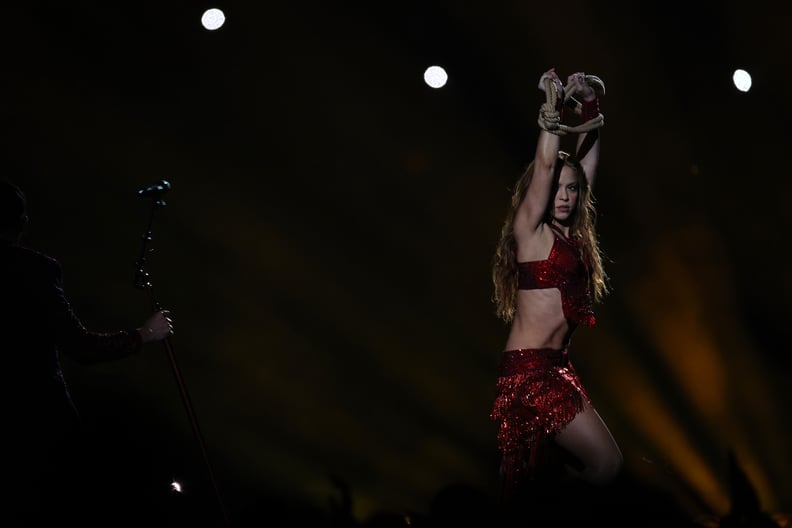 She then went on to sing and dance to "Whenever, Wherever" — her crossover song in 2001 that marked a new era for her career. Shakira really turned up the fiesta with Cardi B, Bad Bunny, and J Balvin's hit "I Like It." She demonstrated her vocal range with impressive runs while melting into the floor for a sexy routine when the first surprise guest of the night showed up: Bad Bunny.
I don't know about you, but I jumped out of my seat. I was ecstatic. The fact that I was watching Shakira — one of the best representatives of Latin music around the world — and Bad Bunny — an artist who is taking urbano music to another level — together during America's biggest night was powerful. Our music was being heard, enjoyed, and even sung. Millions of people around the world were watching the powerful force that is Latin music: how it can unite us, how it can entertain us, how it can help us rise above all the awful things happening around the world.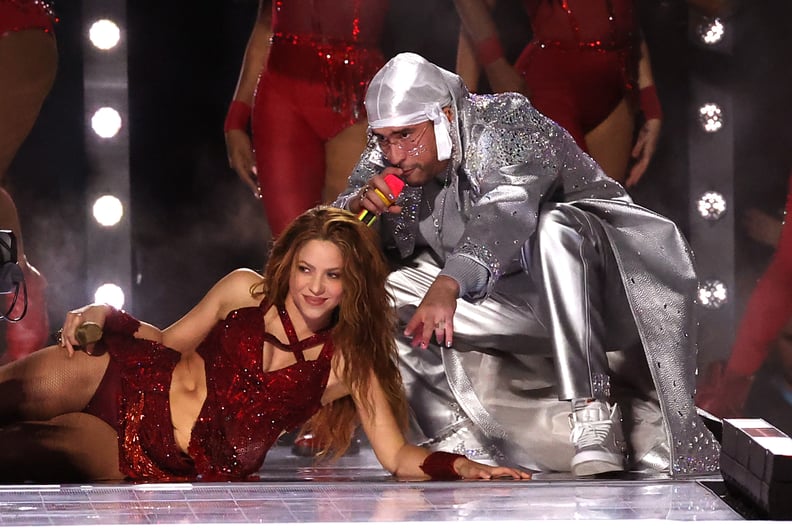 But that wasn't it! Continuing to prove just how versatile Latin music is, Shakira and Bad Bunny remixed her hit "Chantaje" and his hit "Callaíta" into a contagious salsa with dance moves included. This was just the prelude for the "Colombian Carnaval" explosion that ensued later, as Shakira sang "Hips Don't Lie." This was her way to honor her native Barranquilla, Colombia, a city that holds one of the most popular carnival celebrations in the world. Rumor has it, Shakira had traditional carnival masks, which you can see when she dives into the crowd, shipped from Barranquilla.
She continued to honor her heritage by breaking into a traditional Afro-Colombian style of dance called Mapalé, which was perfect to close her solo performance and give way to J Lo's portion of the evening.
We then took a trip from Barranquilla to the Bronx, with J Lo beginning her set with "Jenny from the Block", continuing with "Ain't It Funny", and breaking into one of her most iconic numbers from her recent world tour, "Get Right", with canes included.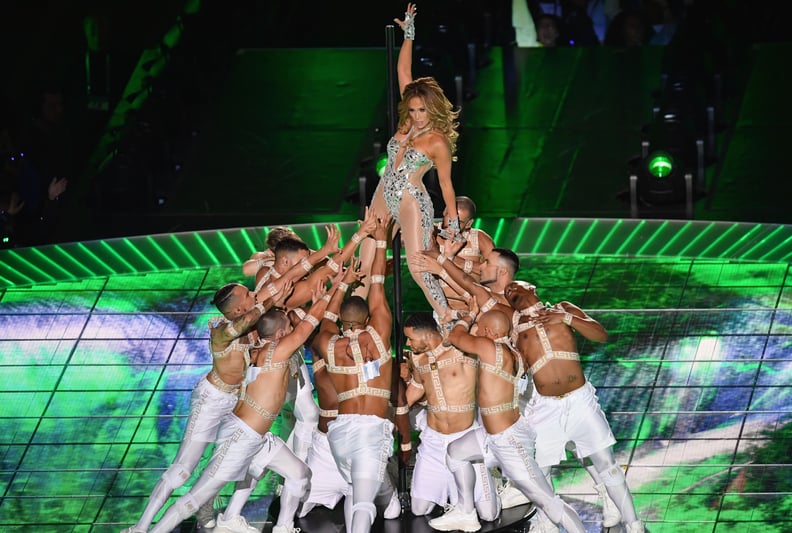 Like Shakira, J Lo also took us on a trip down memory lane with her 1999 classic "Waiting For Tonight" — only this time around she gave it a 2019 spin — literally — making it into a sensual pole-dancing routine that would've been a perfect fit for her film Hustlers. As J Lo spun and sung on the pole, she reminded us why she's the icon she is.
With a "Booty" transition, she made space for the second surprise guest of the night: J Balvin. He brought the Latino Gang to hype up the crowd with one — because he has so many! — of his latest hits, "Qué Calor." If that wasn't hot enough, J Lo broke into a dance sequence to Dominican urbano singer Nfasis's "Lento" to finish with the iconic "Love Don't Cost a Thing" snap.
J Balvin quickly took the spotlight again with "Mi Gente", and J Lo promptly joined him with her sexy dance moves to keep people glued to the performance. She followed with "On the Floor"m which was the end of her solo performance, but not the show.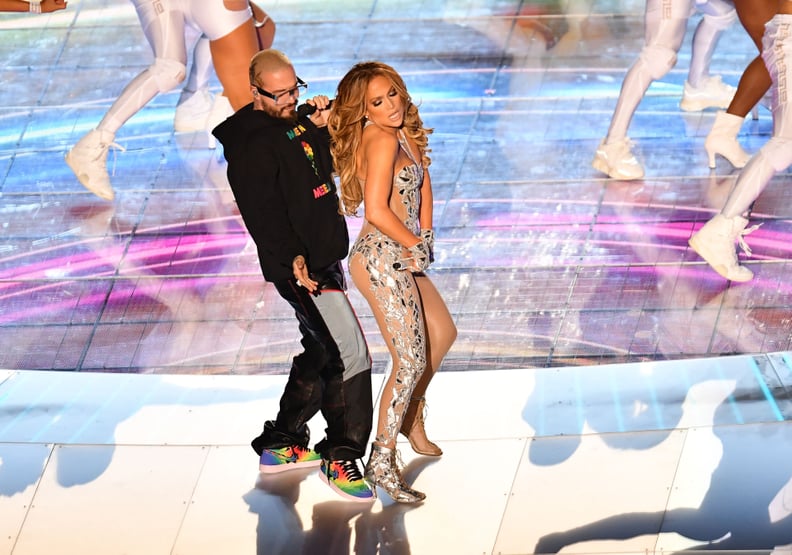 What followed was probably one of the most perfectly crafted political statements I've seen. The stage went dark and a youthful voice filled the space. Lights started to come on, revealing structures that resembled cages with kids inside of them. On the stage, a young choir accompanied Emme — J Lo and Marc Anthony's daughter — singing "Let's Get Loud." While the song has nothing to do with immigration reform, the kids, the cages, and the title of the song were a clear way to remind us to get loud and use our voices against the inhumane way the government is treating our immigrants at the border, who happen to be mostly Latinx.
As Emme and the choir got louder — pun intended — we realized Shakira was marking the beat on the drums, and J Lo came out to join the group wearing a coat with the Puerto Rican flag on one side and the American flag on the other. Then the song changed to Bruce Springsteen's "Born in the USA" — a slap in the face to all the people who still don't realize Puerto Rico is part of the US and to those who have denied aid following recent tragedies such as Hurricane Maria and the series of earthquakes that have hit the island for the past month.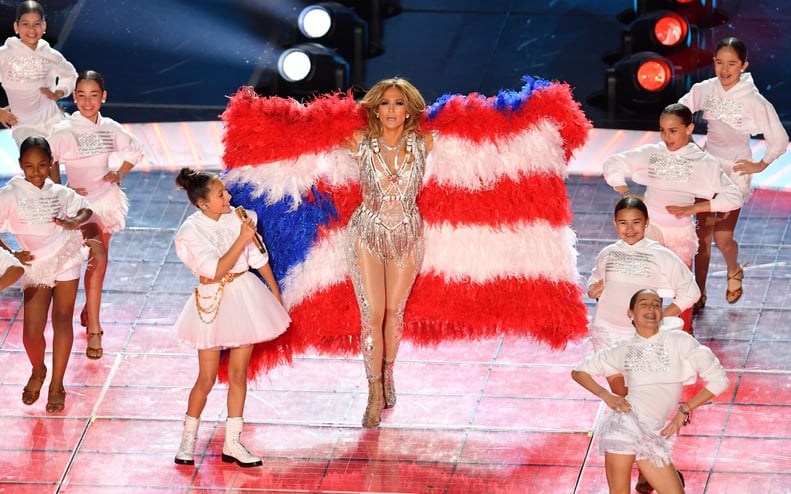 As the dancers paraded the coat with the two flags, J Lo and Shakira got together to finish "Let's Get Loud" and start "Waka Waka", which prompted Shakira to show her moves to another Colombian beat called Champeta, followed by J Lo's turn to showcase her Puerto Rican heritage with a salsa routine to Héctor Lavoe and Willie Colón's classic "Aguanile." Her performance was complete with flips and cartwheels. Shakira joined J Lo for a last booty shake to end the halftime show on a high note.
If you ask me, all Super Bowl halftime performances should be as complete as this one. We had two Latinas from different backgrounds who brought their all to the stage. They took the opportunity to represent their cultures — both inside and outside the US — the best way they could. They made us sing and dance to their hits, but also made us think about the current political landscape in a very clever way.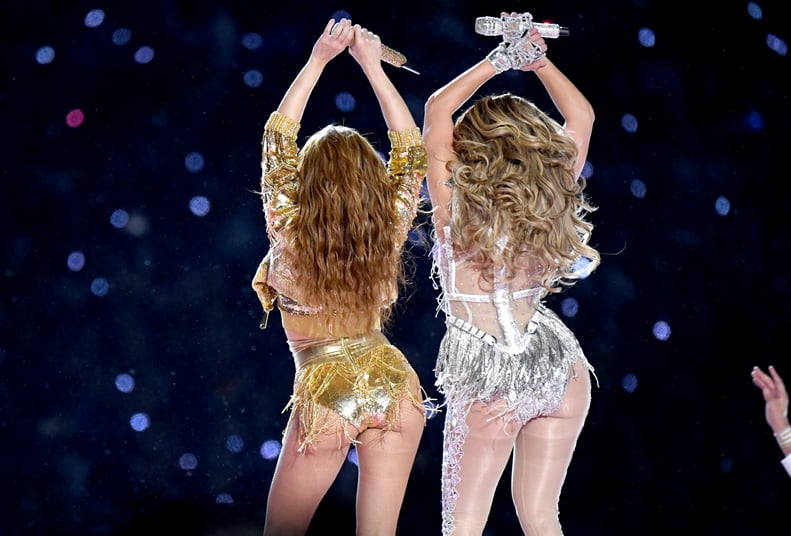 Shakira and J Lo proved that women are unstoppable, that we can create something amazing when we support each other, that Latinas are more powerful than we think, and that we need to use that power to make ourselves heard. I don't think I've ever enjoyed a Super Bowl more than I did this one. And — while the game itself was epic — it was because of this halftime show.