Sunrise's Aracely Jimenez Wants Us to Care About Climate Change Like We Care For Our Abuelas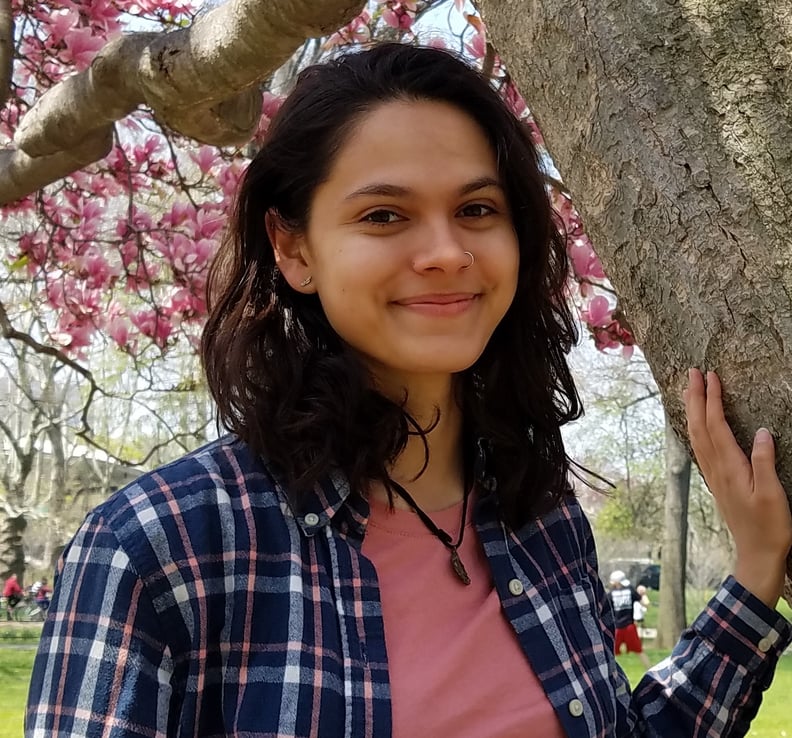 If you ever find yourself feeling apathetic about our current climate crisis, spend an hour talking to Aracely Jimenez. The 23-year-old activist will explain how climate change disproportionately affects marginalized groups, and she'll do it in a way that is both accessible and intersectional. In a calm, even tone, she'll impress upon you the importance of the Green New Deal, which wouldn't just be an environmental balm but also an economic one. She won't paint the electoral process as our sole savior, but she will inspire you to vote in all elections, not just the big one. Aracely does this all with one of the most basic and effective forms of persuasion we have: storytelling.
"There's a lot of data that shows that personal stories are the way to sway people, as opposed to facts and figures," Aracely said in an interview with POPSUGAR for Hispanic Heritage Month. In her role as deputy communications director for the youth-led grassroots organization Sunrise Movement, Aracely is effectively responsible for narrativizing the issue so that others might be galvanized to care — perhaps even act.
"It actually makes a lot of sense, because what moves people is empathy and deep emotional connection, and it's hard to have a deep emotional connection to a statistic," Aracely continued, "but if you hear a story of someone, or actually have someone in your life, who has had asthma since they were a child because they live next to a petrochemical plant, or they developed a very rare, very deadly form of cancer similar to all of their neighbors because they live in a cancer alley or a cancer belt, then that's something real people can connect to."
Aracely's own story began in Sunset Park, Brooklyn, a predominantly immigrant community by the water that is "still recovering" from the effects of Hurricane Sandy nearly a decade ago. She defined the natural disaster as a "big moment" in her activism journey. Aracely also spoke often of her father, a Colombian immigrant who raised her to "believe that everyone — no matter where you were born — is entitled to certain rights that shouldn't be excluded based on citizenship."
"I just fell in love with the work of speaking to my community."
Aracely connected with Sunrise after chatting up a volunteer asking for signatures on the sidewalk. Having just graduated from Stony Brook University and unemployed, Aracely began volunteering for the organization in 2018, a year into its existence and a few months before midterm elections. Though her days consisted of "doing the grueling work of door-knocking in the summer heat," she was in. "I just fell in love with the work of speaking to my community and actually putting representatives in office who answer to the people because they rejected corporate money in all its forms," she said. "I've seen every day the people that I fought to put in office are really the ones speaking out and pushing the governor and pushing the rest of the state legislature to come to sessions and make the right choices that are going to benefit all New Yorkers."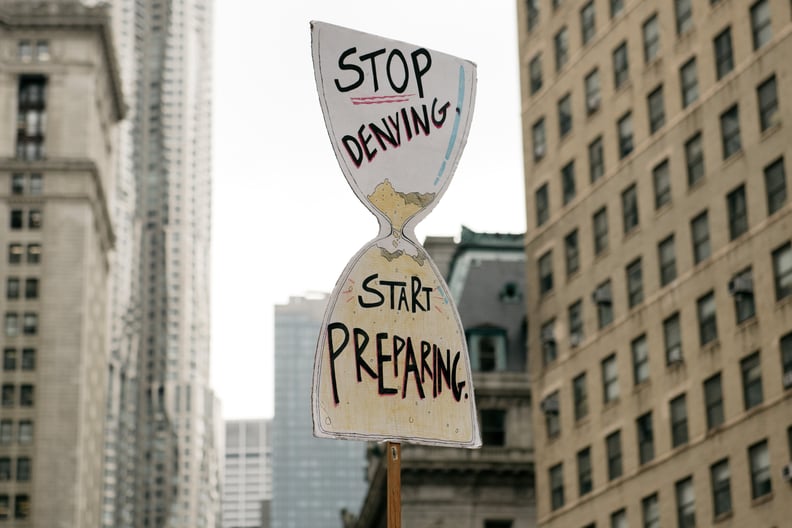 As the nation approaches the presidential election, Sunrise is now primarily focused on doing what it can to help flip the Senate, hold power in the House, and ensure a win for Joe Biden and Kamala Harris, while also pushing the Democratic ticket to embrace more progressive policies. "We have no illusions about Biden and Harris. We understand that they are far from perfect candidates, and they're far more of a compromise than anything else," Aracely said. "Our job as a movement is to always be pushing our politicians."
Central to Sunrise's core principles is the Green New Deal, which Biden name-dropped in his proposed climate plan but seems reticent to overtly endorse. For Aracely, the proposal is a no-brainer. "We see how the economy is tanking and workers are not protected, and it makes a lot of sense to rebuild our economy by taking care of the land, air, and water — the essentials that we need to live," she said. "That tends to make a lot of sense to people, more and more now than it ever did before."
"The crises of climate change and public health and this country's refusal to protect undocumented folks are all coming to a head right now."
Recent (and ongoing) events, like the global pandemic and the devastating wildfires sweeping through California, have indeed been illuminating. "The crises of climate change and public health and this country's refusal to protect undocumented folks are all coming to a head right now as we're speaking," Aracely said, before noting how many undocumented essential workers are currently facing a "triple-threat of crisis": risk of deportation, possible COVID-19 exposure, and the impact of polluted air, dirty water, and unlivable land. "Climate is just so deeply connected to every other social, political, and human rights issue that it's difficult to uncouple it from anything else."
Now here comes the hard part: "What's the best way out of it, and what can we do as the younger generation of Latinx and Hispanic people?" Aracely listed several action items, among them phone-banking, signal-boosting resources on social media, and voting, which she described as "just one step in the process." Above all, she stressed the importance of engaging with one's parents about political issues and confronting intergenerational trauma, which can be . . . challenging. "It's hard. It's really f*cking hard," she said. "A lot of people don't understand what the family dynamics are like, but that really is the first step."
"It's in our community's DNA to take care of one another — it's why our abuelas live with us."
Though difficult, Aracely framed the endeavor as just another expression of one's love. "It's in our community's DNA to take care of one another — it's why our abuelas live with us, and it's why our aunties and uncles stay close," she said. "It's about building community and taking care of one another." Aracely made sure to note that the work of community building must also extend to allyship. "Pain is pain, and you can empathize and you can show up for Black people, and just be there for their community in this moment," she said. "What do you think you're going to lose? If we don't show up for Black people, understand that means our community loses a lot, too."
Aracely's own family is proud of the work she's doing, however, relatives in Colombia and Venezuela often express their concern and advise her to be careful. "There's a long history of people who do my sort of work in those countries just disappearing and not being heard from again," she said, before adding, "My dad tells me that he's proud of me, and it's very comforting to hear because as children of immigrants, we're supposed to be living our parents' wildest dreams of opportunity and success . . . Our community wants to feel part of this country and wants to take part in the American dream, even though it's feeling less and less like a dream."
Though she may face adversity, particularly as the political climate grows tenser, Aracely is steadfast in her activism. "I vigorously feel every day that I have a duty to change the politics of this country because what this country does greatly affects everyone else in the world," she said. "I still feel grounded in the fact that this is the work that I need to be doing."