Tips For Personalizing Your Wedding
12 Ways to Give Your Wedding Personality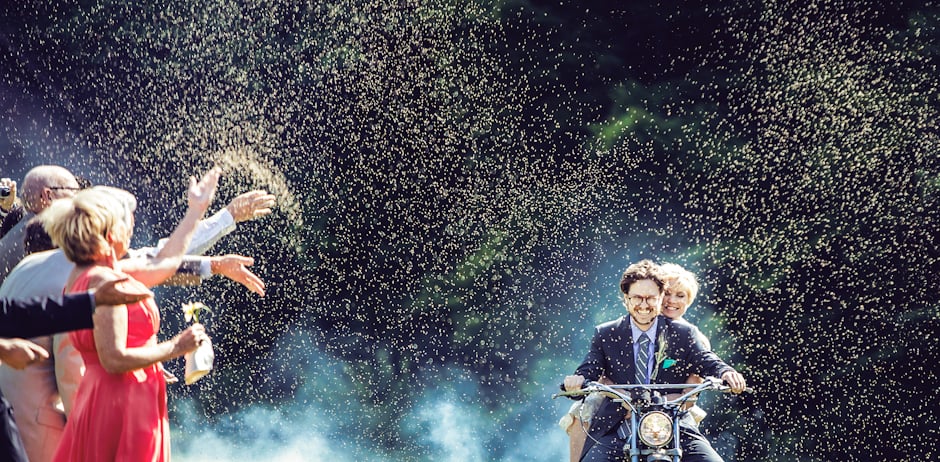 Planning a wedding these days can be overwhelming, with more resources than you know what to do with at your fingertips. And if you're busy pulling ideas from Pinterest, wedding blogs, and bridal mags, then it can be easy to leave out the most important element of your big day: making it about you and your partner. Celebrity wedding planner Mindy Weiss spoke with us about ways to add some personality to your big day, sharing her expert advice on how to make your wedding unmistakably "you."
Mindy, who's worked with stars like Ellen DeGeneres and Nicole Richie, said it's incredibly important that guests know whose wedding they're at. When infusing you and your partner's personality into the wedding, ask yourself: what is something about the two of you that people would recognize as soon as they walk into the room — that would make them go, "Oh, this is definitely fill-in-the-blank's wedding"?
Here are some more ideas to help you out:
Do you have any meaningful locations from your relationship? Mindy said, "I had a couple sit here for hours trying to think of something. I asked, 'Well where did you get engaged?' They said, 'In Napa.' I go, 'Well, there you go!' Let's bring Napa to LA. Let's bring that feeling. Obviously you chose that place for a reason. And then it could be, 'It all started here.'"
Take the extra time and effort to write your own vows, and you won't regret adding that personal touch to your ceremony.
Are your jobs a big part of your lives? For instance, if you work at a library or bookstore, then you could have a wedding with a book theme.
A simple idea is to incorporate your and your partner's favorite colors into the wedding.
What are your favorite songs? You could have the lyrics written down on cards at each table or use songs with sentimental meaning for the two of you as your first dance and procession music. You could even use a favorite singer as your wedding inspiration.
Include hobbies or sports you enjoy like baseball in the theme. "I have a wedding next Sunday. They love to bicycle ride. That's their thing," Mindy said, "so it's 'a bicycle built for two.' That's the theme. We're bringing that into the whole look of the wedding. We didn't overdo it, but we did put that little logo in unexpected places, like little corners of napkins. And we're bringing it into the decor at the seating card table."
Incorporate a favorite movie or favorite TV show into your wedding day with elements like photo booth props, save-the-date cards, or even by playing it on a big screen during the reception.
Choose a decade you both feel a connection to — like the roaring '20s — to take your guests back in time with you.
Incorporate significant numbers to the two of you, like the day of your first date, in your paper goods or save-the-dates.
Pick wedding traditions that are unique to your and your partner's cultures and history, and ditch traditions you don't feel connected to.
Do you have a favorite holiday? Was your first kiss on Halloween? Have your wedding on that meaningful holiday, and use it as a theme.
Be inspired by asking other brides how they personalized their weddings. And take mental notes when you attend other peoples' weddings.