Christina Aguilera On Playground, New Sexual Wellness Brand
Christina Aguilera Is Launching the Lube She Says Her Grandma Deserved
As POPSUGAR editors, we independently select and write about stuff we love and think you'll like too. If you buy a product we have recommended, we may receive affiliate commission, which in turn supports our work.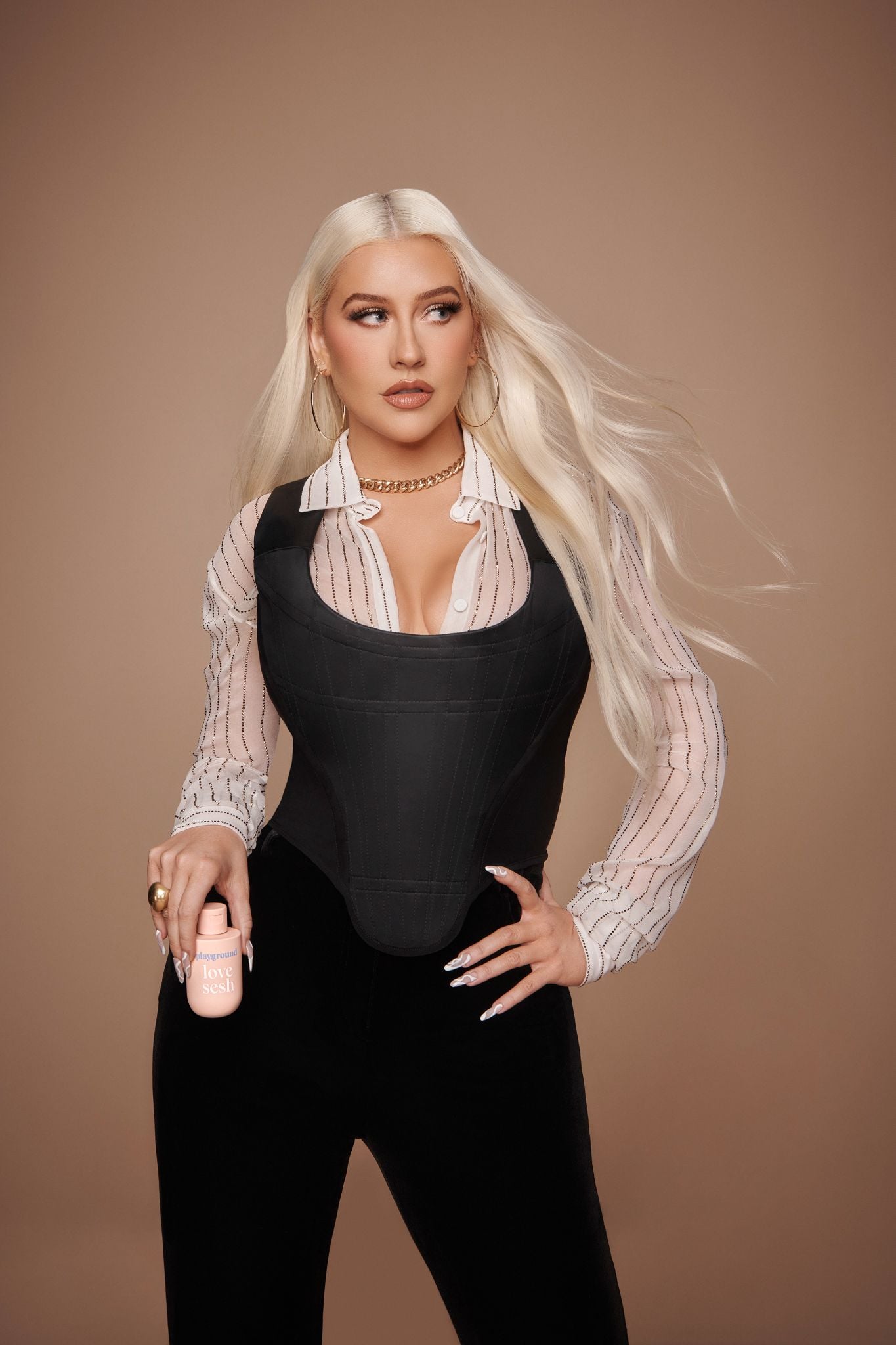 Christina Aguilera isn't afraid to embrace sexuality. In fact, she's made a career out of it. The "Genie In a Bottle" singer has been unapologetic in her music when it comes to sexual liberation and pleasure, releasing bangers like "What a Girl Wants" and "Dirrty." (She's also been a fierce advocate for LGBTQ+ rights, which is just another reason to join the fandom.)

Now, Aguilera is adding a new title to her résumé: cofounder and chief brand advisor at Playground, a new sexual wellness brand specializing in personal lubricants. When I sat down with Aguilera and her cofounder Catherine Magee for an intimate press conversation to discuss their latest endeavor, Aguilera says developing the products felt "completely natural to me" — not only because of her advocacy work, but her own personal investment in pleasure.

"I feel bad my grandma had to have that perception about sexuality. She clearly didn't reach her pleasure points. Maybe she would have been a little happier sometimes had she done that."
Something that may surprise fans who love Aguilera's sexual confidence is that she grew up in pretty restrictive household when it came to images of sexuality. She wasn't permitted to watch particular music videos or listen to certain artists. "Madonna was definitely not allowed," Aguilera recalls. And her mother and grandmother tended to shy away from the topic of sex. The general attitude was, "We don't talk about that," the singer tells POPSUGAR. But this never sat well with Aguilera.
"I feel bad my grandma had to have that perception about sexuality. She clearly didn't reach her pleasure points. Maybe she would have been a little happier sometimes had she done that," she says now. But Aguilera refused to live the same way. One of the reasons she got involved with Playground was because she believes so strongly in the power of good sex that she wants to help other people have better sex.
The pop icon herself says she loves to start and end her days with sex (both partnered and solo play) — and lube has made it that much more enjoyable. "It's fun, and it's so good and feels good to embrace yourself and explore what works for you, so that you can be also in turn a better partner, a better lover, and not even necessarily to someone else, to yourself," she says. "It's gonna be a good day when you make yourself feel good. It's gonna be a good night's sleep at the end of the day [too]."
With the launch of Playground, Aguilera hopes to remove some of the stigma from others' sexual experiences by creating products that make sex that much more enjoyable. "At the end of the day, it's about taking any shame or any weirdness about this topic, making it feel fun, making it feel friendly, and making you feel good," Aguilera says. And to be sure, Playground's line of water-based lubricants are so cute that you'll be happy to display them on your nightstand or in your medicine cabinet, rather than hiding them away in a secret drawer.
The line include four products, each with a unique scent (including a scent-free option) that the brand says are designed to jump-start your libido: Love Sesh ($25), a scent-free option; Date Night ($25), which smells like Champagne and vanilla; After Hours ($25), a sensual blend of musk and oud wood; and Mini Escape ($25), which smells like coconut and sandalwood. (Insider tip: Aguilera's fave is Date Night!)
They smell incredible (seriously; can we use these as perfume?), and they feel great, too. The lubes are made with ingredients like vitamin E, hydrating hyaluronic acid, and bamboo extract meant to mimic your natural lubrication. And because they're water based, they're safe to use with sex toys and condoms.
Ready to reach your pleasure points the Christina Aguilera way? You can shop any of the lubricants at helloplayground.com.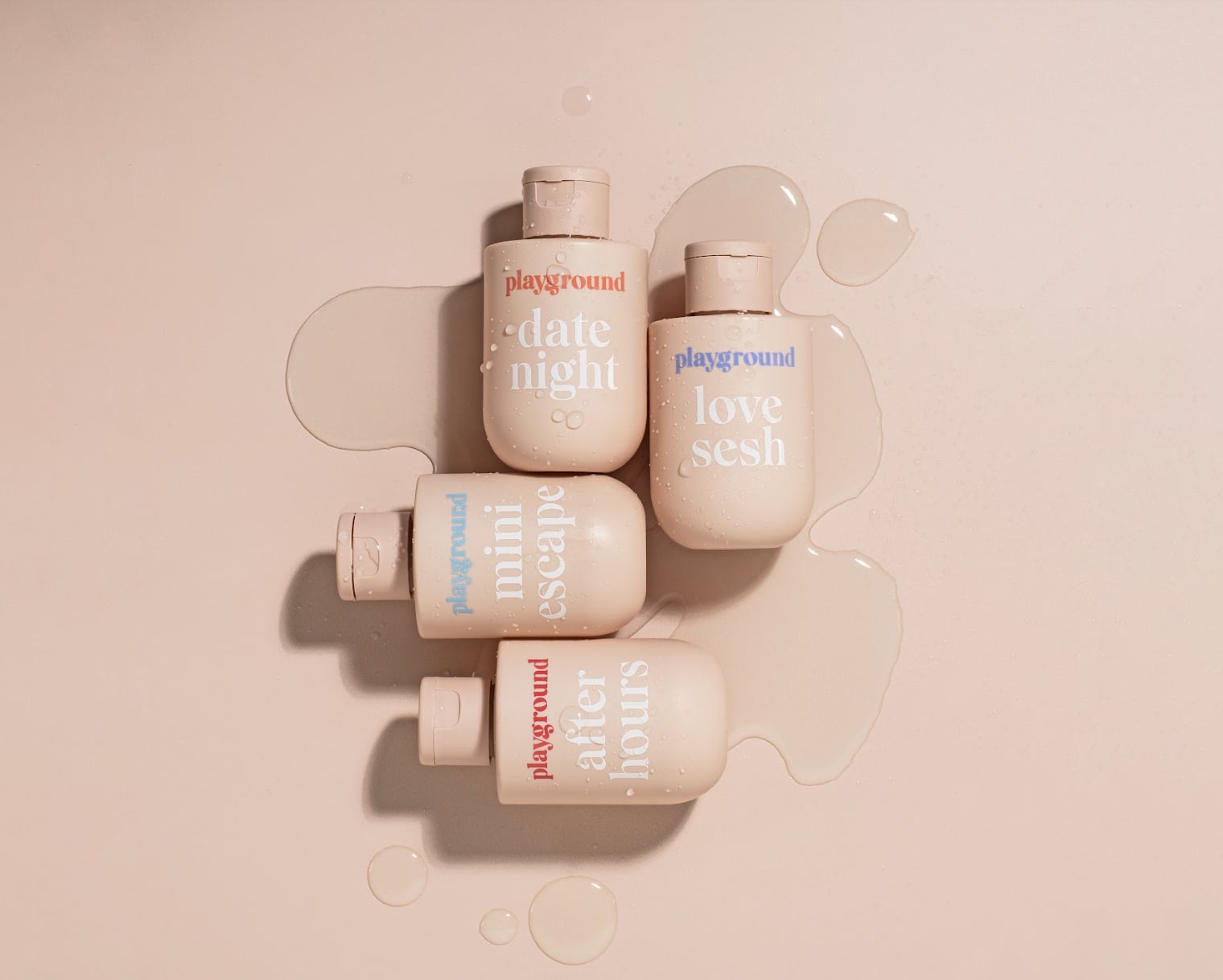 Image Source: Playground