Does your vacation "count" if you don't post about it on Instagram? A geo-tagged photo is the new postcard. The highly visual social media platform, which launched in 2010, is impacting where we travel and how we share those experiences with our friends and family. Savvy hotels and restaurants are designing Instagrammable features throughout their spaces, offering backdrops for pop-up photo shoots and collecting free marketing in the process. Instagram can also expose a destination to a new set of travelers who might not have known about it until they started seeing it "everywhere." While it's exciting that Instagram is helping us discover beautiful inspiration that meets our individual expectations for an ideal vacation, the close connection between social media and travel also comes with downsides. The desire to show visual proof that you've checked off a bucket-list item turns iconic tourist destinations into a sea of smartphones and selfie sticks, and it's making it harder for us to disconnect and experience a local culture. But if we use Instagram to plan our vacations rather than trying to document everything as it happens, we might be able to get the best of both worlds.
The desire to show instant visual proof that you've checked off a bucket-list item turns iconic tourist destinations into a sea of smartphones.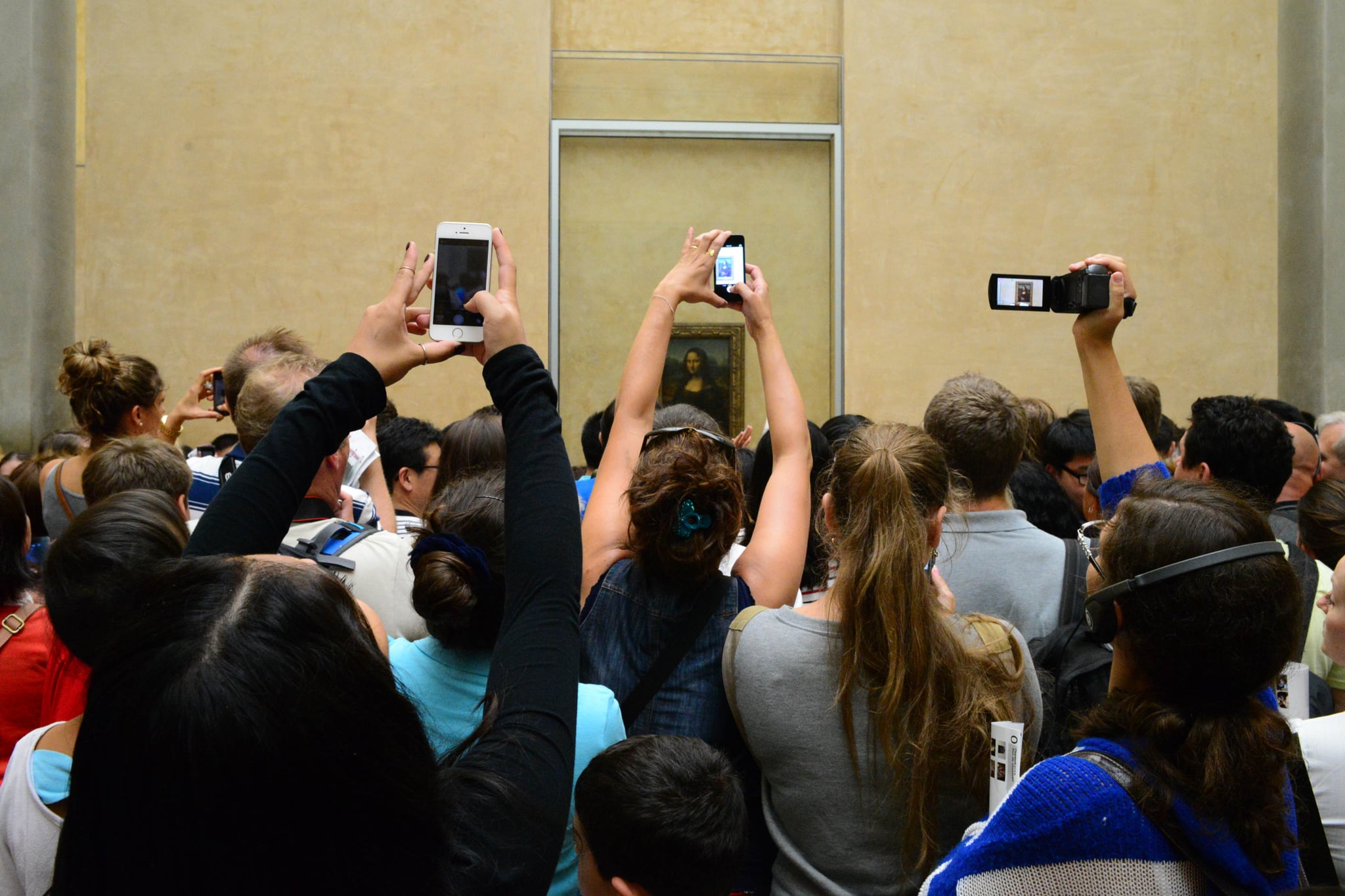 Image Source: Flickr user Eric Chan
Restaurants and Hotels Are Now Optimized for Instagram
When planning a vacation, savvy travelers consider practical aspects, like where to eat or sleep. But thanks to Instagram, tourists are planning the aesthetics of their vacations alongside the logistics. Instagram offers endless inspiration, and its bookmarking feature makes it easy to save photos to destination-specific collections you can refer back to when trip planning. "About 99 percent of my travel research is now done via Instagram," travel influencer Georgia Hopkins tells us. Hopkins, 38, is from Melbourne, Australia, and runs the blog and Instagram account It's Beautiful Here. She quit her job as an investment banker in 2012 to work on her travel projects full-time. When planning her next getaway, Hopkins will drill down on hashtags for a specific destination. "I dig really deep until I find something that looks unique, interesting, or a little off-the-beaten track."
Visually pleasing bars, restaurants, and hotels have become must-see spots because they have the qualities travelers like Hopkins are looking for. Stop into London's millennial-pink restaurant Sketch for afternoon tea, and you might see a blogger burst into tears from pure joy. If you're wondering what makes a place Instagram-worthy, Sketch boasts many of the requirements: a high-impact color scheme (pink everything, from plush pink seating to pink Champagne), something unexpected (futuristic toilet pods), something with movement to Boomerang (a waiter pouring Champagne with flair), over-the-top food (caviar service and adorable desserts), and clever messages (as seen on cheeky wall art or the teapots and cups). It's obviously working, considering the same details are photographed over and over again by out-of-town diners. Thanks to Instagram, a restaurant's bathroom has now become a destination to check off a traveler's must-see — and must-post to Instagram — list.
What makes a place Instagram-worthy? Something unexpected, something with movement, high-impact colors, over-the-top food, and clever messages.
San Francisco's recently opened Champagne bar
The Riddler
is another spot seemingly designed for Instagram photo shoots. Bistro tables inscribed with "hello old friend" are perfect for a wine and bites photo vignette, and the larger-than-life Champagne bottle mural on the outside is just calling for you to pose. Check out
photos tagged at the bar
, and you'll see variations on the same shots over and over. The "chambong" — yes, a bong of Champagne for $12 — is just the thing you have to capture on your Instagram story. Other dishes, like tater-tot waffles, are ripped from the world of Instagram food mashups. Thanks to the sharable design and experiences, The Riddler's customers act as their best advertisers.
There has also been a recent trend of "viral museums" popping up in tourist-friendly cities. The Museum of Ice Cream had stints in New York and Los Angeles and is heading to San Francisco soon. The Willy Wonka-inspired exhibition sold out 30,000 tickets in five days when it opened in NY in 2016. The main attraction (besides the ice cream) is a swimming pool full of rainbow "sprinkles." Demonstrating that the experience is really for the photo — the sprinkles aren't sprinkles at all, but hard pieces of plastic. In the mold of experiential museums, the Color Factory recently opened in San Francisco. Like the Museum of Ice Cream, it's made to be experienced with your iPhone in hand. There are exhibits from various "color artists," and you can walk among 10,000 colored ribbons or jump into a giant yellow ball pit. The museum promises that "the pinks will delight you, the blues will amaze you, the yellows might make you hungry." One thing is guaranteed: you'll get a good photo.
As with restaurants, bars, and museums, Instagram is inspiring hotels to be more visually stimulating. The Surfjack Hotel & Swim Club near Honolulu's Waikiki beach, opened its doors in Spring 2016. "The Surfjack team understood the importance of showcasing compelling visuals via Instagram to tell the story," says Theresa van Greunen, who heads PR for the hotel's management company Aqua-Aston Hospitality. The most notable features is the swimming pool that has a "Wish You Were Here" inscription on the bottom. It's just begging for you to take a FOMO-inducing photo to share with your friends back home.
Custom wallpaper, a mural, and a staghorn fern installation offer other Instagrammable moments, as do the the vintage bikes — branded Surfjack, of course. "Today's travelers are visually orientated and enjoy finding insider advice from people they admire, whether in person or social curators on Instagram," says van Greunen. She believes the hotel's focus on visuals has helped it attract a clientele looking for more than mai tais in Waikiki. They're interested in photography, design, and architecture. Considering it's minutes from the beach, Surfjack might be in the perfect location for Instagram success. "I have come to realize that anything blue will trend well," Hopkins says. "People love the ocean, blue skies, swimming pools. The majority of my popular photos have been taken at the beach or in summertime."
It's just begging for you to take a FOMO-inducing photo to share with your friends back home.
"Brands can safely assume that travelers are going to share updates from their trip with friends and family, so they might as well create experiences that help," explains Sean O'Neill, the travel tech editor for
Skift
, a publisher that analyzes travel industry trends. From what O'Neill has observed, hotels and restaurants have successfully used social media to increase revenue. "At its Chicago property, Virgin Hotels posted short videos of how to make cocktails using ingredients in the minibars in guest rooms," O'Neill explains. According to the hotel, the videos boosted minibar sales by 300 percent. And when the
1888 Darling Harbour Hotel in Sydney
opened in 2013, designers made the lobby as photogenic as possible. O'Neill explains: "After checking in, visitors are invited to pose inside a giant frame where they can snap a selfie and capture some of the funky backdrop, with glittering lights, colorful furniture, and shelves made of ironbark beams." Each of the 90 guest rooms also has prints from Instagram users. "Thanks in part to the effort, it has become one of the hottest boutiques in the Australian capital," he says.
Instagram not only impacts where we eat, sleep, and drink on vacation, but it may also help us choose the destination. Consider Tulum, Mexico, which ranks among the fastest-growing towns in Latin America and became TripAdvisor's top destination on the rise for 2016. The once-sleepy town looks great on Instagram thanks to its white sandy beaches, aqua water, rustic beach decor, and Mayan ruins. Over the past decade, an upscale fashion-centric crowd from New York, Los Angeles, and San Francisco has descended on Tulum, bringing more Instagram-worthy features like specialty cocktails, yoga retreats, and trendy boutiques.
Hopkins has also noticed less world-renowned spots gain in popularity thanks in part to their photogenic qualities displayed on Instagram. The Greek island of Lefkada, which she visited in 2014, is one example. "As I started to post about it on Instagram, more and more people began to show interest, reposting my photos, sending private messages about it, and frequent emails still now asking me for recommendations and tips about the island," she says. "Now I notice posts of Lefkada everywhere."
In addition to raising awareness about small towns, Instagram can also be used by tourist boards or city planners to create excitement around entire cities, as O'Neill points out: "Amsterdam built a public artwork that spells out the letters 'I am Amsterdam' in its central museum district, and the giant letters have successfully became one of the city's most-pictured sights." That is, if you're willing to fight the crowds to get your shot.
"It might not be be long until Instagram actually recommends vacation destinations based on places you've photographed."
Embracing its ability to impact travel as a platform with beautiful visuals, Instagram may soon add travel-specific functionalities, according to experts like O'Neill. "We predict it might not be long until Instagram actually recommends vacation destinations based on places you've photographed in the past," he explains, although Instagram said it did not have any specific plans to share when we reached out. "It can crunch the data and compare your behavior with the digital trail of other Instagram users who have visited similar places." Imagine how Netflix and Amazon serve up recommendations, only for travel. O'Neill notes that Instagram has the ability to use algorithms to analyze where and what images were photographed by any individual person, making it easy to pinpoint similar destinations that might be relevant to that person.
The Downsides of Doing it for the 'Gram
The desire to document every moment of a trip can become an addiction, especially if you're in an Instagram-worthy spot. The constant connectivity to our smartphones can get in the way of our ability to relax and get a new perspective — one of the many benefits of taking time off. Studies show that you need at least six consecutive days off to get the lasting positive mental and physical effects of vacation. If you never turn off, you may undermine your chance to achieve those benefits.
This compulsion to post to Instagram may reduce your ability to truly enjoy your trip. Why travel all the way to Paris if you're going to look at the Mona Lisa through the screen of your iPhone? There are much better photos of the painting on Google Images when you think about it, and that crowd of people jostling to get the same shot surely undermines the experience. When you're more concerned about your followers and friends elsewhere, it's harder to connect with the local surroundings — and sometimes that can make you a rude visitor. Recently, Milan joined other fed-up cities by banning selfie sticks, a rule that is part of a new set of restrictions meant to curb "anti-social behavior." Ironically, social media might be making us less social.
Striving for the "Instagram aesthetic" can also make travel more homogenized. Every bar, restaurant, and hotel begins to blend together, no matter where it is in the world. Haven't I seen that palm wallpaper somewhere before? Oh look, another humorous neon sign! Back at home, you may notice your Instagram feed getting a little repetitive. "Lately, we've seen a lot of all-too-perfectly assembled images," O'Neill says. "The shots look more like bland, contrived advertising than something a person actually came across authentically on their last trip." Often, these photos celebrate conspicuous consumption: a boarding pass peeking out of an expensive leather passport holder, a tray of oysters and Champagne, or an infinity pool overlooking the sea. There's nothing specific to the location. "This aesthetic assumes everyone in every place must like the same set of products," O'Neill says, and he doesn't see the point of traveling if you're already going to find what you're already comfortable with. Still, he believes the problem isn't Instagram itself: "it's just a once-interesting style notion that's been overdone by copycats."
"The shots look more like bland, contrived advertising than something a person actually came across authentically on their last trip."
Despite these potential drawbacks, influencers like Hopkins recognize the benefits visual social media has had on travel: "It acts as a platform by which people can daydream. I often hear from friends and followers of mine who are moms, for example, stuck at home with a new baby," she tells us. "They love being taken away to a whimsical travel dreamland by looking at other people's aspirational travel shots. It helps transport followers to another place, if only temporarily." Perhaps the best choice is to use Instagram to fulfill your wanderlust when you're stuck at home, while putting the phone down to experience a new place in real life when you're on the road.