Why the 2022 Brooklyn Brujeria Festival Is So Significant For Latinas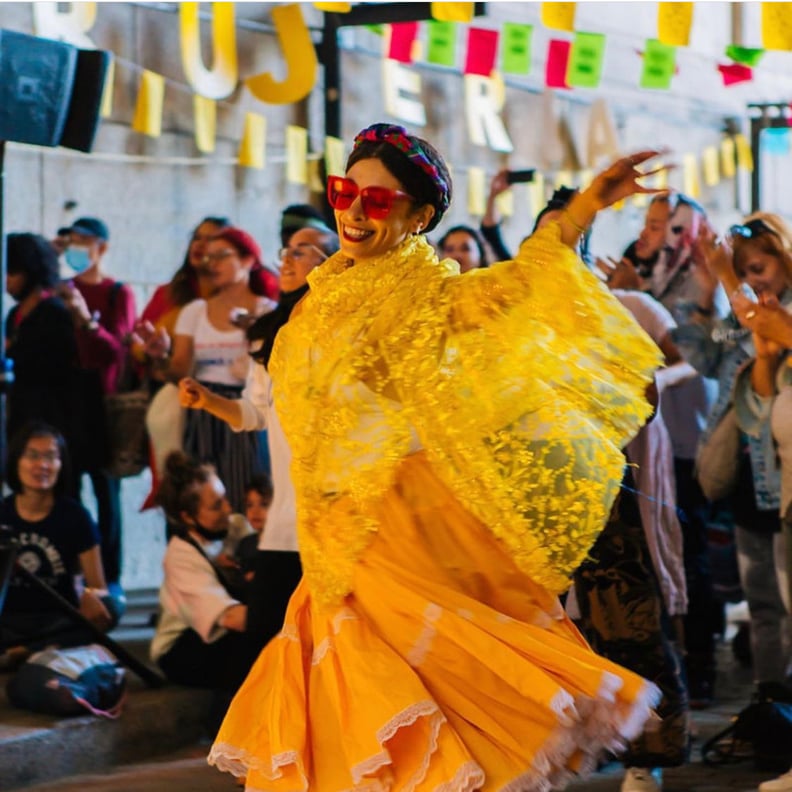 Victor Castro
Victor Castro
Imagine a place where brujas from all walks of life gathered, building altars, dancing, drumming, singing, praying, reading tarot, and selling spiritual goods like candles, crystals, herbs, and baños. Chiquita Brujita, founder and creator of the Brooklyn Brujeria Festival, has manifested that into reality. On Sept. 17, 2022, when the brujas, brujos, and brujxs convened under the archway in the Dumbo neighborhood of Brooklyn, magic happened! Now, in its fifth year, Chiquita says 2022 was the biggest festival yet, and it is only continuing to grow. But this all started through divine intervention.
How It All Got Started
"Chiquita Brujita was born as an act of performance art on Good Friday in 2015," she tells POPSUGAR. "I created a line of prayer candles and a fortune-telling system that I thought would be for one night only. I didn't have a tarot practice, and I had never made candles before. That has since grown into this." The festival was born three years later under the archway in 2018 by way of an invitation from the Local Business Improvement District in Brooklyn, which curates the space. The date fell on the first anniversary of Hurricane Maria, the Category 4 storm that ravaged the island of Puerto Rico and surrounding areas on Sept. 20, 2017. Around the date of the first anniversary, protests took place in New York City due to public outrage in response to the botched hurricane relief efforts and the devastating loss of homes, communities, and lives.
During that time, Chiquita felt called to create an outlet for people to release and express their emotions in another way. Without any monetary sponsorships, she funded the festival with the proceeds from her online botanica and through in-kind donations. "I wanted to provide an alternative but also a kind of complimentary space for healing and mourning and resistance," she adds. "So, we gathered under the bridge for the first time."
Chiquita says the space was filled with powerful energy, which came from the people and the archway. "The majesty of the portal energy of the [archway] itself is really something," she describes, adding how both physically and energetically "it allows for you to really take up space." The energy filled the area again this year, days before yet another devastating storm landed on Puerto Rico — Hurricane Fiona. So, the healing continues.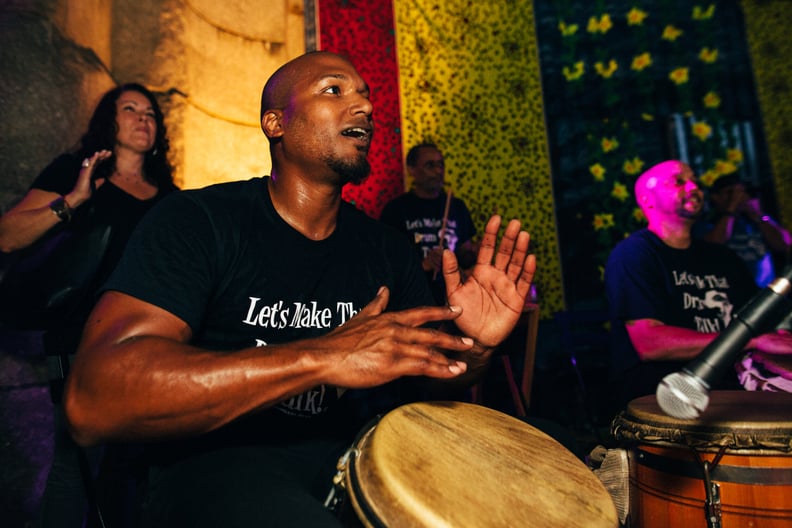 The Healing Powers of Bomba Y Plena
One staple of healing and celebration at the festival each year is the inclusion of bomba y plena, the percussion-driven musical traditions from Puerto Rico that move people to dance and which reflect the African heritage of la Isla del Encanto. Like a conversation between the drums and the dancer, movement and sound are reciprocated intuitively and spiritually. This form of physical expression has proven to be healing for generations and most certainly from the start of the festival.

"The ability to interact in the bomba format I think was just really healing for folks, because there's not always something immediate that you can do," Chiquita says about how helpless many felt following Hurricane Maria and now in the wake of Hurricane Fiona. "You can donate and even put your physical body and time into the restoration work, but where does your spirit go in these moments of deep grief?" she adds. "It allowed, at scale, for the community to come together."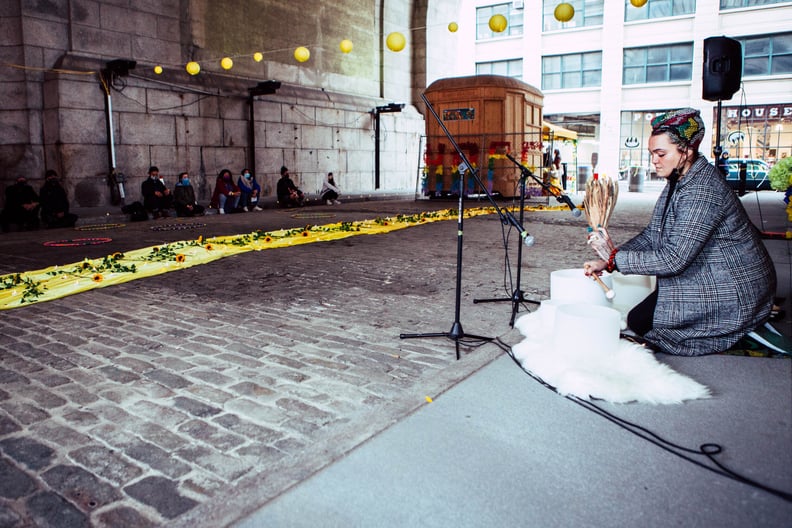 Image Source: Fabian Gomez
Gathering During the Pandemic
Chiquita's dedication to the mission didn't waiver even during the pandemic in 2020, which posed limitations to the size of the festival — only 50 people were allowed to attend. Instead, she continued the movement in her own way, honoring what began in 2018. "I built an altar in the space and ran a carpet of yellow fabric like a river through the archway, and there were 100 yellow sunflowers," she says of her 2020 festival installation. "It poured rain that whole day, and it fell on All Saints Day, Nov. 1."
How the 2022 Brookly Brujeria Festival Has Evolved
Fast-forward to 2022 and the drums played by various groups bounced off the walls of the archway and into the Brooklyn streets, penetrating the hearts of those in close proximity to the festival. Chiquita says the size of the vendor market tripled in size due to having a larger space, which allowed her to invite more brujas, brujos, and brujxs to display their offerings. There were more art installations and altars built, and new bands, including representation from Venezuela for the first time and a visiting artist from Zimbabwe.

"All of those things were really beautiful, but I think there's also something about doing something in New York City for five years, a place where it's difficult to do anything for five months," Chiquita says, proudly. "The power of knowing that this is something that folks know about and look forward to and take ownership of in the way that I've seen it grow is really powerful." Many festivalgoers commented that they attended this year because they felt called to do so. Spirit was present and souls were awakened to the beauty of interconnectedness, community, healing energy, and themselves.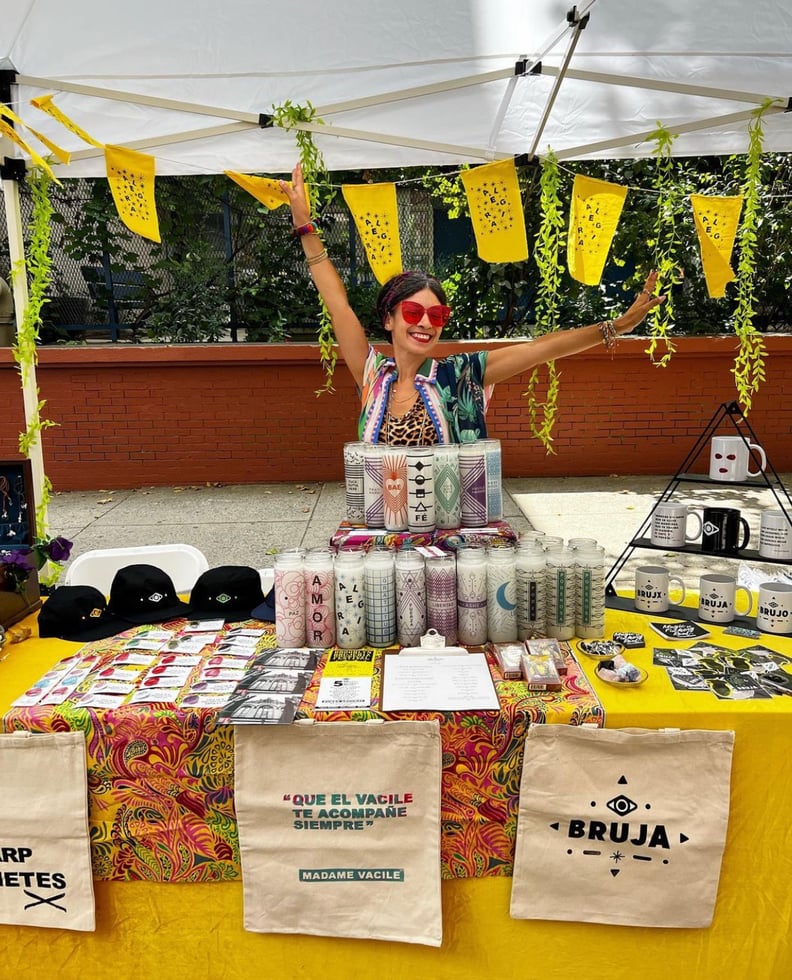 Image Source: Chiquita Brujita
"We are powerful creators of our own joy and liberation, despite whatever might be occurring in our lives at the time," Chiquita says about the takeaway she leaves with festivalgoers and the larger collective. While she acknowledges that her religious practices play an important role in her life, Chiquita wants to be clear, "This is not a religious event. It's a cultural experience." It opens the festival to people from all walks of life — those with in-depth knowledge of spiritual practices and those not fully versed in the specifics of the rituals. Based in love, spirituality, and traditions, the Brooklyn Brujeria Festival is a space for healing and connecting, and we can all use some of that in our lives.
"By using the spiritual tools we have at our disposal and strengthening them by practicing them together — dancing, being in the market, being together, singing, doing your art, building altars — these are practices that have sustained folks across the African Diaspora for generations," she says. "[It's] the power of being able to connect to practices that kept our ancestors alive and spiritually whole."