Ringly Smart Jewelry
A High-Tech Ring That's Actually Practical and Pretty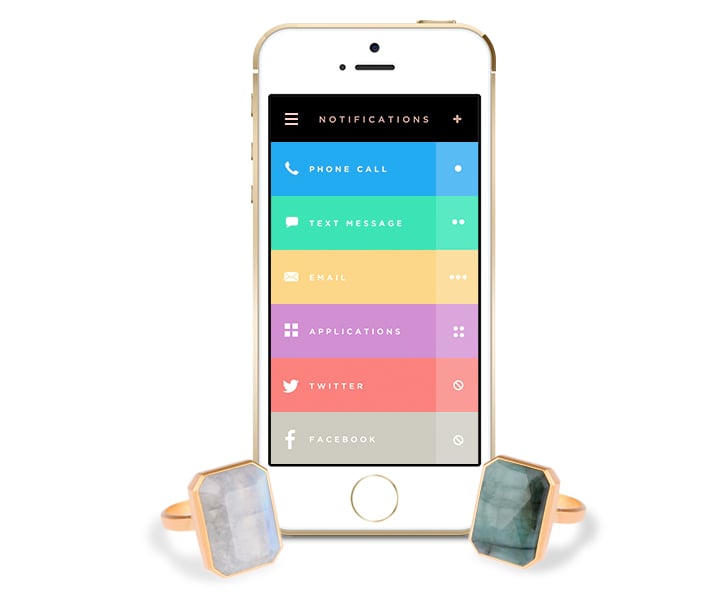 Finally, wearable tech that doesn't feel like you're wearing technology. Ringly looks like gorgeous vintage costume jewelry, but it's actually small high-tech hardware. The pretty 18K matte gold ring with an embedded semiprecious stone buzzes every time your phone needs you. So you can keep the phone off the dinner table and in your pocket but know exactly when you're getting a text, call, tweet, or whatever sort of notification you decide is most important.
The water-resistant Ringly jewelry pairs with an app, through which you can set the color and vibration pattern for each type of notification. For example, you could set two buzzes for when your Uber car has arrived and one buzz plus a flashing light for a call. The accompanying ring box, which can be plugged into any USB outlet, doubles as a charger. Ringly lasts about two days before needing to be recharged. For those of us who hate the look of Google Glass, Ringly is the wearable tech we've been waiting for.

Preorders for the rings, which are set to ship Fall 2014, range between $145 (Black Onyx, Pink Sapphire, and Rainbow Moonstone) and $180 (Emerald). After the preorder stage, the prices will go up to $195 and $245 — so you might want to get on it if you want one.
Both iOS and Android devices will be compatible with the jewelry. It connects via Bluetooth, and there's a tiny accelerometer, motor, and LED inside of the ring itself. We cannot wait to — literally — get our hands on this tech. The only question is: which color?
Want More Wearables?
Source: Ringly