Almond Berry Banana Yogurt Smoothie
Snack Attack: Almond Berry Banana Yogurt Smoothie
Like us on Facebook
Strawberries and blueberries are in season now, so stock up and use them to make this delicious yogurt smoothie. The fruit adds natural sweetness, and the Greek yogurt makes it rich and creamy. I like to add almonds to my smoothies because not only do they add fiber and protein, but they give the smoothie an interesting slightly crunchy texture.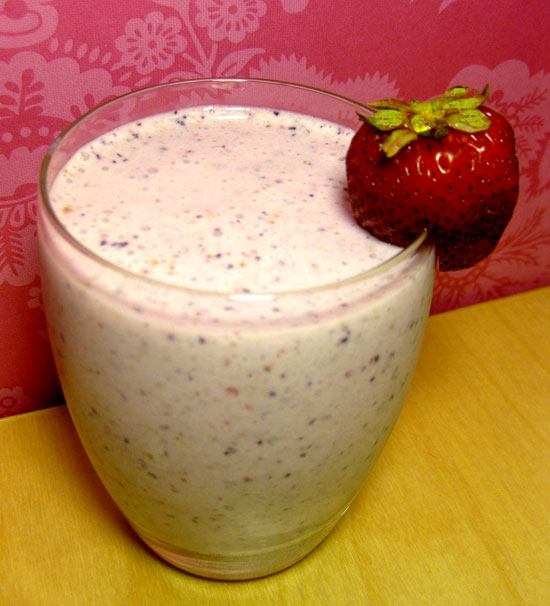 A 16-ounce glass contains about 300 calories so it makes a tasty treat to enjoy for breakfast or a pre- or post-workout snack. To learn how to make this simple recipe and see the rest of the nutritional information, keep reading.
original recipe
Recipe: Almond Strawberry Banana Yogurt Smoothie
Ingredients
6 large strawberries
1 sliced banana
1 cup blueberries
6 ounces plain Greek yogurt
1 cup skim milk
1/4 cup almonds
Directions
Cut the tops off of five of the strawberries.
Place the strawberries, banana, blueberries, yogurt, milk, and almonds in a blender or food processor. Blend until smooth and creamy. Garnish with a strawberry.

Makes four cups or two 16-ounce servings. Save the extra serving in the fridge or share it with a friend. If you only want one serving, just halve the recipe.
Information
Category

Drinks, Smoothies
This easy snack contains:
| | | | | | |
| --- | --- | --- | --- | --- | --- |
| | Calories | Sat. Fat (g) | Fiber (g) | Sugars (g) | Protein (g) |
| 3 strawberries | 12 | 0 | .7 | 1.7 | .2 |
| 1/2 banana | 53 | .1 | 1.5 | 7.2 | .6 |
| 1/2 cup blueberries | 41 | 0 | 1.7 | 7.2 | .5 |
| 3 oz. plain Greek Yogurt | 50 | 0 | 0 | 3.5 | 9 |
| 1/2 cup skim milk | 45 | .2 | 0 | 6.2 | 4.4 |
| 1/8 cup almonds | 107 | .7 | 2.2 | .9 | 4 |
| Total 16-oz. Smoothie | 308 | 1 | 6.1 | 26.7 | 18.7 |