Recipe For Carrot Zucchini Bread
Healthy Dessert: Carrot Zucchini Bread
Like us on Facebook
Zucchinis are overflowing out of many people's gardens now so you can either find them free from a generous friend, or for a couple bucks at your local farmers market. Once you get your hands on this green summer squash, give this recipe a try.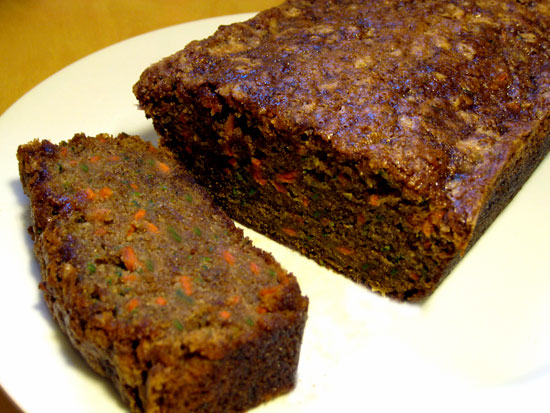 From Jenny Sugar, POPSUGAR Fitness
Carrot Zucchini Bread
Ingredients
1 1/2 cups whole wheat flour
2 tablespoons ground flaxseed
1 1/2 teaspoons cinnamon
1/2 teaspoon nutmeg
1 teaspoon baking soda
1/2 teaspoon salt
1/8 teaspoon baking powder
1 egg
1 cup Sucanat (or sugar)
1/4 cup brown sugar
1/2 cup oil
1 teaspoon vanilla
1 1/2 cups grated zucchini
1/2 cup grated carrots
Directions
Mix dry ingredients in a bowl and set aside.
In a separate bowl, beat egg and add sugars. Then add oil and vanilla and mix until smooth.
Stir in vegetables. Then mix in dry ingredients.
Pour into greased bread pan. Bake 45 to 55 minutes at 350°F until an inserted toothpick comes out clean.
Information
Category

Breads, Desserts