Michelle Obama's Makeup Artist Talks Working In Politics
What It's Really Like Doing the Makeup of Some of the Most Powerful Women in Politics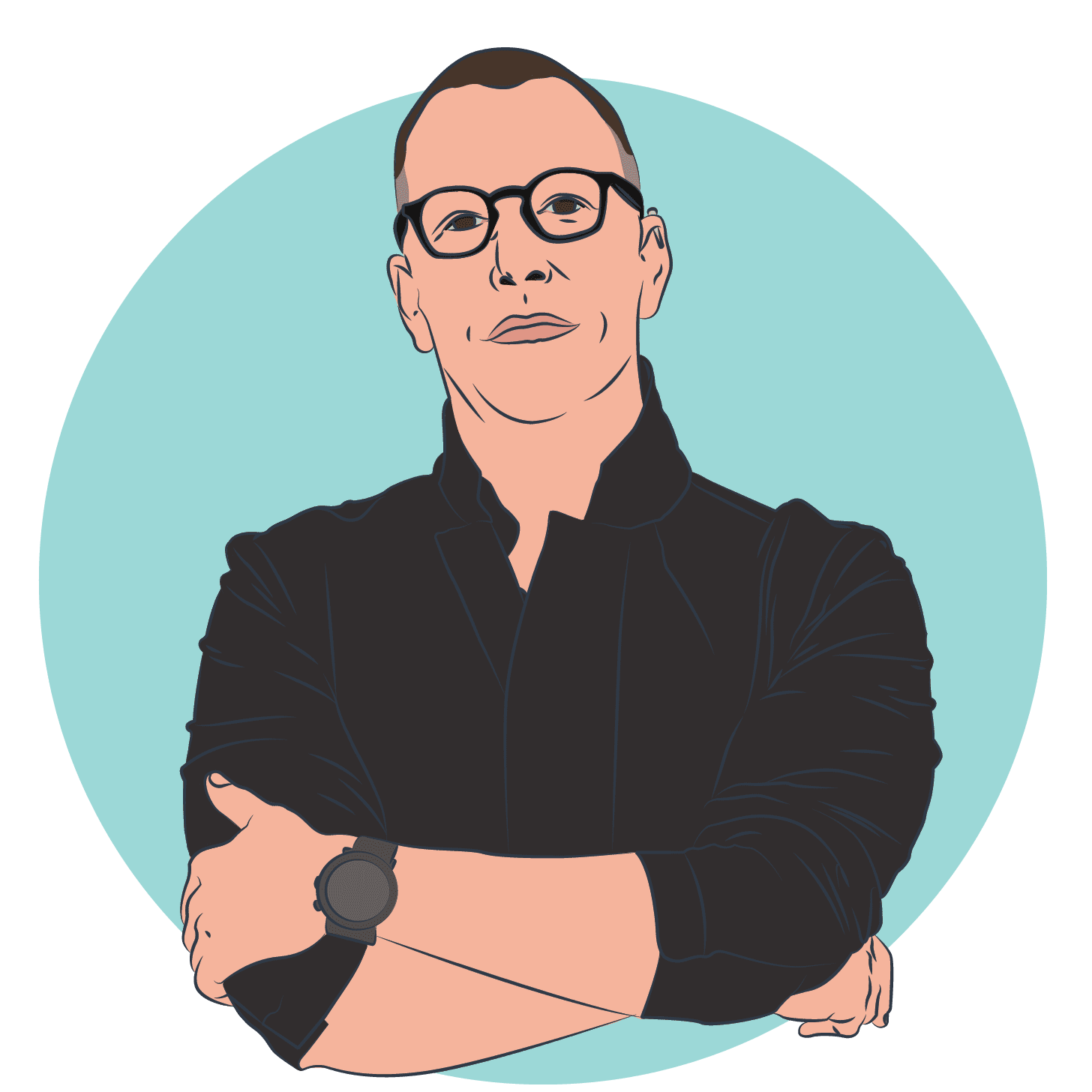 Image Source: Illustration by Swasti Mittal
Carl Ray is a Washington DC-based makeup artist and owner of a makeup studio in One80 Salon. He has worked with some of the most influential women in politics, including Nancy Pelosi, Sonia Sotomayor, and for the past 10 years, Michelle Obama. The following story was told to Kelsey Castañon and edited for length and clarity.
I got introduced to makeup when I was 14 years old. I'm an only child, and I would watch my mom do her makeup in the mornings. I often asked if I could help her out and told her that I could do a better job. She obliged. When my parents were going through a divorce, I realized that I was making her happy. I was filling a void for myself, creating something beautiful and making someone feel and look their best. Then I kind of forgot about it for a while, because I was so young.
I was reintroduced to makeup when I was in my early 20s. I worked at a shop in DC called EFX [editor's note: EFX is now Bluemercury] that sold hair products, soaps, skin care, and makeup. I was very attracted to the makeup section and couldn't stay away from that area of the store, so they made me the resident makeup artist.
One day, I was doing a woman's makeup for her wedding day. They took pictures, and the next thing I know, I'm in Washingtonian magazine. I got a little article written about me. I came to find out that the woman was the editor in chief of the magazine. She had put in a photo of me doing her makeup. So I ripped the story out, ran to the Four Seasons Hotel in downtown Washington DC, and asked them if they needed a makeup artist. They hired me on the spot. I was there for 15 years. That's how I got introduced to and met a lot of powerful, A-list, dynamic people coming in and out of the doors of the hotel.
Doing Makeup For Politicians
I'm not really interested in politics. I have a political view, but I don't share it or talk about it. That's part of the beauty of what I do. I just treat everyone exactly the same. I don't have an agenda. And because of that, I've had the opportunity to work with a lot of different, dynamic people within the political realm.
I worked with Sonia Sotomayor the day she was being sworn in. I've worked with Elena Kagan, Kirsten Gillibrand, and Valerie Jarrett. Nancy Pelosi was wonderful. With most of these women, though, you sign nondisclosure agreements because you want to keep that level of trust and loyalty, and that's what I'm all about. They want the same things as anyone else. I do everything I can to make them look and feel their best, no matter her job, title, or what they are known for. When someone would come in to the Four Seasons, I'd take into account what they were wearing, what type of event it was, and the best way to bring out their inner beauty, and I would just try to make them feel comfortable so they could sell their message without being looked at and feeling odd. Just be the best version of yourself. That's my motto.
Of course, there are general things you keep in mind with their makeup because these women are in politics. People can be critical, and it does matter the type of face you're doing for each occasion. If it's a state dinner, for example, you can do more. If it's a rope line event — meeting people one-on-one — not so much. In those cases, I keep everything neutral and pretty. I'm not trying to put my name out there like, "Look at the bright lip or smoky eye he gave her!" No. I want it to be about their message and what they're doing.
Joining Michelle Obama's Glam Squad
When I was working at the Four Seasons, I received an email from the White House asking me if I'd like to audition for the role of Michelle's makeup artist. I was sent three pictures of how she likes to look and asked if I'd like to come in and do her makeup. Of course, I said yes. I was so nervous. I walked in thinking, "Just do the best job you can, and be honest, and be yourself." We hit it off really well. I told her I was nervous, and she giggled. I did her makeup, and I got a phone call back from her within three days asking me if I'd like to come back in. . . and then again and again.
Next thing you know, I was traveling around the world with her. That was 10 years ago.
My days have changed since she was in the White House. Back then, it could get hectic. I used to work with her three, four, five days a week, just depending on what was going on. I could go in two to three times a day. It was always something — moving, moving, moving. One day would be visiting with children. One day we would be doing a magazine cover. One day you have diplomats from around the world visiting. One day we would be doing the Ellen Show. One day we'd be doing her official First Lady portrait. It was a rollercoaster; everything moved so fast. Luckily I always knew four to six months in advance what I was doing, so I could schedule my life or other jobs around her.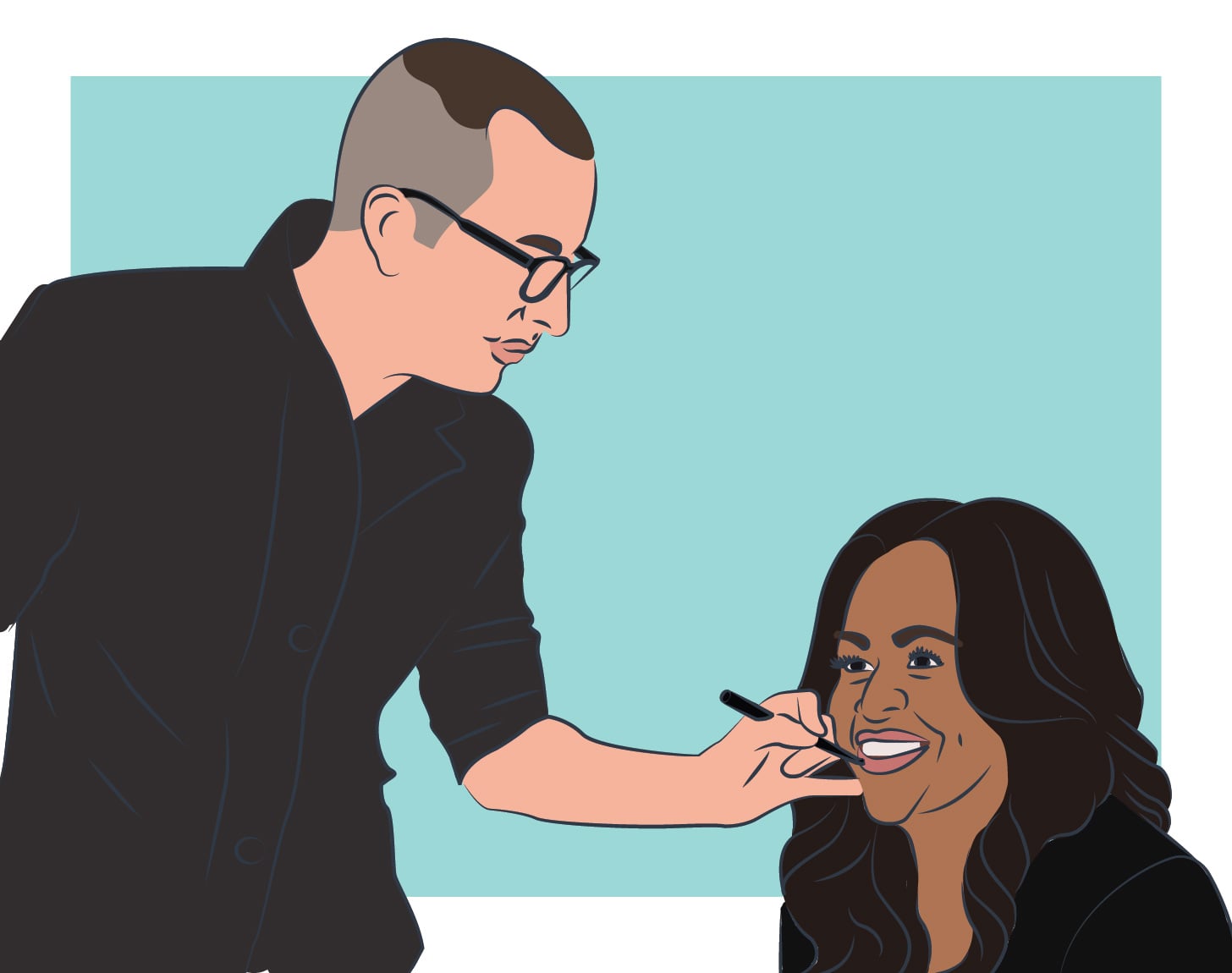 Image Source: Illustration by Swasti Mittal
"One day would be visiting with children. One day we would be doing a magazine cover. One day you have diplomats from around the world visiting. One day we would be doing the Ellen Show. One day we'd be doing her official First Lady portrait. It was a rollercoaster."
We've had lots of high-pressure moments over the years. There was meeting the Pope. There was meeting Mandela. There was the second inauguration. The painting of her. I never thought I would in my job as a makeup artist be giving a painter colors that I put on her skin to use for a portrait. I never thought I would be giving direction like, "This is the color on her chin. This is the color on her forehead." That was pretty cool for me.
These days, it's a little more relaxed. I'm still with her with a full capacity — I just finished doing her book tour. We went everywhere, and we're getting ready to go on the second leg of her book tour, which is 22 more international stops. But the pace isn't as go, go, go, which is different. But it's always been about bringing out her natural beauty. She has her "look" — that classic Michelle Obama look: nude lips, a pretty open eye, her beautiful cheekbones — and then we can glam it up for different occasions. I like to use warm shades, a little contour, a little highlight.
She's the most inspiring person I've had in my makeup chair. She is just authentic, authentic, authentic and just full of knowledge and a really good person. What you see which is what you get.
Working With Male Vs. Female Politicians
I've worked with a few different male politicians, and it's definitely a different experience with them in my makeup chair. With men, it's pretty straightforward. It's more, "OK, let's make this quick." I like to keep them moving: "Here's the Chapstick, put it on yourself." I've done President Obama's makeup a few times behind the scenes for TV. Just a few touch-ups for interviews or magazine covers with his wife, nothing big. You don't want someone to look really shiny or really dull — the camera can do a number on you if you're not careful.
With men, you even out the skin tone, dab on some powder, put on some Chapstick, make sure their eyebrows aren't unruly, and that's it. It doesn't take a lot. Now, with a woman, I like to talk and get to know them — see how their day is going, how their family is, what they're wearing that day. You can have a little more fun.
Staying Hopeful For the Future
I hope to see more women in politics, and I'd like to think we're going in the right direction. I hope to see a female president in our future. Women have so much offer, and I have a feeling there's a lot more greatness to come.
"I hope to see more women in politics, and I'd like to think we're going in the right direction."