Charli D'Amelio has over 11 known tattoos so far.
The star has gotten multiple designs in one sitting as well as some individually.
We're breaking down what each of D'Amelio's tattoos means.
Social media mega-influencer Charli D'Amelio made headlines for her recent "tattoo day" with three of her celebrity BFFs. If you missed her on TikTok, though, you wouldn't be remiss for not realizing the star has tripled her tattoo tally since turning 18 at the beginning of May.
D'Amelio costars in multiple reality shows, regularly attends celebrity events, and posts daily or near-daily selfies and videos on Instagram and TikTok. Despite this, her affinity for micro tattoos and long sleeves can make it difficult to spot the ink, even when you know where to look. Some outlets have reported one of D'Amelio's older Instagram posts showed off an alleged butterfly tattoo on her back, but D'Amelio did not include any such tattoo in her recent pre-"tattoo day" roundup of all of her ink.
As is common with micro tattoos, D'Amelio tends to favor single words in clean, basic fonts or simple, recognizable symbols with thin black lines. Her 11 tattoos are split into four tattoos between her fingers and five scattered across her arms. Although a few of her tattoos may be self-explanatory to any D'Amelio fan, the star herself has been surprisingly mum on others, sometimes intentionally so.
Still, we've rounded up her tiny tattoos and provided the personal meanings each of them holds ahead.
Charli D'Amelio's Smiley-Face Tattoo
In March 2022, D'Amelio went to a tattoo parlor with musician Olivia Rodrigo, TikTok star Avani Gregg, and actor Iris Apatow. D'Amelio and Gregg got matching smiley-face tattoos on the insides of their pinkie fingers. Rodrigo and Apatow got matching heart tattoos on the pads of their pointer fingers.
Charli D'Amelio's Dog Tattoo
Just above her left elbow, D'Amelio has a block-letter tattoo spelling out the name "Rebel" for her family dog. In May 2022, she added a thin outline of the 8-year-old dog's ears and the top of its head above the name.
Charli D'Amelio's Hearts Tattoo
D'Amelio has two small heart outlines on the inside of her left wrist. In a May 2022 TikTok video, she said her viewers "would eventually hear the story for [them] and what they are for and what they are about, but not yet." Fan theories include an homage to a family member or perhaps a romantic partner, but D'Amelio has not yet commented again.
Charli D'Amelio's Micro Tattoos
During the same May 2022 session where she got the outline of her dog's ears and head, D'Amelio also got five other micro tattoos.
Charli D'Amelio's "Breathe" Tattoo
On her other index finger, D'Amelio has the word "breathe" in the same all-lowercase font. She has not explained the reason behind this tattoo, but fans speculate it's another potential reminder for when she films or takes selfies with her right hand.
Charli D'Amelio's Taurus Tattoo
Just above her inner elbow, D'Amelio has a tattoo of a circle with two horns, the Taurus symbol. This is a nod to her zodiac sign, since her birthday is May 1.
Charli D'Amelio's Bird Tattoo
Above the back of her right elbow, symmetrical with the "Rebel" tattoo on the opposite arm, D'Amelio has a small bird tattoo. There has been some debate whether it is a chick with eggshell on its head or a chibi-style penguin. D'Amelio has not clarified what this tattoo is or why she chose this design.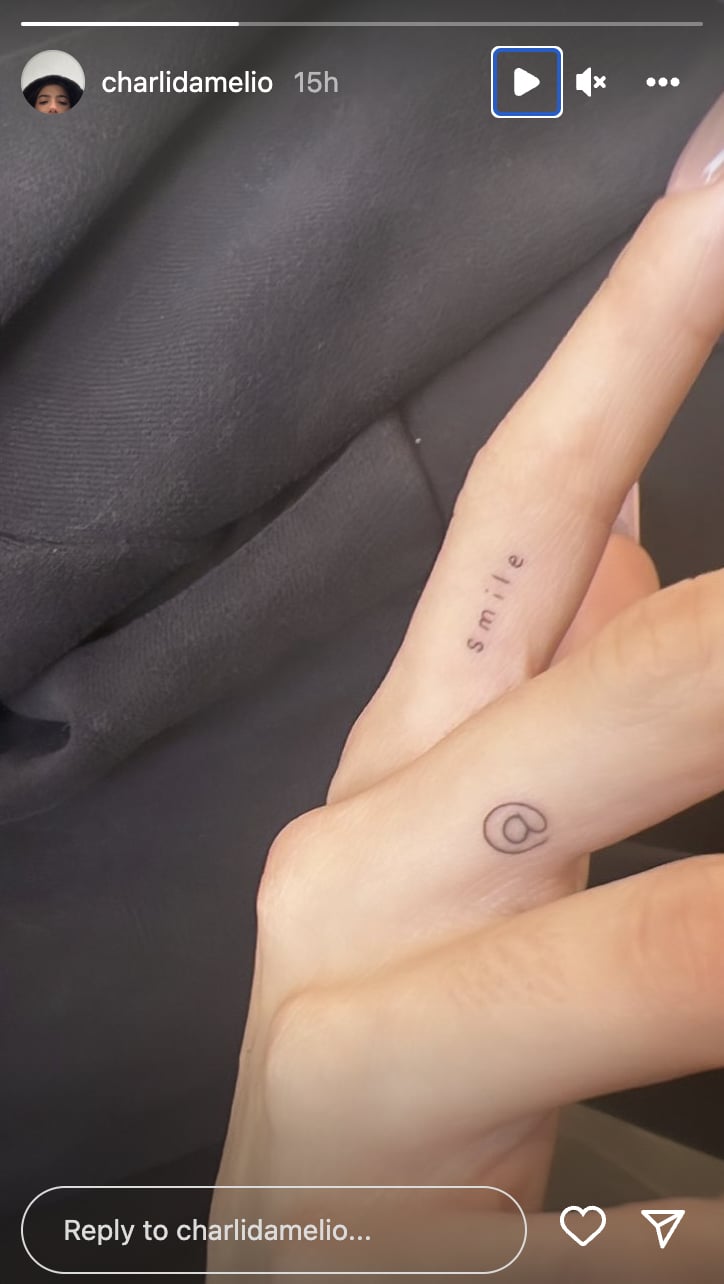 Charli D'Amelio's @ and "Smile" Tattoo
On the side of her left middle finger, D'Amelio has her smallest tattoo to date, the @ symbol. While she didn't share its exact meaning, many fans believe it's a nod to her social media career and lifestyle.
On the side of her left index finger, D'Amelio got the word "smile" in all lowercase tattooed close to her palm. That way, depending on which hand she uses to take a selfie, she can see the word and reminder alongside her phone.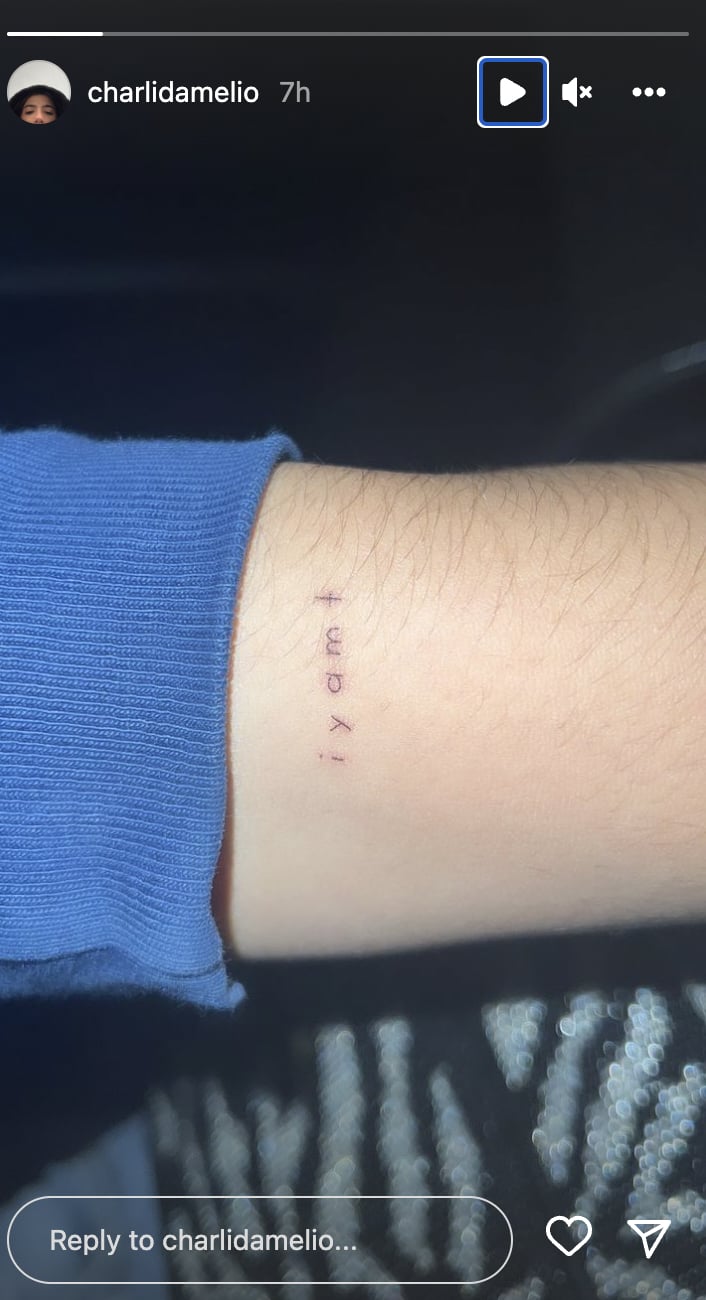 Charli D'Amelio's "Iyamt" Tattoo
On July 21, D'Amelio got a few more tiny tattoos from LA-based tattoo artist Arbel. One design reads "iyamt" in tiny letters on her arm, and another is of tiny stars on her shoulder.
Charli D'Amelio's "Live Laugh Love" and "Yolo" Tattoo
On the inside of her feet, D'Amelio has "live laugh love" and "yolo" tattooed in tiny letters. She got the design on July 20.