After two years of waiting for a second season, Euphoria officially delivered an intense, bloody, and well-worth-the-wait return last night. While the crowd is going wild for Fezco (Angus Cloud) and his handiwork with an empty bottle, Twitter is continuing to erupt over another character's evolving look. Behold, Jules with a bob haircut.
Although the haircut seemingly happened off screen, Jules (Hunter Schafer) rocks a new chin-length bob for the episode's New Year's Eve party. Considering the fact that the show's makeup department head, Doniella Davy, recently told POPSUGAR just how different the makeup would be in season two, we shouldn't be too surprised that at least one character got a hair makeover. Still, the decision wasn't as cut and dried as you might imagine.
According to hair department head Kim Kimble, the decision came after a conversation with director Sam Levinson. The two went back and forth about what Jules's new look should entail, like how short it should be (it was almost shorter) and if a new color would be involved. "We wanted to give her lavender hair, but we didn't end up doing the color," Kimble said. "The color didn't make it, but the cut did."
One of the biggest sources of inspiration, Kimble shared during the episode three recap, was Kurt Cobain.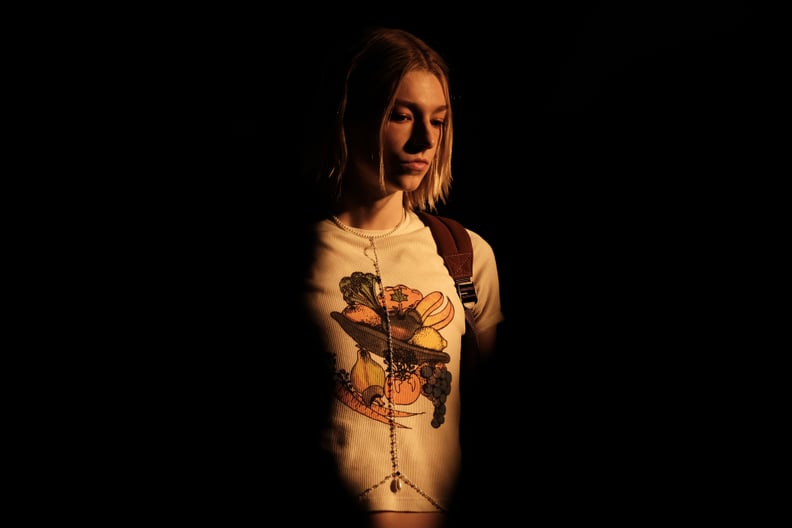 Although Kimble teased that there's another beauty transformation coming later this season, we're busy psychoanalyzing the meaning behind the bob haircut. Although it's often reserved for sci-fi tropes, there's a long-running list of TV and film characters who rock the same blunt style and are described as polished, organized, and even sometimes antiheroes. We know audiences weren't necessarily #TeamRules after last season's finale, but as fans, we've been hoping for a Jules — and, by extension, Rules — redemption arc, but how does this new look factor in?
Abra McField, a psychologist with a hair doctorate certification and the founder of Abra Kadabra Hair & Healing, told POPSUGAR in February 2021 that haircuts can serve as physical manifestations for how people feel, especially in on-screen TV and film roles. "Producers of movies oftentimes use this cut to convey strength, power, and hardness — an inability to break no matter what is going on in the world around them," she said. "When a woman takes her power back, she might go with a straight-edge cut with no softness and variations in lines because she wants to be taken seriously or wants to make a statement. A straight line symbolizes motionless and stability, meaning it won't deviate from where it is, which is indicative of the state of mind of a woman wanting to claim her power."
We're not Jules's therapist, but if we had to guess, we'd imagine the haircut was a confident decision she made ahead of the new year, in anticipation of a fresh start; after all, Jules is still the new kid in town and, understandably, probably wants a more drama-free semester.
"My goal tonight is to black out this entire f*cking stupid year," Jules shouts to Kat (Barbie Ferreira) in the season two premiere. When she eventually confronts Rue about her relapse and their relationship, her world seems to come to a halting stop — the goal to emotionally escape seems suddenly out of reach. With a whole season left to unfold, we're not entirely sure what this physical transformation will mean for Jules, but we're crossing our fingers it doesn't land her at a train station again (or anywhere near Nate).