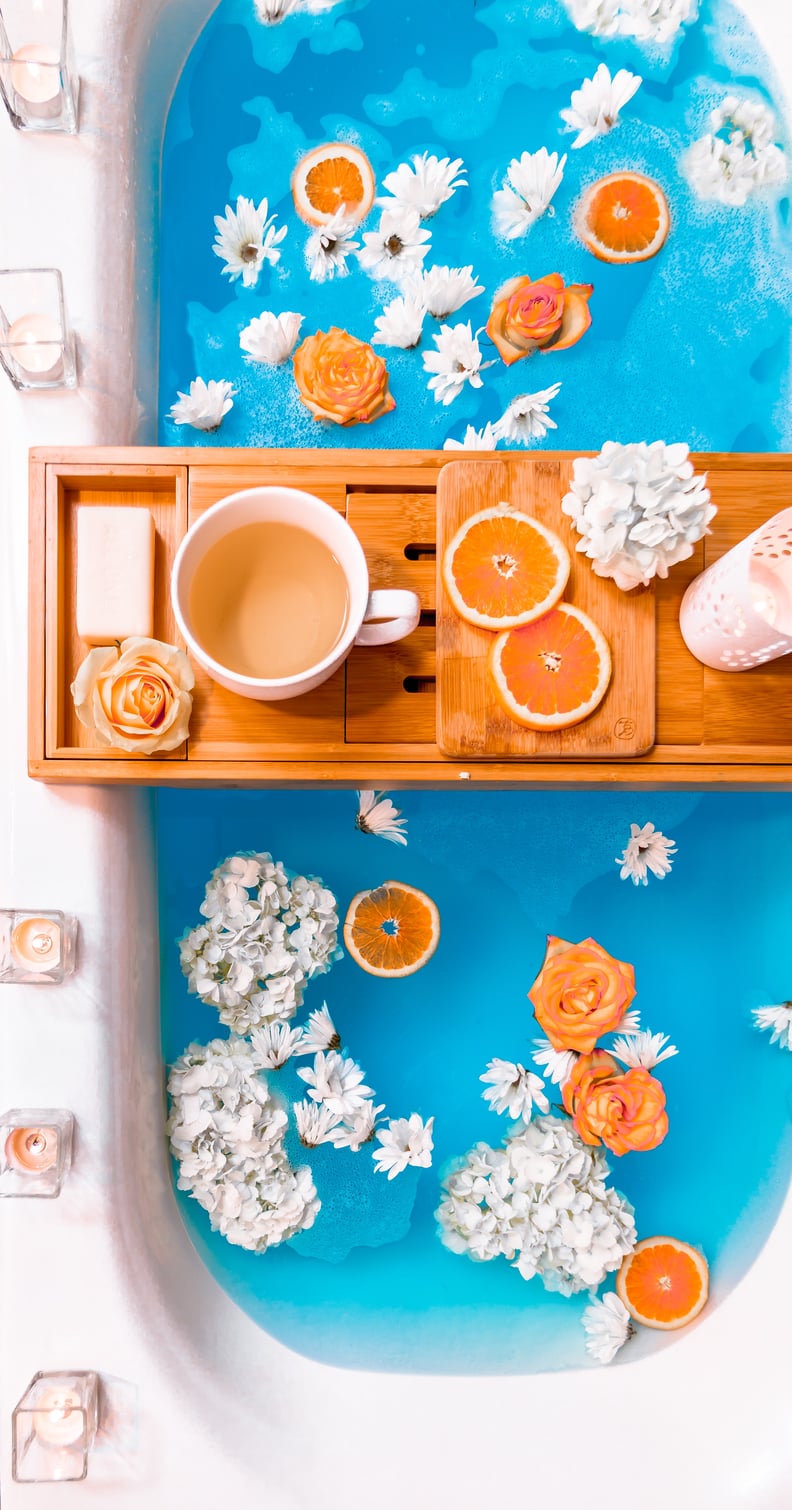 Unsplash | Heidi Kaden
Putting time and energy into running a bath or pampering yourself during a shower can be one of the most relaxing forms of self-care. Your bathroom can serve as a meditative escape from a long day filled with meetings and Zoom calls.
Beauty trends are constantly changing, and bath time is no exception. Although it's more known for its memes and funny clips, TikTok has become one of the best places to find what's new in baths and showers. "BathTok," as it's referred to on the app, shows off the best hacks you can use to take a seriously restorative soak.
Ahead, we rounded up 12 BathToks, as well as all of the products, tips, and tricks you need to turn your bathroom into an oasis. If your self-care routine needs a boost, try a few of these easy upgrades. After all, there's no such thing as too many bubbles.
Buy a Star Projector
With a star projector (which you can buy from Amazon), you can completely transform your bathroom in two easy steps. Turn off the lights and watch your ceiling come to life.
Get a Towel Warmer
On a cold day, sometimes the last thing you want to do is step out of a hot bath or shower. With a towel warmer, that gap between stepping out of the tub and into your cozy pajamas will get much easier.
Add Epsom Salt
Adding Epsom salt to your bath water can relieve sore muscles and release tension you may not even realize you've been carrying around all day.
Try a Holiday Theme
Make your bath holiday themed so you'll look forward to your evenings even more. And think beyond Christmas, Hanukkah, or Kwanzaa — there are just as many products out there for Thanksgiving, Valentine's Day, and more.
Go Multipurpose
To really pamper your skin, try splitting your soak into two parts. If you have both a bathtub and a shower, you can use each to highlight different parts of your skin-care routine.
Plop in a Bath Bomb
Bath bombs are an easy way to set the tone for bath time. Spend some time shopping around so you can find bath bombs that really work for you — between scents, items inside, colors, and glitter, there's a lot to choose from. Or you can buy one based on your zodiac sign.
Light a Candle
Candles can give your bathroom that peaceful, spa-like quality. You can just light one larger-sized candle or arrange a dozen minis for maximum relaxation.
Keep Things Nearby
If the idea of adding 10 extra steps to your nighttime routine sounds like a lot, start by assembling everything you need in one place. Keeping your bath time products all in the bathroom or out on the counter will make it feel less like a chore.
Make DIY Bath Bombs
DIY bath bombs are an inexpensive alternative to store-bought ones. If you have sensitive skin, making your own bath bombs is a great strategy because you'll know exactly what's in them.
Introduce Other Forms of Self-Care
Who says bath time is just for soaking? Combine your bath or shower with your other favorite self-care methods like reading or doing a face mask for the ultimate spa night.
Apply a Body Scrub
A good, exfoliating body scrub is a must for soft, silky skin. Buy one or make your own with ingredients you already have lying around in your kitchen.
Invest in a Bath Pillow
No calming bath is complete without a plush bath pillow to support your neck and help you unwind.