Vanessa Hudgens's Tattoos: A Guide to Her Delicate Ink
Vanessa Hudgens has been hitting mini milestones in her tattoo journey at a rapid pace. As of June 2021, the actor has 10 pieces of ink in her collection, which is rather small — at least compared to her pals Selena Gomez (who has at least 17 known tattoos) and Ashley Benson (who has somewhere around 25 known tattoos).
As far as free-spirited stars go, Hudgens definitely reigns supreme, and her fine-line tattoos match that vibe. She's the queen of delicate, small artwork. In addition to the sunflower on her side-boob and angel on her other, she's gotten a phrase in script on her shoulder, the number "22" on the side of her wrist, a couple of finger tattoos, a tiny design in her ear, and a snake on her ankle. Hudgens also has halves of the om symbol on each of her hands — part on one pinky finger and part on the other — so that when she puts her hands together in a meditating position, it forms the whole ॐ symbol. The ink is a bit hard to see, not just because of how small it is; the artwork is from 2011 when she got tatted with long-time bestie Ashley Tisdale.
Hudgens's most noticeable tattoo happens to be her first: a colorful butterfly on the left side of her neck. The actress got it in 2011 at New York City parlor Bang Bang Tattoo.
Ahead, get a closer look at Hudgens's 10 tattoos.
Vanessa Hudgens's Snake Tattoo
On June 14, 2021, Hudgens announced she got her 10th tattoo: a boa constrictor on the inside of her left ankle. The ink was done by tattooist Dragon of the celebrity-favorite Bang Bang Tattoo parlor in New York City. Hudgens shared a photo of her new tat via Instagram and captioned it, "ANOTHER ONE."
Vanessa Hudgens's "22" Tattoo
The fourth tattoo Hudgens got in May of 2021 by Mr. K is the number "22" on the side of her wrist.
Vanessa Hudgens's Finger Tattoos
During that same visit to Mr. K in May, Hudgens got two new designs on her fingers — a heart on her left pointer finger and a chain design on her right middle finger.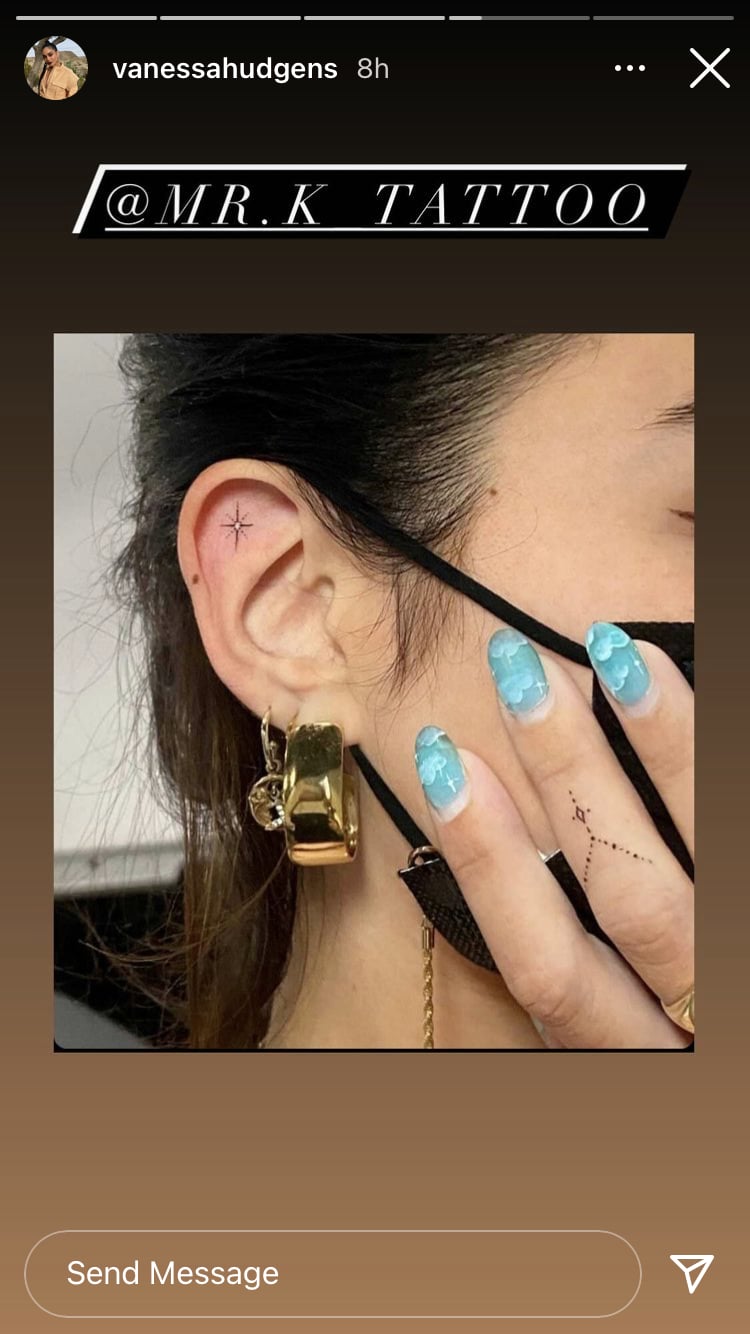 Vanessa Hudgens's Ear Tattoo
In May of 2021, Hudgens got a small tattoo on the inside of her ear that resembles a star. It's by NYC tattoo artist Mr. K.
Vanessa Hudgens's "Cages or Wings" Tattoo
In November of 2020, Hudgens the phrase "Capes or Wings" as a shout-out to her upcoming film role in Lin-Manuel Miranda's film adaptation of the 1990 play "Tick, Tick . . . Boom!"
Vanessa Hudgens's Angel Tattoo
In March of 2020, Hudgens visited her favorite artist Dragon again to get an angel on her right side. The "divine feminine angel" is what she's calling it. The first glimpse we got at the new tattoo was in a photo posted on her Instagram. Keeping with the theme of her last tattoo reveal, she playfully hashtagged it #thirstythursday. Shortly after, Hudgens posted a candid video where she squealed with excitement when we got a peek at the final result. "This was the first time I saw it. I never peeked. Hilarious. I love @drag_ink so damn much. What. A. Legend.," read her caption.
Vanessa Hudgens's Sunflower Tattoo
In January of 2020, Hudgens got a tiny sunflower tattoo on her side for Thirsty Thursday. Hudgens visited Dragon for this ink as well.
Vanessa Hudgens's Om Sign Tattoo
The other side of Hudgens's om sign tattoo is visible on the pinky finger of her other hand.
Vanessa Hudgens's Om Sign Tattoo
In 2011, Hudgens visited Bang Bang Tattoo with Ashley Tisdale to get inked. That's when she got the om sign tattooed on the side of her hands.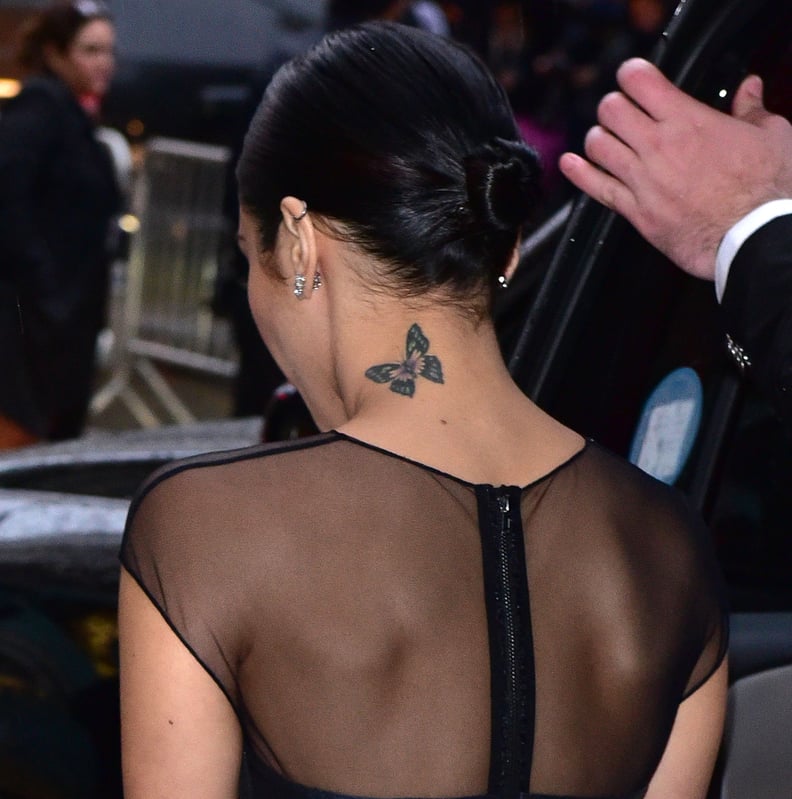 Vanessa Hudgens's Butterfly Tattoo
Hudgens's most visible tattoo is a colorful butterfly on the side of her neck. It was her very first tattoo that she got back in 2011 and is symbolic to her because "Vanessa" means butterfly.