As POPSUGAR editors, we independently select and write about stuff we love and think you'll like too. If you buy a product we have recommended, we may receive affiliate commission, which in turn supports our work.
If the latest winter makeup trends like aura eyeshadow, nose-bridge makeup, and floating eyeliner tell you anything, it's that people are looking for out-of-the-box ideas this season. With that in mind, you can expect to see "washed denim" eye makeup a lot more in the upcoming months.
Inspired by a good pair of well-loved jeans, the "washed denim" makeup trend is a fun, updated way to wear blue eyeshadow this season. "We're in the middle of a denim revolution," Cat Quinn, executive director of trends for MAC Cosmetics, tells POPSUGAR. "For the first time since the early 2000s, Canadian tuxedos are chic, and light denim has gone from daytime casual to red carpet worthy." In general, many popular fashion and beauty trends from the early aughts have made a return, so it's no surprise that blue eyeshadow is undergoing a bit of a rebrand itself.
Here's what to know about the makeup trend — including how to re-create it at home.
What Is "Washed Denim" Eye Makeup?
This look works on everyone — think of it as an "elevated neutral," just like the material itself. "[It] consists of a wash of light denim-blue eyeshadow swept over the lids and blended slightly past the crease and along the lower lash line, with very little else on the eye," Quinn says.
The "washed denim" eye-makeup trend has already earned itself a list of celebrity fans, including Maddie Ziegler, Adwoa Aboah, Kendall Jenner, and Hailey Bieber. Quannah Chasinghorse and Iris Law also wore the makeup look to fashion's biggest night of the year, the 2022 Met Gala, while Taylor Swift debuted it on the cover of her "Midnights" album.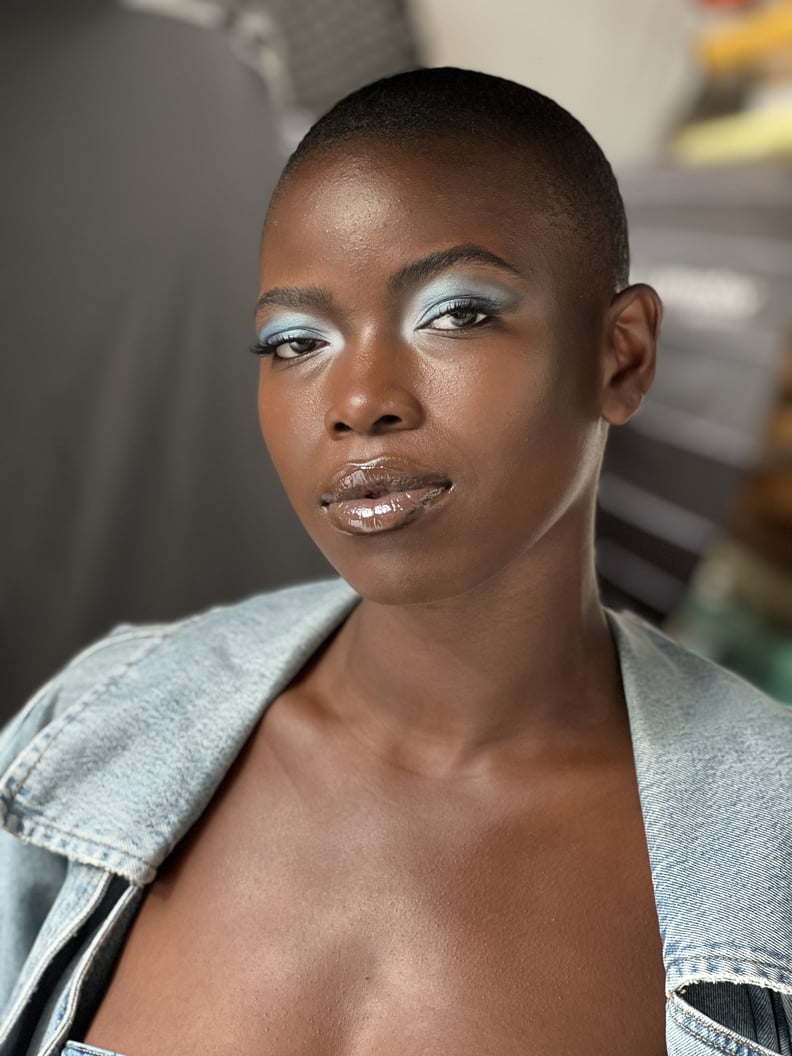 How to Re-Create the "Washed Denim" Eye-Makeup Trend
Not only is the "washed denim" look universally flattering, but as far as makeup trends go, it's easy to re-create. All you need is some blue eyeshadow. Quinn likes the MAC Eyeshadow in Tilt ($21) because the shade mirrors the hue of a classic pair of jeans. The E.l.f. Cookies 'N Dreams Eyeshadow Palette ($9) is also a great option because it offers a variety of colors, as is the Dior Mono Couleur Couture Eyeshadow Palette in 240 Denim ($32) for a light-wash jean look.
"Use your finger or a brush to sweep it onto your lids, blending just past the crease and along your lower lash line," Quinn says. Then, top it off with mascara. "Keep the rest of your look modern with glowing highlighted skin and nude lipstick — veering too matte with your foundation or too strong on the blush can take this into '80s ice-skater territory, which is a look."
As we move into the holiday season, "washed denim" eyeshadow is a trendy way to channel winter's icy vibes with your makeup and look cool while doing it.