Johnny Depp Talks About His Daughter's Sexuality 2015
Johnny Depp Just Said the Sweetest Things About His Daughter, Lily-Rose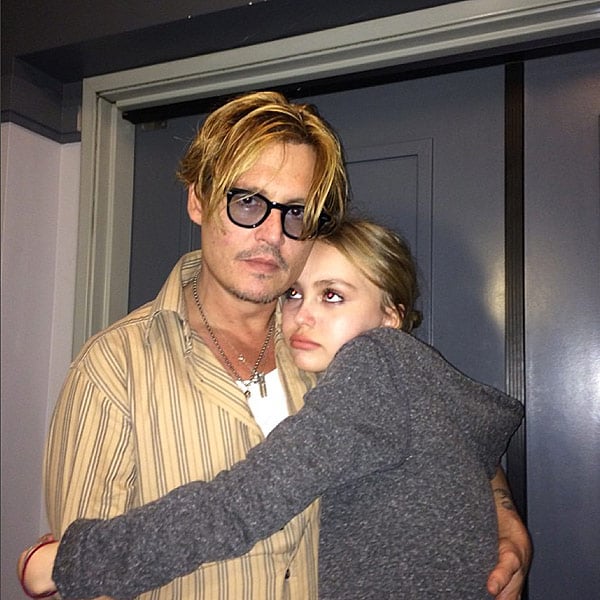 Johnny Depp gave an in-depth interview to the Daily Mail this week and gushed about the "super-tight" relationship he has with his 16-year-old daughter, Lily-Rose. Back in August, the model and aspiring actress revealed that she identifies as sexually fluid when she was featured in a photo for the Self Evident Project, an organization that celebrates and supports people who fall "anywhere on the LGBTQI spectrum." About Lily-Rose's brave step, Johnny said, "She's got thousands of followers on social media, and they were all taken completely by surprise," adding, "But not me. I already knew because she tells me everything — she's not afraid to say anything to me. We're super-tight and I'm very proud of our relationship."
Johnny also opened up about Lily's burgeoning modeling career — she recently became a Chanel ambassador and starred in the brand's Haute Couture runway show — and revealed that she was actually working in Paris during the tragic terrorist attacks last week. The teenager was at a house party in the French capital but had left just a few minutes before the attacks began. She reportedly got back to her apartment safely and received "frantic texts" from friends shortly after, then contacted her dad to let him know that she was safe. Keep reading for more of the sweet, eye-opening comments that Johnny made about his beloved daughter.
On her grown-up personality: "Lily's really together — she's a sharp kid and one of the smartest human beings I have ever met. She's far surpassed myself there, and my friends, too! She's got a sensible head on her shoulders, and I trust her to lead a sensible, responsible life, but I can't ever see the day coming when I just switch off to let her make her own way in the world."
On his unwavering support: "Whatever she is doing, if she needs any advice, I'm there for her. Kids are going to make their own decisions, but I guess that the only thing you can do as a parent is to offer support. And I do."
On Lily's modeling career: "It's such a funny thing when you see your daughter transitioning from your baby, your little girl, to suddenly being a young woman. If you're not really looking for it, you can miss it, and Lily-Rose is on that road already and there's nothing I can do to stop it. She's been snatched up by Karl Lagerfeld — which is a coincidence, as he spotted her mother when she was the same age, too — and when I see her with makeup and all that stuff, it's really disturbing, because she's a very beautiful girl, and it's all happening so fast."
On almost having lost Lily-Rose to an E.coli infection when she was seven: "They told us her kidneys had shut down and that she would be lucky to survive. For nine days we sat by her bed, and refused to move until she began to pull through. Everything had to stop. It was three weeks before she was allowed to go home. I still think of that time when I'm playing an emotional scene in a movie; it's something that, when you've been through it, you can't help but tap into."
On Lily's mother and his former girlfriend, Vanessa Paradis: "She's a great mother and a great woman. And when you've got a woman who's been good to you, who you have a couple of kids with, you don't just abandon ship. The love may change, but you keep loving her, no matter what."
On worrying about Lily: "No matter how grown up she gets, I'll never stop worrying about her. It's a father-daughter thing."
Image Source: Instagram user lilyrose_depp