Katy Perry's Quotes About Taylor Swift's "Bad Blood"
A Dramatic Roundup of Everything Katy Perry Has Said About Taylor Swift's "Bad Blood"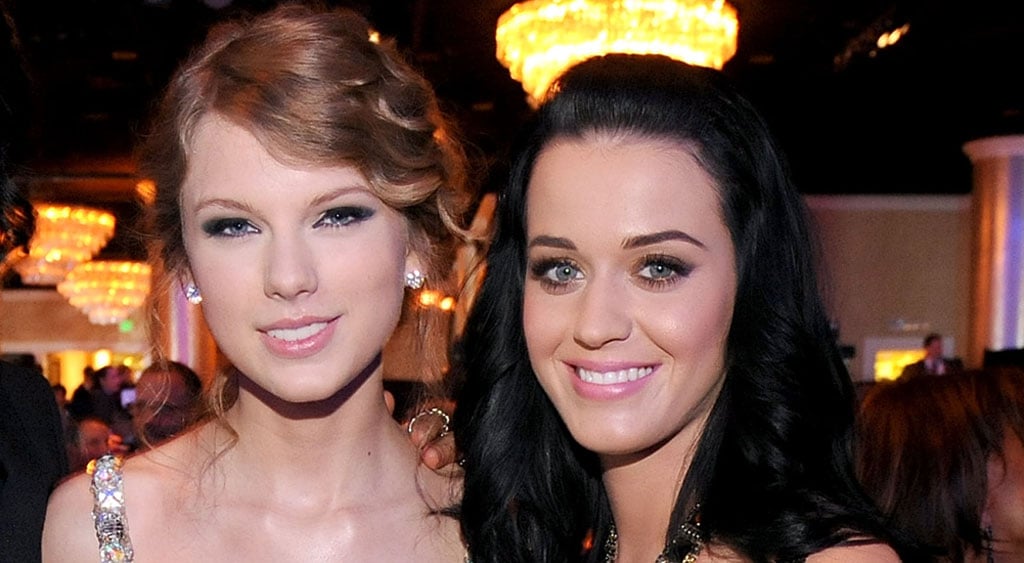 Like death, taxes, and the fact 2017 is a raging trashfire, there's something else we can always rely on: Katy Perry and Taylor Swift's feud will never die. As we're all painfully aware at this point, the drama began when in Taylor's infamous 2014 Rolling Stone interview, she claimed another female artist (who literally everyone quickly deduced was Katy) had stolen backup dancers away from her and therefore deliberately sabotaged her upcoming tour, and then wrote her diss track, "Bad Blood," about said artist. The two have shared a few not-so-subtle barbs back and forth ever since, but it's safe to say it's all out on the table now thanks to Katy's publicity tour for her upcoming album, Witness. See everything she's said about the situation over the past few months below.
"Don't come for me."
In early May, Katy sat down with Entertainment Weekly for a discussion about Witness, which inevitably led to a question about what she thinks of "Bad Blood" and if she believes it's about her. "Well, that's not my question to answer — if it's about me," she replied. "I think [my new album] is a very empowered record. There is no one thing that's calling out any one person." She also made it clear that nobody should mistake that silence for not saying anything at all. "One thing to note is: you can't mistake kindness for weakness and don't come for me. Anyone. Anyone. Anyone," she explained. "And that's not to any one person and don't quote me that it is, because it's not. It's not about that. Honestly, when women come together and they decide to unite, this world is going to be a better place. Period, end of story. But let me say this: everything has a reaction or a consequence, so don't forget about that, OK, honey . . . If people want to connect and be healed and feel vulnerable and feel empowered and strong, God bless and here it is."
Although she denied she had any diss tracks of her own in the works, she released "Swish, Swish" not long after her interview, which sure sounds like it's a shot at Taylor.
"She started it, and it's time for her to finish it."
The "Chained to the Rhythm" singer was completely candid about why she and "the Regina George in sheep's clothing" have beef during her Carpool Karaoke video with James Corden in May. Katy fully admitted that "There's a situation. [Taylor] started it, and it's time for her to finish it." She added that she never "stole" backup dancers from Taylor and then opened up about her reaction to "Bad Blood." "I do the right thing any time that it feels like a fumble. It was a full shutdown, and then she writes a song about me," she said. "And I'm like, 'OK, cool, cool, cool. That's how you want to deal with it? Karma!'" She also made sure to note that she's "ready for that BS to be done."
"There are three sides of every story: one, two, and the truth."
In an interview with NME (which doesn't fully drop until June 9), Katy tried to explain why she brought up the feud at all with James Corden. "Well, [Late Late Show host] James Corden makes me and the whole world feel very safe," she said. "No one has asked me about my side of the story, and there are three sides of every story: one, two, and the truth." The 32-year-old also wanted to reiterate her previous assertion that no one should "come for" her. "I mean, I'm not Buddha — things irritate me. I wish that I could turn the other cheek every single time, but I'm also not a pushover, you know? Especially when someone tries to assassinate my character with little girls [her fans]. That's so messed up!"
Another layer to the "Bad Blood" drama was that Taylor hired Katy's longtime collaborator Max Martin to help write the song, which Katy had yet to address until her chat with NME. "I can't speak for [Max], but he didn't know [who "Bad Blood" was about]," she said. "I'm not supposed to tell him what he can and can't do. I'm very fair; I'm super-duper fair, and I'm not one of those people who's like, 'You can't do that because I don't like that person'. Just, like, you do you, make your own choices . . . I'm not his mother."
Image Source: Getty / Rick Diamond