Princess Diana's Charity Work With AIDS
Princess Diana Was the First Member of the British Royal Family to Have Done This
Image Source: Getty / Anwar Hussein
Princess Diana was known for many things during her lifetime — being a great mother to sons Prince Harry and Prince William, her amazing sense of style, and her beautiful smile — but ultimately, she is best remembered for her undying passion for helping others. Diana was a patron of more than 100 causes around the world, some of which Prince William and Prince Harry now champion.
One of the charities in question is the National AIDS Trust. The trust promotes the awareness of AIDS and helps prevent the spread of HIV, and in April 1987, Diana was invited to open the UK's first AIDS ward at Middlesex hospital. During her visit, Diana challenged the notion that HIV/AIDS was passed on by touch when she shook the hand of a dying AIDS patient without wearing gloves. Not only was it a brave and compassionate move, but it also marked the first time a member of the royal family had ever come in contact with a person with HIV or AIDS without wearing any protective gear. "HIV does not make people dangerous to know," Diana explained. "You can shake their hands and give them a hug. Heaven knows they need it."
In the years following, Diana continued to make regular hospital visits and she even brought her sons along with her. Gavin Hart of the National AIDS Trust later told BBC that Diana had done so much to remove the stigma of AIDS. "In our opinion, she was the foremost ambassador for AIDS awareness on the planet and no one can fill her shoes in terms of the work she did."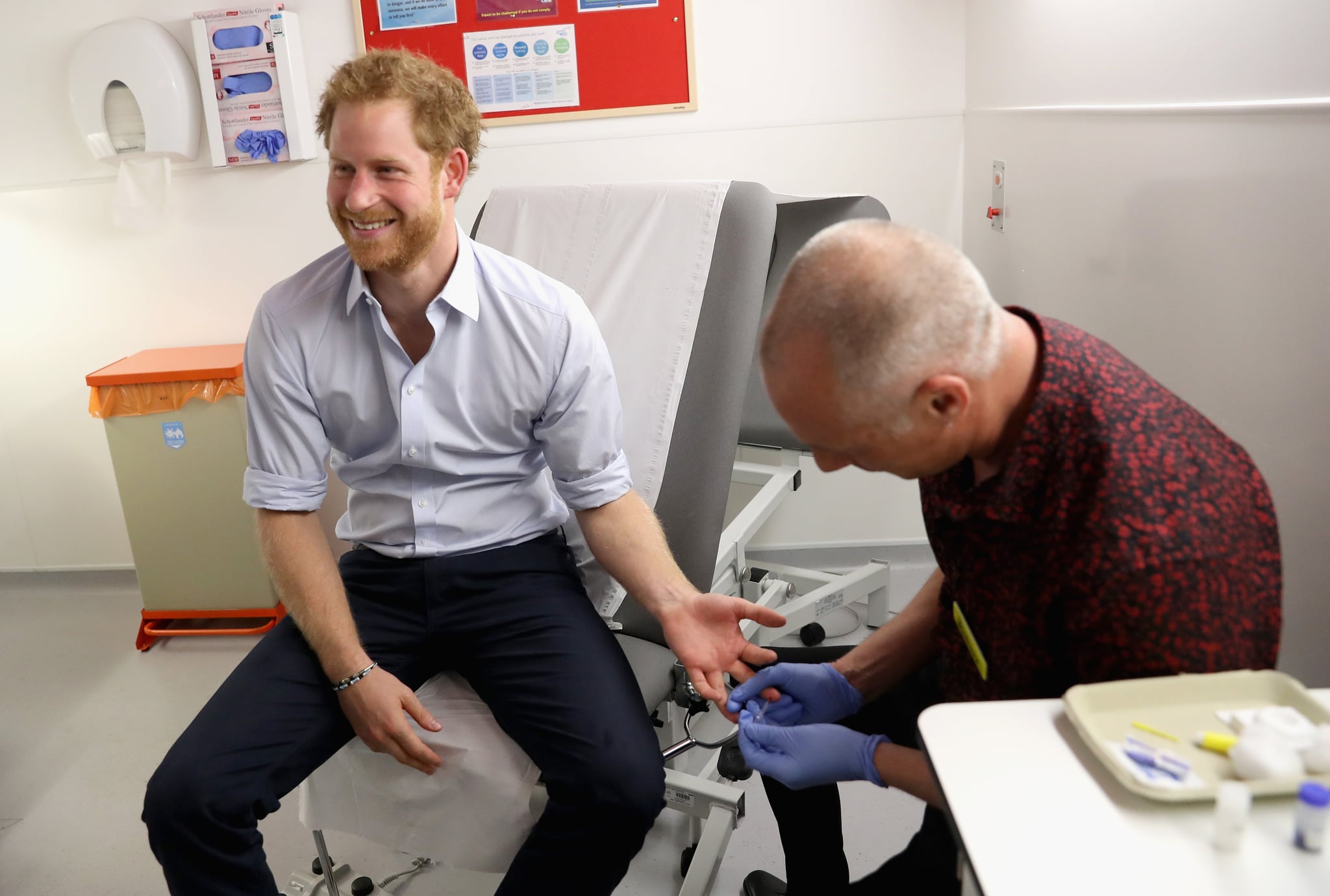 Image Source: Getty / Chris Jackson
As a result of Diana's efforts, the cause has also become close to Harry's heart. After wrapping up his exams at Eton College in 2003, the prince took a gap year and traveled to Africa, where he worked with children affected with AIDS. In 2006, he set up his charity Sentebale to support orphans and children affected by the epidemic, and 10 years later, Harry challenged the HIV stigmas when he visited a local HIV clinic in London and got tested live on Facebook. "If you're a man, woman, gay, straight, black, white, whatever — even ginger — why wouldn't you come and have a test?" he said. While the results came out negative, the gesture only showed the strong impact Diana left on her children and all of those who knew her.