Queen Elizabeth's Purse Signals
Queen Elizabeth Uses Her Purse to Communicate With Her Staff, and Our Minds Are Blown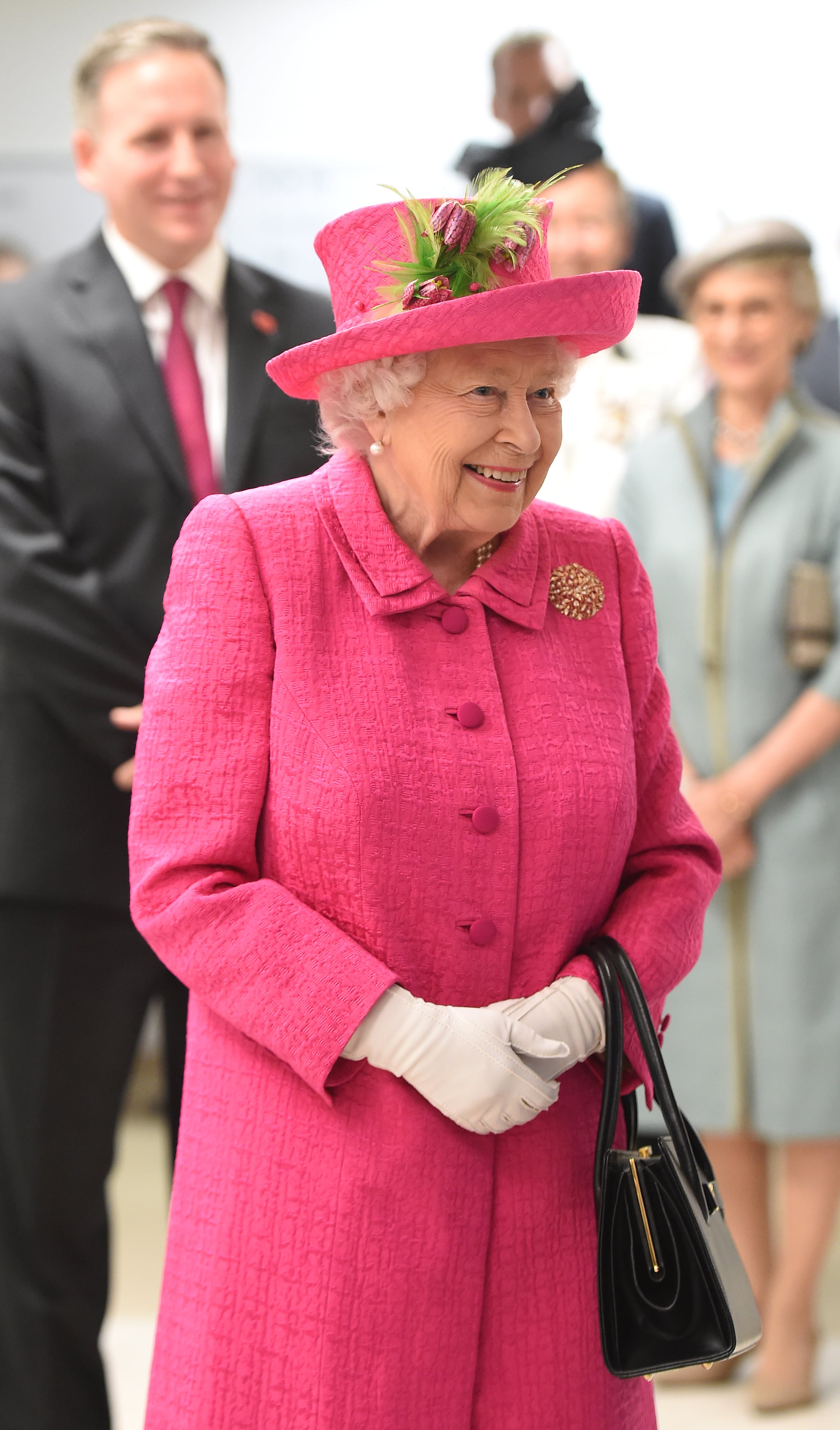 You can always expect to see Queen Elizabeth with her trademark white gloves, her giant brooches, and her brightly colored jackets and matching hats. But one detail you might not have noticed: her always-present handbag. We already know why the queen can often be found decked out in eye-catching shades of fuchsia, lemon, and royal blue for engagements, but what's with the purse? With all of the royals attendants she has, you would think someone else could hold her bag. Believe it or not, there's a reason Queen Elizabeth is spotted with her patent top-handle bag as often as she steps out in her favorite Anello & Davide block heels: she uses her bag to give discreet signals to her staff members.
Royal superfans might have noticed that the queen usually carries her handbag on her left arm. But if the bag — which would be one of the 200 purses her majesty owns from London designer Launer — moves from that position, she is indicating something to her attendants. (The queen's bag of choice: the Royale and the black patent Traviata, which, unsurprisingly, isn't cheap.) For example, according to The Telegraph, if the queen places her bag on the table during dinner, this means she wants to leave within the next five minutes.
Another example: if she switches her handbag to her right arm, she's looking for someone to politely excuse her from a conversation. Putting her bag on the floor during dinner indicates the same thing. "It would be done very nicely," royal historian Hugo Vickers explained to People. "Someone would come along [to the guest] and say, 'Sir, the Archbishop of Canterbury would very much like to meet you.'" So can we try this next time we aren't looking to talk to that person hitting on us at the bar?
And what exactly does Queen Elizabeth keep in that purse? Something tells us it's not just Chapstick and her license. The contents of her purse are pretty mysterious, but according to Sally Bedell Smith, author of Elizabeth the Queen: The Woman Behind the Throne, the queen keeps reading glasses, mint lozenges, and a fountain pen with her at all times, as well as money to donate to the church on Sundays. She also keeps a compact mirror and lipstick stashed in her bag, and if we got our photo taken as often as she does, we also wouldn't leave home without some tools for touch-ups.
Another nifty tool that the queen keeps in her bag: a suction hook for sticking her purse to the bottom of a table. Insider reported that someone once caught her majesty at dinner applying a hook to the bottom of a table and even using a little spit to make it stick — though she did so discreetly, of course. We may not have the power to be rescued from dull conversations by switching our bag to a different shoulder, but at least we know the queen can't get suction cups to work either.