Ciara and Russell Wilson's love story feels like a romance movie. For seven years and counting, the couple have been going strong, hitting milestones, and making us swoon over their bond. But believe it or not, their first date almost didn't happen due to a timing conflict. Things thankfully worked out, and the 37-year-old singer and 34-year-old NFL star eventually said "I do" at their 2016 wedding. On July 6, the pair both posted on Instagram to celebrate their seventh wedding anniversary and reflect on the importance of the number seven in their lives.
The married couple share their daughter Sienna Princess and son Win, and are also parents to son Future Zahir Wilburn, whom Ciara shares with her ex Future. And they'll soon be a family of six, because the couple is currently expecting their third child together.
Between their cute family moments and heartwarming acts of love, Ciara and Wilson have such a sweet relationship, so we pulled together some of our favorite moments from over the years. Keep reading ahead to learn more about their journey together.
01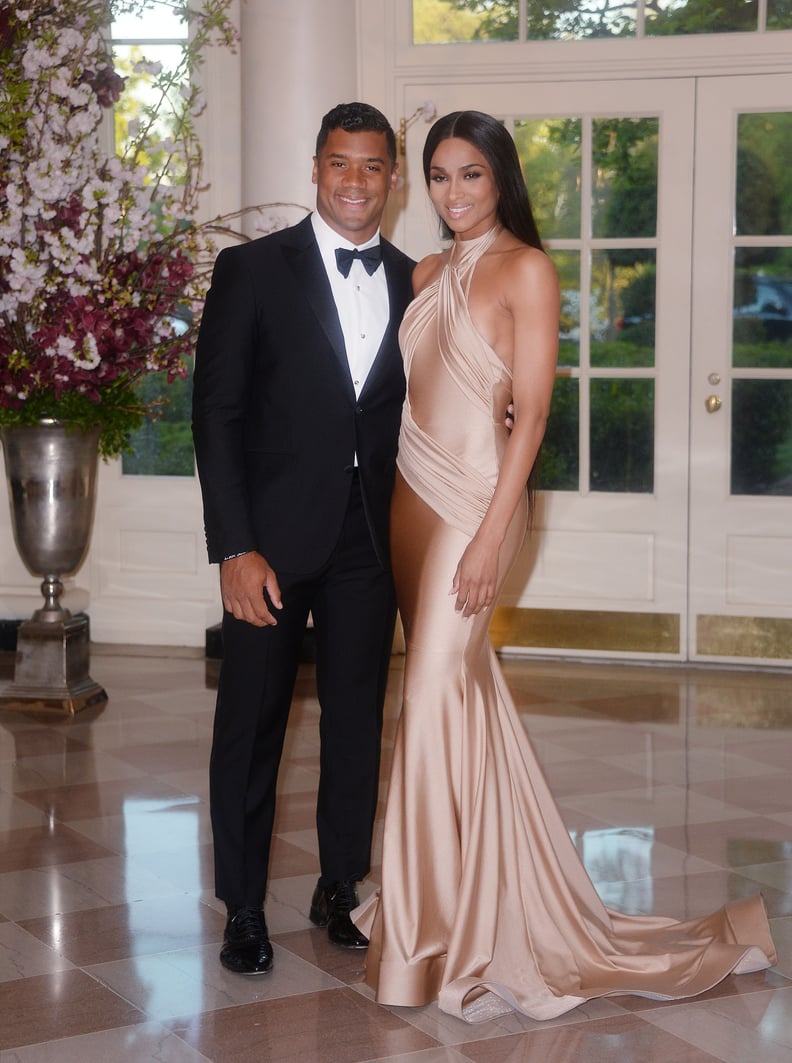 2015: Ciara and Russell Wilson Meet, and Their Love Story Begins
March 2015: In a 2020 Instagram Live video, Ciara and Russell Wilson revealed that they met on March 26, 2015, when they attended a University of Wisconsin basketball game, per BET. They chatted a bit before Wilson asked Ciara to dinner around 9:30 p.m. He hoped to meet up with her after another dinner he already planned with a group of business partners. But that time was a little too late for Ciara, so Wilson phoned his friends to push back their plans. He and Ciara ended up hanging out that evening but never went to dinner. They instead talked for hours, and Wilson's other plans slipped his mind. "I completely forgot about the 10:30 [p.m.] dinner," he said. "Next thing I knew, it was 12:00 [a.m.], 12:30 [a.m.], and I was sold on you."
April 2015: Ciara and Wilson looked as happy as could be during their first public appearance together at the White House's Japanese state dinner.
July 2015: Wilson discussed their decision to remain celibate in an interview with Miles McPherson, a pastor at The Rock Church. "She was in the dressing room getting ready to go before she went on stage, and she was sitting there, and God spoke to me and said, 'I need you to lead her,'" Wilson said. "And I was like, 'Really?' And he was like, 'No, I want you to lead her.' So I told her, 'What would you do if we took all of that extra stuff off the table and just did it Jesus's way?'" Wilson also touched on the challenges of abstaining, joking, "I ain't going to lie to you all now. I need you all to pray for us. I know you've seen her on the screen. If there's a 10, she's a 15."
02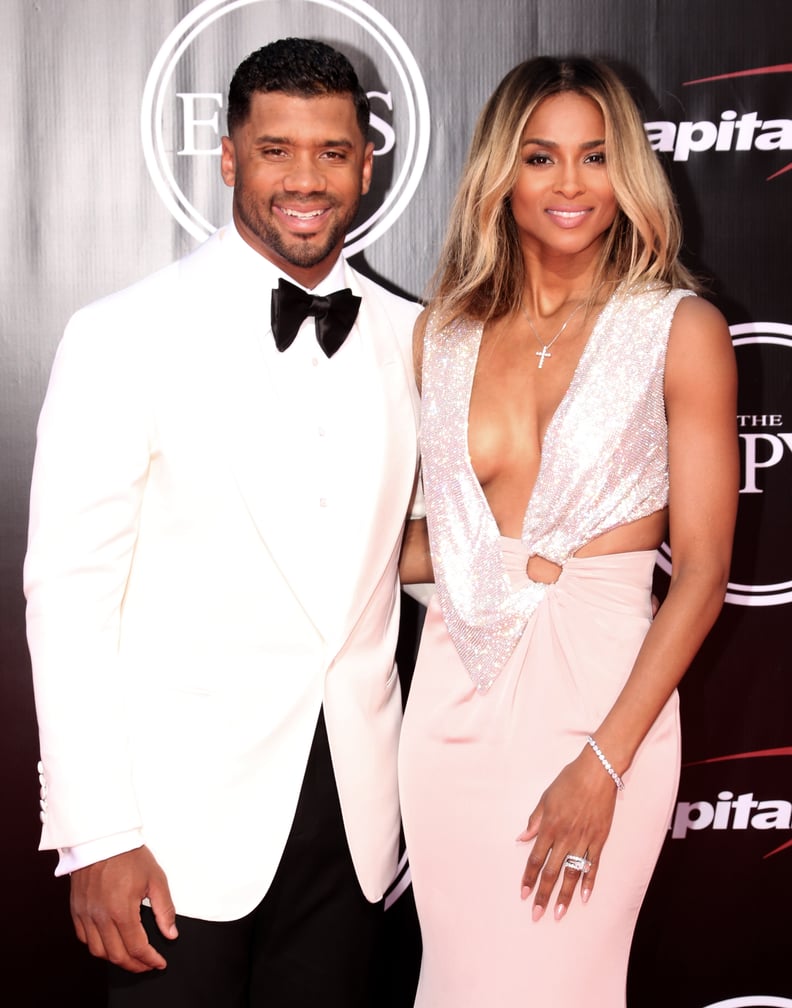 2016: Ciara and Russell Wilson Level Up and Get Married
03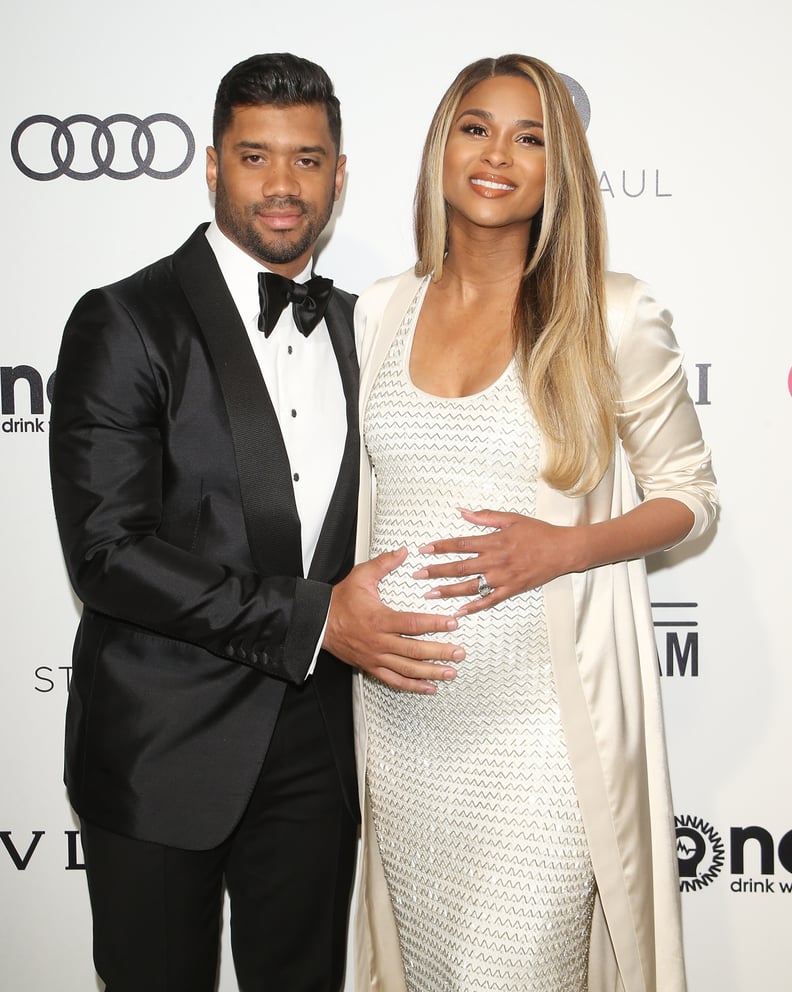 2017: Ciara and Russell Wilson Welcome Their Daughter, Sienna Princess
04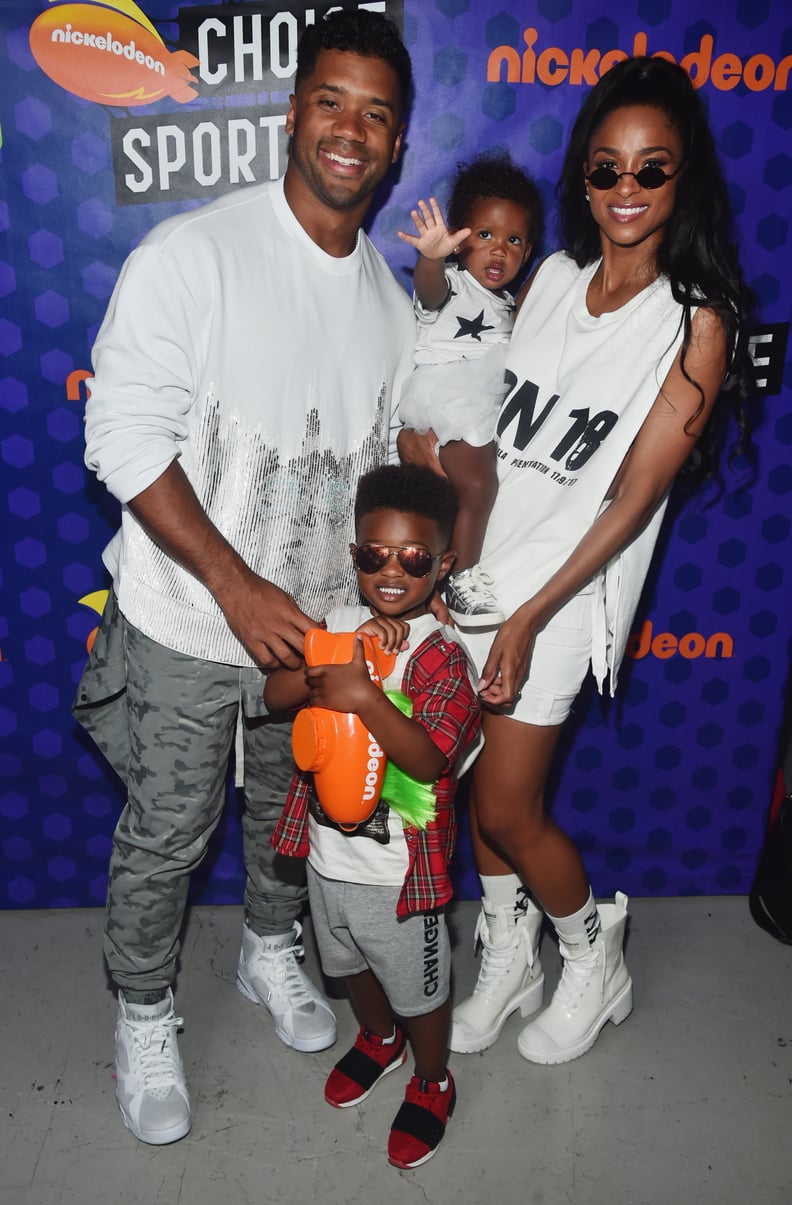 2018: Their Bond Grows Stronger, and They *Finally* Go on a Honeymoon
February 2018: Ciara shared the first photos of Sienna, which were shot by Wilson. "She's The Sweetest Angel!" she captioned the pictures on Instagram.
June 2018: Ciara and Wilson's professional lives merged together as they joined the Portland Diamond Project to help bring a Major League Baseball team to Portland, OR. The initiative is led by Nike executive Craig Cheek, whom Wilson met when he signed an endorsement deal with the athletic brand.
July 2018: Two years after tying the knot, Ciara and Wilson finally enjoyed a honeymoon in South Africa, where they walked with elephants and made efforts to stop the poaching of rhinos. Later that month, they made their red carpet debut as a family at the Kids' Choice Sports Awards. Wilson was honored with the award for "best cannon," but little Future and Sienna were the stars of the show.
05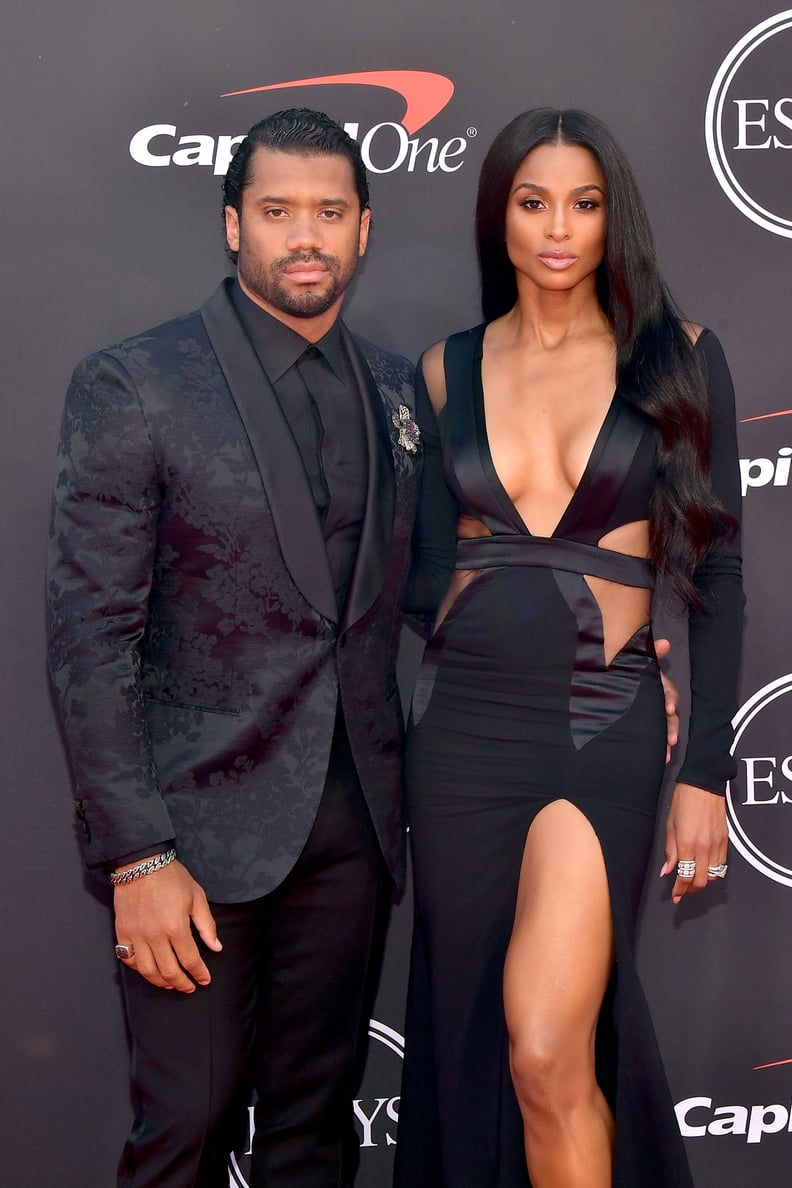 2019: Ciara and Russell Wilson's Joint Business Ventures Expand
April 2019: Ciara and Wilson launched their company, Why Not You Productions, which develops film, TV, and digital projects. "While we work in different fields in our day-to-day, we are excited to come together to collaborate and create stories that we hope will touch people's lives," they announced in a joint statement, per The Hollywood Reporter. "We are both storytellers at heart, and we want to be able to share stories that uplift people and inspire others to create positive change. That's ultimately what we want this company to represent."
August 2019: The duo became members of the Seattle Sounders' ownership group. "Football. Fútbol. We Love them both!" Wilson tweeted. "@ciara and I are fired up to announce we are Team Owners of the Seattle @SoundersFC one of the best soccer franchises in the world! We can't wait for our kids to grow up loving Soccer! Family is everything!"
October 2019: Ciara and Wilson broke the internet and slayed the Halloween game by dressing up as Beyoncé and JAY-Z from the "Apesh*t" music video.
06
2020: Ciara and Russell Wilson Reveal They're Expecting a Second Baby Together
January 2020: While vacationing in the Turks and Caicos Islands, Ciara revealed that she was pregnant with her third child. She and Wilson both shared an Instagram photo of her growing baby belly, captioning the posts, "Number 3."
February 2020: Ciara showed off her baby belly in a gorgeous dress at Vanity Fair's Oscars afterparty.
April 2020: Ciara got into the groove with Wilson in an adorable dance video to Drake's "Toosie Slide." She also opened up about her pregnancy experience amid the coronavirus outbreak, sharing how she has to FaceTime Wilson during her doctor and ultrasound appointments.
July 2020: Ciara and Wilson welcomed their son Win, announcing the exciting news via Instagram. "Happy Birthday WIN!!! Mommy & Daddy Love You! Win Harrison Wilson 7.23.2020 8lbs 1 oz," Ciara captioned her video announcement.
August 2020: A month after giving birth, Ciara shared in an interview with Entertainment Tonight the inspiration behind their son's name, saying, "That is Daddy. I give credit to Dad." She also revealed that Win shares a middle name with his late paternal grandfather. "There was a lot of love and thought put into it," she added.
07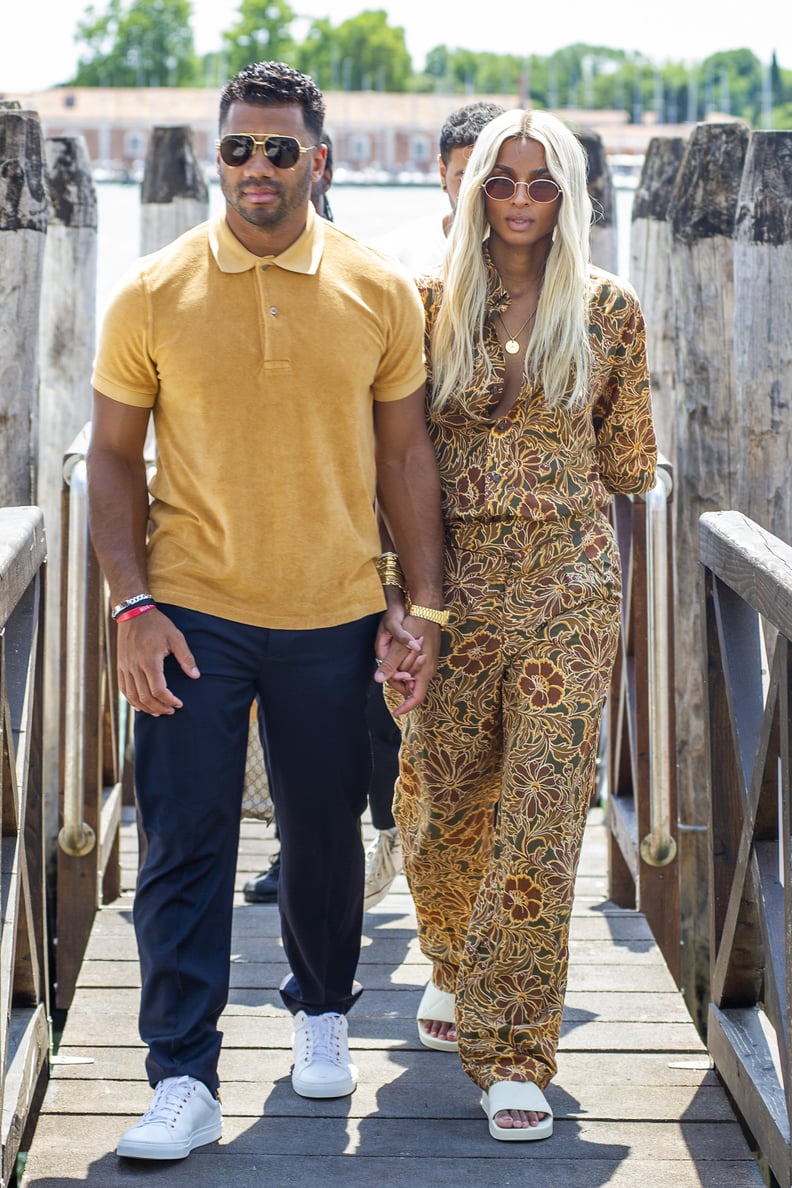 2021: Ciara and Russell Wilson Celebrate Their 5-Year Wedding Anniversary
July 2021: Ciara and Wilson celebrated their five-year wedding anniversary in Italy, recreating an iconic photo of Prince Charles and Princess Diana leaving a Venice restaurant with security in tow during their 1985 visit. "You Always Make Me Feel Like A Princess," Ciara captioned the photos.
October 2021: After Wilson ruptured his middle finger on the football field and underwent surgery to repair it, Ciara was right there by his side. "You're the toughest Man I know. Always dedicated and committed to do whatever it takes," Ciara captioned a photo of her and Wilson sharing a sweet embrace at the hospital. "I love you so much my Sweet King. Thank you Dr Shin and team for taking care of my baby #3 #RareBreed."
November 2021: Ciara serenaded Wilson for his 33rd birthday, treating the Seattle Seahawks quarterback to a box of cupcakes. "I love it when u sing to daddy... 🤣🤣❤️🙌🏾," he captioned the Instagram Story, giving fans a glimpse into his birthday celebration. Ciara reposted Wilson's Story, captioning it: "HAPPY BIRTHDAY BABY! I love you soooooo much ❤️🎂"
08
2022: Russell Wilson Asks Ciara to Have More Babies With Him
March 2022: While guest-hosting "The Ellen DeGeneres Show" on March 4, Wilson surprised Ciara when he got down on one knee to ask if she would have more kids with him. "Just give me one more, at least," Wilson said while holding a massive bouquet of red and pink roses. After taking a moment to compose herself, Ciara finally responded, "We definitely can, but we [need] a little time before we get there."
July 2022: For their six-year wedding anniversary, Ciara and Wilson dedicated sweet Instagram tributes to each other to celebrate their love. "God has blessed us for the past 6 years of Marriage with our 3 beautiful children and an overflow of laughter, love, & life. Cheers to forever," Wilson captioned his post to Ciara. Meanwhile, the "Treat" singer dedicated her own heartfelt caption to her husband. "Doing life with you has been everything I've hoped for, dreamt of, and more," she wrote alongside a romantic video montage. "Happy Anniversary Mi Amore. My Best Friend. I love you so much @DangeRussWilson God is Good! Year 6. Forever to Go ❤️."
09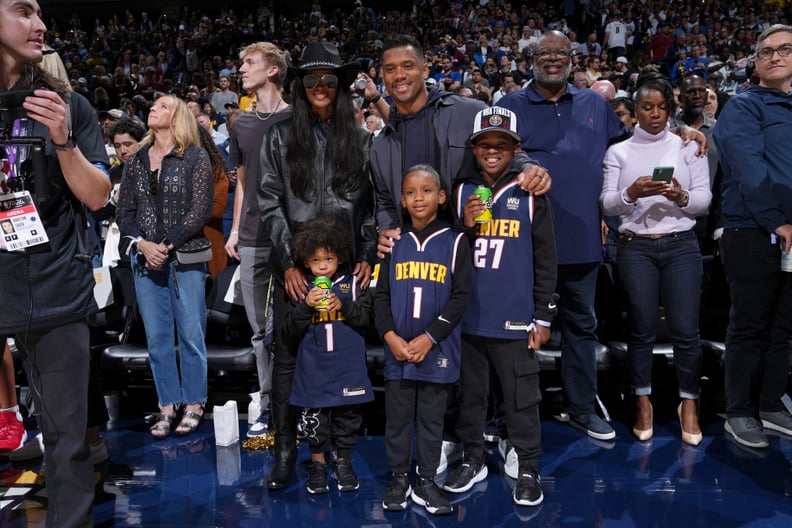 2023: Russell Wilson and Ciara Expand Their Family
June 2023: Wilson — who's now the quarterback for the Denver Broncos — and Ciara brought their whole family to the NBA Finals on June 13 to cheer on the Denver Nuggets. Future, Sienna, and Win wore matching Nuggets jerseys.
July 2023: Wilson shared a sweet anniversary post for the couple's seventh anniversary. He shared a slideshow of photos of them and wrote, "God made you perfect for me. You are my Peace in a storm. You are my Joy in sadness. You are my Comfort in trouble. I Thank Jesus for you. My Forever. Year 7 x Forever. Always & Forever." Ciara commented, "I love you so much my baby! So grateful for our Love. Proud of us!" On her own page, Ciara shared a photo of them and wrote, "In the Bible, the number 7 represents a full and complete world. My heart is complete and full of gratitude for the love we share. I have everything I want and need in you. Happy 7th Anniversary."
August 2023: On Aug. 8, the couple revealed they are expecting their third child together. Alongside a video of Ciara debuting her growing belly, the singer wrote on Instagram, "'You look at me like that again, we make another kid . . . You my heart I'm your rib' 🥰😘❤️."