What the British Royal Family Teaches Us About Birth Order
Princess Charlotte has gone from the baby of the family to the one in the middle. At only three years old, the adorable princess will maintain her place as fourth in line to the British throne, but she may find herself with an undefined role within her immediate family. Middle children have less of a clear identity, says Catherine Salmon, author of The Secret Power of Middle Children and professor of psychology at University of Redlands. This can be a good thing, according to Salmon, since it helps middle children take risks in life and set their own, independent paths. If that norm holds true, we might expect some surprises from Charlotte as she grows up.
We can observe a lot about how birth order shapes our personalities straight from the British royal family. After all, birth order matters more to royals than any other family in the world, since it strictly determines the order of who will inherit the crown. Of course, every family can be different — and gender and age differences also play a big role in personalities — but with the help of Salmon's expertise, let's take a look at famous firstborns, second children, middle children, and babies from Queen Elizabeth's family and see what we can learn.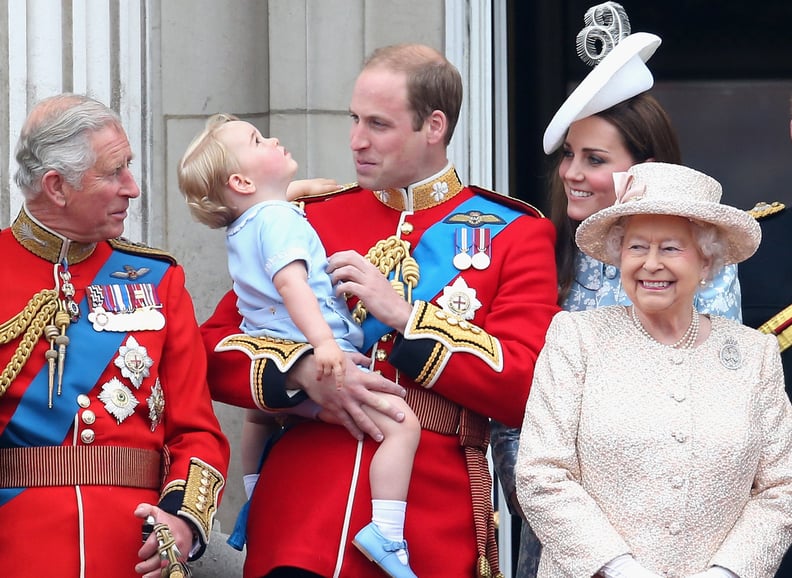 The Oldest Child
Common traits of firstborn children: responsible, higher achieving in school and work, ambitious, risk averse, feel more pressure from parents, defensive.
Royal oldest children: Queen Elizabeth II, Prince Charles, Prince William, Kate Middleton, and Prince George.
What we can learn from them: In Britain's royal family, the eldest children typically carry the heaviest burden — simply because they are in the direct line of succession. They must prepare for their duty as future monarch practically from the moment of birth, meaning they often present a responsible, tightly managed royal persona to the public.
"Firsts tend to be secure in their roles and are relatively risk averse."
For us commoners, it's also true that firstborns tend to be more responsible, says Salmon. She points to the book Born to Rebel: Birth Order, Family Dynamics, and Creative Lives by Frank Sulloway, which notes that firstborn children identify more strongly with authority figures and conform to longstanding conventions. "Firsts tend to be secure in their roles and are relatively risk averse," Salmon explains.
For the royals, these personality traits become apparent when you compare the Queen, Princes Charles, Prince William, and Kate Middleton to their younger siblings. (Do you recall Pippa Middleton's near brush with jail time in Paris back in 2012?) With the exception of Prince Charles's various scandals during his marriage to Princess Diana, firstborn royals tend not to rock the boat. And they generally take a professional and controlled approach to their duties. In fact, Prince Charles may have married Princess Diana out of a sense of duty, as he barely knew her but needed to find a wife who met the strict standards for a future queen (aka an aristocratic woman who was a virgin). According to a recent biography of Charles, the Prince of Wales wept on the night before his wedding and wrote a confidant that marrying Diana was "the right thing for this country and for my family."
In addition to feeling more pressure and expectation from their parents, firstborns interact more with adults as children. It is adults who act as early role models for the eldest child, whereas laterborns look up to their older siblings. (You can see how expectations may be different if you're taking cues from an adult vs. a toddler.) This was true for Queen Elizabeth, who had a close relationship with her father, King George VI. A 2012 biography of the queen reveals that the king was the young Princess Elizabeth's closest mentor, since he alone could tell her what it was like to be the monarch and how to best meet the challenges that came with the unique job. Similar parental attention may explain why commoner firstborns have better outcomes when it comes to their education and work achievements.
Of course there are always exceptions to the rules. Queen Elizabeth's uncle and fellow firstborn King Edward VIII abdicated the throne in 1936, when he was unable to marry divorcée Wallis Simpson and still be king. Instead, it was his more responsible younger brother Prince Albert, who fulfilled his duty and became George VI.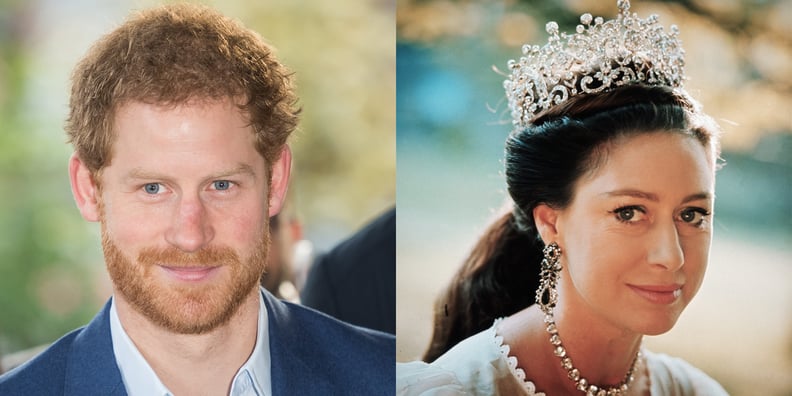 The Second Child
Common traits of second children: risk takers, open to experiences, feel a need to differentiate themselves from older sibling.
Royal second children: Prince Harry and Princess Margaret.
What we can learn from them: If there are only two children, the second-born may act more like a middle child than a baby of the family. These laterborns "are greater risk takers and open to experiences because they need to find their roles in life," explains Salmon. When there are only two siblings, Salmon says, the personality differences between the firstborn and lastborn may be more pronounced, because the youngest child is trying to differentiate themselves from the first. Like middle children, they're not quite clear where they fit in. However, when there is a middle child, "the bigger contrasts will be between the middle child and firstborn and the middle child and the lastborn," she explains.
If there are only two children, the second-born may act more like a middle child than a baby of the family.
The need for the second child to carve out a distinct role is amplified for second-born royals, who grow up in the shadow of their older siblings who will become king or queen. As an adolescent, Prince Harry differentiated himself from his even-keeled older brother William, taking on the role of the royal family wild child. Harry admitted to smoking marijuana as a teenager, got in dust-ups with the paparazzi, was caught at a party in a Nazi costume, and nearly had the family jewels revealed while playing a game of strip billiards in Las Vegas. William married at 28 and already has a third child on the way, doing his duty to secure the future of the monarchy. Conversely, Harry, 33, has taken more time to settle down than his older brother.
Harry attributes some of the chaos in his life to the death of his mother, Princess Diana. But he's not the only royal "spare" to live a more untethered life in contrast to the older sibling directly in line to become monarch. If you watched The Crown on Netflix, you recall Princess Margaret, the younger sister and only sibling of Queen Elizabeth. As the less serious sister of the future queen, Princess Margaret had a glamorous and controversial reputation. Around the time of her sister's coronation, Margaret fell in love with a divorced man, Peter Townsend, who was 16 years her senior. The Church of England, the royal family, and the government made it clear she would have to give up her royal life if she chose to marry him; she ultimately decided not to.
She did marry photographer Anthony Armstrong-Jones in 1960, but quickly the marriage collapsed. There were rumors of affairs, drug use, and heavy drinking as well as questions about his sexuality. When the princess was photographed with a young lover, her husband took it as a chance to divorce, playing the victim. It later came out that Lord Snowdon may have fathered a child months before their marriage. While Queen Elizabeth and her sister were close, just like Princes William and Harry, having two children in a family can make for sharper personality differences.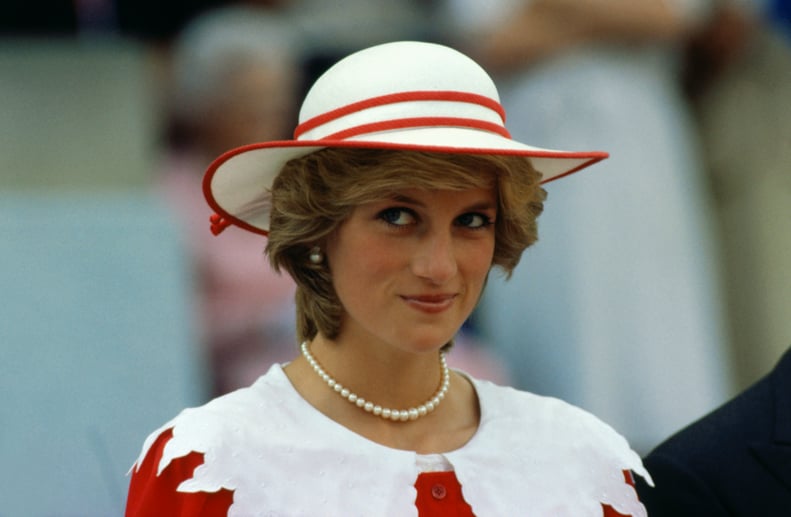 The Middle Child
Common traits of middle children: empathetic, open-minded, innovative, good negotiators, independent, impulsive, rebellious.
Royal middle children: Princess Diana, Prince Andrew, and Princess Charlotte.
What we can learn from them: Middle children often enjoy freedom to find their own path away from constrictive parental expectations. "The fact that middles get less attention from parents fosters independence," says Salmon. "Because they've had to persevere to get what they want within their family dynamic and are empathetic, they have the skills to negotiate for the change they want to see," she explains. Salmon's research suggests that middle children are more rebellious, but also open-minded and concerned about justice. "There have been studies suggesting a greater willingness to new and radical ideas, including innovations in science. Other studies have suggested they are the true rebels, less religious, more impulsive, and open to fantasy."
"The fact that middles get less attention from parents fosters independence."
Empathetic, impulsive, and open to change sure sounds like Princess Diana, who shook up the royal family during her life, which was cut tragically short. She was a modern princess with a rebellious streak. She was not afraid to speak out about Prince Charles affair and didn't balk at sharing private details about her tumultuous relationships with the royal family. Diana's ability to engage on an emotional level with both her children and the public demonstrated her capacity for empathy.
Prince Andrew is another royal middle child — and one who enjoys more freedom and shows qualities of impulsiveness. The Duke of York's morally-lax lifestyle has presented the palace with many headaches. Andrew, the reported favorite child of Queen Elizabeth, still shared a home with his eccentric ex-wife Sarah Ferguson more than a decade after their divorce, while simultaneously being linked to various women. He even got wrapped up in an unsavory scandal involving underage girls. The palace came to Andrew's defense and denied any wrongdoing, and the prince has been able to continue on in his duties. As one close friend told Vanity Fair in 2012: "His mother, the Queen, dotes on him, favors him above all her other children, and excuses his every foible." Prince Andrew demonstrates that the mistakes of middle children may be easily forgiven, perhaps because their parents feel guilty about having less time for them.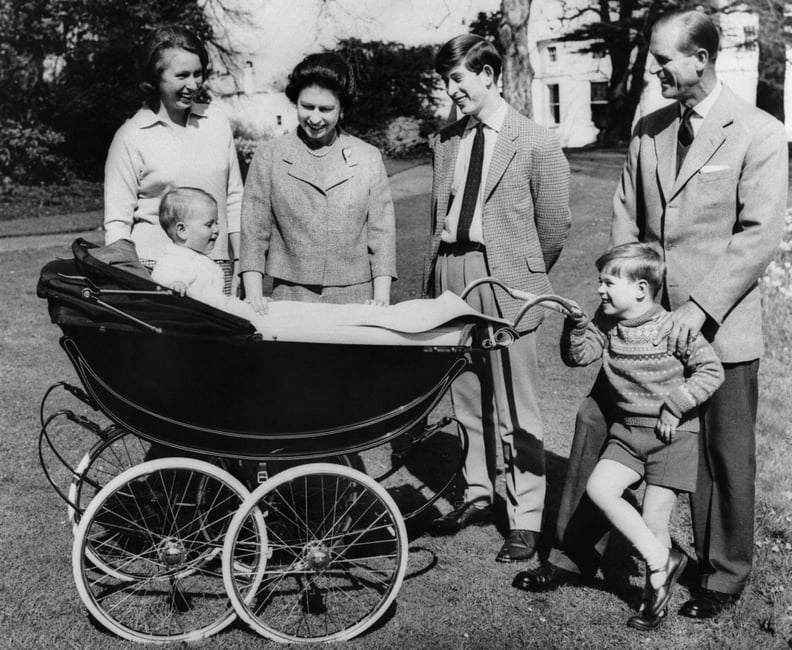 The Baby
Common traits of babies: secure in their place in the family, relatively free from parental expectations, relaxed.
Royal babies: Prince Edward, Prince Louis.
What we can learn from them: As the youngest child grows up, parents may be less concerned about the child's achievements and more focused on enjoying the last experience with a baby in the family. Like other laterborns, the babies get more freedom from strict parental expectations. But unlike middle children, they might not struggle with finding their place in the family. "While babies of the family face fewer expectations, they still have a more clearly defined role than middles," says Salmon.
As the youngest child grows up, parents may be less concerned about the child's achievements and more focused on enjoying the last experience with a baby in the family.
Queen Elizabeth had four children, and Prince Edward is the baby — 15 years younger than his eldest sibling Prince Charles. Unlike his brothers, Prince Edward turned down a military career (the tradition of royal men) and instead pursued work in theater and television. After mixed success, Edward left the media industry to focus on his royal duties full-time. Now ninth in line to the throne, Edward leads a relatively low-key life for a royal. He married public relations executive Sophie Rhys-Jones in 1999 in a private ceremony, not in a large public royal wedding. Upon marriage he took the lesser title of Earl rather than Duke, breaking again from custom for sons of the monarch. Edward's ability to carve out his own path shows that babies in the family often have more freedom. Might we expect the same from the yet-to-be-born Baby Cambridge?