Prince Harry Scandals
7 Times Prince Harry Was the Wild Child of the British Royal Family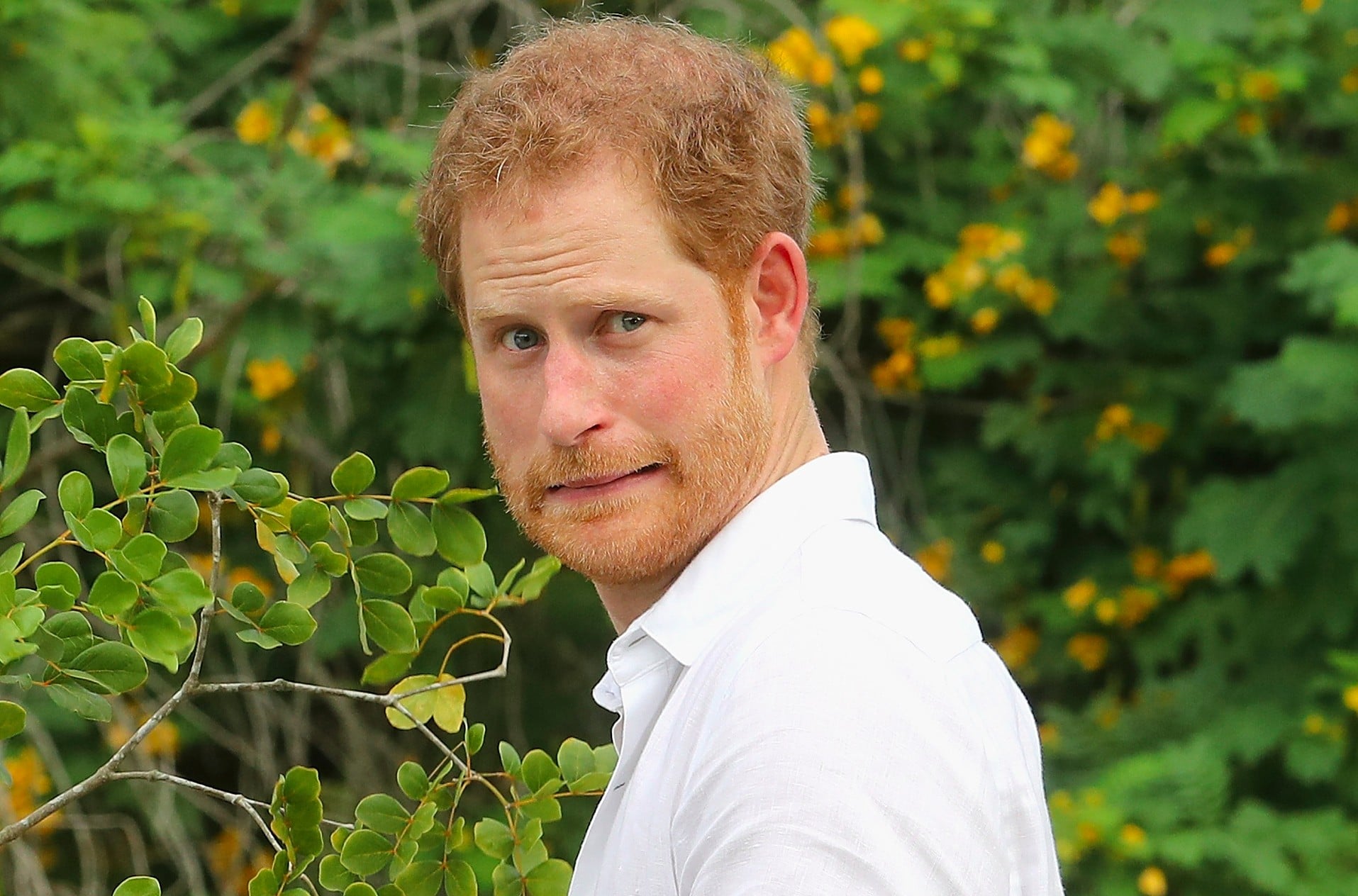 Image Source: Getty / Chris Jackson
The British royal family has blessed us with so many frame-worthy moments throughout the years, and they continue to inspire us with their big hearts and impressive charity work. But, like any normal family, the brood has had their fair share of scandals — especially Prince Harry. The 32-year-old — who is currently dating actress Meghan Markle — is known as the rebellious "wild child" of the family, though it's worth noting that he's done a lot of growing up and soul-searching over the past few years.
In a recent interview with Newsweek, Harry admitted to being "scarred" by Princess Diana's death, which led to a few unsavory public incidents. "I needed to fix the mistakes I was making," he said, revealing that bottling up his grief led to years of "total chaos" and that he was "very close" to a breakdown several times. But if you thought his bad boy days are gone for good, don't worry. Harry also said that he still has "a naughty streak," which he enjoys and "is how I relate to those individuals who have got themselves into trouble."
1. Rehab
After admitting to smoking weed, Prince Charles sent the then-17-year-old to Featherstone Lodge Rehabilitation Centre in 2002. "We acknowledge that on several occasions last Summer, Prince Harry experimented with cannabis. It is not that he had or has a serious problem, but he did take the drug," a senior official at St. James's Palaces revealed in a statement. "Prince Harry did attend Featherstone Lodge for a day to learn about the possible consequences of starting to take cannabis. The Prince of Wales thought it would be educational and shocking for him to attend. A large number of heroin users have, over the years and in the course of his work, told the Prince of Wales that they started on cannabis. This is a serious matter that was resolved within the family and is now in the past and is closed."
2. Cheating Accusations
In 2004, Sarah Forsyth, a former teacher at Eton College, claimed that she was ordered to help Harry cheat on an exam after she was unfairly dismissed from the prestigious school. Sarah told the court that she allegedly wrote nearly all of the text of a 2002 art project that helped Harry get admitted to Sandhurst, where he trained as a military officer. Sarah secretly recorded their conversations to prove her allegations, and her attorney later quoted Harry in court, saying, "It was a tiny, tiny bit. I did about a sentence of it," referring to the amount of work Harry reportedly did on the project. However, Eton later released its own transcript of the tape with a slightly different quote: "I was, like, a sentence in it." Harry was later cleared of cheating and a Clarence House spokesman released a statement, saying, "We are delighted that Harry has been totally cleared of cheating. As the tribunal says, it did not believe Ms. Forsyth's evidence on this point. These allegations have been thoroughly investigated by the examination board who found there was no evidence of malpractice."
3. Paparazzi Brawl
The royal got into a scuffle with a photographer outside of London's Pangaea nightclub in October 2004. A group of photographers were taking pictures of him, and Harry was reportedly only trying to defend himself. "Prince Harry was hit in the face by a camera as photographers crowded around him as he was getting into a car," a Clarence House spokesman said. "In pushing the camera away, it's understood that a photographer's lip was cut." A Scotland Yard spokesman also stated that police were aware of the incident but that no complaint had been made.
4. Nazi Costume
Harry dressed up as a Nazi officer for a friend's costume party in January 2005. Almost immediately after the photos made the rounds, Harry, who was 20 years old at the time, released a public apology, saying, "I am very sorry if I caused any offense or embarrassment to anyone. It was a poor choice of costume, and I apologize."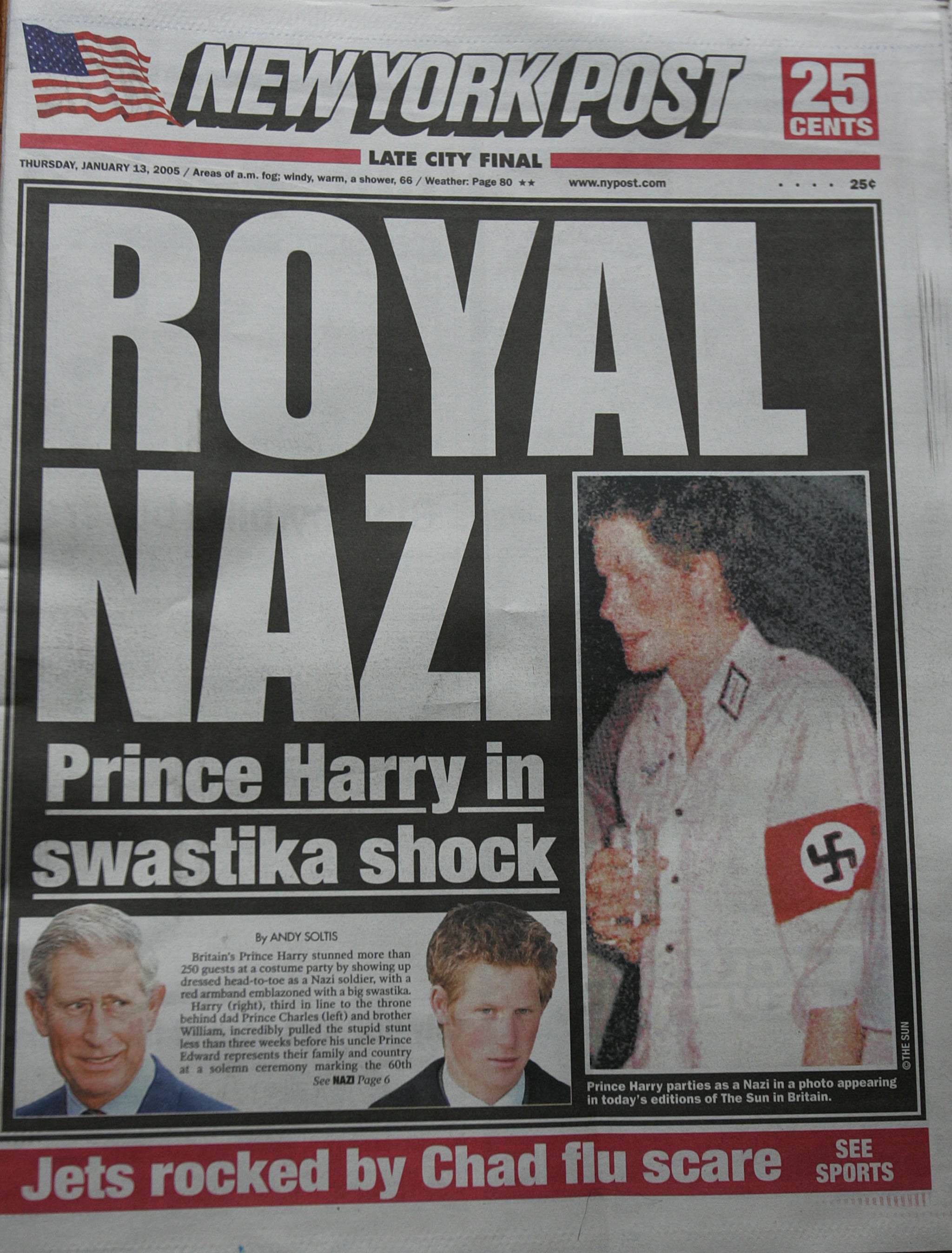 Image Source: Getty / Stephen Chernin/
5. Racial Slurs
The royal was chastised by lawmakers, Muslim groups, and military officials in 2009 after a newspaper released a video from 2006 of Harry calling one of his fellow soldiers a "Paki." In a second clip, Harry refers to another soldier with a headscarf as a "raghead." St. James's Palace released a statement shortly after, saying, "Prince Harry fully understands how offensive this term can be and is extremely sorry for any offense his words might cause. However, on this occasion three years ago, Prince Harry used the term without any malice and as a nickname about a highly popular member of his platoon. There is no question that Prince Harry was in any way seeking to insult his friend. Prince Harry used the term 'raghead' to mean Taliban or Iraqi insurgent."
6. Late-Night Swim
In 2011, Harry made headlines when he fell into a pool fully clothed during a wild night at a club in Croatia. He then proceeded to keep dancing on a ledge despite being soaking wet and was reportedly seen later wearing a borrowed tee with his button-down wrapped around his waist.
7. Naked Photo Scandal
In August 2012, the prince took full advantage of his time in Las Vegas by partying with Olympic swimmer Ryan Lochte and hosting a game of strip billiards in his hotel suite. Just hours after his wild night, naked pictures of the royal — who was 27 at the time and dating Cressida Bonas — hit the web. Harry quickly returned to England for a tense meeting with Queen Elizabeth II and his dad, Prince Charles. While the exact context of that meeting is still unknown, Harry had "to face up" to his family and explain himself. Clarence House, a royal residence in London, also issued a media blackout of the photos, requesting that British outlets not print or post them.