Joshua Bassett Has Always Been a Disney Stan — 5 Facts About the HSMTMTS Star
Joshua Basset is an actor and singer best known for playing the role of Ricky Bowen on the Disney+ series High School Musical: The Musical: The Series. The actor turned heartthrob is just getting started in his career but has done so much already. As a child, he starred in musical theater productions, and he went on to act in other TV shows before landing his role on HSMTMTS. The show was renewed for a season three, meaning we're set to see even more of Bassett!
In addition to his acting chops, Bassett is a talented musician who just released three new tell-all songs after his debut EP dropped in March. Coming off the heels of the Olivia Rodrigo and Sabrina Carpenter love triangle, his self-titled EP is all about sharing his own experiences.
While Bassett certainly has a lot of projects in the works and has shared himself through his music, there are some details about the star that fans might not know about. Read on to learn more about Bassett and his work.
01
He Was a Theater Kid and Starred in a Production of High School Musical
Talk about coming full circle! As a child, Bassett was a huge fan of the original High School Musical trilogy, and it just so happens that during his early theater days, he played a jock in a production of the first film. Bassett grew up watching the movies and learned all of the songs and dance moves. Thanks to all this, you could say he was extra prepared to take on his role of Ricky Bowen on HSMTMTS.
02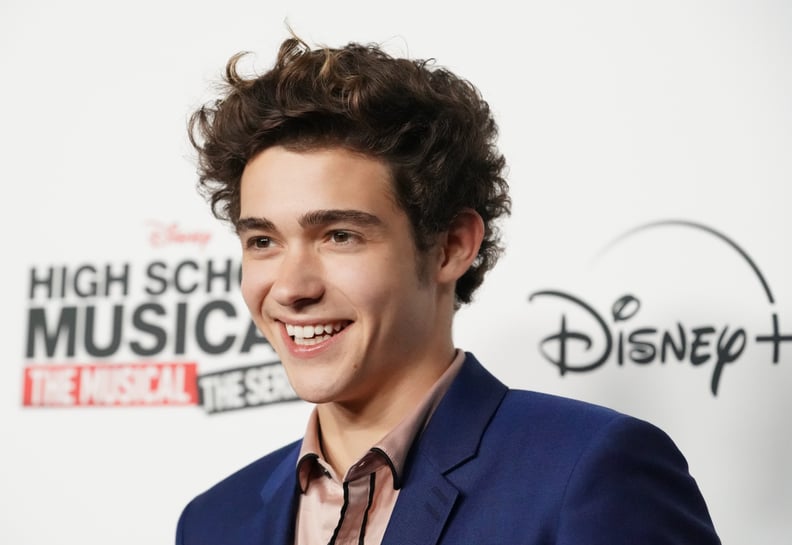 He Was on Another Disney Show Before HSMTMTS
HSMTMTS wasn't the first time Bassett acted on Disney Channel. Bassett had a recurring role on the Disney Channel show Stuck in the Middle, playing Ellie Peter's cousin, Aidan. Besides Disney Channel, Bassett starred on two episodes of Grey's Anatomy in 2019 in which he played Linus, a boy Betty meets in rehab, and he's had other minor television roles since 2016.
03
He's a Huge Fan of Disneyland
It's only fitting that a Disney star loves the theme parks too, right? Bassett frequents Disneyland with his friends and often documents his time at the park on social media. You can find a handful of hilarious TikTok videos of his excursions, in addition to a few photos on Instagram. During his recent September visit, the 20-year-old went on many rides with HSMTMTS costar Matt Cornett.
04
He Doesn't Define Himself With Any Labels
During a May interview with Clevver News, Bassett told the outlet that he thinks Harry Styles is "hot," then followed up with, "This is also my coming-out video, I guess." At the time, fans didn't know if he was serious or not, but he was, in fact, not joking. After a follow-up post on Instagram, Bassett stated that he is still figuring out his sexuality.
"Love who you love shamelessly. It's ok to still be figuring out who you are. Life's too short to let ignorance and hatred win. I choose love," he captioned the post, ending it with rainbow hearts.
05
His Merchandise Earnings Go to Charity
After unveiling merch to coincide with his January and December music releases, Bassett revealed that 100 percent of the proceeds will go to a charity of each fan's choosing. Bassett explained in a video message on his web store that there are five different charities that fans can choose from when purchasing his merch.
"I did this because a lot of people will often say, 'I don't have any money for charity', yet when their favorite artist releases merch, they're able to buy it at the drop of a hat. And so I figured, why not find a way for people to give both and get both," he said in the video post.