Kim Kardashian Talks Coparenting With Kanye West
Kim Kardashian Opens Up About Coparenting With Kanye West: "It's Really F*cking Hard"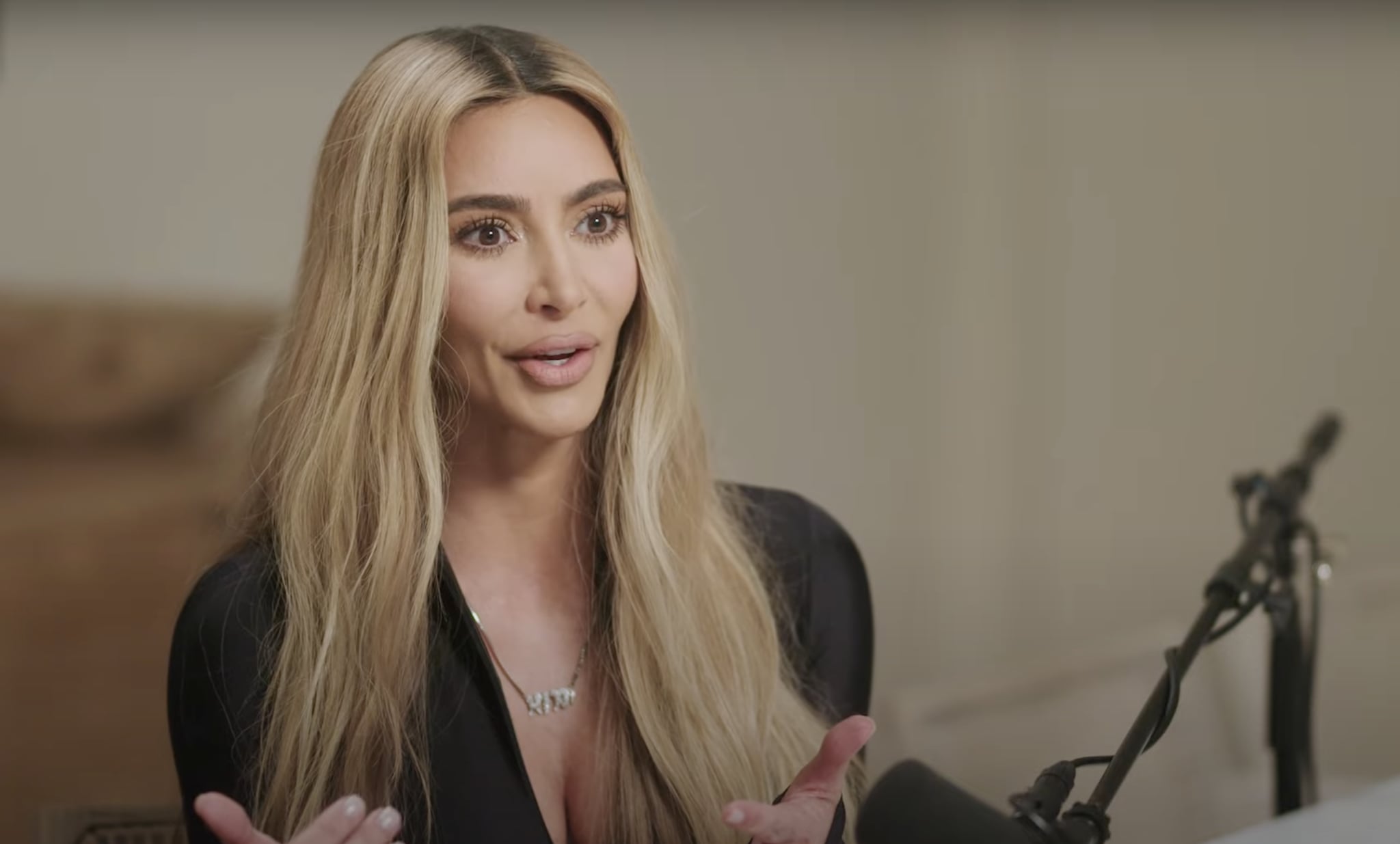 Kim Kardashian opened up about life with her ex-husband Kanye West during a Dec. 26 interview on "Angie Martinez IRL." Between conversations about skin care and Kardashian's law endeavors, the Skims owner opened up about coparenting four kids with West, whose concerning behavior in recent months has made headlines nationwide.
Despite filing nearly two years ago, Kardashian and West only settled their divorce on Nov. 29. The settlement came after West made headlines for racist and anti-Semitic comments that ultimately resulted in the rapper getting banned from Twitter and Instagram and losing his partnerships with Balenciaga, Adidas, Skechers, and Vogue.
"I filed for divorce like two years ago, so I started to slowly feel that separation," Kardashian told Martinez, regarding her reputation in the wake of the separation. "But I think that will always follow me." While the multihyphenate has denounced her husband's hate speech, she is less concerned with the public's perception of her and her relationship with West. Instead, she has her focus set on the way her kids — North (9), Saint (7), Chicago (4), and Psalm (3) — perceive their father. "I definitely protected him, and I still will," she said. "In my home, my kids don't know anything that goes on on the outside world."
"You know, that's real heavy, heavy, grown-up sh*t that they're not ready to deal with, and if they are, we'll have those conversations . . . and I'll be so prepared."
Martinez found it surprising that Kardashian's children were unaware of their father's latest controversies, but Kardashian explained that she has been able to shield her children's perception of West thanks to their small social circle and that they're not on social media without adult supervision. "I'm holding on by a thread, I know I'm so close to [them becoming aware], but while it's still that way, I will protect that to the end of the earth."
The Skkn mogul further explained the lengths she goes to to preserve West's reputation in the eyes of their children. "If we're riding to school and they want to listen to their dad's music — no matter what we're going through or no matter what is happening in the world — I have to have that smile on my face and blast his music and sing along with my kids and act like nothing is wrong," she said. Kardashian also explained that she "protects" electronics around her home when West has made a headline to ensure her kids don't catch wind. "With sh*t like coparenting — it's really f*cking hard," Kardashian said through tears, agreeing with Martinez's observation that this level of protection is a "full-time job."
Despite recent hardships, the Skims founder has a positive outlook. On the episode, she called this era of her life "peaceful" and said she hopes to maintain that mindset for herself and her children. "If [my kids] don't know things that are being said or what's happening in the world, why would I ever bring that energy to them?" she asked. "You know, that's real heavy, heavy, grown-up sh*t that they're not ready to deal with, and if they are, we'll have those conversations . . . and I'll be so prepared. But until then, I'll do anything to keep their lives as normal as possible."