A Timeline of Lindsay Lohan and Bader Shammas's Whirlwind Romance
Lindsay Lohan is in her comeback era, and longtime fans couldn't be happier to see her return to the screen and spotlight. But they're also thrilled to watch the former child star find love with husband Bader Shammas — and especially because the two recently became parents.
After announcing the couple's marriage back in July 2022, Lohan revealed on March 14, 2023, that they were expecting their first child together. The news came a few months after the premiere of the actor's latest movie, Netflix's holiday flick "Falling For Christmas," which debuted in November. She's also set to star in another rom-com soon, titled "Irish Wish."
The beloved rom-com genre helped launch Lohan to stardom in the '90s and early 2000s, but by the end of the decade and well into the 2010s, she took a hiatus from acting, retreated from the spotlight, and kept her personal life private.
In 2014, Lohan moved to Dubai, a place that she referred to as a "sacred space" in an interview with Who What Wear in November 2022. "I could do my own thing, and nobody bothered me," she revealed to the publication. While living in Dubai, Lohan met Shammas, the assistant vice president of Credit Suisse, a global investment bank. While it remains unclear when exactly the two started dating, they were first linked together in February 2020 when Lohan shared a photo on Instagram calling Shammas her boyfriend, though she deleted the post shortly after.
In November 2021, however, Lohan announced her engagement to Shammas on social media, and the two wed later on in 2022. Speaking to Cosmopolitan in October 2022, Lohan raved about her beau, saying, "I have an amazing husband, who's a very calm person."
While Lohan and Shammas are very private about their personal lives, there are still a handful of sweet moments that they have shared with the public over the years. Here's a complete timeline of their relationship milestones.
01
February 2020: Lindsay Lohan and Bader Shammas Are Publicly Linked Together
It's unclear when exactly Lohan and Shammas crossed paths but, according to her 2023 Allure cover story published on June 8, they met on a Monday night at a Dubai restaurant. The actor was out with friends, while the financier was accompanied by colleagues, and they briefly chatted with each other. "I said, 'You look like someone I know.' He was like, 'No, I don't, who?'" After speaking for hours that evening, Lohan said to Shammas, "'I feel like you're the person I'm going to be with forever,' also admitting, "I'd never been able to talk to someone like this."
In February 2020, Lohan shared a picture on Instagram with a group of friends at a Dubai music festival, which featured herself, Lohan's sister, Aliana, and Shammas. According to People, the "Freaky Friday" actor captioned the photo, "@aliana lovely night with sister and my boyfriend bader❤️ such a magical night." This sparked a frenzy among Lohan's many fan followers but not long after, she deleted the post.
02
November 2021: Lindsay Lohan and Bader Shammas Get Engaged
It would be over a year before Lohan would publicly post on social media with Shammas again, but by November 2021, the star couldn't help but share exciting news about her engagement. In a series of photos on Instagram, Lohan wrote, "My love. My life. My family. My future. @bader.shammas#love 💍 11.11.21." Following the news, a rep for Lohan told E! News at the time that she and Shammas had been dating for three years and that she was "engaged and happy." According to Allure, Shammas proposed in Utah while Lohan was filming "Falling For Christmas."
03
February 2022: Lindsay Lohan Talks About Her Wedding Plans
Lohan and Shammas were tackling their wedding plans by February 2022, and the bride-to-be shared some of her ideas in an exclusive interview with Extra. "I'm looking at destinations. I've already started talking to a friend of mine about the dress . . . But I want to do things right and I want to pace everything," she revealed. When asked if she would be a "Bridezilla" type of bride, the actor explained, "I'm definitely not like that. I'm more… low-key… Even on my birthday, I want to make sure everyone else is good. And then I can be okay." During the interview, Lohan also added that she was looking at multiple dresses for the special occasion.
04
July 2022: Lindsay Lohan Reveals She and Bader Shammas Are Married
Although July 2, 2022, marked the first time Lohan called Shammas her husband publicly, Allure reported that the two tied the knot in April of that year. They got married in a private ceremony in an unknown location, per the outlet. Along with a happy selfie of the couple together, Lohan wrote in an Instagram post, "I am stunned that you are my husband. My life and my everything. ❤️every woman should feel like this everyday 🙏💖."
05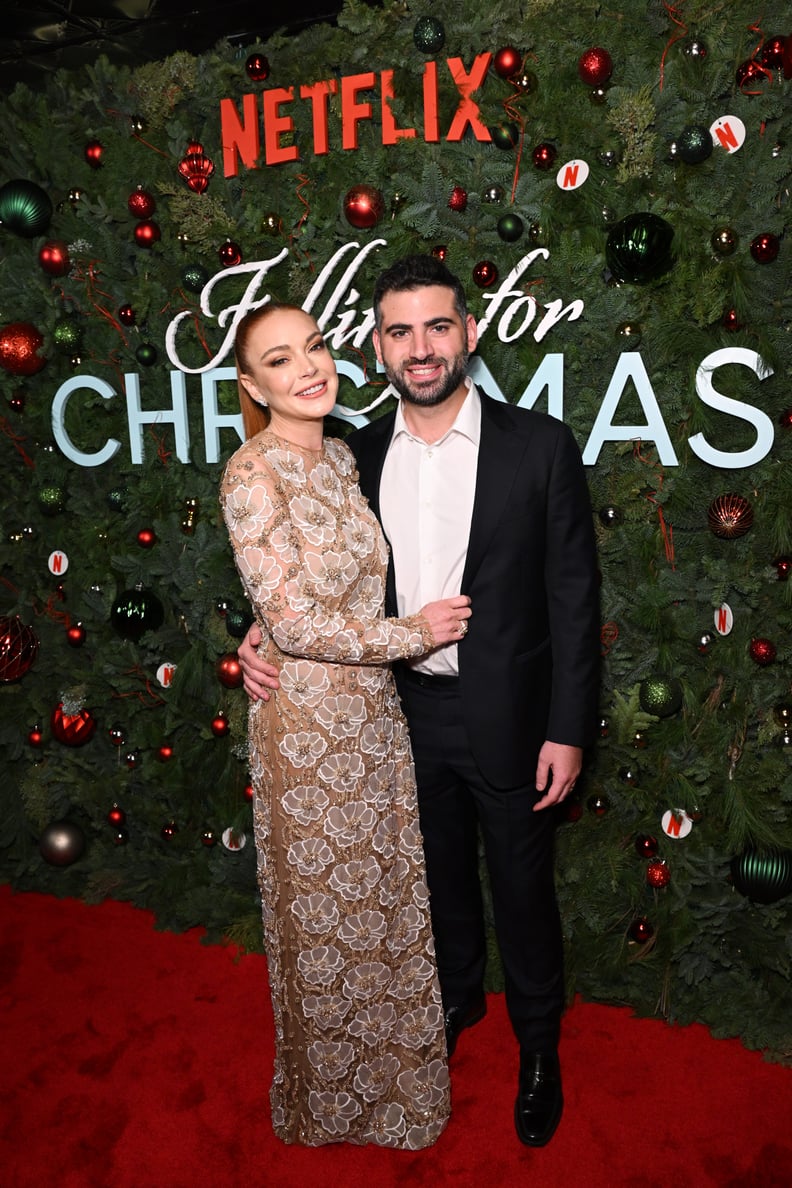 November 2022: Lindsay Lohan and Bader Shammas Make Their Joint Red Carpet Debut
Lohan's first feature film in nine years, "Falling For Christmas," premiered on Nov. 9, 2022, at New York's Paris Theater, and the star brought none other than her husband to accompany her for the special occasion. The two made their joint red carpet debut at the event, and looked happier than ever as they posed for pictures together.
Lohan also appeared on "The Tonight Show Starring Jimmy Fallon" that same month, where she discussed the Netflix film, the possibility of a "Freak Friday" sequel, and of course, her married life, which the actor was more than happy to talk about. "It's great. It's amazing I met my person," she explained. "You never know if you're going to find that in life and he's an amazing guy, man. I love him and we're a great team."
06
March 2023: Lindsay Lohan Announces She's Expecting Her First Child With Bader Shammas
On March 14, 2023, Lohan announced that she and Shammas were expecting their first child together, revealing her pregnancy news on Instagram. "We are blessed and excited! 🙏🤍👶🍼," she captioned a photo of a baby onesie that reads "Coming soon . . ." Stars flooded the actor's comment section with congratulatory messages, including Paris Hilton, who wrote, "Congratulations love! So happy for you. Welcome to the Mommy Club!🥰"
Per her conversation with Allure, Lohan felt the first inkling that she was pregnant while she was in New York doing press for "Falling For Christmas" in late 2022. The actor told her mom, "I think I might be pregnant," which prompted her to take a test that, of course, turned out positive. Of instantly breaking the news to her husband, Lohan said with a laugh, "It was so unexciting. I walked into the room, I threw the test down. I was like, 'Guess what?' He goes, 'We are?'" And, indeed, they were — Lohan was about five and a half weeks along at that time.
07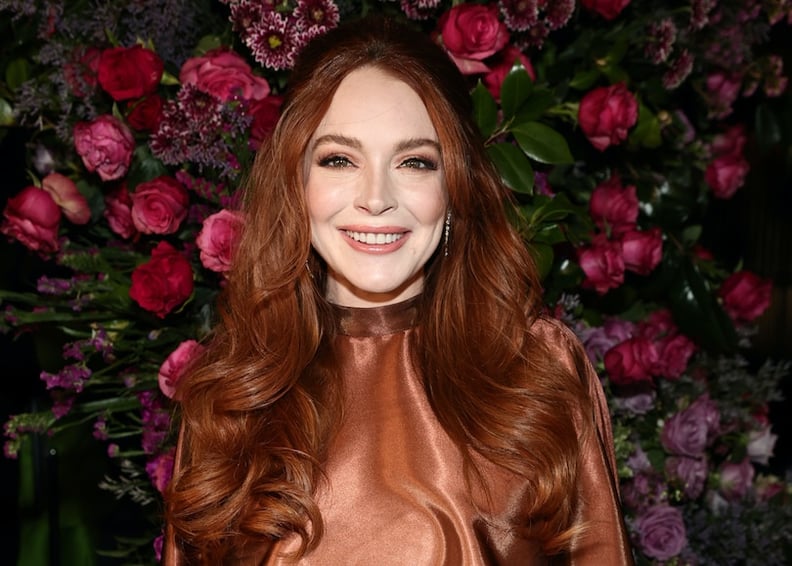 July 2023: Lindsay Lohan Welcomes Her First Child With Bader Shammas
On July 17, Lohan's rep confirmed to POPSUGAR that the actor gave birth "a beautiful, healthy son named Luai." The rep added: "The family is over the moon in love."
No other details about the tiny tot had been revealed at the time.