Lizzo Explained Why It Took 10 Years to Be Comfortable Enough to Write "Soulmate"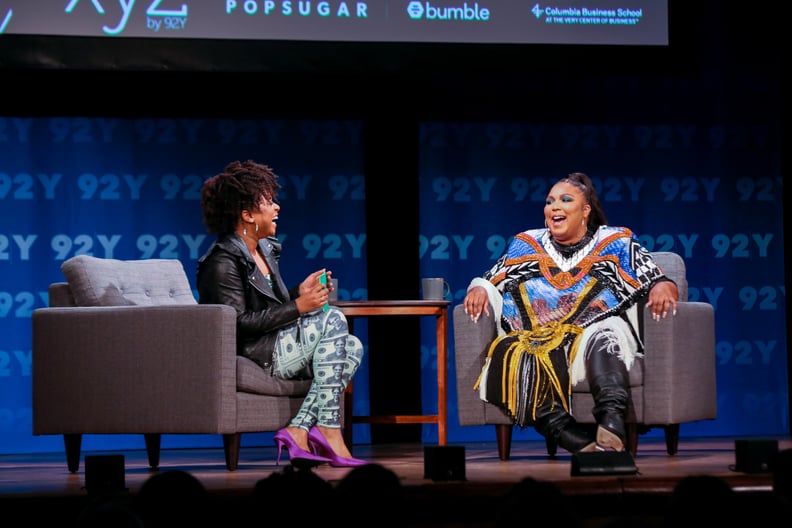 Michael Priest Photography
Michael Priest Photography
When Lizzo and Phoebe Robinson enter a room, the energy is palpable. Individually, they are forces of nature, and together, they have a dynamic that truly feels natural. Last week, the duo sat down for a conversation at the 92Y in New York City, and they spoke about Lizzo's album Cuz I Love You, black girl joy, and even Sex and the City — Lizzo is "a Samantha."
The 31-year-old singer has a lot to be proud of: despite releasing "Truth Hurts" in 2017 and achieving gradual success over the past few years, the song recently became No. 1 on Billboard's Hot 100, making her the first black woman to hit No. 1 in 2019. Beyond the music, she's established herself as an icon of self-love, tenacity, and straight-up badassery.
Between her empowering lyrics and performances that attract global attention, it's Lizzo's ability to speak to all humans in her music that makes her a force to be reckoned with. Yes, she's a black woman representing black women, but she also a human who is honest about her own mental health and personal struggles, which is what makes her so relatable. "I laugh a lot, I giggle a lot, I'm silly. That's my personality," Lizzo said. "I do want to be intentional about my joy, but I will say I also have to be just as intentional about my 'not joy.' Because there's a balance to it, and I owe it to people who follow me and my story to be completely honest."
"I owe it to people who follow me and my story to be completely honest."
"I want to give people the full spectrum of my emotions, because in the beginning, I got a lot of people asking, 'Are you really like this? Are you really this happy all the time?'" she said. "Yes, I like to be happy, but also let me share what it's like when I'm going through it. When I'm cramping, or if I'm heartbroken, or if I'm feeling actually drained of chemicals, or if I don't have enough serotonin in my body. I want to express that. I don't want to hide. I've never really hidden anything about myself."
Just so everyone is aware, Lizzo's music is for everyone. "My music is by a black woman for whoever wants to enjoy it," she said. "I've been excluded from a lot in my life, and I'll never exclude anybody from really anything. I work so much in self-perseveration and self-love, because the music actually does have a positive impact on people. I want black women to consume my music. I want black women to have access to my music, but I also want the world to feel better. I want the world to be happier, and I want the world to take care of themselves."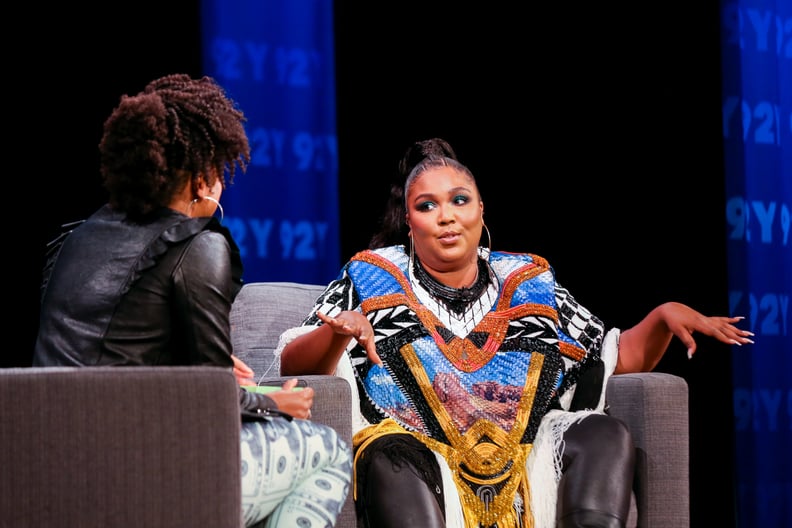 That's exactly what she does in her music and with her overall presence in the industry. She's inspired people of all races, genders, body types, and more, and just like Lizzo, the old me used to love a Gemini, too. That's just the impact she has on fans.
For the singer who preaches that she's her own soulmate and that she "looks up in the mirror like, 'Damn she the one,'" Lizzo's journey to self-love is an ever-evolving one. While she didn't always view herself in the regard she does now, she told Phoebe about one instance in her early 20s when she was "slightly obsessed with working out" and definitely not in her healthiest state. She was hanging out with a guy she was dating casually at the time, and he said that he showed his friends her picture and he told her, "They said that your face is great, but your body needs work." We know, the audacity.
"In that moment, I believed him. I didn't think how unfair that was for him to critique me around his friends or to show me off in that way. If you don't love me now, or like me now, you will never love me for my journey. And you'll never understand that journey. And you don't deserve that journey," she said. "Then I was like, 'Hmm, do I ever want to go through that again? Do I ever want to subject myself to somebody's critique about my body?' Hell no!"
"Instead of running away from yourself, self-love is about running back into your own arms."
She explained that it was a while before she felt comfortable opening up to someone after that, but over time, her reaction to this situation is what brought her to a place of acceptance and general self-love. "You have moments in time. And you have microaggressions, and you have triggering moments, and you have trauma that pushes you towards yourself. Instead of running away from yourself, self-love is about running back into your own arms," she said. "And I think that I had 10 years of running deeper and deeper into myself and realizing that finally I can write a song called 'Soulmate.'"
When Lizzo wrote the song that has essentially become the anthem of confidence and loving oneself, it wasn't necessarily who she was at that moment, but who she knew she could be. "I wanted to be this person in 'Soulmate,' and I knew that I had everything it took to be that person, and now I am [that person]," she said. "Be patient with your journey, and love yourself. I have to be patient with myself every f*cking day. Because yesterday is a different day than today."