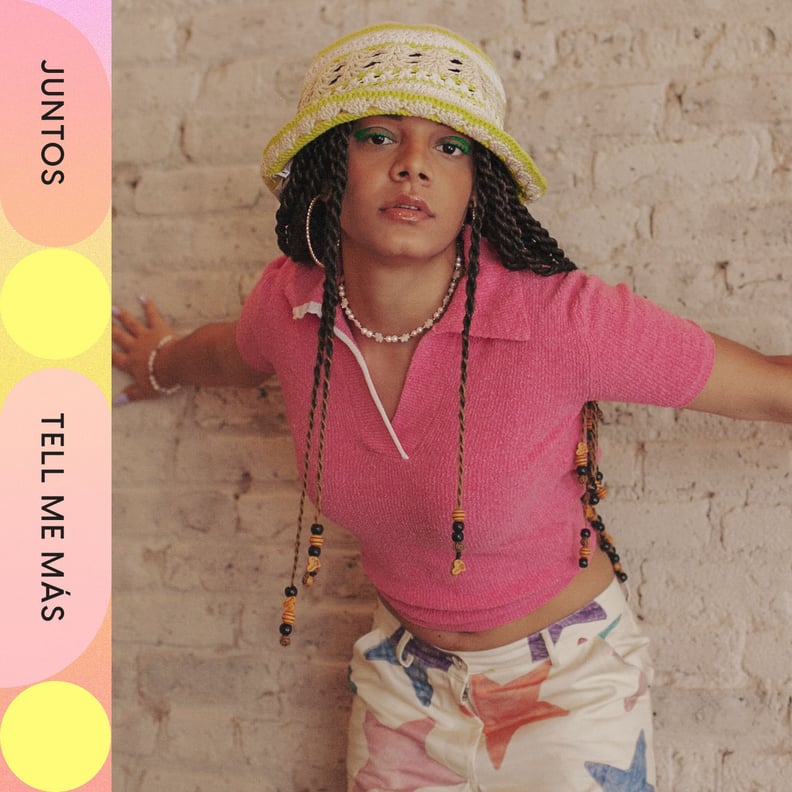 Elizabeth De La Piedra Courtesy of La Gabi + Notre
Elizabeth De La Piedra Courtesy of La Gabi + Notre
In our Q&A series Tell Me Más, we ask some of our favorite Latinx artists to answer the questions only their BFFs know about them, revealing everything from their most recent read to the songs that get them hyped. This month, Dominican reggaeton artist La Gabi takes the test, and we are all ears.
Earlier this year, independent record label RichMusic released their first all-women EP titled "hembrismo," which featured paopao (who also led and executive-produced the project), Aria Vega, Cami Da Baby, Villano Antillano, and La Gabi. The album was purposely slated for Women's History Month, and when it dropped in March, it left many of us with a sense of pride and joy in seeing this generation of fierce Latinas ready to take over the Latin music landscape. One of the rising stars on the EP who is really setting her own path is Dominican reggaeton artist La Gabi, who many recognize as J Balvin's latest protégé.
The 21-year-old artist, who was born and raised in La Romana in the Dominican Republic, always knew she wanted to be an artist. She grew up singing and dancing while watching her older brother show off his choreography skills in the house. "I remember being so little and looking at him and trying to learn what he was doing," La Gabi, whose full name is Gabriela Cabrera Guaba, tells POPSUGAR. "So, I've never been embarrassed of dancing. I've always danced. Never took a class or anything."
Dancing comes quite natural to this Dominicana, and you can peep that in any of her music videos, from her hit single "La Situacíon" to "NOSE" and her latest "MIO." Gabi moved to Miami from the Dominican Republic with relatives when she was still in high school. Her family, like many immigrant families, came in hopes of pursuing the American dream. She told herself regardless of if she ever got discovered as a music artist that she was going to pursue music one way or another. So she enrolled herself in college, but kept at it with the music.
When Gabi first felt the calling to do music, she started recording herself singing covers and posting them on Instagram. It became her way of putting herself out there. "I was like, OK, let me do these videos on Instagram. Let me do covers, but let me do it differently, "she says. Gabi started posting the videos in 2019, tagging the artists behind the covers she was singing, and within six months received a DM from J Balvin that would forever change her life. "So, I did videos from June to December — it was like six months. And then Balvin found me on Jan. 4. I only had six months of posting videos," Gabi says. "And yeah, I did a cover of his song, and he saw the video, and he personally DM'd me. He was like, 'Oh my God, you're so fire' . . . I remember that day when I saw the message. I didn't even reply. I was like, 'Oh my god.' I threw the phone and went to pray on my knees. I prayed to God, and I was like, 'Oh my god, I don't know.' He even texted me privately. So, I already felt like something special was going to come."
Balvin quickly learned that Gabi wasn't on a label and immediately set up a meeting for her to meet with his team. At the time, Gabi was living in Miami and Balvin was traveling nonstop. But within a few weeks, they finally had their first meeting, and shortly after that, Balvin took Gabi under his wing and signed her to his label Vibras. Balvin discovered Gabi in 2019, but she officially became part of the Vibras family in 2020. And though it's been a few years, she doesn't take any of it for granted. In fact, Gabi shares that to this day, she's still in disbelief that she's living out her biggest dreams in a way she never thought she would.
"Even when I go to the studio, there's always a moment when I'm recording that I'm like, 'Wow, am I dreaming?' she says. "I feel like what God has for you is for you. Like even when I signed and everything was real, I hit a point where I was like, oh my god, I know I prayed for this and I worked for this, but, like, why me? . . . Because I feel like all the women in the industry go through so much just to get to where they are [recognized], and I didn't go through that." But these days, Gabi is embracing the blessings and allowing herself to accept that she deserves to be here.
"I think having a mentor like him motivates me, because he's so real and human. Normal. He is so disciplined. I'm so glad that he's my mentor, because that's what I'm learning [from him]."
As far as having Balvin as a mentor, Gabi shares she couldn't ask for a better one. "I think having a mentor like him motivates me, because he's so real and human. Normal. He is so disciplined. I'm so glad that he's my mentor, because that's what I'm learning [from him]," she says. While Gabi's music technically falls under the umbrella of reggaeton, her sound is so different from anyone else out there. It's distinct. She merges everything from the Dominican music she grew up with to reggaeton beats and even sprinkles in some R&B. Her goal is to never sound the same.
"I'm really all over the place, and I like to be like that. I don't want to be like, 'I only do reggaeton or I only do R&B.' It's good to experience other things, because I feel like I learn more," she says. "It's every mood — that's my music."
Not only does she have serious vocal and choreography skills, but Gabi is also a writer and writes a majority of her own songs, including the ones in her first EP titled "Origen" (which translates to origin in English) and released in 2021. "I was really undecided," Gabi says in regards to choosing an album name. "And then I was like, you know what? This is the origin of everything. I wanted to call it the beginning of something, but I needed one word. And then I was like, origen. El origen is the origin of La Gabi. The origin of everything that's going to start now. And in the origen, at the beginning of the world, God created seven days. So let me do seven songs."
"Like 100 percent, it's always more men. But I think it's changing. Like before it was only Ivy Queen, and now we have Karol G, we have Rosalía, we have Becky G, Nathy Peluso. We have all these female [artists] that are coming up, and it feels good."
The album has a little bit of everything from perreo, reggaetoncito, Latin trap, and R&B with some of the biggest tracks consisting of "Acapella," "Rugrats," and "Ridículo." Since the album dropped, she has since released quite a few singles including her popular hit "La Situacíon," "Asesina," "NOSE," and "Mio," including the collaborative album "hembrismo." In terms of the state of reggaeton today, Gabi feels the industry has really evolved when it comes to making space for female artists. "Like 100 percent, it's always more men. But I think it's changing. Like before it was only Ivy Queen, and now we have Karol G, we have Rosalía, we have Becky G, Nathy Peluso. We have all these female [artists] that are coming up, and it feels good," she says. "To me, it's still hard to make it as a female [artist] because it's still more men . . . But artists like Karol G are opening the door for every single woman that's coming up right now."
She also acknowledges that there still aren't enough mujeres negras in the genre getting their flowers the way a lot of white or lighter-skin artists are. While Gabi identifies proudly as Afro-Dominicana, she also recognizes that she's still on the lighter side and wants to advocate for more Afro-Latina representation in the genre. In the collaborative "hembrismo," Gabi is the only Afro-Latina on the album.
"There's not a lot of brown or Afro-Latinas in the industry," she says. "It feels good to represent, because there's not a lot of us. I did a project with RichMusic that's all women — like a whole EP of five women. There's a trans woman called Villano Antillano, and I f**cking love her. It felt good to have a project of women from different countries from all over . . . And I had on my shoulders the representation of us, but we also need [darker skinned] Black women to represent."
Gabi has been going through her own self-love journey in accepting her natural curls and hopes that it inspires fans who see themselves in her. "I do these braids, but under these braids, there's kinky [curly] hair that I want to accept for what it is. I could put that as an image of like, I'm like this girl with the afro in the industry," she says. "But it takes time, too, and I want to be able to inspire women to accept themselves, their hair . . . And as Afro-Latinas, too. It's cool to have that on your shoulders, but cogerlo y inspirar because that's what I want to do: motivate and inspire."
Keep reading to see what else La Gabi has to say about how music has helped her get through depression, her Dominican pride, and what she's reading these days.
POPSUGAR: How has music healed you?
La Gabi: OK, so I'm like, you know, I told you that this was my dream. This was Gabriela's dream. But now this is a job. So, when I wasn't doing this, I got this depression that I don't even know where that came from. And it felt so bad because I had to find what makes Gabriela happy. Gabi is doing what she loves . . . But when I'm not doing it, I go like crazy, and I have to go and do music. So, I feel like music also releases my stress and relieves my mind. I really love this. I don't ever see myself doing anything else. And not only making music. When I feel stressed or something, I just put on music, and I really express myself by freestyling and dancing. It's really a thing.
POPSUGAR: What do you love the most about being a Dominican from La Romana?
La Gabi: "For us in general, I think we're just happy people. We got the sazòn. . . . But [also] other people are like, 'wow, these people' — they have like a vibra that everybody wants right now. Right now in music, but in general. People like Bad Bunny or Rosalia — everybody's going to DR to see qué no qué tiene esta gente . . . Honestly, I love my country. I love being Dominican. Also, the food, the music — everything. We're the life of the party."
POPSUGAR: What's the last movie or series you've watched recently?
La Gabi: Actually, the day before yesterday I watched "The Hunger Games" again. The whole saga again.
POPSUGAR: What's the last book you read?
La Gabi: I read a book que se llama "La mentalidad del tiburón: Las 13 leyes sistema para maximizar tu potencia mental." It's super dope. The man who wrote it is a swimmer from Mexico. It's about how you can think like a shark. Because tiburónes, if they stop swimming, they die. So it's about how to keep moving on in life [and] be successful."
POPSUGAR: How would you describe your personal style?
La Gabi: I know people would say street vibe, but I just say Gabi. It's honestly [just] me. How do you say this in English? Me gusta vestirme de macho. Let's say we go to Forever 21. I don't even look at the women's [section]. I go straight to men's. Because I feel like when men wear the clothes, they look cool. But then when I put it on, and I'm smaller, it looks dope on me. And it's like my flow. And I just go with the flow. Sometimes, I dress more feminine, too. It all depends on how I'm feeling. But if you see me on the streets, you're gonna see me with baggy stuff. Or sometimes I go with a whole vest, but then just the bra. Or like, I don't know, it's just how I'm feeling in the moment.