American Horror Story Season 6 Theme Listed as "The Mist"
How the Theme For American Horror Story Season 6 May Have Just Leaked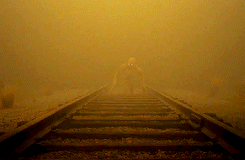 On Monday, popular movie and TV review site Rotten Tomatoes may have made a tiny yet huge mistake. Of course the site has American Horror Story among its endless list of TV titles, but if you checked out the page for the show's sixth season, you'd have noticed something glaring: the sixth installment had been listed as American Horror Story: The Mist. The site has already changed it to be a more generic title. The updated version now says "Season 6" instead of "The Mist." But, well, here's how it looked early Monday afternoon.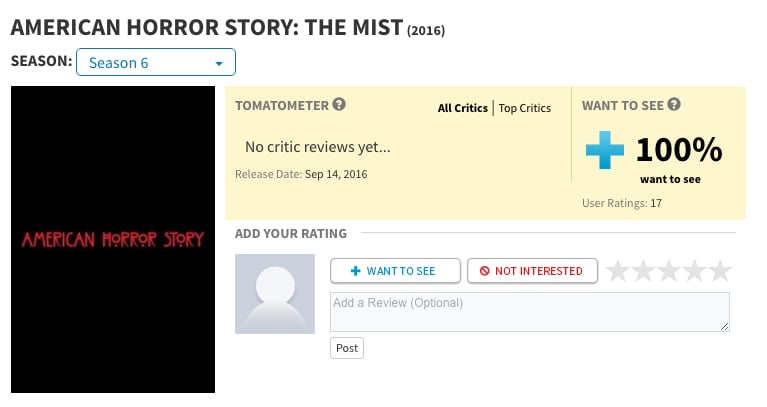 If you haven't been following the bizarre and confusing news timeline for the show's latest installment, let's catch you up. In July, the new promotional teasers began making their way online, and we couldn't help but notice that the first six were vastly different in tone and imagery. That's when we learned there's a catch: according to FX Networks CEO John Landgraf, only one of the dozen or so mini trailers would illustrate the real theme.
You can't run from us... #AHS6 pic.twitter.com/vmBIbGcZsw

— AmericanHorrorStory (@AHSFX) August 30, 2016
So, should we set our sights on The Mist? Maybe. After all, there is a teaser by that name, and the latest addition to this season's official posters features the same hazy imagery and terrifying creature. Let's be real, though: it's worth noting that Rotten Tomatoes isn't the most reliable source. There's no information to source us back to creator Ryan Murphy or FX. And of course, we'd had more complex hopes for a theme: we thought perhaps the new season could take us to a haunted movie set, into a dark, scary forest, close to the devil or the Antichrist, or even inside a sinister cult. And, to be fair, these are all still possibilities. After all, Ryan Murphy has a tendency to tell a whole handful of stories and side stories within one season. But, well, is The Mist at the center of all of it? We're just days away from finding out.