The Good Place Season 4 Details
Here's What We Know About Eleanor, Chidi, and Season 4 of The Good Place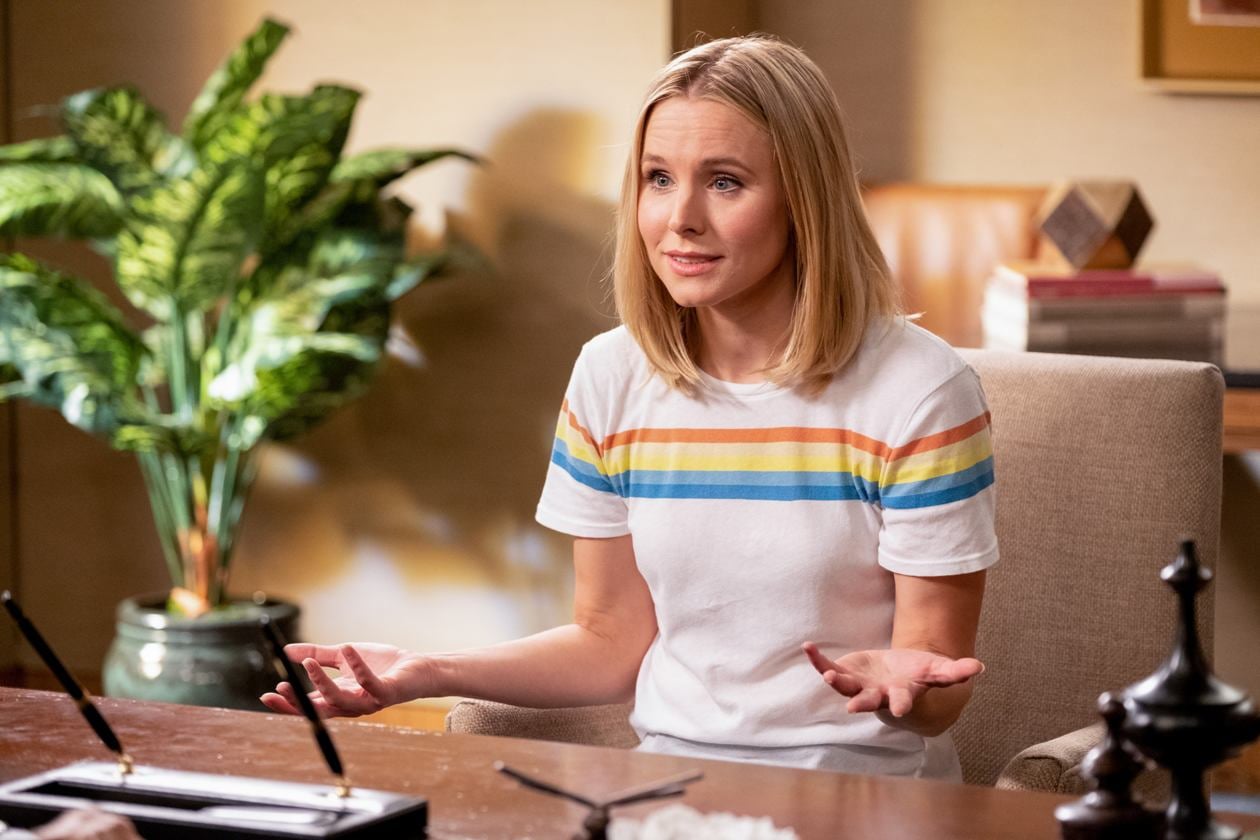 The Good Place is coming back for its fourth batch of episodes, and we honestly have so many questions about what's going to happen next to our favorite group of humans. The third season left us with one emotional sucker punch of a finale that may be the end of our one true pairing. Oh, and not to mention the fact that the whole forking fate of humanity rests on Michael's experiment succeeding. Needless to say, the stakes are high in this upcoming installation of The Good Place. So, we've searched high and low — even in Mindy St. Claire's backyard — for every bit of information on season four. Keep reading to learn what's in store the next time you check in with Eleanor and the gang.
Season 4 Will Be the Last Season
Well, we have to rip the Band-Aid off: The Good Place is ending after its fourth season. And no, it wasn't canceled — the decision to close the book was creator Michael Schur's decision. Although we're sad that there won't be any more episodes after this final run, it's great that the hilarious philosophical series will end on its own terms. We can't wait to see how Schur and his writing team have planned to end the show after all these years.
"After The Good Place was picked up for season two, the writing staff and I began to map out, as best we could, the trajectory of the show," Schur announced on Twitter. "Given the ideas we wanted to explore, and the pace at which we wanted to present those ideas, I began to feel like four seasons — just over 50 episodes — was the right lifespan."
The Plot Is Bound to Get Twisted
Presumably, the plot will be about Eleanor (while pretending to be the Architect) rehabilitating the new residents and proving to the Judge that people are capable of becoming good even after they die. We're also expecting tensions to arise in Mindy's backyard as Eleanor yet again befriends Chidi, whose memory has now been wiped. Plus, with Shawn creating the Michael suit and Chidi's ex Simone and Tahani's former nemesis John in the mix, expect a hefty dose of drama this season.
Chatting with Entertainment Weekly, Schur ominously replied with "Vicky" when asked for a hint about season four. If you recall, Vicky, played by Tiya Sircar, was one of the demons employed by Michael in the fake Good Place. After feeling like her leadership had gone unnoticed, Vicky teams up with Shawn. Now, she's working with him by wearing the Michael suit with other demons to wreak havoc on the experiment.
Will There Be New Characters on Season 4?
For Michael's experiment, we're supposed to see four new test subjects who've been picked out by Shawn to torture the original humans. So far, we've encountered Simone and John, so we should expect to see two more people tailored specifically to Eleanor and Jason. Since John is a new character, we may or may not see former characters as the test subjects.
How Many Episodes Will There Be?
Every season of The Good Place has consisted of 13 episodes, but season four is going to be slightly different. We're going to see a grand total of 14 episodes, with one special hour-long series finale.
When Will Season 4 Premiere?
There's no official word about the premiere date for The Good Place since NBC hasn't released that information yet. But since NBC recently released its Fall schedule, we do know that the regular time for The Good Place will be Thursdays at 9 p.m. As a bonus, Schur's half-hour comedy Sunnyside, one of NBC's new series, will take air immediately after the show in the 9:30 p.m. slot.