Green Book Winning Best Picture at the Oscars Controversy
Green Book's Best Picture Win Was the Most Embarrassing Oscars Moment in Years
The 2019 Oscars have officially concluded, which means it's time for us all to bicker about who should and shouldn't have taken home an award. While some wins were thrilling — Regina King! Olivia Colman! Hannah Beachler! Lady Gaga! — a few others came as not only a shock, but an embarrassment. Chiefly, Green Book's trophy for best picture.
Like fellow controversial nominee Bohemian Rhapsody, Green Book faced a number of troubling criticisms during its bumpy road to the Academy Awards. For starters, the plot of the buddy dramedy, which is technically based on a true story, is one big, patronizing, clichéd white savior narrative. The film follows the unexpected friendship that blossoms between gruff New York bouncer Tony Lip (Viggo Mortensen) and Jamaican-American world-class pianist Don Shirley (Mahershala Ali) when the latter hires Tony to drive him through the Civil Rights-era South for a concert tour. Rather than shining a much-needed light on the fact that race relations haven't actually changed all that much since the 1960s, à la BlacKkKlansman, Peter Farrelly's film takes a glib approach to its serious themes, reducing racism in America to a simple formula easily solved by the story's white protagonist.
What's more is that the family of Ali's character, Don Shirley, — a performance for which he won best supporting actor on Sunday night — has since spoken out about the untrue nature of the film, citing a number of glaring liberties that screenwriter Nick Vallelonga (the real-life son of Tony Lip) takes with Shirley's life and calling it "a symphony of lies." Vallelonga now claims that Shirley didn't want him to reach out to his family to check on the veracity of certain plot points (like Shirley's estrangement from his siblings), but then also told Vanity Fair after the Oscars that he "didn't even know they really existed until after we were making the film."
Historical accuracy within a film based on a true story doesn't always have to be exact, and filmmakers certainly have the right to take liberties here and there to tell their version of how things happened to enhance their film. But when a movie twists the real story to the point that it becomes an unrecognizable, one-sided presentation of events, the way Green Book does, it should be called into question.
The optics get even worse when you take into consideration that everyone on the team behind the film, except for producer Octavia Spencer, is white. That point was even more apparent when Farrelly, Vallelonga, and the rest of the group took the stage to accept the award for best picture, with none of them even bothering to mention Shirley or the film's namesake: Victor Hugo Green's The Negro Motorist Green-Book, a text that promised black people traveling through openly racist and discriminatory areas in the Jim Crow era "vacation without aggravation" by offering suggestions for safe places to stay. Though, I guess that's not all that surprising, considering how little attention the film pays to the book or the role it played in the black community during that time period.
The missed opportunity on the film's production team to highlight the horrific parallels between black travelers driving through America in the 1960s and those driving through the country today is almost unbelievable (I say "almost" because, again, this is Hollywood, and also because it was a large group of white men on stage who have proven time and time again that they don't care to properly acknowledge the film's inspiration). The only person to even thank Shirley on stage on Sunday was Ali, who has spoken at length about his respect for the virtuoso in every acceptance speech he's made over the last few weeks.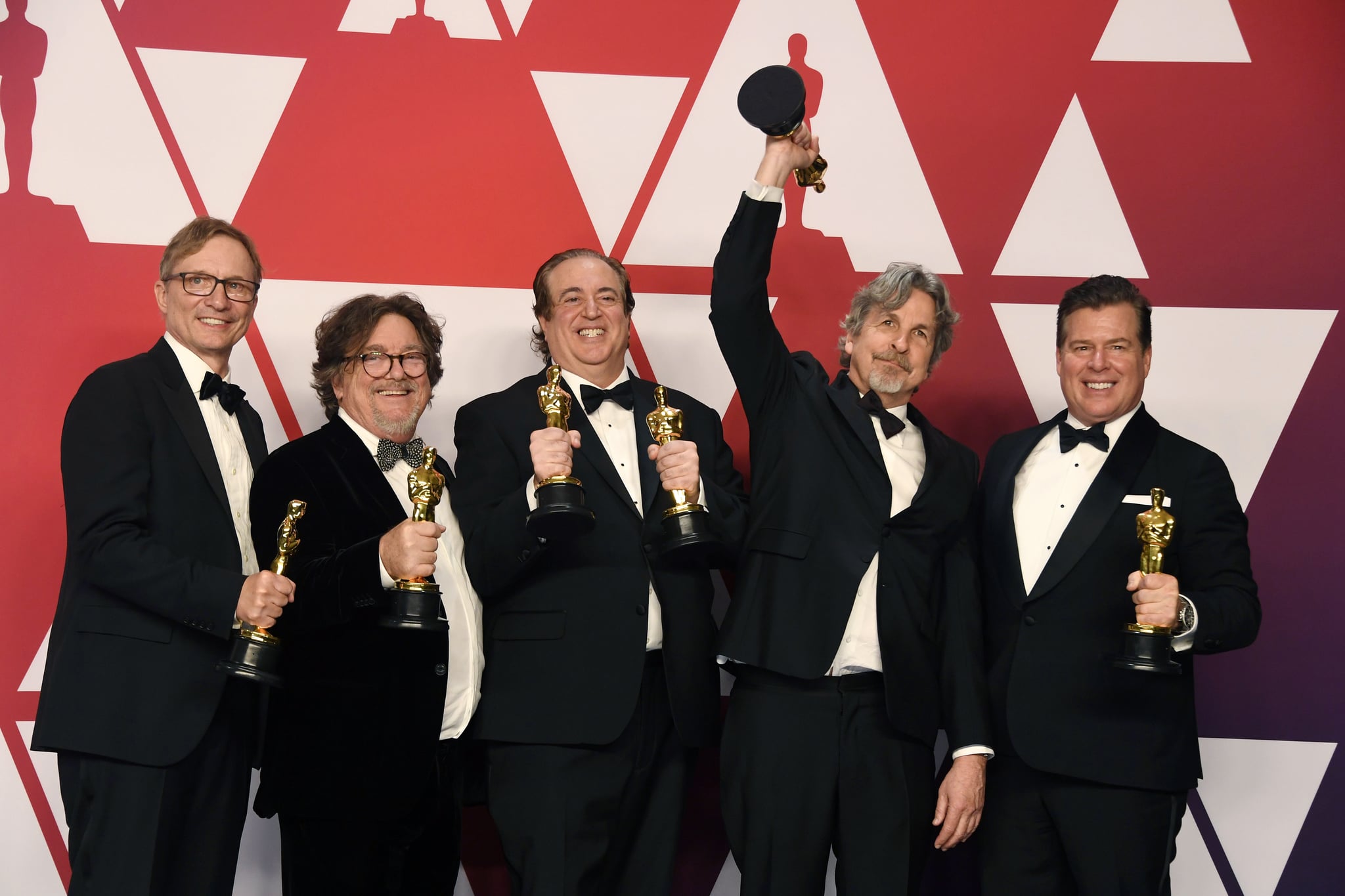 In addition to the tired, pointedly inoffensive narrative Green Book has to offer, there were a number of other factors that made the Academy's open-armed embrace of the film astounding — Mortensen's utterance of a racial slur at a press event; the discovery of Vallelonga's anti-Muslim, pro-Trump tweets; Farrelly's disgusting history of sexual misconduct.
Though Mortensen and Ali have an undeniable chemistry, the movie simply isn't up to snuff when compared to other best picture nominees like The Favourite and Roma. Its slick, palatable treatment of bigotry is absent of all nuance. How on earth did it win the hearts of voters who awarded a film as groundbreaking and diverse as Moonlight (which also stars Ali, coincidentally) the same honor just two years ago? What did we do to deserve Crash 2.0?
Sure, differences in taste are to be expected. Not everyone will appreciate Olivia Colman screaming "Did you just look at me?!" and smashing blue cake in her mouth. Not everyone will have the patience for Alfonso Cuarón's stunning, but slow portrait of a domestic worker in Mexico. But no other film in this year's best picture race inspires the kind of angry, immediate defensive response that Green Book does, which echoes our country's current state of divisive polarization. Some Academy voters and general audiences who came away from the film uplifted and satiated by its feel-good charm rankled at the notion that the story isn't actually as wholesome as it so clearly thinks it is. As The New York Times reports, a voter and studio executive in his 50s admitted that his support of Green Book "was rooted in rage" and that he's "tired of being told what movies to like and not like."
To find Green Book's pandering, lackluster message about race satisfactory, to see its pleas for understanding on both sides sympathetic, is one thing; to crown it the year's best film can only be done if you're viewing it through a certain lens of race and privilege. For some, this is a bitter pill to swallow.
Looking back on this award season, I guess it's not all that surprising that Green Book won best picture. In fact, it's fitting. After all, the Academy and its standing in the film community has been skating on thin ice for some time now (this year's host-less disaster, the decision not to announce certain categories on-air, and other scandals notwithstanding). That the night's biggest award went to a film so grossly undeserving is the tone-deaf cherry on top of a rough, unjust few months.
As usual, I'm left wondering if the Academy will learn from its mistakes, and if the excitement and fanfare that used to surround the year's biggest award show will ever return. I personally hope — and believe — that the tides are changing, as evidenced by big wins for a number of women and people of color on Sunday evening. If we're lucky, Green Book's win will be remembered as the final gasp of an out-of-touch voting body, paving the way for groundbreaking films that truly deserve recognition.
The upsetting win unsurprisingly sparked a number of social media reactions, which you can see ahead.