Lena Headey Quotes on Cersei's Death on Game of Thrones
Don't Worry, Y'all — Lena Headey Feels the Same as Way We Do About Cersei's End on GOT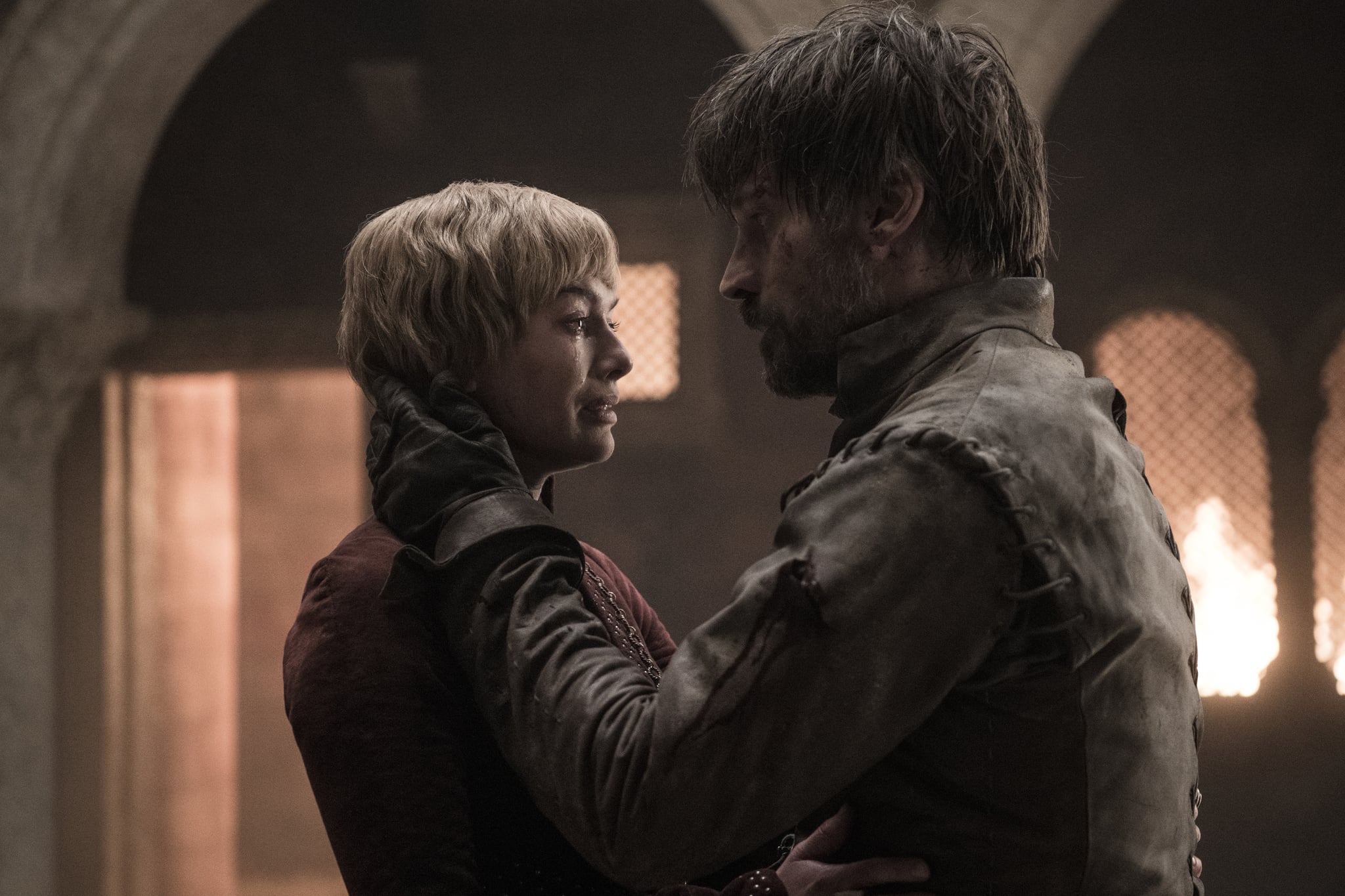 Warning: The following post contains spoilers for the fifth episode of season eight of Game of Thrones.
For years, Game of Thrones fans have envisioned Cersei Lannister's death. Would Arya cross her off her longstanding kill list? Would Grey Worm seek revenge for her killing Missandei? Would Tyrion fulfill Cersei's prophecy and kill his older sister? We've romanticized this evil character's death since we saw her malicious and inhumane tendencies in season one, which is why it was so underwhelming and straight-up disappointing when she and Jaime were killed by rubble in season eight's fifth episode, "The Bells." Yes, she's killed on Mother's Day, and yes, she's ultimately killed because she refused to surrender to Daenerys in the episode prior, but none of the handful of characters who plotted her murder had the satisfaction of killing her, and neither did viewers.
Twitter took notes from Drogon and was aflame with sh*t-talking following the episode. No one could fathom how this horrible character escaped a brutal killing when well-intentioned characters hadn't had the same luck earlier in the episode. The wicked witch queen of Westeros is dead, and Lena Headey absolutely has some thoughts about it. Following the episode, the actress spoke with Entertainment Weekly about Cersei's death and her character's emotions leading up to that ending.
"She starts off in this final season trapped in a web of her own making, as is usual with Cersei," Headey said. "She's desperately unhappy and everything that's happened becomes more real than it ever has for her. She starts to lose control of the situation. She's destroyed every good alliance, connection, love in her life — she was always destined to be alone. And until the very, very last minute, she is, as ever, in denial of what's actually happening."
But the problem is that Cersei doesn't die alone — she dies with her brother/lover, Jaime, in her arms as they speak about their unborn child and its future. After witnessing Daenerys go full Mad Queen across King's Landing, it was impossible not to be happy for Cersei and Jaime's reunion. But for a character who deserved anything but a happy ending, it was strange to see her get one. Headey told the publication that she initially had a "mixed" reaction to reading the final scene. "I wanted her to have some big piece or fight with somebody," she said, as we all nodded in agreement.
"It's maybe the first time that Cersei has been at peace."
After mulling it over with Nikolaj Coster-Waldau, Headey realized it was "the perfect end for her" because "they came into the world together and now they leave together." But Cersei's ending wasn't only about her, it's about Jaime's character arc as well. "I think the important thing is that Jaime had a chance at freedom [with Brienne] and finally liberated himself from Cersei, which I think the audience will be thrilled about," Headey said. "I think the biggest surprise is he came back for her. Cersei realizes just how she loves him and just how much he loves her. It's the most authentic connection she's ever had. Ultimately they belong together." She added, "It's maybe the first time that Cersei has been at peace."
Following the episode, Headey shared a tribute to her character on Instagram. "There she goes," she wrote alongside a professional photo. "It's been fun, and bonkers. I loved her. I am grateful for the opportunity. Massively thankful for your encouraging and supportive love along the way. And now her watch is ended (I know she'd never make it, Nights watch wouldn't have her .. but still..) 💗💗💗💗💗💗." Coster-Waldau also shared a collection of photos from the episode with a sweet message for his sister/lover/costar. "The best, sweetest most wonderful sister from another mother @iamlenaheadey. That was a fun decade 😘," he wrote.
We'll never get the satisfaction of seeing a character brutally murder Cersei, but there's still one Mad Queen alive, and we can't wait to see how her story ends.