Marisol Nichols Interview For Riverdale
Riverdale's Hermione May Not Be a Saint, but She's Not a Villain Either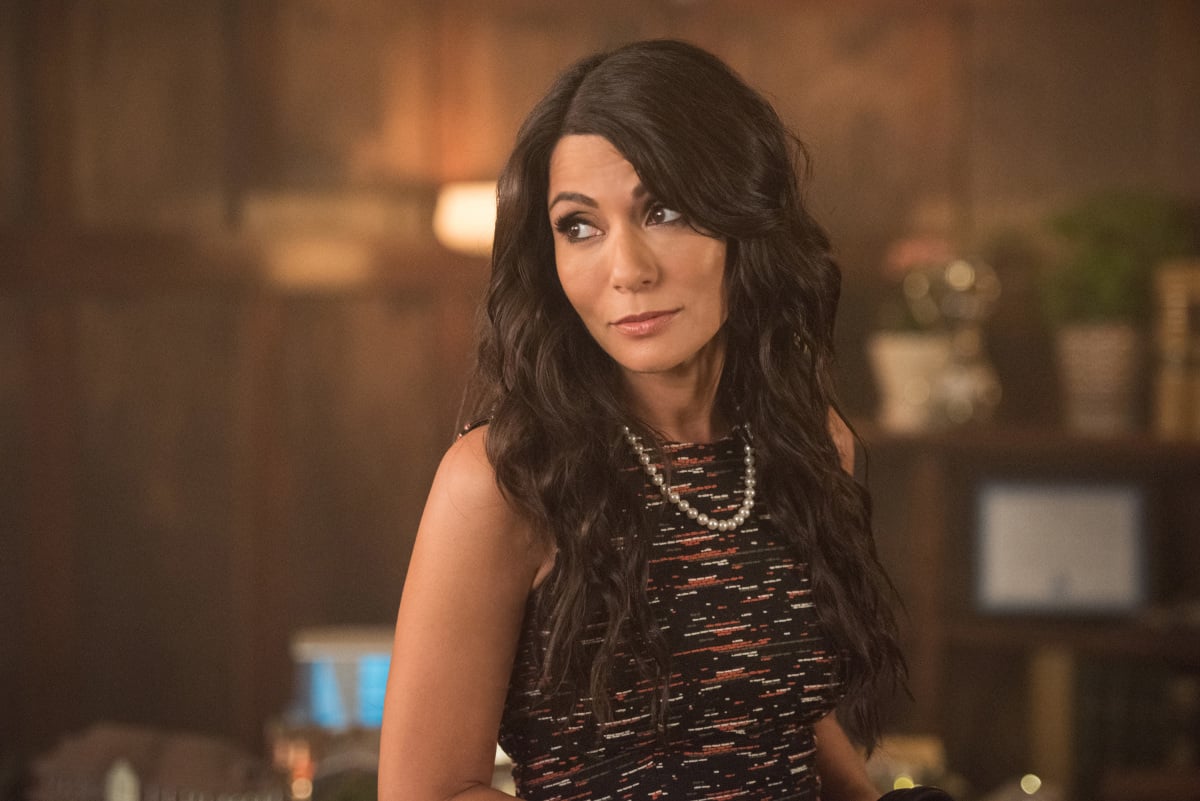 Riverdale is getting darker and weirder this season, and we can't get enough. Not only are there new characters in town to stir up trouble, but there is also a mysterious killer on the loose with a special vendetta against "sinners." So, what does this mean for all of our favorite characters? We went straight to the source to talk with Hermione Lodge herself, actress Marisol Nichols, about everything from the mysterious killer to what it's like working with Mark Consuelos and why the Lodge family should watch their backs this season.
While there are a lot of theories from fans about the killer's identity, Nichols no longer has to play the guessing game. She already knows who the killer is! "We've been filming since June, so we're pretty far away," she explained. "So I do know. But that's all I can say." Even though she wouldn't give us any other clues about the killer, she did tease that the Lodge family is on his radar. "100 percent," she said. "Completely, we're walking sinners. Yeah, I was highly aware of that. I was reading the scripts like, 'Oh, God. Are they going to kill me off?'" So does that mean we should brace ourselves for a big character death this season? "We're still filming, so I don't know," Nichols coyly said before adding: "But I would say, it is Riverdale. Anything's possible."
Of course, steering clear of a vindictive murderer isn't the only thing the Lodge family has to worry about this season. Now that Hiram Lodge is back, there is bound to be a whole lot of drama between Hermione and her daughter, Veronica. "It changes a lot just because Hiram is dangerous," Nichols said about the characters' mother-daughter dynamic. "But Veronica doesn't know this. She's like, 'My daddy's my hero.' And unfortunately, Hermione knows all too well what he's capable of. So, the dynamic will change because Hermione's going to step in to keep Veronica from pushing too hard, so that he won't push back. And unfortunately, that puts her in a not-so-nice position, and she does some things that are questionable."
"She's capable of those other things, but I don't think her intentions are to harm."
We've already gotten a few glimpses of this within the first few episodes, but Nichols wants fans to know that Hermione isn't the villain she's being painted as. Everything she's doing is to protect her daughter. "She's capable of those other things, but I don't think her intentions are to harm," Nichols added. "Hiram is a bit more ruthless in that he doesn't care, and she cares too much. She cares about her family more than anybody."
Even though Hermione and Hiram may be at odds, Nichols and Mark Consuelos get along great. "If I do say so myself, we're pretty good together," Nichols said of their onscreen dynamic. "He's like a brother. He's so kind. And I've followed and loved his wife [Kelly Ripa] since forever. But I'm so glad he's here because it really explains my character a lot more. And it's great to have that power couple."
Aside from sharing laughs on set and hanging out with her costars offscreen, Nichols's daughter, Rain (pictured above), has also joined in on the fun from time to time. Not only is her 9-year-old an avid fan of the show, but she also makes an adorable cameo in the season one finale during the jubilee. She even gets along with Nichols's onscreen daughter, Camila Mendes. "She says that that's her sister," Nichols added. "She's an only kid, so she likes that idea. It's really sweet." The Lodges may be full of drama, but it's obvious the cast is like one big family in real life.