Is Nagini in Fantastic Beasts 2?
Nagini Appears in Fantastic Beasts 2, and She's Nothing Like We Expected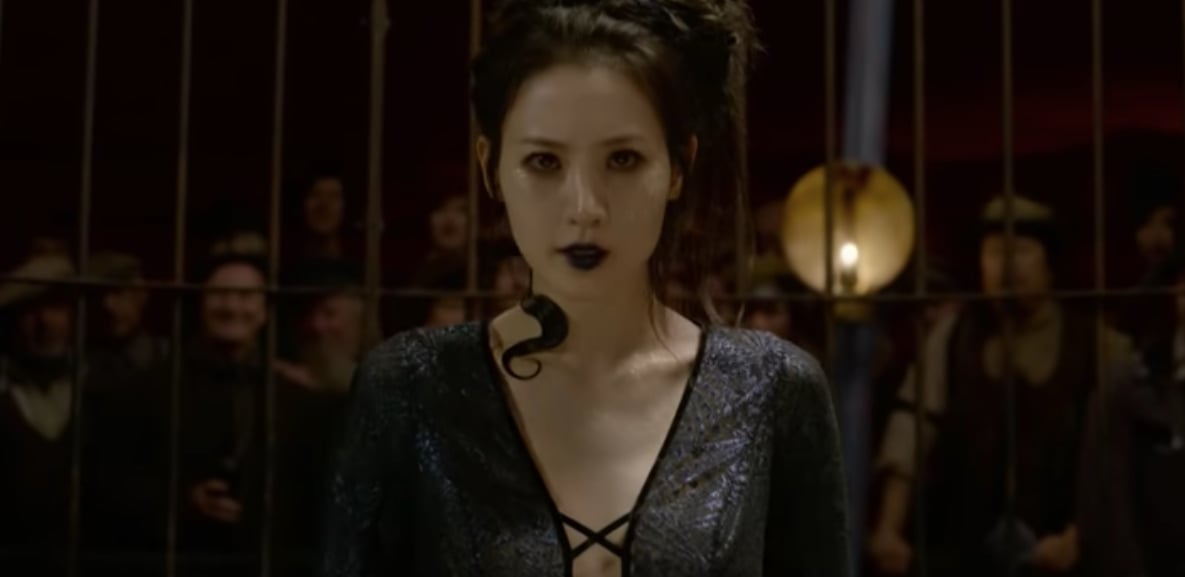 Image Source: Warner Bros.
When the final trailer for Fantastic Beasts: The Crimes of Grindelwald dropped on Sept. 25, fans lost any cool they'd gained since the last sneak peek. Not only was the trailer filled with clues for every sharp-eyed fan to catch, but it also revealed the presence of a very familiar Harry Potter character.
Nagini, who we all know as Voldemort's lethal snake companion and final horcrux, is reintroduced in Crimes of Grindelwald as a human woman played by Claudia Kim. Before the final trailer, we explored the mystery of Kim's character, who was initially known as "Maledictus." As the trailer would soon prove to be true, we discussed the theory that Nagini was actually a Maledictus, or a human woman with a blood curse who slowly transforms into an animal.
The Maledictus: Aiding a Fugitive #FantasticBeasts pic.twitter.com/7AvfyKXanT

— Fantastic Beasts UK (@BeastsMovieUK) September 25, 2018
Though we all know Nagini as a murderous snake, in Crimes of Grindelwald, we explore her origins as a circus performer and member of the traveling Circus Arcanus — before she met Voldemort. Her transformative abilities are used to put on an "act" for fascinated muggles. In the film she's close to fellow circus member, and everyone's favorite tortured soul, Credence Barebone. Seeing as they both have curses which present in ways that are beyond their control, we can see how they would get along and see each other as kindred spirits.
Kim, who has had to keep her character's identity as a secret until now, revealed to Entertainment Weekly that her Nagini is a far cry from the villain we all know and loathe. "You've only seen her as a Horcrux. In this, she's a wonderful and vulnerable woman who wants to live," she said. "She wants to stay a human being and I think that's a wonderful contrast to the character."
Image Source: Warner Bros.
Since Nagini is a Maledictus, she can transform into a snake at will. However, because the ability comes from a blood curse, she'll eventually lose her humanity and become a snake permanently. One thing we don't know is whether or not Nagini is actually a witch — Kim would only say that while she lacks a wand, she "has powers that are yet to be explored." That's another mystery we look forward to solving when Crimes of Grindelwald premieres on Nov. 16!
See the final trailer for Fantastic Beasts: The Crimes of Grindelwald below.