Orange Is the New Black Season 5 Amanda Stephen Interview
OITNB's Amanda Stephen Has 1 Important (Hilarious) Question About Season 6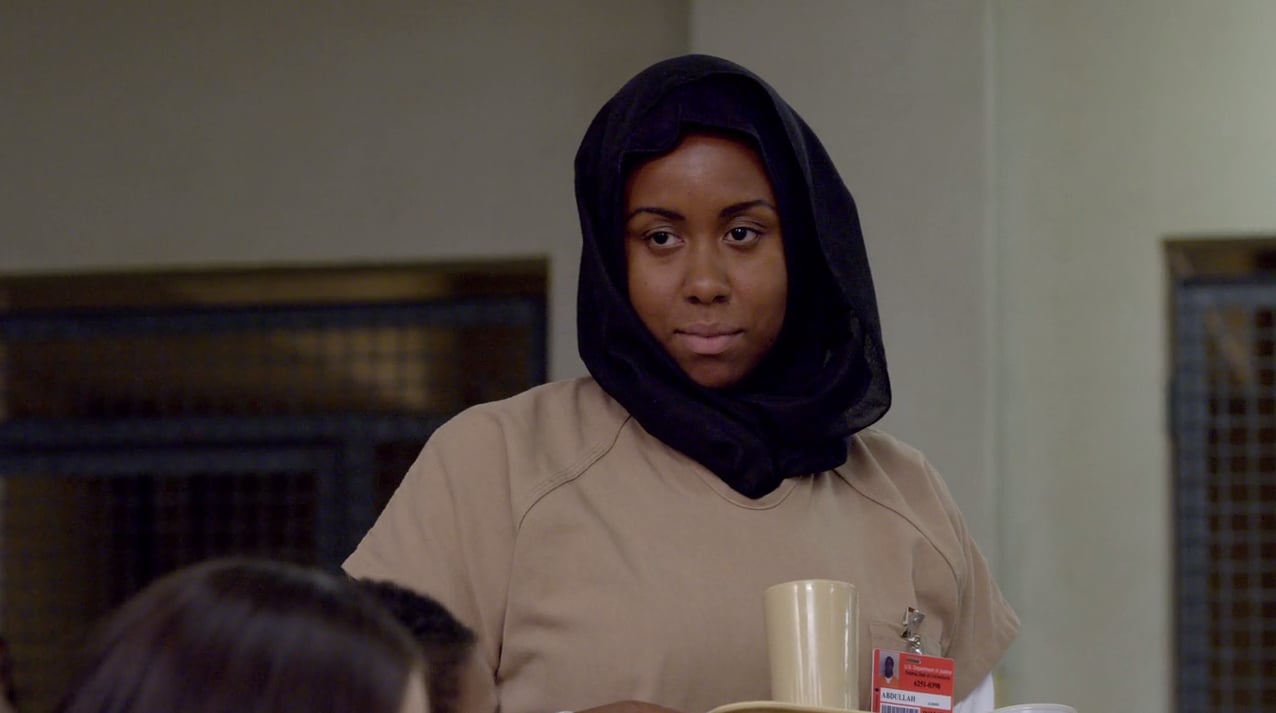 Spoilers for Orange Is the New Black below!
Given Orange Is the New Black's recent shocker of a cliffhanger ending, you probably came away from season five with a few questions. Will Red and the rest of the gang survive the riot police's explosion in the pool? What happened to Sophia? Are Maritza and Flaca going to be separated forever?
For Amanda Stephen, however, her question is much, much simpler: what the hell is up with Alison Abdullah's hair? "I want to figure out why her hair's red!" said the actress, who plays Abdullah, during our recent interview. "It's very simple. I want to figure it out! I personally think it has to do with gaining affection from her daughter since it seems so out of character for her, but you never know."
Stephen has played the fiercely feminist Muslim inmate since season four, but it wasn't until season five that fans of the Netflix dramedy really got a chance to get to know Alison thanks to a flashback showcasing the character's preprison life. With season six on the horizon, we hopped on the phone with Stephen to discuss everything from hair-related mysteries ("Where'd this hair come from? That red!") to why a show like Orange Is the New Black is more important now than ever.
POPSUGAR: The season finale is so powerful and ends on a really shocking note. What was your reaction after watching that for the first time?
Amanda Stephen: I was so curious to see how it would play out, and it played out beautifully. You know, while taping it, it really felt like a riot. It felt like a month passes by during this riot, right? But it's literally three days. At the end, I was like, "Wow, that was three days? Six months of taping for three days?!"
I loved all the storylines and how power got to some people in different ways. The meth heads were selfish to the end, making the riot their own with the talent show and everything. And then Taystee and the girls from the ghetto dorm got together to make real change. I think they did a beautiful job with it, and I really liked the creepy, scary, Michael [Myers]-aspect to it in the end. That was fun, even though it was terrifying. It's classic Orange, throwing you for a loop.
PS: Did having the season's storyline taking place over such a short period of time make your experience on set different at all?
AS: The stakes felt so much higher, because everyone is in prison on top of this riot, so we had to keep that in the back of our minds no matter what was happening in front of us. The stakes are higher because there's no order. Just trying to keep that in mind on top of your character's own personal stuff, and on top of what you're trying to achieve within your own specific tribe, whether you're a part of the skinhead group, the Latina group, the black girls . . . there was much more at stake.
PS: We find out that's especially true for your character, Alison, who finally gets a flashback this season showing her daughter, husband, and the second wife. Did you know that was her backstory all along?
AS: I did not! That's the thing about the show; you get fed information a bit at a time. It's challenging in a fun way as an actress. You want to create a full arc, so when you're given certain circumstances, you get to fill in the rest, but you still have to keep things open to how the writers will further develop her. I knew she had a daughter, we all knew that from the previous season, and I got the sense that she was a bit more mature, kind of calm and collected. Everyone that I know, including myself, is looking forward to seeing if there's an opposite to that, you know?
PS: Do you have any idea why Alison went to prison yet or is that something you're still waiting to find out?
AS: I'm waiting, but I have my suspicions. I feel like it's a classy crime.
PS: A classy crime? I love that.
AS: I think everyone wants it to be her trying to kill the second wife or the husband, right? Everyone's like, "She wigged out and did something!" I think it's a classy crime, maybe some way to help her business since things were tight, because the majority of the women who end up in the minimum security prisons . . . . Well, I don't think she killed anybody or attempted murder, but we'll have to see. We'll see.
PS: How did you go about preparing to play an incarcerated Muslim woman like Alison?
AS: I prepared Alison like I do any character. You have the given circumstances: her age range, her family, her religious background, her political views. Those are things that are given to you as an actor, and you fill in the rest. I have quite a few Muslim friends and I had a consultant as well, and I went to masjid. As an actor, you are representing not just a person but usually a group of people. In my case, I'm representing a group of individuals that are underrepresented in the entertainment world. I'm just so honored to play Alison and to bring more understanding and universality and commonality to the audience with this character. Just like Orange does, they take people who are stereotyped, who are marginalized, and they peel all of that back and make them human. "Oh, she has a family. Oh, she's scared. Oh, she's worried about her daughter." Who wouldn't be, right? [The show] doesn't make the differences as important as the similarities. The writers do a great job of making her more relatable and human.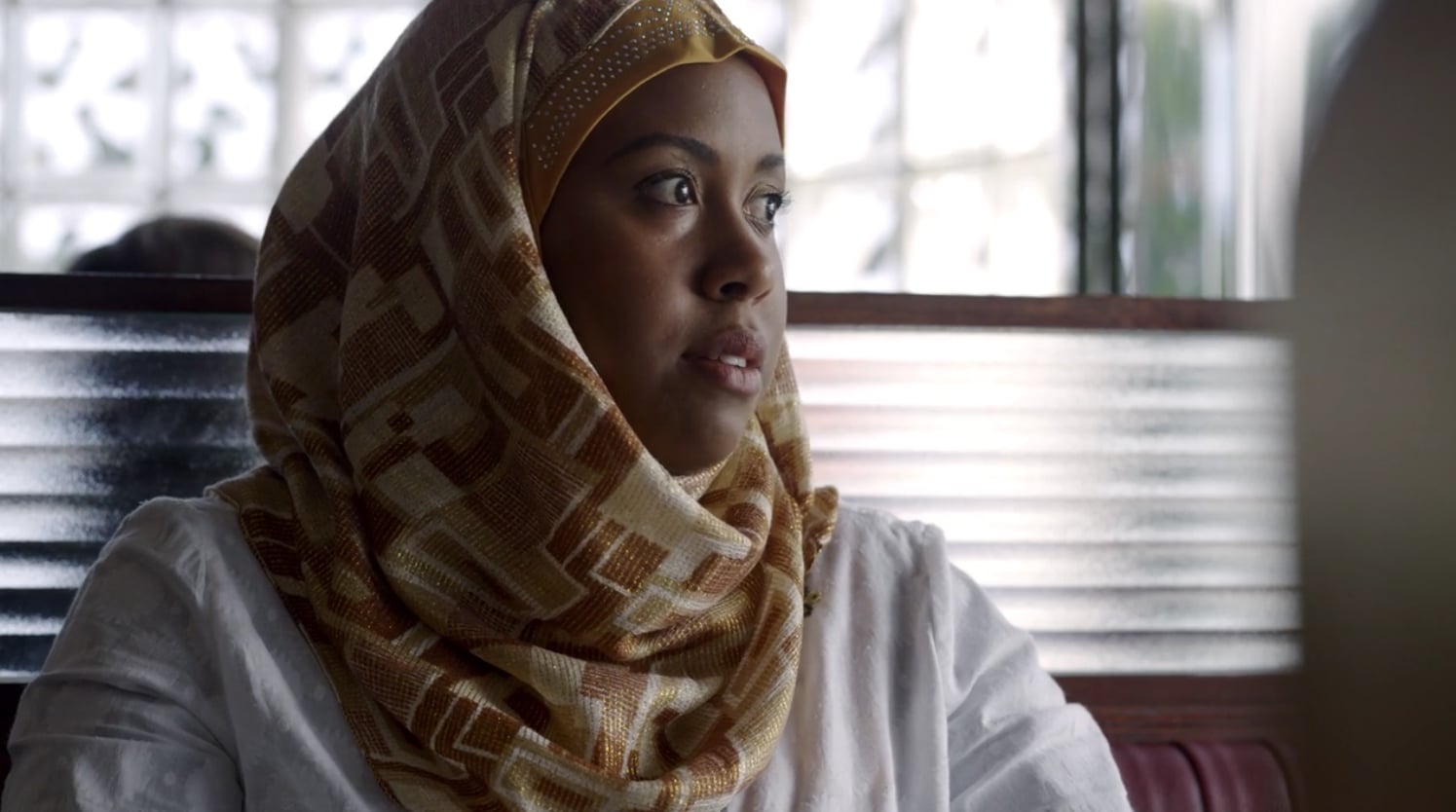 PS: Your character is a part of the group helping Taystee fight for justice for Poussey and is therefore really close to that situation and her murder. Is it hard to go from reading similar stuff on the news and then having to go act it out on the show? I imagine it must weigh heavily on you at times.
AS: As actors on the show, we're all pretty open. We're used to playing characters that are different from ourselves, so we have ingrained in us a huge level of empathy and understanding. Obviously Orange is known for creating parallels with what's going on in our society and shows them within the prison system. It hits us very hard, and we have a great responsibility and have to be strong and really do justice by the writers and do justice for what we believe. I don't want to speak for everyone, but the end of season four was really hard for everyone. If anyone with a beating heart doesn't feel remorse for what happened . . . . I mean, we take the responsibility of representing the stories on Orange very, very seriously. We're also honored to be a part of the group of people who want to speak on what's going on in our society, in our own way.
PS: Conversely, this season also allowed the characters to have a little bit more fun than usual.
AS: Some of the inmates got to play dress-up! I had a cute wardrobe change. I had those hot pink pants that said "Twerk It" on them, and then I got to change into the security guard outfit. It's the riot, but everybody is still having their own little bit of fun.
PS: How has the show affected your life so far? Do fans come up to you on the street?
AS: My character has the red hair underneath, which we've all seen before, but my hair color isn't red. I don't wear a hijab personally, so if I was walking around with red hair I'm sure fans would notice more. Some people notice me who are really good with faces, because I don't wear hijab and at first glance a lot of people don't recognize me.
PS: I know you probably don't have any idea what's going to happen in season six, but what do you hope your character gets a chance to do?
AS: I want to figure out why her hair's red! [laughs] It's very simple. I want to figure it out! I personally think it has to do with gaining affection from her daughter since it seems so out of character for her, but you never know. You never know. That's what I'm looking forward to, though. And obviously how she ended up in prison. But the question that's really burning in my mind is "Where'd this hair come from?" That red!
PS: There have been some rumblings that season seven might be the final season — at least for a few actors on OITNB. Do you think it's a show that could keep going and going or one that will have a definitive end?
AS: I think that's up to the executive producers, the writers, and actually Piper Kerman, who wrote the memoir Orange Is the New Black. Obviously off the book they a took a few liberties, right? But it's up to them. Honestly the show could keep going, because as long as we have prisons and injustices and stories that need to be told, I feel like it could go on forever. But who's to say? I would love for it to go on forever, but I'm not the one making those calls.