Schitt's Creek Season 6 Details
Ew, David! Here's What You Need to Know About the Final Season of Schitt's Creek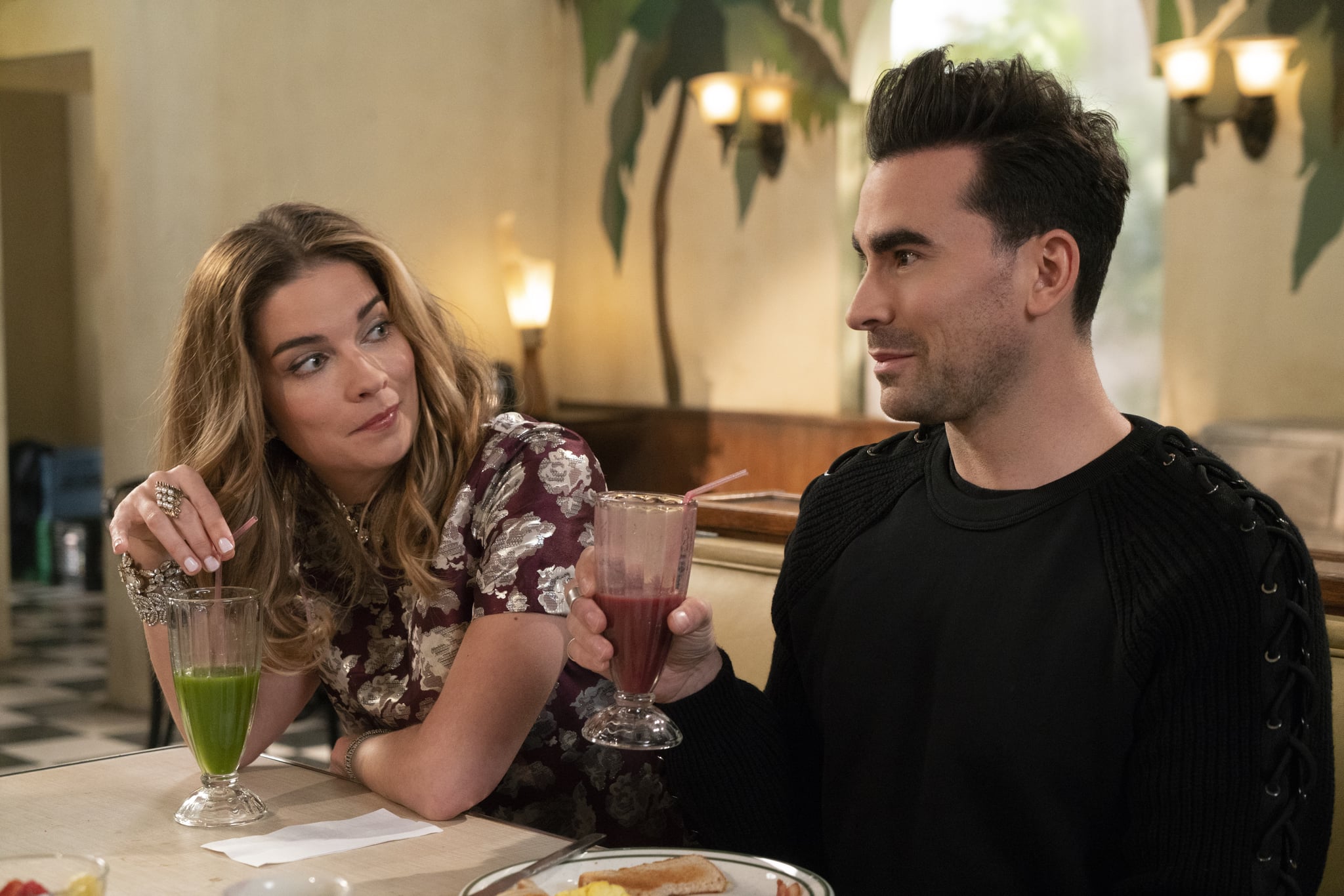 We enjoy the annual hiatus from Schitt's Creek about as much as David Rose enjoys polyester, but here we are, with several months to go before new episodes of the hilarious Canadian sitcom return to our screens. While we wait for the sixth season, we've got a handful of details that the cast and crew have already released. Here's what we know so far about what to expect from the next season.
When Will Season 6 Premiere?
During a July appearance on First We Feast's Hot Ones, Dan Levy revealed when season six will premiere, saying, "I am celebrating the end of our show. It still has to drop on Netflix in October, which is very exciting." That's right, we only have to wait about a month for new episodes!
It's also worth noting that the schedule might be slightly different for viewers in the US and those in Canada. CBC airs the episodes in Canada, and typically, POP airs them in the US with a slight lag time — usually just a few days. There also remains the possibility of a holiday special, which the series first tried out in December 2018 between seasons four and five.
Will the Cast and Crew Be the Same?
As expected, the full cast is returning for the sixth season, led by Eugene Levy as Johnny Rose, Catherine O'Hara as Moira Rose, Dan Levy as David Rose, Annie Murphy as Alexis Rose, Noah Reid as Patrick Brewer, Emily Hampshire as Stevie Budd, and Dustin Milligan as Ted Mullens. Chris Elliot, Jenn Robertson, and Sarah Levy all are expected to return as well. Dan and Eugene Levy, the father-son duo behind the show, will continue to executive-produce and write the series, along with their talented writers' room. Dan Levy even stepped behind the camera for two of season five's episodes; it remains to be seen if he'll repeat that during season six.
What Will the Storylines Be?
The sixth season will likely deal with the fallout from some of the major plot points left hanging at the end of season five. Although the Roses' days of trying to escape the town of Schitt's Creek are far behind them, there's still plenty of uncertainty at work.
At the end of season five, Moira's big film comeback collapsed when her movie was shelved, leaving her utterly distraught and hiding on the floor of the motel closet. On the opposite end of things, though, David hit a joyful new high with his engagement to Patrick, who successfully costarred with Stevie in the town's production of Cabaret. And Alexis headed for the Galapagos with boyfriend Ted, only to realize, much to her surprise, that she was going to miss her family. Season six will, presumably, continue these storylines, with Alexis learning independence, Moira struggling to bounce back, and David and Patrick planning their wedding.
Is This the Final Season?
Back in March, the show announced on social media that the upcoming sixth season would be the last season of Schitt's Creek.
"We are so grateful to have been given the time and creative freedom to tell this story in its totality, concluding with a final chapter that we had envisioned from the very beginning. It's not lost on us what a rare privilege it is in this industry to get to decide when your show should take its final bow," wrote Dan Levy on his Twitter. The cast has already begun saying goodbye to the hit show. At a May "For Your Consideration" event, the main cast admitted that they'd each snagged a few things from the sets: Eugene Levy took a few of the "family portraits," O'Hara snagged a few of Moira's iconic outfits, Murphy picked up a few props (including Alexis's typo-laden diploma), and Dan Levy took home the framed Rose Apothecary receipt that Patrick gave David on their first date.
Even though this is officially the end of the line, Dan Levy promises that the door will always be open for a return to Schitt's Creek.
"I feel really confident that we've really mined everything we could. But the world doesn't explode at the end of it," he told Entertainment Weekly. "If there is something that comes up down the line that feels compelling enough to bring our troupe back together and continue to tell a story, so be it. I'm not one to slay down the iron fist and say 'This is it forever.' This is just it for now."