Tweets and Reactions to Elyse Leaving The Bachelor
The Bachelor's Latest Surprise Exit Might Be Frustrating, but It's Also Incredibly Relatable
Warning: spoilers for the latest episode of The Bachelor below!
It's not often that the cracks in the format of ABC's hit reality show The Bachelor show themselves, but every now and then, we get a reminder of just how far from reality it actually is.
Part of enjoying the series as an audience, as well as appearing on the show as a contestant, all but requires a suspension of disbelief. In real life, it's highly improbable that most people would be down with their boyfriend or girlfriend dating 20 or so other people for a few weeks until he can eventually whittle down who is worthy of his one-on-one attention. Of course, that's the exact premise of The Bachelor and its many spinoffs, which Chris Harrison continues to insist, from the rooftop of the same California mansion year after year, is the epitome of finding love.
Contestants know what they're signing up for . . . right?
Well, we'd like to think so. But clearly not everyone is cut out for this kind of courtship, something competitors might not realize until they're a few weeks into their season of the show. That's exactly what happened to Arizona-based makeup artist Elyse Dehlbom on Monday night, when she decided to break up with season 23's leading man, Colton Underwood. Elyse repeatedly says she realized she could no longer watch the guy she was falling for date other women, even after all the fun they had on their adorable one-on-one date at an amusement park earlier in the season.
"I had the world's most perfect date, and to watch people go on dates and come back and be so excited. For me, I just feel kind of heartbroken," the 31-year-old told fellow contestant Kirpa at the beginning of the episode, before elaborating later in a confessional. "I did not anticipate coming to Thailand — probably one of the most romantic places I've ever seen — and not get time with him. I think the reality is hitting home a little bit more after having a one-on-one."
All dolled up in her "statement dress," as Demi dubbed it, Elyse strolled over to Colton's hotel room to tell him that she needed to leave the competition. Naturally, it was a tearful interaction for both of them.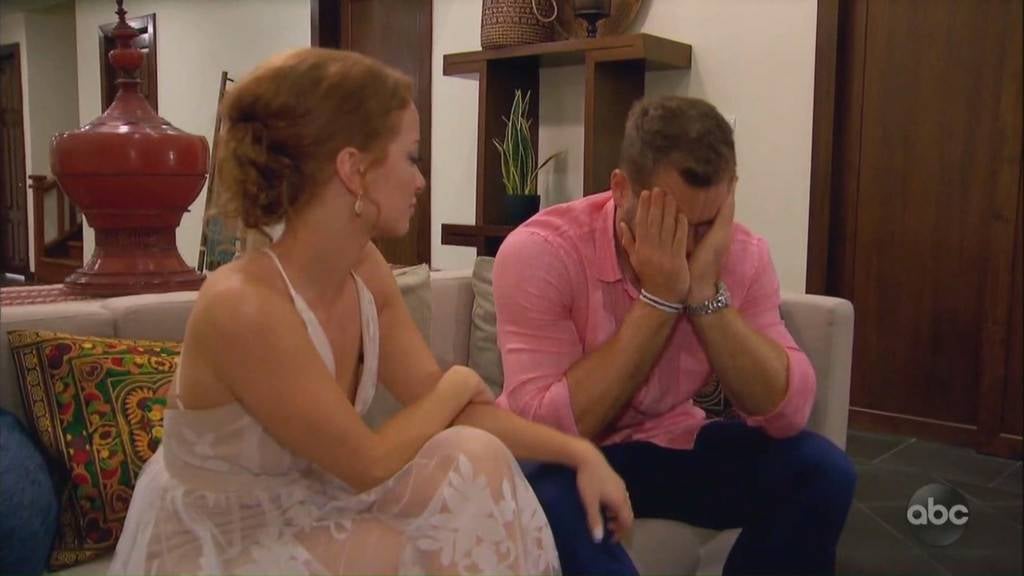 "I want to know all the silly, stupid things about you and how we are together. And I can't call Chris Harrison and say, 'I want every one-on-one for the next year,'" she told Colton while wiping her eyes. "I want the time and attention that a relationship deserves . . . I literally can't accept a proposal after a few months of sharing your time and attention with other people. I can't do it."
Even though Colton told Elyse that he was "genuinely excited for" their relationship, Elyse had clearly made up her mind and left, with that wedding gown statement dress flowing behind her. "How f*cking stupid am I?" she said to the cameras after her last interaction with Colton. "I'm leaving disgusted with myself and heartbroken."
Her decision to go has been praised by fans, as well as earning some eye-rolls from veteran members of Bachelor Nation who think she should've been prepared for what being on the show is like. At the very least, I think we should all admit that Elyse's problem with sharing Colton with a large group of women on TV is an understandable one and that leaving was the best choice if her heart wasn't in it.
See all the responses Elyse's shocking exit sparked on Monday night ahead.