Why Does David Hate Jordan on The Bachelorette?
FYI: Here's Why David and Jordan Clashed on The Bachelorette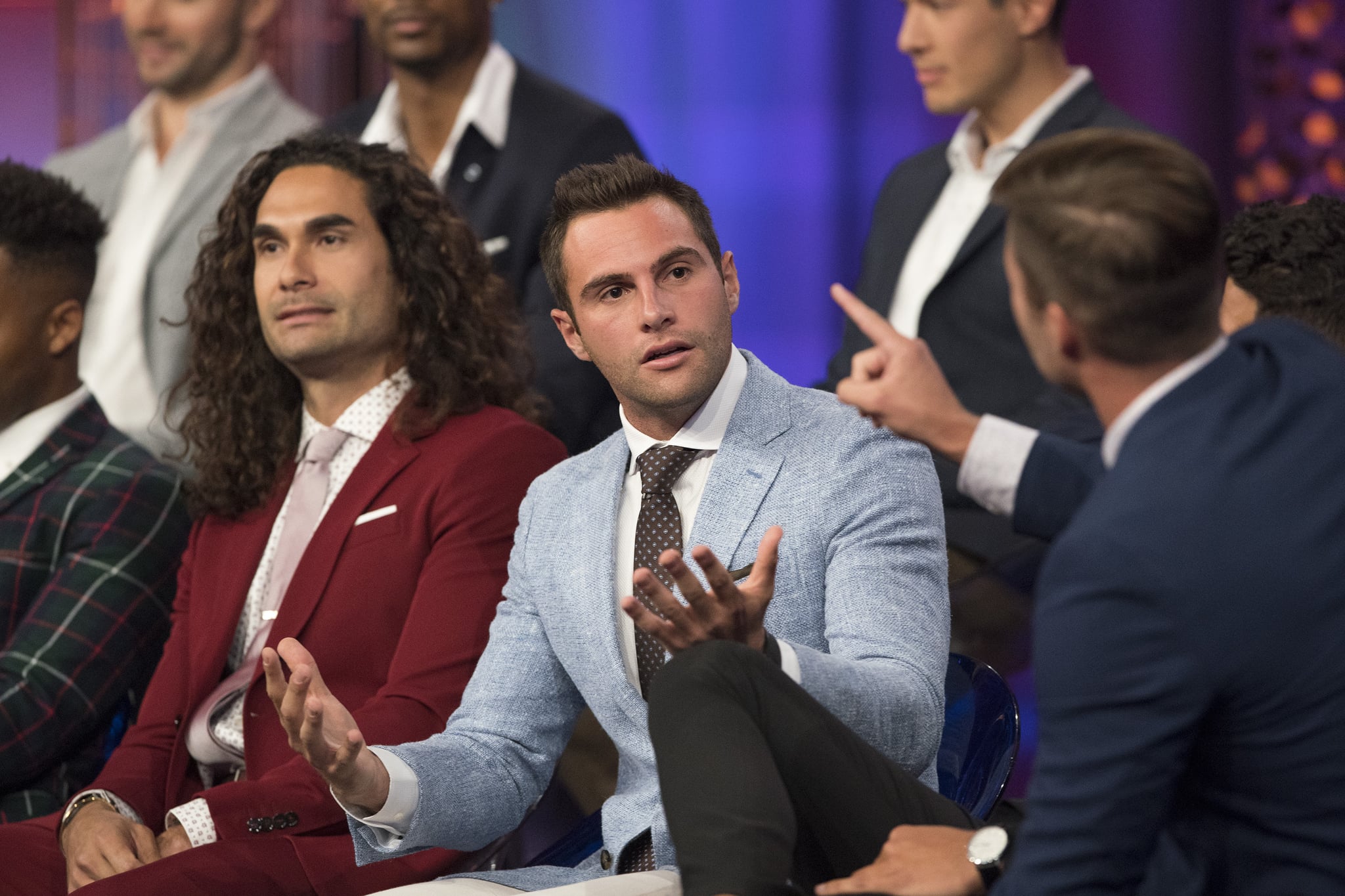 In a battle between a man in a chicken suit and another in gold booty shorts, who would win?
David Ravita and Jordan Kimball, both contestants for Becca Kufrin's heart on season 14 of The Bachelorette, have had their fashion moments. But they also had the most awkward date/fight ever when Jordan said a few things that David didn't take too kindly to — like his match percentage on Tinder. Let's take a look back at this dramatic situation and see how it unfolded now that these two are trapped in a tropical resort together in Bachelor in Paradise.
The Start
So, Jordan originally had tension with Colton, as he felt that Colton wasn't really there for the right reasons. (There was some sort of love triangle thing going on with a previous Bachelor contestant — it wasn't pretty.) However, Jordan and David started to get into it when Jordan's mouth seemed to get the best of him.
Caught on camera, Jordan started talking about his 4,000 Tinder matches in one year. Well, let's be real. Jordan is a male model, and not like that behavior is excusable when you're supposed to be fighting for another woman's heart (it's not excusable, period), but we're pretty sure it was Jordan's way of stroking his own fragile ego. This, however, got David just a little pissed off. He went to Becca and then to the other guys and things got heated.
The Unraveling
I'm still unsure if this two-on-one was scripted planned for dramatic reasons or Becca's idea, but putting two guys who basically hate each other together on a date isn't really the best idea. Anyway, David, Jordan, and Becca went off-roading and wound up in a pretty cool little setup in the middle of the desert of Las Vegas. David, however, used his time with Becca to bash Jordan and tell Becca that Jordan believed he was "settling" by choosing Becca. This made Becca pretty livid (because that's what every woman wants to hear!); however, she turned the tables and eliminated David on the spot.
Becca then finished out the date with Jordan, but things didn't get any better when it came down to the giving of the rose.
The End
Even though Jordan tried to salvage his bad name to Becca, nothing he could say was enough. She was over it, big time, and decided it was time for him to make his exit — booty shorts and all.
On the recent "Men Tell All" special, David admitted that he shouldn't have been so focused on Jordan and should have just focused on spending time with Becca, which a lot of the other men agreed with and called him out for.
Now, these dudes are going to Bachelor in Paradise, where they will end up best friends and uniting against . . . forget we said that. We can't wait to see what drama is going to unfold between the two of these guys when there is more at stake than just one woman's heart.