Ariana DeBose Explains Why The Prom's Queer Rep Is Important
Ariana DeBose Explains Why Having Queer Leads Makes The Prom So Special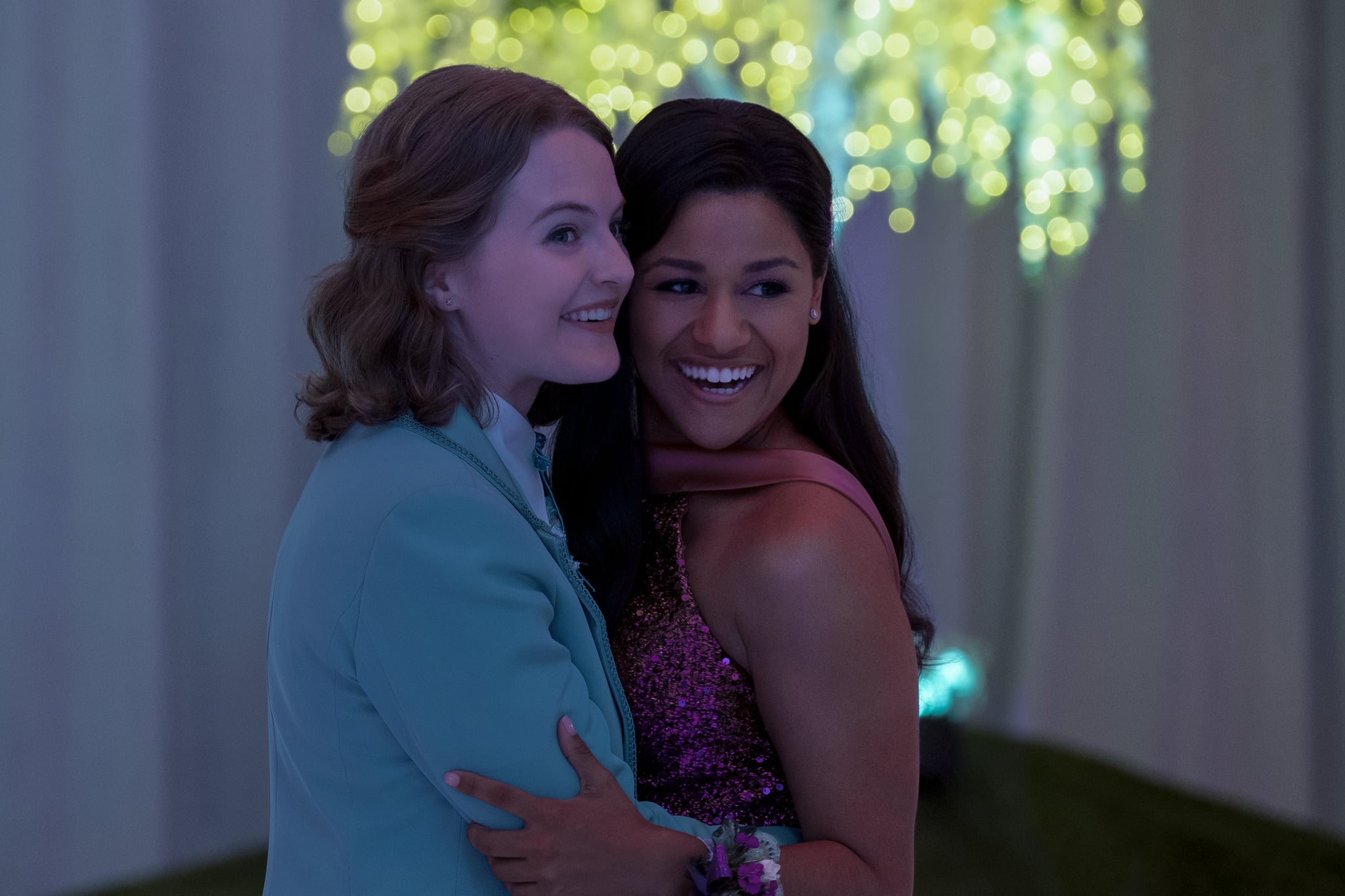 As a cisgender, heterosexual Black woman who went to an all-girls high school in New York City, there isn't much that I can presumably relate to in the Broadway musical The Prom. Much like the live show, Ryan Murphy's film adaptation of the musical follows four down-on-their-luck Broadway stars who set out to help a high schooler after discovering that she's banned from taking her girlfriend to prom. Though the four only plan to help Emma to give their self-centered images a charitable boost, they find themselves emotionally invested in her story, and when it backfires, genuinely fighting to give her a night she won't forget.
It's impossible not to fall in love with Jo Ellen Pellman's endearingly earnest Emma, but I found myself connecting with Ariana DeBose's Alyssa. The West Side Story actress plays the popular girl in school with a chip on her shoulder in the form of her mother, Mrs. Greene, the head of the PTA. Although the film mainly focuses on Emma, viewers are also privy to Alyssa's struggles with her b*tchy cheerleader friends and stern mother (played by Kerry Washington, whom DeBose described as "sunshine" and an "angel human"), who she struggles to come out to throughout the film. It's not often that we get to see Black faces at the forefront of LGBTQ+ stories, especially women and their mothers. But the bond between Alyssa and Mrs. Greene is so familiar to me that, even though I couldn't intimately understand the high schooler's plight, I could appreciate the familiar dynamics between mother and daughter.
"You're right, it's not often that you see a mother-daughter pairing within a Black family go through the coming out process onscreen," DeBose noted, during a video call with POPSUGAR. "I think what [Kerry] and I discovered was that while Alyssa was trying to find the courage to come out — because yes, she doesn't want to let her mother down and she just wants her mother to love and accept her — she has to make space for Mrs. Greene as well. She has to meet her mother where she is, and if she wants unconditional love from Mrs. Greene, she has to provide that as well."
DeBose, who identifies as queer, has made a name for herself on numerous Broadway productions, including Hamilton, where she starred as the omnipresent Bullet, and Summer: The Donna Summer Musical, where she originated the role of Disco Donna. While she's danced across her fair share of stages, portraying Alyssa presented her with the unique opportunity to ensure that the character was understood, despite the complex circumstances.
"It's not often that young queer girls of color get to have their stories told, and I'm so grateful to Ryan Murphy and Netflix for green lighting this project because it literally gives us a happy ending."
"I think, inherently, when young people are struggling, their words don't come out right. I know when I was a kid or when I was in my teens, I said all the wrong things, maybe not all the time, but I didn't get it right all the time," she explained. "So, I wanted to make sure that I expressed Alyssa's emotions in a way that made her feel tangible to people because, like I said, I always want young people to be able to look at this character and see themselves in it. I want them to think, 'Oh yeah, that is what that feels like when you're in that moment, when you're getting broken up with and you're just frozen because it hurts.' That was the greatest challenge and, in and of itself, that was the whole job — to make sure that she was heard and that you could understand her."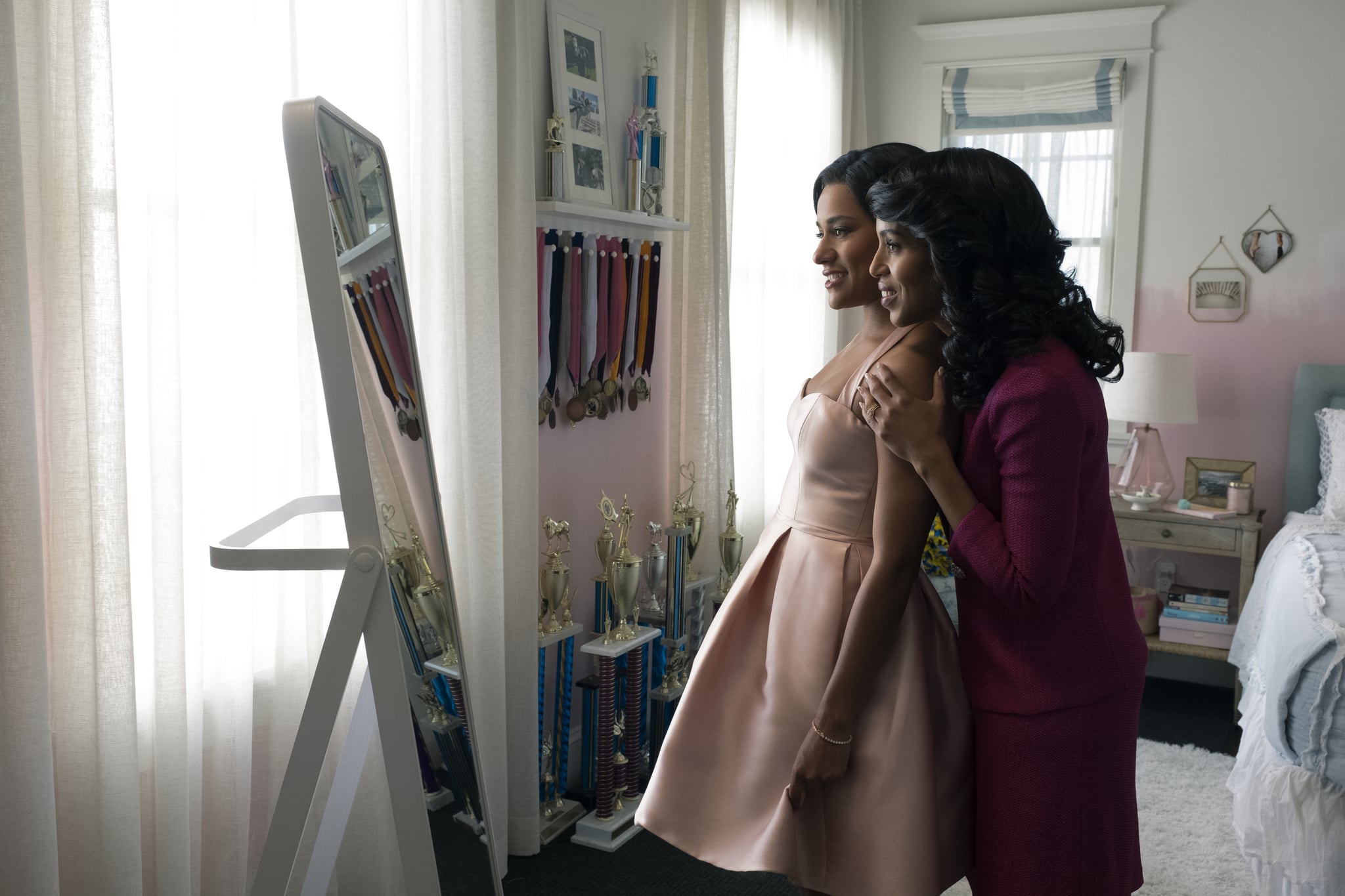 That desire to show teens that their experiences and feelings are valid is a big part of why DeBose took the tole on. She pointed out that the story of The Prom is special in many ways, but it's also important because people have an opportunity to see a young woman of color coming out, an experience that is usually seen through the lens of white characters (Lena Waithe's Emmy-winning role in Netflix's Master of None is one of the most noteworthy exceptions to this case). "I think representation is so important, and the more that we can see our stories reflected in mainstream media, the better," she added. "It's not often that young queer girls of color get to have their stories told, and I'm so grateful to Ryan Murphy and Netflix for green lighting this project because it literally gives us a happy ending."
In an industry where networks are more likely to bury their gays than allow them to live out rich and healthy lives, DeBose has good reason to celebrate one of the rare happy endings. And to hear the actress tell it, bringing the love story of Alyssa and Emma to the screen was "a pleasure, a joy, and an honor." Gushing about costar Pellman, DeBose revealed that the two quickly became close during filming. She shared that they would enjoy vegan food together (buffalo cauliflower, specifically), talk about their real-life experiences, and think of ways to infuse their performances with them.
"The fact that we both identify as queer just made the work more deep and vulnerable, and you can see it on screen," she said. "It's been said that we have great chemistry and I think that helps as well, and that's how we normalize [having queer actors tell our stories]. It shows that we can tell a story like this and do it so beautifully, and I'm just so proud of what we were able to accomplish. I think you end up falling in love with Alyssa and Emma, because we loved each other, and I think that's really cool."
As for the rest of the film's star-studded cast, DeBose described filming as "a celebration and sparkle explosion," nothing that the energy was palpable from day one. "It was a dream come true every day," she said, sharing how Keegan-Michael Key did his best to make the cast laugh as much as he could with numerous YouTube videos that somehow resulted in a YouTube war to find the funniest video. And the best of all was the musical's big finale, the prom itself!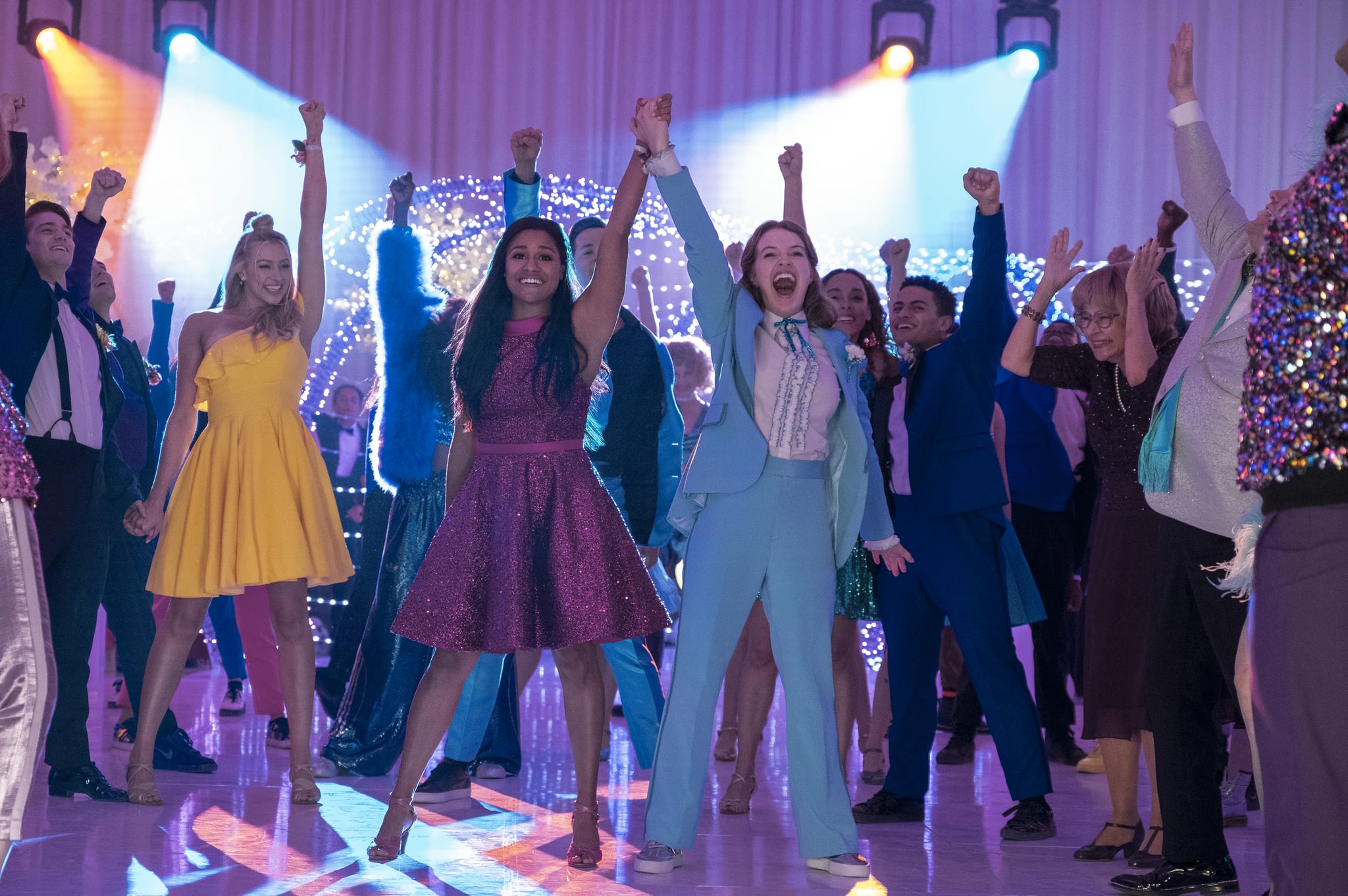 "It truly was a celebration of our humanity and queer love. We had, gosh, I don't even know how many extras and many of them identify as LGBTQ all over the spectrum," she revealed. "And we had so many people of different gender presentations — it was such a beautiful thing to behold. We just celebrated together, danced together, and sweated together. Even Meryl hit the step with all of us, how brilliant is that? We had this roomful of beautiful LGBTQ+ queer people and it made my heart explode with rainbows. I loved it."