Bridgerton Season 2 Eloise Penelope Friendship Breakup
We Need to Talk About That Major "Bridgerton" Breakup
Watch out! This post contains spoilers.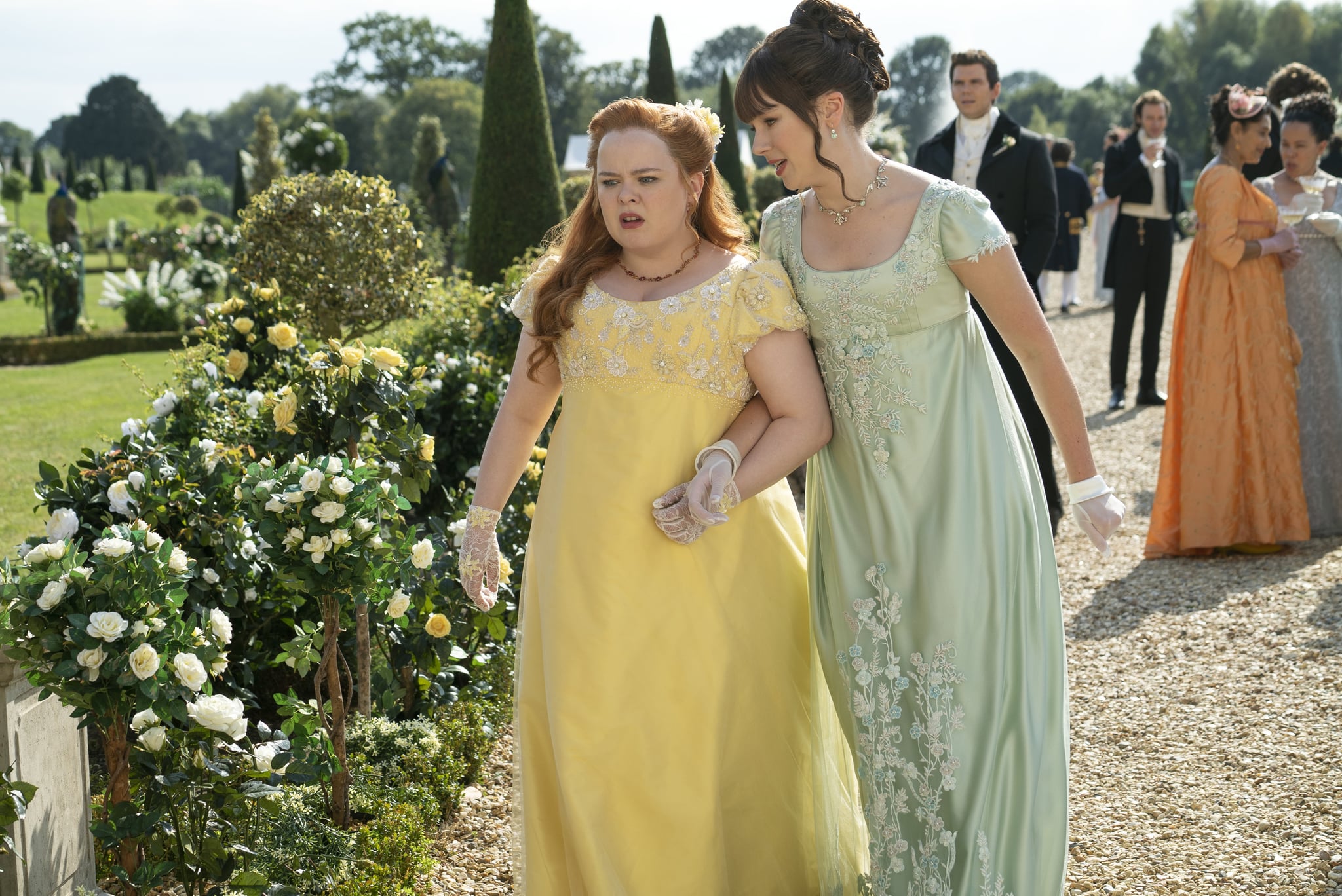 Netflix's "Bridgerton" found a huge audience when it premiered over Christmas 2020, thanks in part to its deep exploration of romance and love. But in season two, a nonromantic relationship takes up more of the spotlight and ends in heartbreak: the friendship between Eloise Bridgerton (Claudia Jessie) and Penelope Featherington (Nicola Coughlan).
At the end of the first season, viewers learn the identity of Lady Whistledown, the Regency-era's very own gossip girl. It was Penelope, the overlooked wallflower, using her unique social standing to collect and spread rumors about everyone she knows — and to pocket some money of her own. In season two, it becomes much harder for Penelope to keep the secret as Eloise starts attending all the same balls and events where Penelope gets her best material.
Meanwhile, Queen Charlotte (Golda Rosheuvel) is still obsessed with unmasking Lady Whistledown, and she's ordered her footmen to follow all the young women she deems likely culprits. When they find Eloise at a print shop — where's she's actually meeting her new political radical friend, Theo (Calam Lynch) — they assume that she is actually the gossipmonger. Queen Charlotte tells Eloise that Lady Whistledown must start working with the queen, or she'll reveal her identity and shame the entire Bridgerton clan.
Eloise is pretty much screwed, since she can't convince the queen it's not her. Penelope feels incredibly guilty that her friend is shouldering the blame, and wants to get Eloise out of trouble while still keeping her own secret safe. Seeing no way out, Penelope writes about Eloise's encounters with Theo, putting Eloise's reputation just enough at risk that Queen Charlotte will believe she isn't the author.
Eloise is heartbroken that her budding relationship with Theo must end and tells Penelope how much she hates Lady Whistledown for revealing her secrets. Penelope begs her to stop talking about Lady Whistledown and instead loops Eloise into some of the gossip she's heard lately. But that's when it clicks for Eloise: Penelope knows every piece of gossip. Lady Whistledown has written about things Eloise told Penelope, things that Eloise only told Penelope. Penelope is Lady Whistledown.
Coughlan and Jessie do a great job playing out the sadness and despair the two friends go through as they lose each other.
What follows is one of the most heartbreaking splits I have ever watched. Eloise is absolutely furious that Penelope kept this massive secret from her and that she used the pages of Lady Whistledown to spread rumors about the Featheringtons and the Bridgertons, including Eloise's brother Colin (Luke Newton) and Penelope's cousin Marina (Ruby Barker). Crying, Penelope apologizes and says she was only trying to protect Eloise, but Eloise doesn't buy it.
Penelope tries to explain that Whistledown is the most important thing she has in her life, that it's been an outlet for her creative desires, but Eloise is (understandably) too hurt to hear her friend's arguments. The fighting gets vicious, with both women trying to knock the other down a peg, but it only leaves them both upset and alone.
Penelope and Eloise's friendship has been a rare bright spot in both their lives. Both women are deeply unhappy that their futures as members of the ton is determined by who they snag as a husband, and they bond over their inability to conform to society's standards for what makes a woman marriageable. But they also both realize that the other person is taking away one of the few things that's given their life meaning. Penelope writing about Eloise and Theo forced Eloise to stop seeing him and stop looking into politics, and Eloise getting caught up in the Lady Whistledown drama forced Penelope to stop writing the newsletter.
Eloise also sees Penelope's desire for money as selfish, not acknowledging the differences in their situations. Penelope's family is broke, her father is dead, and she has no brothers. Eloise's family is rich, and if she never marries, any one of her brothers would take her in. Eloise is right that Penelope's intentions weren't always pure — especially with Colin and Marina — but she lets her anger rule. The season ends with a flash forward to a happy "Bridgerton" family — including Eloise — a few months in the future, but it left me wondering where Penelope is and if she's OK.
The whole plot is a huge departure from what happens in Julia Quinn's original Bridgerton novels. There, Eloise doesn't find out Penelope is Lady Whistledown until the end of book four — that's "Romancing Mr. Bridgerton," where Penelope and Colin have their love story. In the book, Eloise is surprised by her friend's actions, but she's not angry at all. Changing Eloise's reaction and the relationship between the two women makes a lot of sense and actually deepens the bond they have. Penelope loves writing as Lady Whistledown, but it's cost her the one person she most cares about in the world, her best friend. Coughlan and Jessie do a great job playing out the sadness and despair the two friends go through as they lose each other.
Since "Bridgerton" is a romance, hopefully the two best friends can find their way back to each other. By the end of season two, the path to reconciliation seems long and bumpy. Hopefully "Bridgerton" season three will dive into how they can slowly rebuild their friendship and trust each other again.